A broken link or faulty URL can lead to many problems for your website as well as your business' reputation. As a marketer, you always want to make sure that your links are taking your website visitors and clients to the right pages using a broken link checker to ensure a better user experience.
BetterLinks helps you to create, shorten and redirect links with ease. Now, you can also instantly check for broken links and create an analytics report using the advanced 'Broken Link Checker' feature with BetterLinks PRO.
How To Use The Broken Link Checker From BetterLinks PRO? #
Follow the easy guide below to use the BetterLinks 'Broken Link Checker' feature on your WordPress site.
Step 1: Configure BetterLinks Broken Link Checker #
From your WordPress dashboard, head over to the 'Broken Link Checker' tab from the plugin's 'Settings' interface.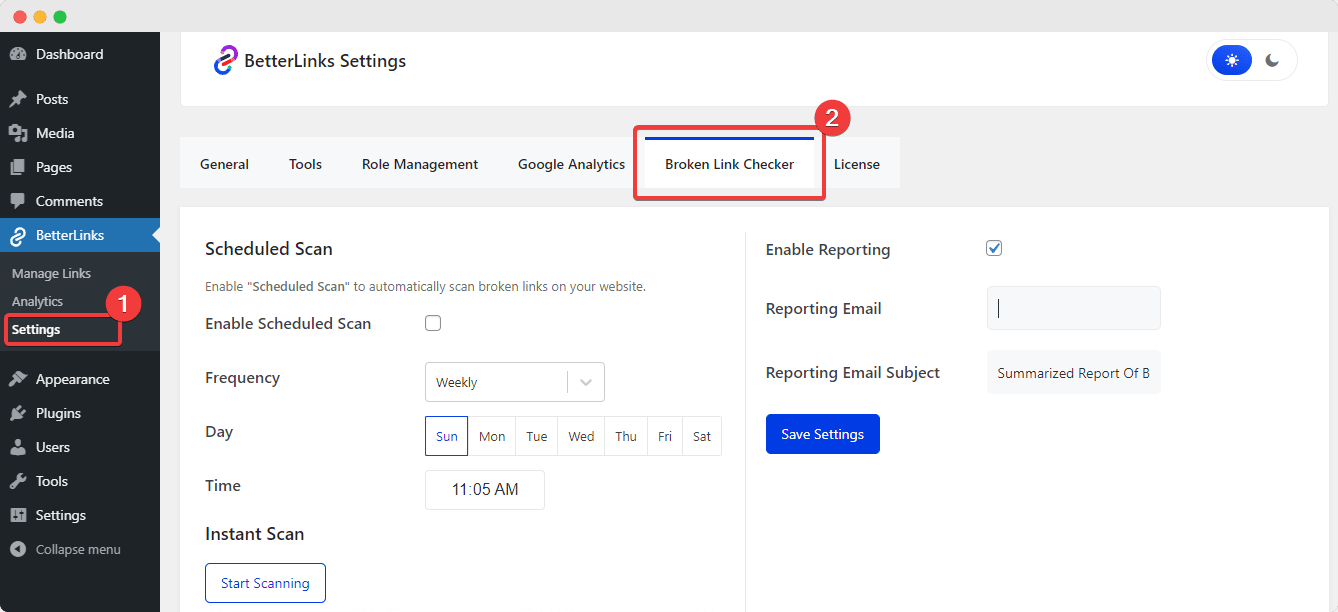 Here, you can easily schedule scans for a regular broken link check and also enable email reports that will be sent to your email account at the time of the scan.
Step 2: Enable Scheduled Scanning For Broken Links #
Next, click the 'Enable Scheduled Scan' checkbox as shown below to allow BetterLinks to regularly scan your URLs. From the 'Frequency' drop-down menu, you can choose whether to schedule the scan daily, weekly, monthly, or yearly.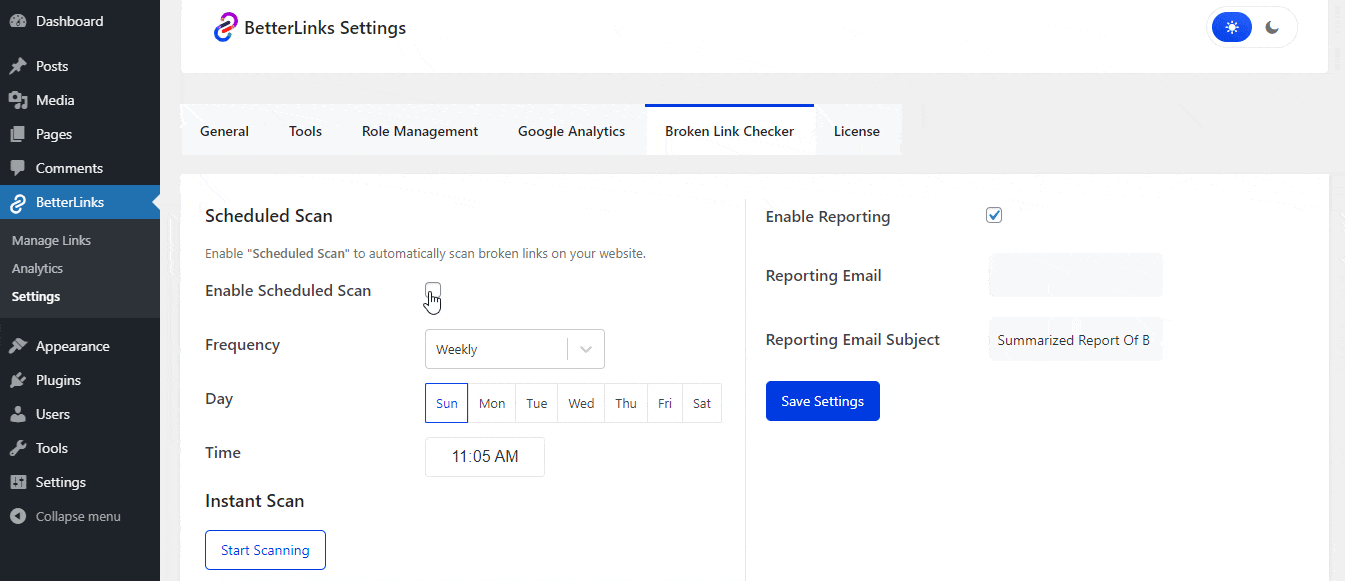 You can also set a specific date and time for your scheduled Broken Link Checker scans, as shown above. BetterLinks plugin will carry out scheduled scans for all the shortened and redirected links listed on your plugin at your preferred timing.
Step 3: Enable Link Checker Email Reports #
With BetterLinks PRO, you can also enable the advanced 'Email Reporting' option to get detailed reports of broken links sent straight to your preferred email account. Click on the 'Enable Reporting' checkbox, and add an email ID to which you want the reports to be sent. You can also add a custom Subject Line for the reporting emails.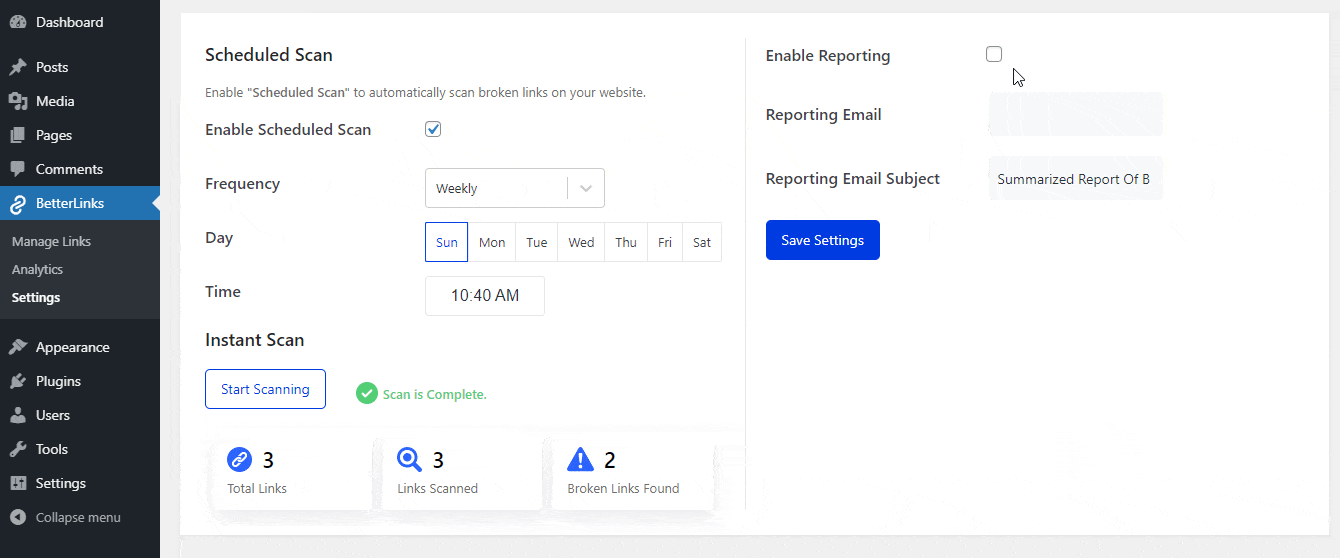 Afterward, you can test and verify if the email is being sent properly to the account you've added, by carrying out a reporting test, as shown above.
How To Instantly Scan Your Site For Broken Links? #
To carry out an instant broken link check scan, click on the 'Start Scan Now' button as shown below. It will instantly scan all the links on your BetterLinks link management plugin, and provide you with a detailed report list.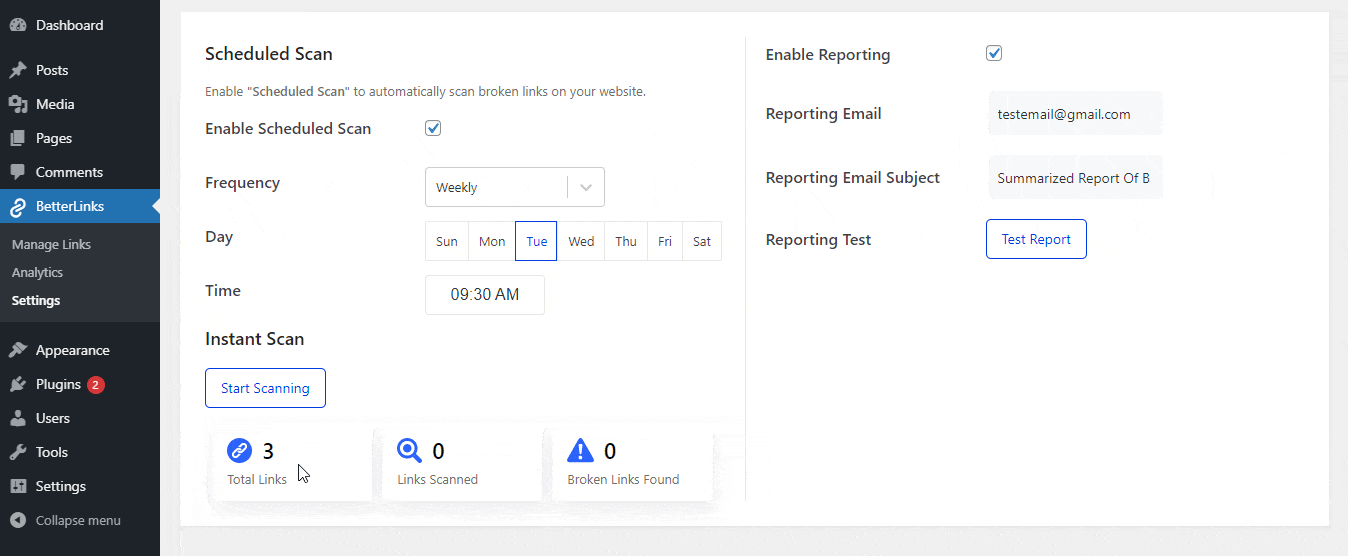 Here, you can easily copy the Short URLs, edit and update the Target URLs, or simply take action by checking again or deleting the broken links.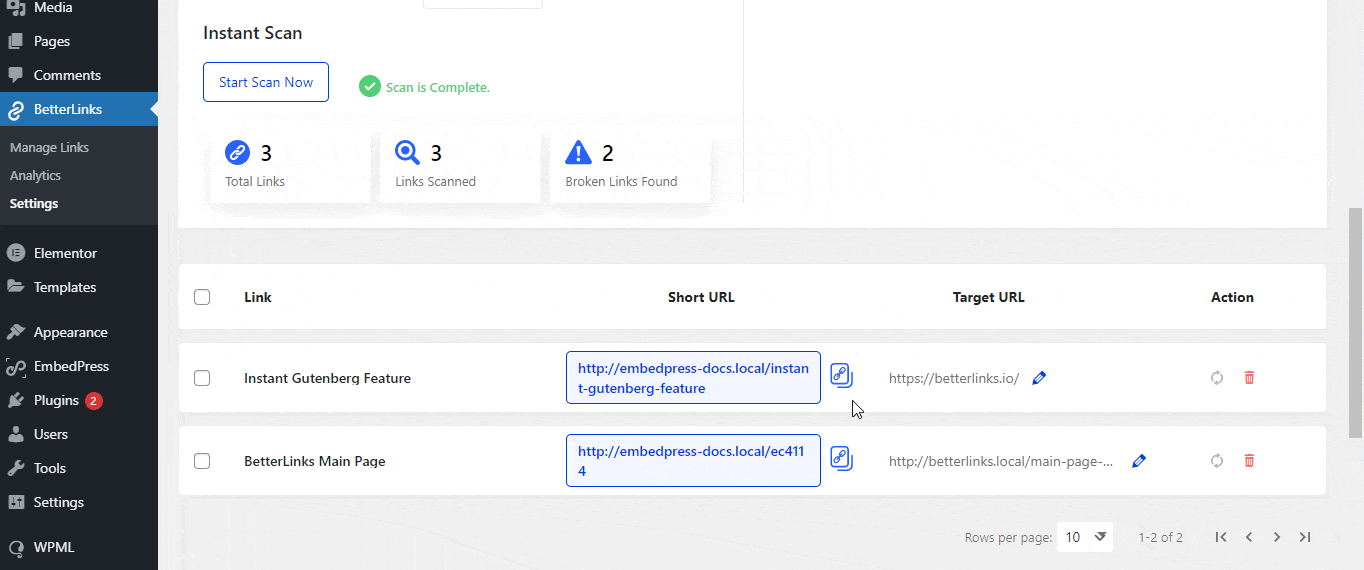 If you have a large number of broken links listed, BetterLinks PRO also allows you to take bulk actions to increase your link management efficiency further. To do so, click on the checkbox next to 'Link', as shown below, and select your preferred action from the drop-down menu that appears.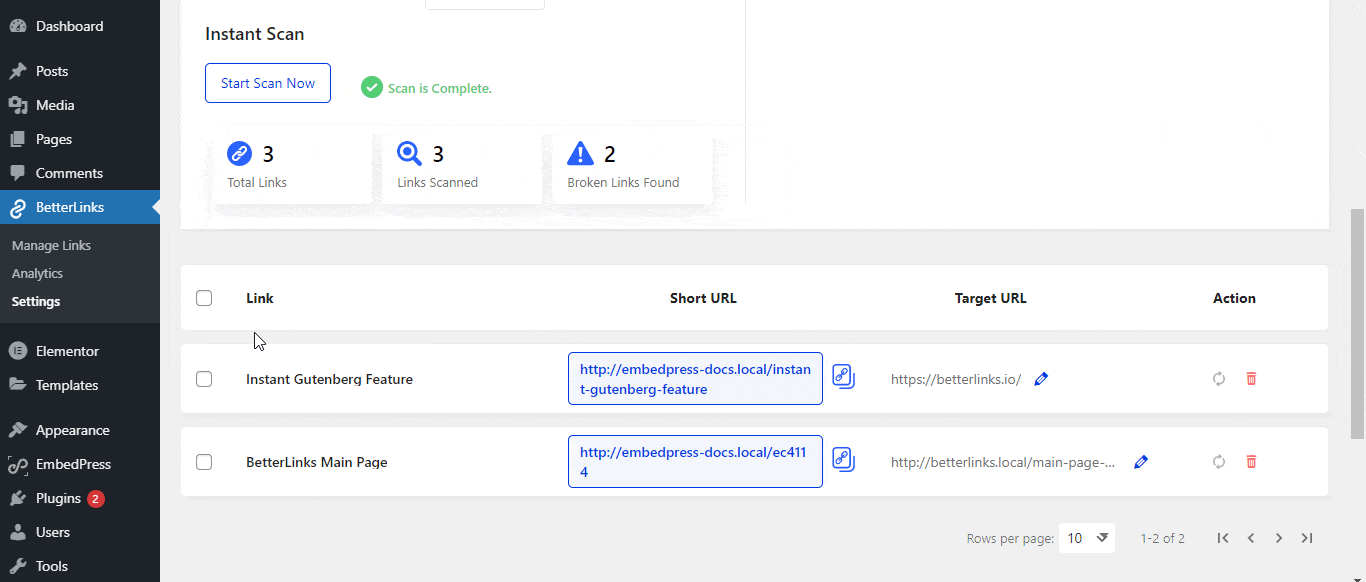 With BetterLinks PRO, this is how you can easily check broken links using the advanced 'Broken Link Checker' feature.
Need assistance? Get in touch with our dedicated support team at any time to get any type of help.