Wouldn't it be great if you could manage shortened links directly from your WordPress dashboard using a link management plugin? From creating branded short links, tracking and monitoring their click rate or performance, and organizing them by categorizing and tags, an advanced link management plugin should bring all of these features to your fingertips. And that's where BetterLinks comes in–a new, all-in-one link shortening and URL tracking solution for WordPress.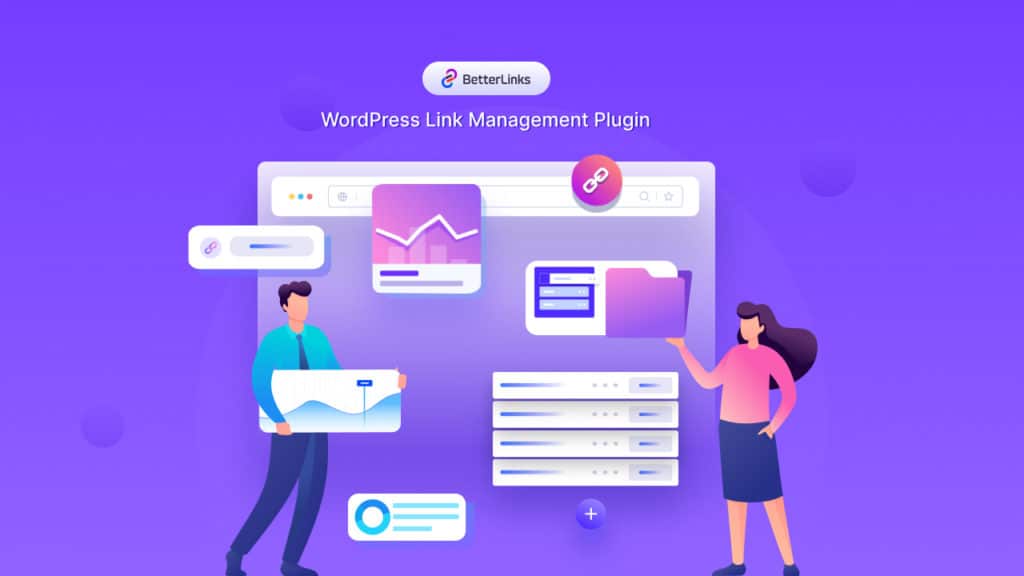 🤔 Who Can Benefit From Using A Link Management Plugin?
Firstly, let's focus on who can actually be benefited the most by using a WordPress URL shortener or link management plugin. If you are an affiliate marketer, a link management solution is a must-have for you; after all, affiliate marketers often need to cloak their links, track how many clicks the link has received, and much more.
Moreover, anyone who is involved in marketing-related activities such as content marketing, SEO marketing, or social media marketing can benefit from using a WordPress link management plugin like BetterLinks. Below are some of the benefits that you get with such solutions.
⭐ Get Analytical Data On Links Performances
Manually it's quite impossible to keep track of your website URL performance, click rate, bounce rate, etc. Even if you try to keep track of these kinds of data, that will kill your valuable time. On the contrary, if you get an advanced link management plugin, then you can preview your every shortened link's performance easily.
⭐ Gain Trust From Users Easily
Short-character URLs are usually considered to be more trustworthy than long URLs. There is a huge chance that long URLs can be spam links. To overcome this, you can go for link management plugins, with which you can create custom shortened links. It will improve your URLs' readability and credibility at the same time.
⭐ Promote Your Brand Or Product
Shortened links represent a great opportunity for promoting your brand, product or content. You can mask or cloak your links and add specific keywords related to your brand or business. Moreover, short links are easy to share on social media so promoting your campaigns or offers can be done without breaking a sweat.
Introducing BetterLinks: Advanced WordPress Link Management Solution
Now you might be wondering which plugin has all of these features. While there are plenty of great options out there, BetterLinks, brought to you by the trusted team WPDeveloper, comes packed with advanced features to help you manage your links and create successful marketing campaigns effortlessly.
A renowned name in the WordPress community, WPDeveloper, the team behind popular products as Essential Addons For Elementor, BetterDocs, and Templately, introduced BetterLinks after seeing that there was a clear need for a solution that let you shorten, track and organize website URLs in one place.
This link shortening tool will help you turn your long, boring website URLs into pretty, shortened links complete with attributes like 'Sponsored' or 'Tracking', and support for multiple redirect types. And that's just the beginning of what you can do with BetterLinks.
Features That Makes BetterLinks Stand Out From The Crowd
Even though it is a new link management plugin, it is becoming increasingly popular. Wondering how? We'll take you on a journey now to explore amazing BetterLinks features, so you will be able to find out the answer for yourself!
➡️ Create Customized Shortened Links Instantly
When it comes to creating custom shortened links, BetterLinks is the best option. In this link management plugin, you can enter the desired short link you want, add your target URL, and even add custom link categories, tags, titles, and descriptions to keep them neatly organized.
➡️ Built-In Analytics To Measure Link Performances
With BetterLinks, you can also analyze the performance of each and every shortened link as well. BetterLinks comes with a built-in analytics tool for your shortened links. From here you can check the click counts, IP address, browser name, etc.
➡️ Set Custom Link Attributes For Shortened URLs
When creating new shortened links with BetterLinks, you can choose what type of link attributes should be used for your URLs. Each of these attributes has different purposes. For instance, the 'Sponsored' attribute is useful for affiliate marketers who are promoting someone else's product or offering. These attributes can also help search engines to identify your link types.
➡️ Create Multiple Link Redirections Easily
BetterLinks link management plugins let you create multiple types of link redirects, which can help indicate why the website visitor is being sent to a different page or site. These include 301, 302, and 307 redirects. You can find out how these multiple redirect types work and learn more about the best use cases for these redirects in this detailed guide here.
➡️ Enable Link Expiration By Date Or Click Rate
Improve your URL management with BetterLinks by setting link expiration for your URLs. Now you can allow links to expire after a certain time period, or after a certain number of clicks. This feature is very useful if you run any limited promotional offers.
➡️ Powerful Integration With Google Analytics
Google Analytics is the most powerful tool for tracking website performances, individual URL performances, etc. apart from BetterLinks generated analytical data, you can check out URLs performance from Google Analytics as well.
➡️ Advanced UTM Builder With Templates & Social share 
You can use BetterLinks to set up a UTM builder to manage and monitor your marketing campaigns. It is not necessary to manually add your UTM code to your URL; just input the parameters and it will be automatically inserted. UTM codes can be used with Google Analytics to track your campaigns.
There's more! You can create customized templates from BetterLinks UTM Builder. That you can use later for other shortened links. UTM builders make it easy to run online campaigns for multiple platforms at the same time. You can also track down your social shares easily.
➡️ Export Or Import Short Links Easily
In order to backup and analyze your website data further, you can export the data from your site and store them elsewhere. Exporting BetterLinks data will take a few seconds. In the same process, you can import links, as well as analytical data to BetterLinks link shortening tool.
➡️ Find & Fix Broken URLs With BetterLinks Broken Links Checker
Having broken links on your website is the most common issue nowadays. Broken links negatively affect your site. It lowers your SEO score, increases bounce rate, and all. To get rid of this problem, BetterLinks has broken links checker. With this feature, you can easily scan for broken links and fix them instantly. In addition, you can generate a report for broken links and send it directly to your email address, so you can keep a record of everything.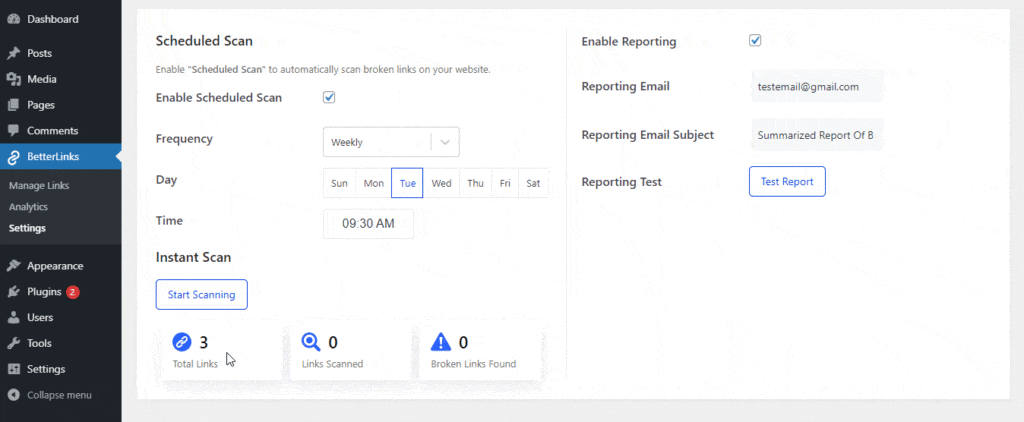 Manage Redirect Links Directly From Gutenberg Editor
Gutenberg is the default editor of WordPress from the 5.0 version. So the user base of Gutenberg is getting bigger day by day. To provide utmost usability to this huge user base, BetterLinks provides the facility to instantly create redirect links straight from the Gutenberg editor using the 'Instant Gutenberg' feature.
Smoothly Manage Dynamic Redirect Links
In addition to managing visitors from multiple locations and running online campaigns, dynamic redirect links can also be used for many other purposes. It is an essential feature for running online marketing campaigns. BetterLinks also offers a dynamic redirect links management tool that gives you complete control over all the parameters of the dynamic redirect links.
Create Link Rotation Redirects
With BetterLinks link management plugin you can easily create rotational dynamic redirects. It is possible to redirect a single URL to several different target destinations. The rotational links will take you to one of the selected target sites at random or by a predetermined percentage.
Redirect Dynamically Based On Geolocation
Imagine you need to display different landing pages to visitors based on their geographic location. Wondering how to do that? Just simply get BetterLinks and from its Dynamic Redirects section set redirect type as 'Geography'.
Create Time-Based Dynamic Redirects
Time-based redirects mean that your site visitors can access a certain URL for a definite time limit and after that time period, they will redirect to another URL. and this amazing functionality can be easily implemented with BetterLinks link management plugin.
Run Your A/B Testing With Dynamic Redirects
A/B testing is available on most platforms nowadays for running online promotional campaigns, no matter what platform you use. Streamlining conversion rate and improving upcoming online campaigns is the purpose of this. Now you can practice this great digital marketing tactic with the BetterLinks link management plugin. Moreover, you can also set the percentages for link previews.
A Glance At BetterLinks User-friendly & Advanced Dashboard
Apart from stunning features, BetterLinks link management plugin offers a user-friendly front-end interface. So if you are not tech-savvy still can create and manage customized shortened links with ease. Let's check out those features here.
Create Custom Tags & Category For Smoother Management
You can organize links with categories and tags to manage them smoothly. There are various types of categories that you can set up based on the type of product, the promotion campaign, or a redirection. A shortened link can be kept in multiple categories at the same time. Furthermore, each shortened link can be tagged with multiple tags for better management. Even if your links number in the thousands, you can still find them easily in this way.
Stunning Drag & Drop Interface For Managing Links
A drag & drop builder is included with the BetterLinks URL shortener plugin, allowing you to organize & manage shortened links instantly. Also, you can move links from one category to another or arrange them according to your preferences. The best part is that you can add a new link, edit existing ones, or even delete existing ones all in one place.
You can also switch to list view whenever you want to view shortened links resources in more detail. From the list view, you can check out the link click numbers, redirect types, and many more. To switch to list view from drag and drop builder, click the icon at the top.
Availability Of Dark Mode Interface
BetterLinks URL shortener plugin has two color modes available; dark mode and light mode. You can enhance your reading ability by switching to dark mode. With the dark mode setting for this link shortening tool, you can enjoy a more enjoyable view of your eyesight. Also by toggling, you can get back to the light mode anytime you want.
Manage User Roles Accessibility From Dashboard
It is possible to collaborate on shortened links with different access levels by using this stunning link management plugin. You can manage user roles in BetterLinks to the fullest extent. Your user can view, edit, create, check, and edit settings based on their permissions.
Considering Migrating to BetterLinks? Do It One Click
Link shortening tools are most popular among marketers. So that, others think that there is no need for a URL shortener for their website. But it's not true. When you own a WordPress website or are in charge of managing the website smoothly, it's part of your duty to take care of Website URLs.
If you have found all the essential features that you were looking for in this single WordPress plugin, then you are most welcome to get started with BetterLinks free version. You can migrate to BetterLinks instantly with one click if you already use another link shortening tool, like Simple 301 Redirects, and others. Within minutes of installing BetterLinks' WordPress plugin, you will have the option to migrate all shortened links along with their analytics data into BetterLinks.
Furthermore, if you run into problems while migrating to BetterLinks, you will always get help from the experts.
Hope you have enjoyed this in-depth post on BetterLinks URL shortener plugin. We would love to hear your performance thoughts and experiences regarding BetterLinks. Don't hesitate to comment below and join our Facebook community. If you want to be the first to get the latest update about this WordPress plugin, then do subscribe to us.