For digital marketers, Google Analytics is a must-have tool to plan and create successful marketing campaigns. And one of the most effective ways to do that is by leveraging the power of Google Analytics with advanced WordPress link management solutions. Today, we are going to show you how to do just that by integrating BetterLinks with Google Analytics in three easy steps.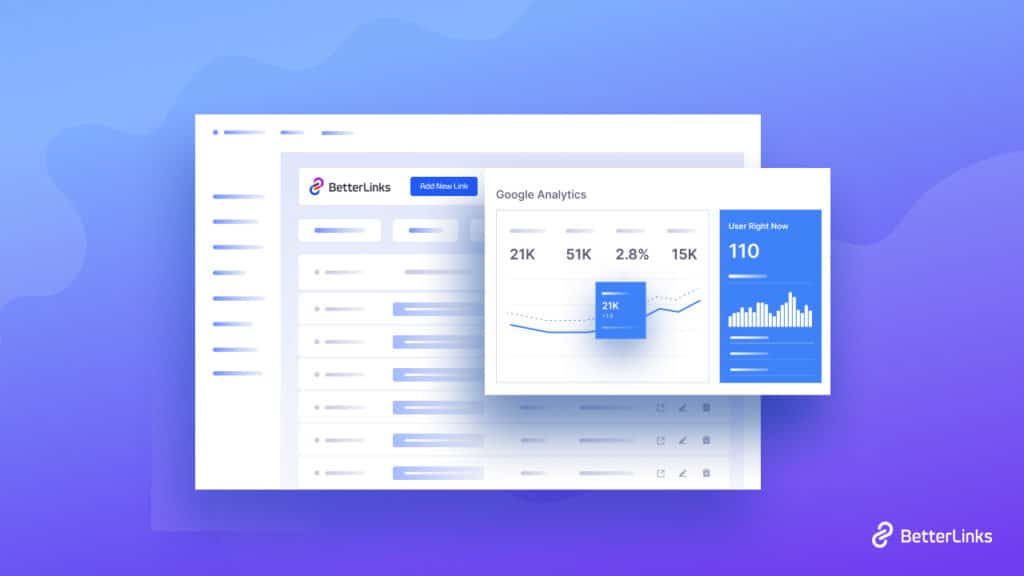 With this tutorial, you will learn how you can use WordPress link management solutions like BetterLinks and connect it with your Google Analytics account to get valuable insights about your target audience. And thus create more successful marketing campaigns and boost conversion rates.
How Google Analytics Can Help You With Link Management
Link management is an incredibly powerful and valuable asset for any marketer or online business in this digital era. With our online activities, we are constantly generating tons of links that can be optimized and used to help increase our search engine rankings and enhance brand awareness.
WordPress link management solutions like BetterLinks comes with advanced features such as the ability to view your link performance, click-rate data, creating custom short, pretty links that are optimized for SEO with relevant keywords in the URL and much more.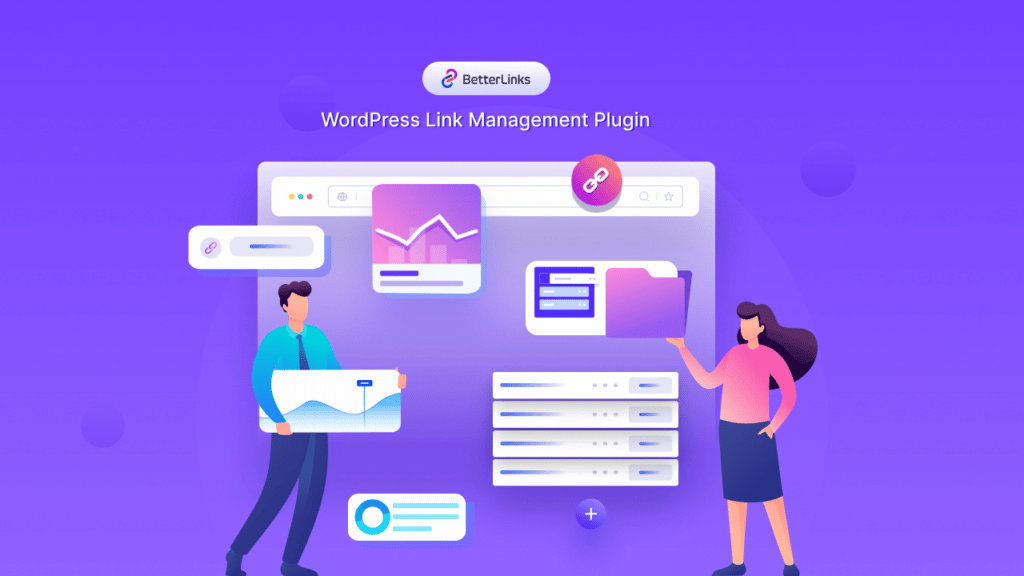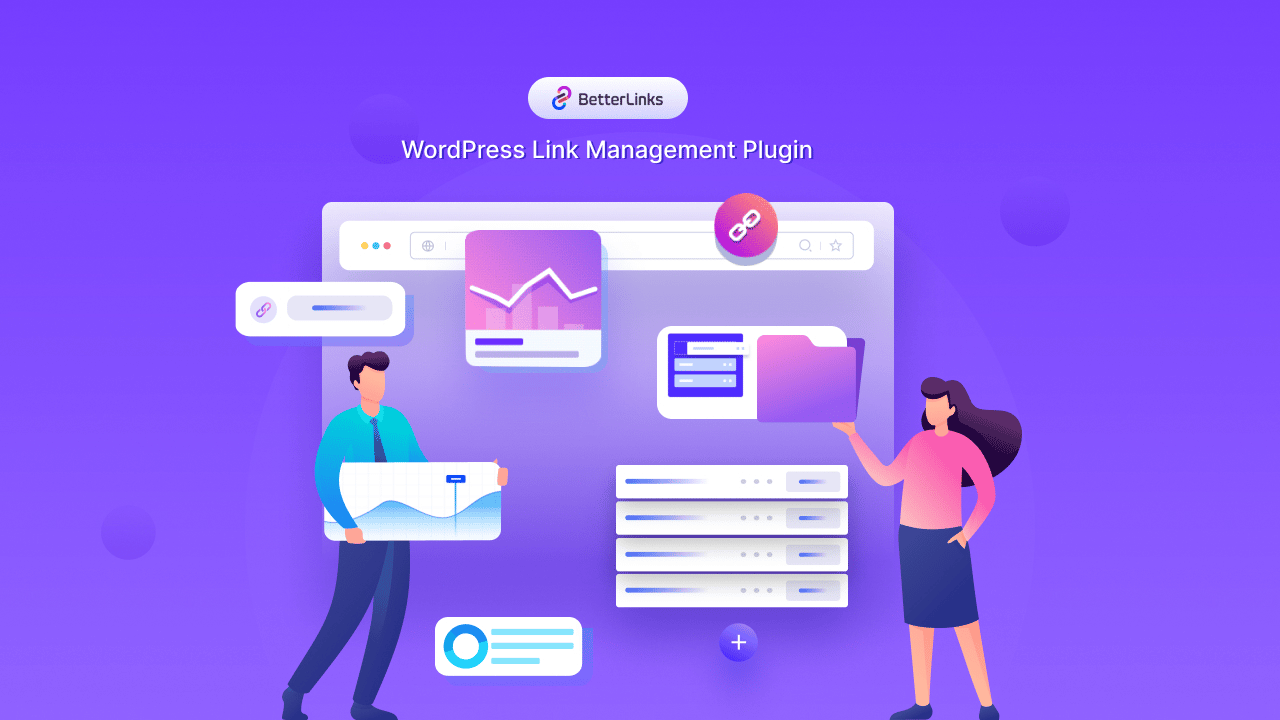 But when you integrate BetterLinks with Google Analytics, you can supercharge your marketing campaigns by getting even more insightful data. Such as the location where your site visitors are coming from, the technology or device they are using, their demographics, interests, and more.
This is done with the help of your Google Analytics tracking code–a JavaScript code that is inserted into a specific page on your WordPress website. When site visitors click on a link that directs them to that page with the tracking code, Google Analytics is able to collect useful data about their behavior and interaction on your site to help you create better marketing campaigns.
With all of this valuable information at your fingertips, integrating BetterLinks with Google Analytics can help you implement the best link management strategies and get more conversions.
How To Integrate BetterLinks With Google Analytics?
In this section, we are going to walk you through the step-by-step guide on how to integrate BetterLinks with Google Analytics. Before you can get started, you need to make sure you already have a Google Analytics account where you have created a property and a tracking code, and have added that code into your web page. You can learn more about properties and tracking codes in Google Analytics here.
Step 1: Install And Activate BetterLinks WordPress Plugin
Once your Google Analytics account has been set up and configured properly, make sure you have installed and activated BetterLinks on your WordPress website.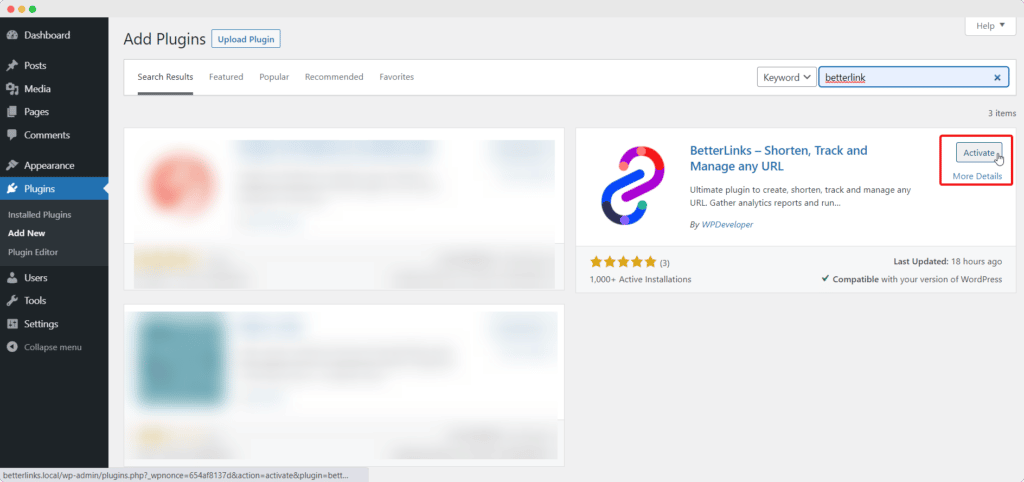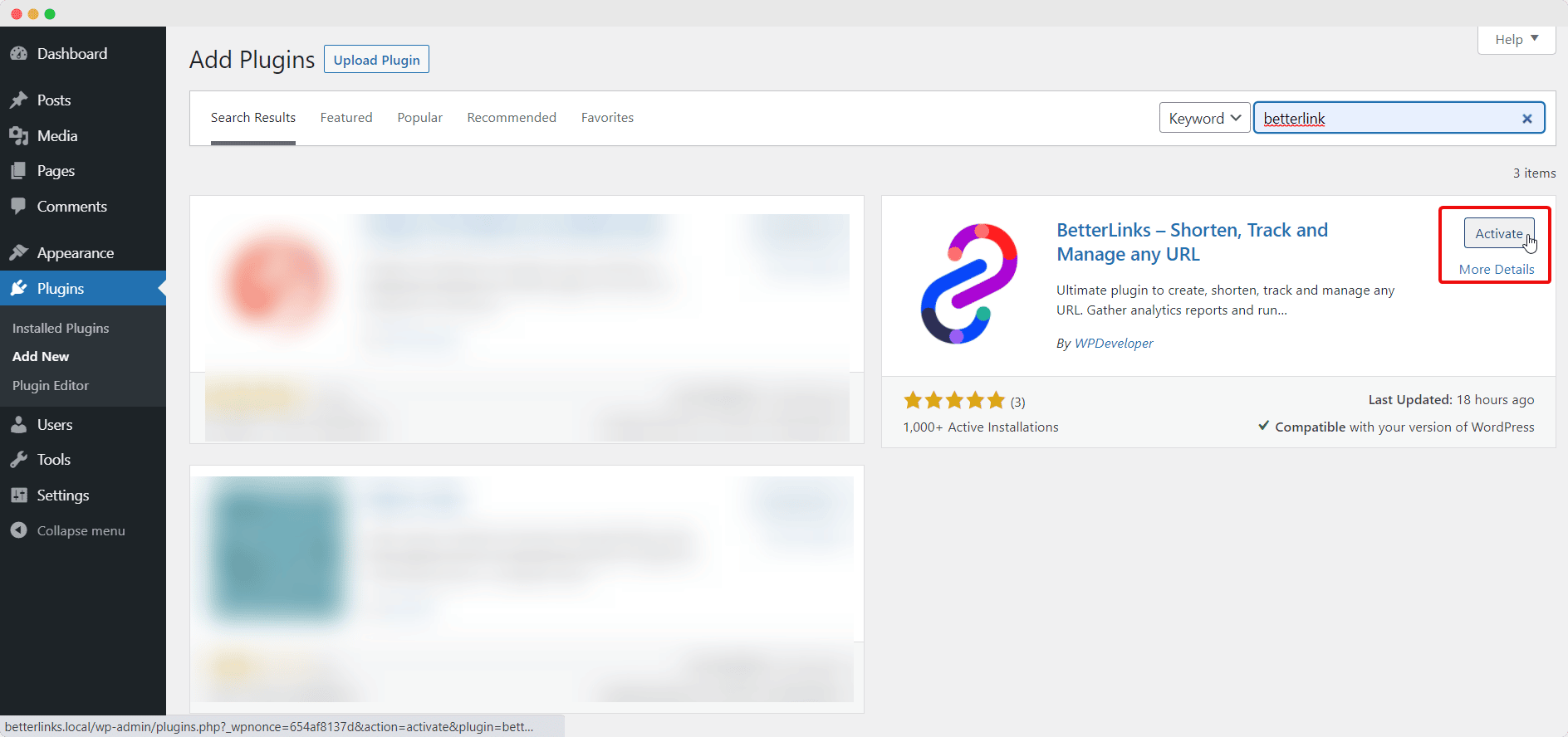 For this tutorial, you will need to install and activate both the free version of BetterLinks as well as BetterLinks PRO on your WordPress website.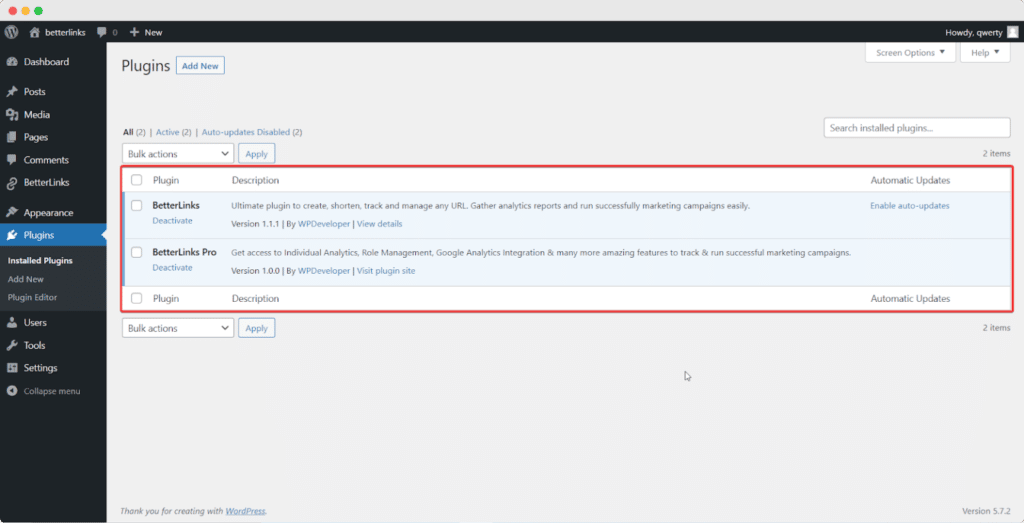 This is because Google Analytics integration with BetterLinks is a premium feature that is only exclusive to BetterLinks PRO.
Step 2: Retrieve Your Google Analytics Tracking Code
Now we need to go back to your Google Analytics account and collect your tracking code. From your Google Analytics Admin dashboard, you can collect your tracking code by going to Tracking Info → Tracking Code under the 'Property' option as shown below.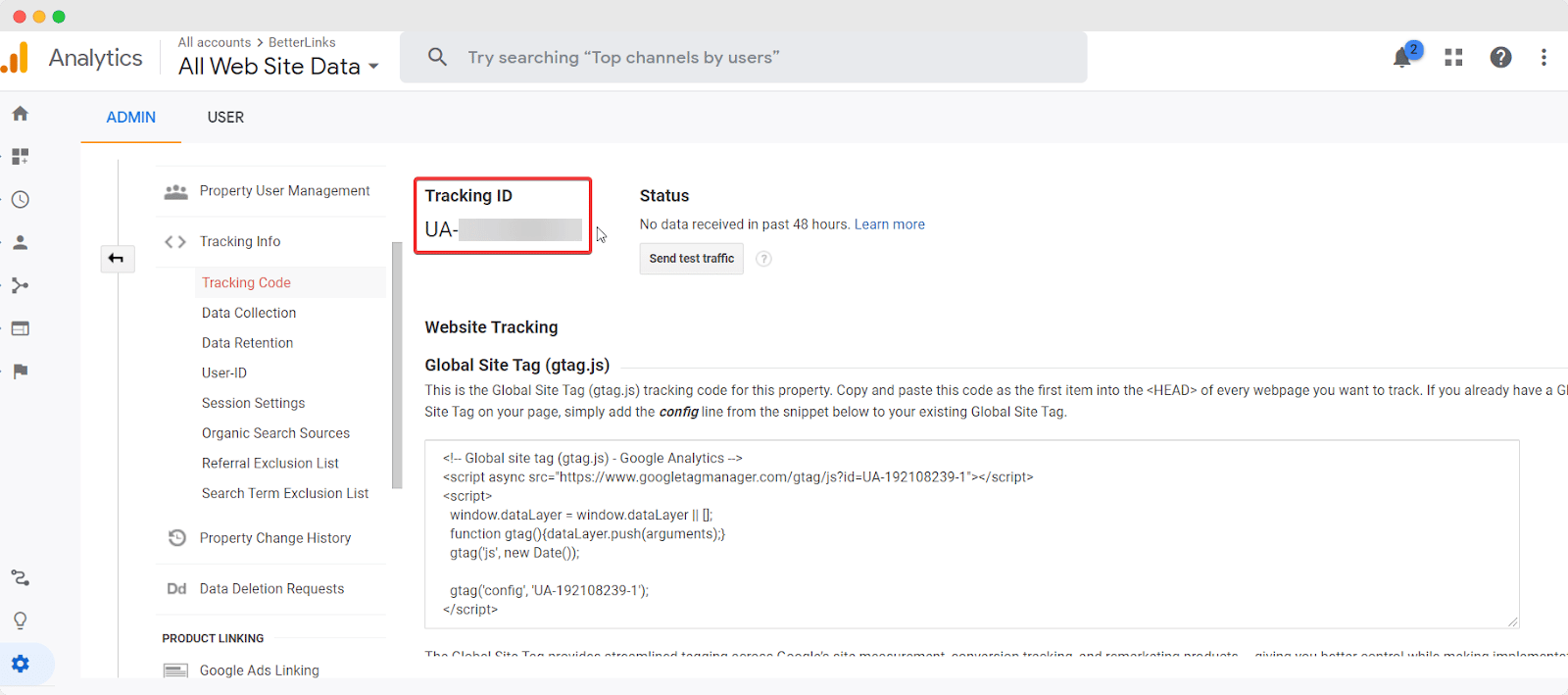 Afterward, all you need to do is simply copy the code shown under 'Tracking ID'. We will need to add this code to connect BetterLinks with Google Analytics in the next step.
Step 3: Integrate BetterLinks With Google Analytics
In this final step, you need to go back to your WordPress dashboard and navigate to BetterLinks→ Settings and then click on the 'Google Analytics' tab. Here, you have to turn on the 'Enable Google Analytics' option and then enter the tracking ID you retrieved in the previous step.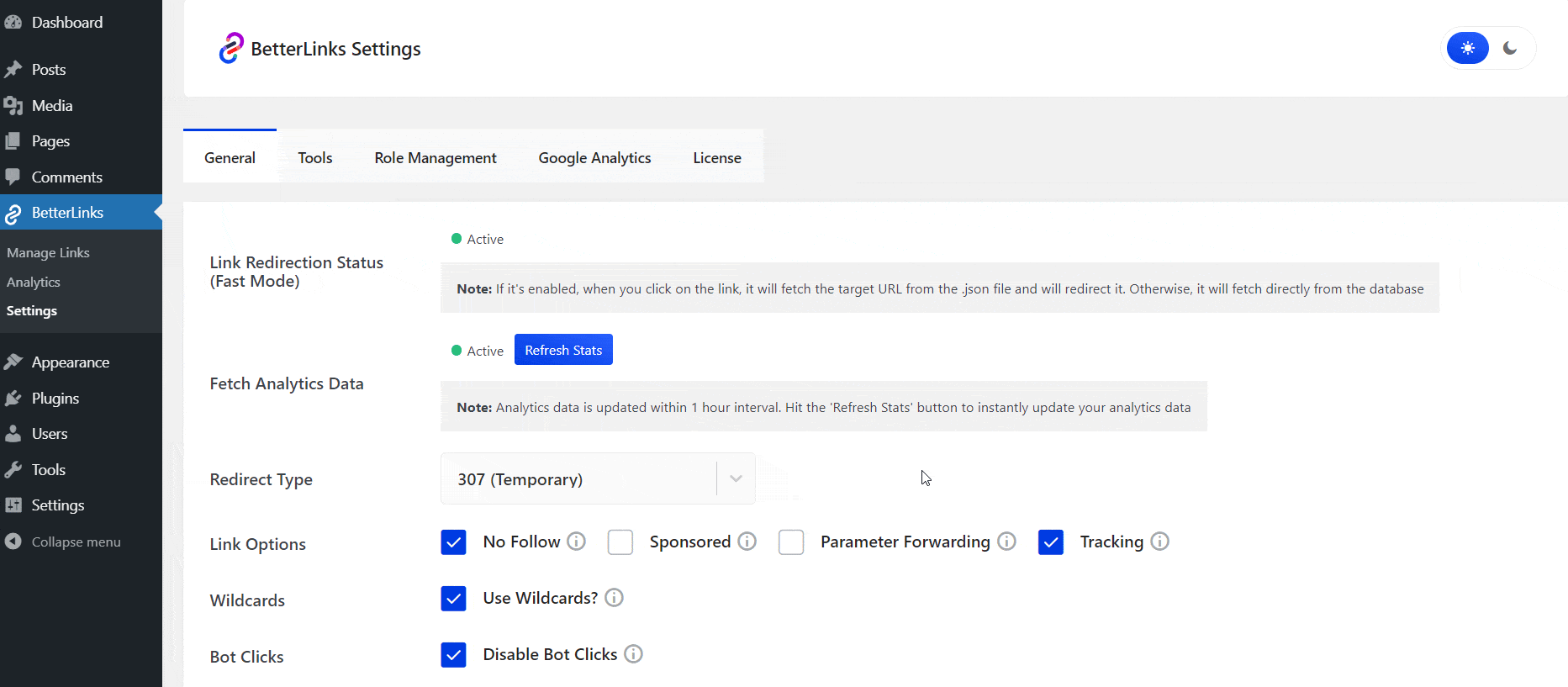 Once this is done, you have successfully integrated BetterLinks with Google Analytics. It's as simple and easy as that!
More Exclusive Link Management Features With BetterLinks
As you can see, you can integrate BetterLinks with Google Analytics effortlessly to get useful insights about your link performance, marketing campaigns and thus plan more effectively.
That's not all, BetterLinks comes with some more exclusive premium link management features that can help you with your marketing strategies. Check them out below.
Track And Monitor Individual Link Analytics
Not only does BetterLinks come with a built-in analytics tool, but with BetterLinks PRO you can get detailed analytics data for each individual link and monitor their performance.
Carry Out Split Testing With Link Rotations
To plan successful marketing campaigns, marketers often carry out split testing or A/B testing where they compare the performance of two different campaigns to see which one yields the best conversions or results. Now, you can do that easily with BetterLink PRO.
By using the dynamic redirects feature with BetterLinks PRO, you can perform split tests for two different links or campaigns and see which one generates the most traffic and results in higher conversions. You can even use dynamic link rotations to decide what percentage of visitors should be redirected to each link.
And of course, you will also be able to see the performance of each campaign straight from your dashboard and compare them side by side with BetterLinks built-in analytics tool.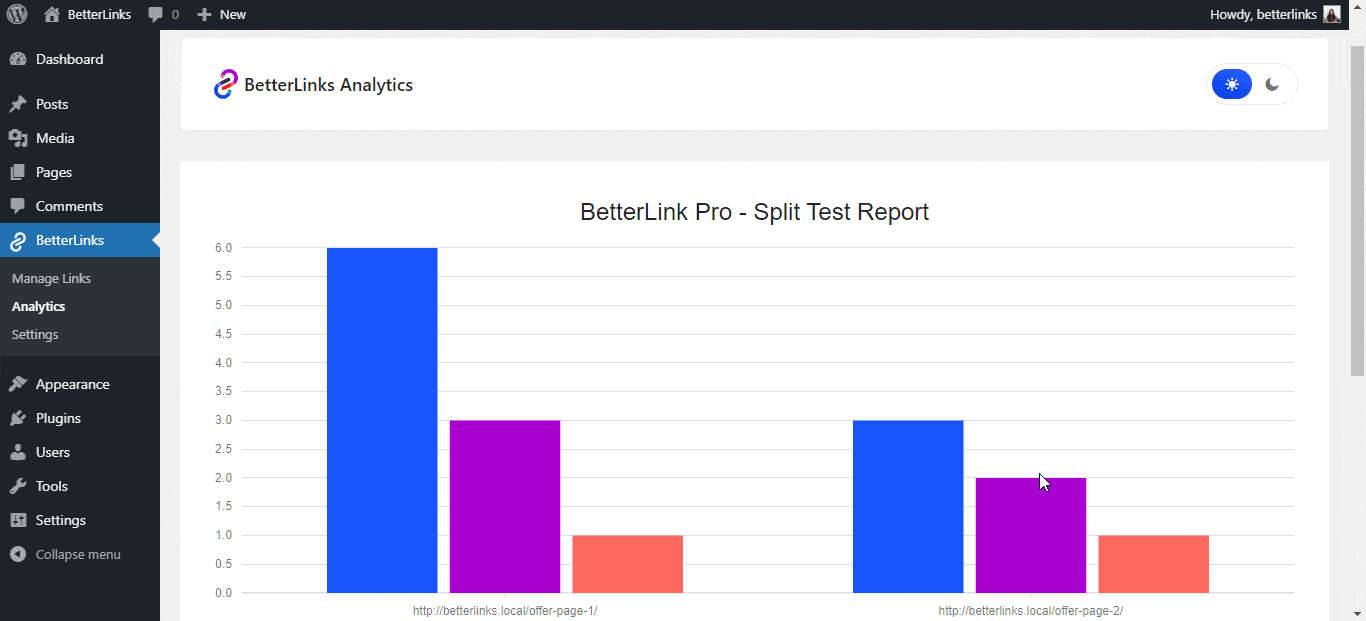 Grow Your Conversions Using BetterLinks With Google Analytics
As you can see, BetterLinks comes with tons of advanced link management features to help you enhance and improve your digital marketing efforts. Try it out for yourself today and skyrocket your conversions by using BetterLinks PRO.
Enjoyed this post? Subscribe to our blog for more tutorials, tips and tricks, and the latest updates, or join our friendly Facebook community.