Do you want to shorten a long URL into an impactful branded link? If so, then you have landed in the right place. In this blog, you will get a proper idea of how to shorten long URLs and why you should do it. Without further ado, let's get started.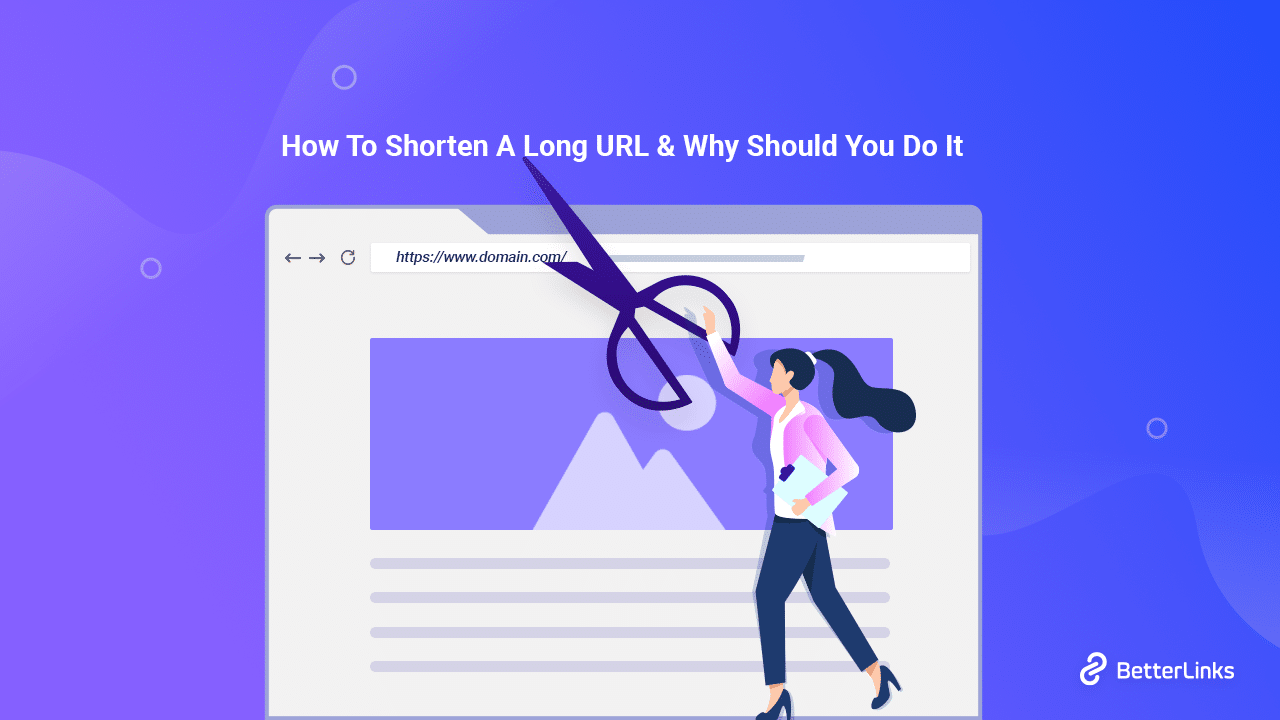 How Do Websites Benefit From Shortened URLs?
Link shortening is necessary for various purposes. A long and complex-looking URL makes little sense to viewers, but if you shorten the same long URL to something meaningful, most people will understand it better. But there is more. Let's take a look at the top benefits you can have with short URLs.
Create High Converting Social Share Link
One reason to shorten a long URL is that people usually share their links on different social media platforms for various purposes. And if you share your very long link containing random strings without any meaning, people might not feel much interest in clicking on it.
Besides, they may not find it a reliable one. Viewers might think of the complicated-looking URL as a phishing link that might get them into trouble. But if you shorten a long URL to a specific, meaningful, and eye-catching one, it will grab the attention of the customers more easily and conveniently. It will also create an urge in them to click on it to check things out.
Below is an excellent example of how Etsy used a shortened link, but one that contained their brand name, to grab the attention of the reader while promoting brand awareness.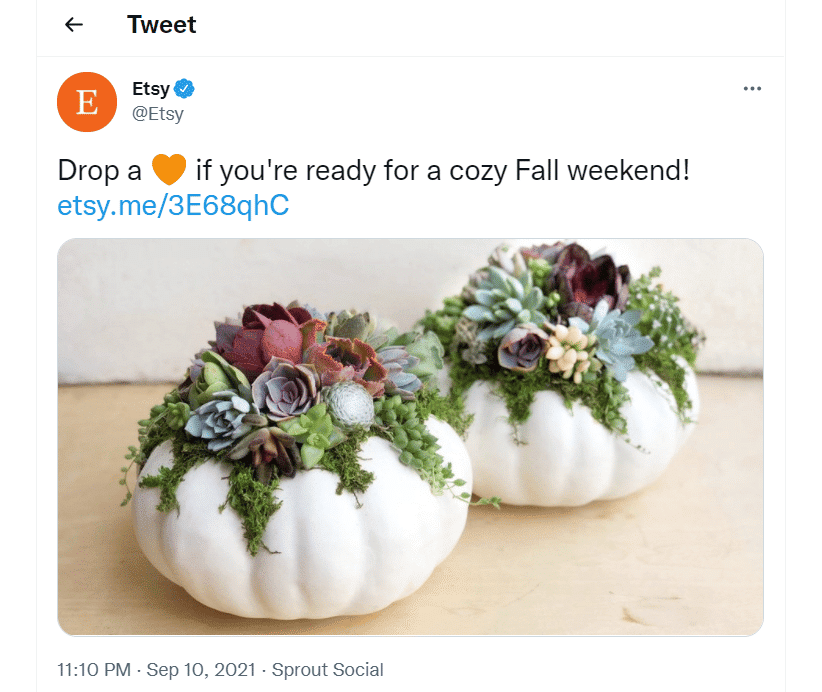 Enhance SEO With Shortened Link
SEO is always a crucial factor for any of your web content as it makes sure your site's visibility is high in the search results pages. So, here's another important reason for you to shorten a long URL, as URLs influence the SEO ranking of your site to some extent.
For example, if your URL contains the focus keyword for a certain web page, both the search engine and the readers would get an idea of what your content is about. And this gives a push to your SEO. So, if you shorten a long URL in such a way that it smartly contains your focus keyword, it would help your content rank higher, get more organic traffic, and boost conversions.
Let's say you're running an e-commerce store that sells organic skincare products. One of your product pages has a long URL, such as 'brandname.com/products/organic-skincare-for-dry-skin'. While this URL describes your product accurately, it's quite long and may be difficult for users to remember or share.
To enhance your SEO, you can shorten this URL using a link-shortening tool. You might choose to shorten it to something like 'brandname.com/organic-skincare', which is easier to read and remember. By including your focus keyword 'organic skincare' in the shortened link, you're providing search engines with additional information about your content. This can improve your search rankings.
Run A Promotional Campaign With Branded Link
Your brand's promotional and marketing activities receive the most positive boost if you shorten a long URL to a strategically meaningful one. With customized shortened links, you can match your brand and marketing campaign name and bring a lot of positive attention to the plate.
For example, you have created a form to collect customer data for a specific purpose, and you have shortened the link URL to something that reflects your purpose and brand name. So, people looking at the shortened and branded URLs would immediately know who is collecting the data and for what. This makes your brand name leave a mark on people's minds and helps you to promote your brand in every way possible.
Let's take a look again at Etsy. It is currently running a promotional campaign on select products. To promote their special offer, they have created a straightforward link, 'https://www.etsy.com/market/etsy_offer'. Anyone who sees the link will know that a special deal is available on certain products sold by Etsy.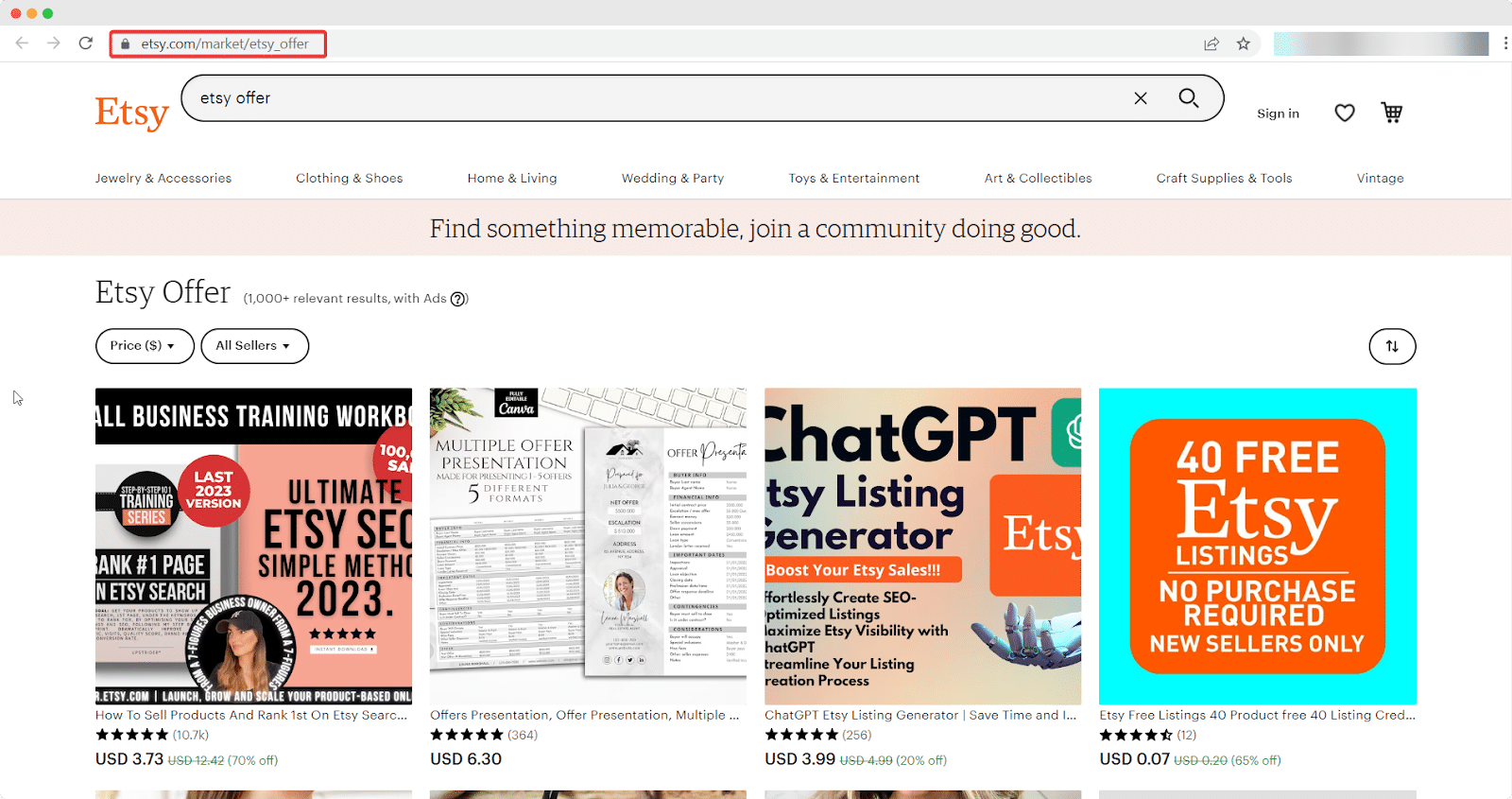 Unlocking Insights For Impactful Business Decisions
One of the key advantages of shortening your URLs is the ability to gain valuable insights into the performance of your links. By using a URL shortener service like BetterLinks, you can easily track the number of clicks each link receives, as well as other metrics such as the demographics of your visitors.
This information can be extremely valuable in helping you to make data-driven decisions about your marketing strategies. For example, you can identify which social media channels or posts are driving the most clicks, which can help you to focus your efforts on the most effective channels. By using shortened links, you can unlock insights that will help you to optimize your campaigns for success.
The Trick to Elevate Your Professionalism Online
When it comes to sharing content online, it's important to present yourself as a professional and credible source. One simple way to do this is by using shortened links. Your audience expects clean, concise links that are easy to share and remember. By using shortened links, you show you're tech-savvy and in touch with current online practices.
On the other hand, using long, unwieldy links can make you appear sloppy and unprofessional. Your audience might see it as a sign of laziness or lack of attention to detail. In today's digital age, every aspect of your online presence can affect your reputation. In such an environment, it's important to take every opportunity to show professionalism. By using shortened links, you're not only demonstrating your professionalism but also making it easier for your audience to engage with your content.
Step-By-Step Guide On How To Shorten A Long URL
You will find tons of online tools that will help you to shorten a long URL, some of them are free, and some are premium. You can choose the one you are comfortable with to shorten a long URL. But if you are thinking of how to shorten a long URL of any WordPress site, the best way to do that is to use a plugin. 
And BetterLinks is one of the best plugin choices anyone can make to shorten a long URL. Besides helping you to shorten a long URL, it also helps you with all of your links to decide on when the links will be live and when they will expire. Let's get a step-by-step guideline on how to shorten a long URL with Betterlinks.
Step 1: Install And Activate The Plugin
The very first step to shorten a long URL is to install and activate the required plugin. To start with the installation of the plugin, first, go to your WordPress dashboard and then go to 'Plugin'→ 'Add New'. And then, search for BetterLinks in the search panel, and you will see the targeted plugin.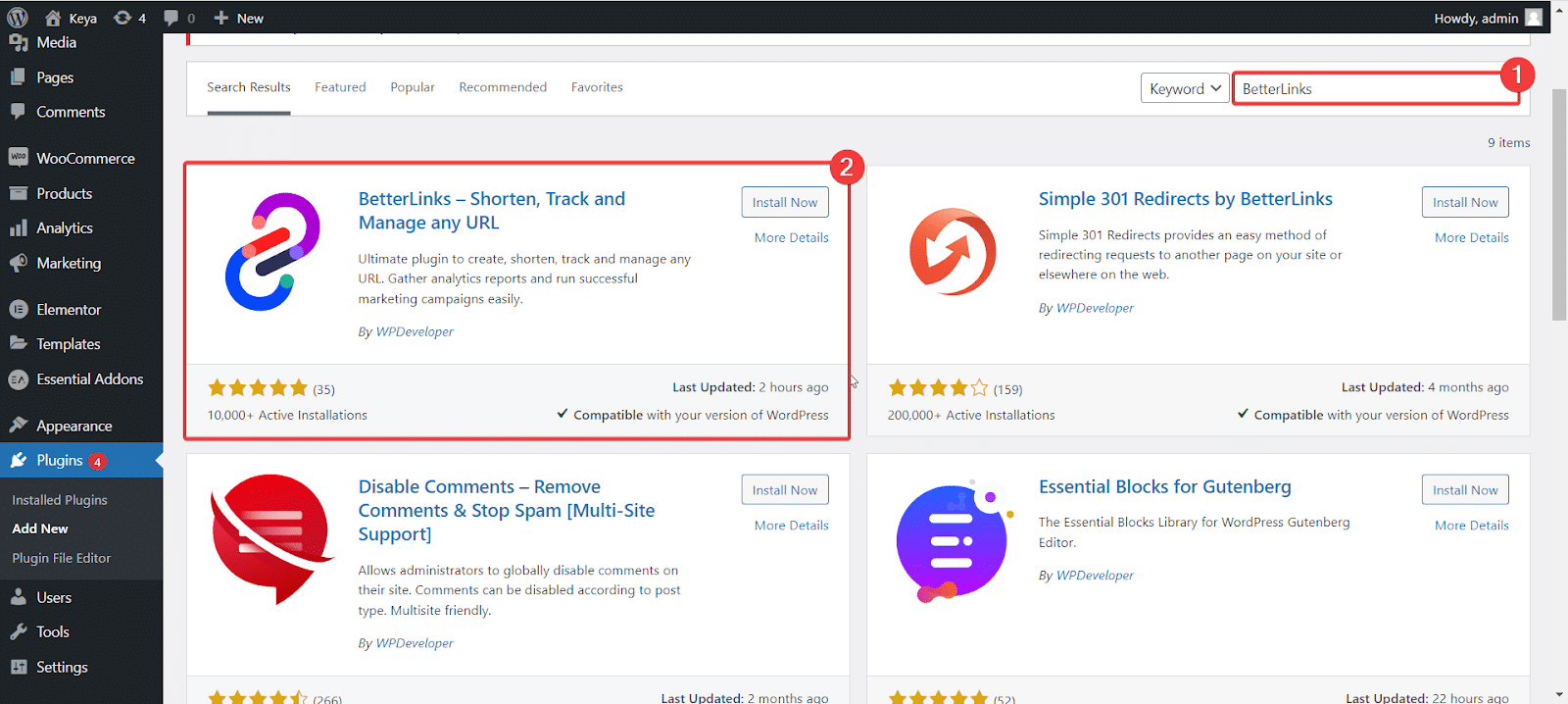 Then Install it by clicking the 'Install Now' Button. After the installation is done, you will be able to see a button named 'Activate'. Click on the button, and this plugin will be activated on your website. This is how simple the whole process is!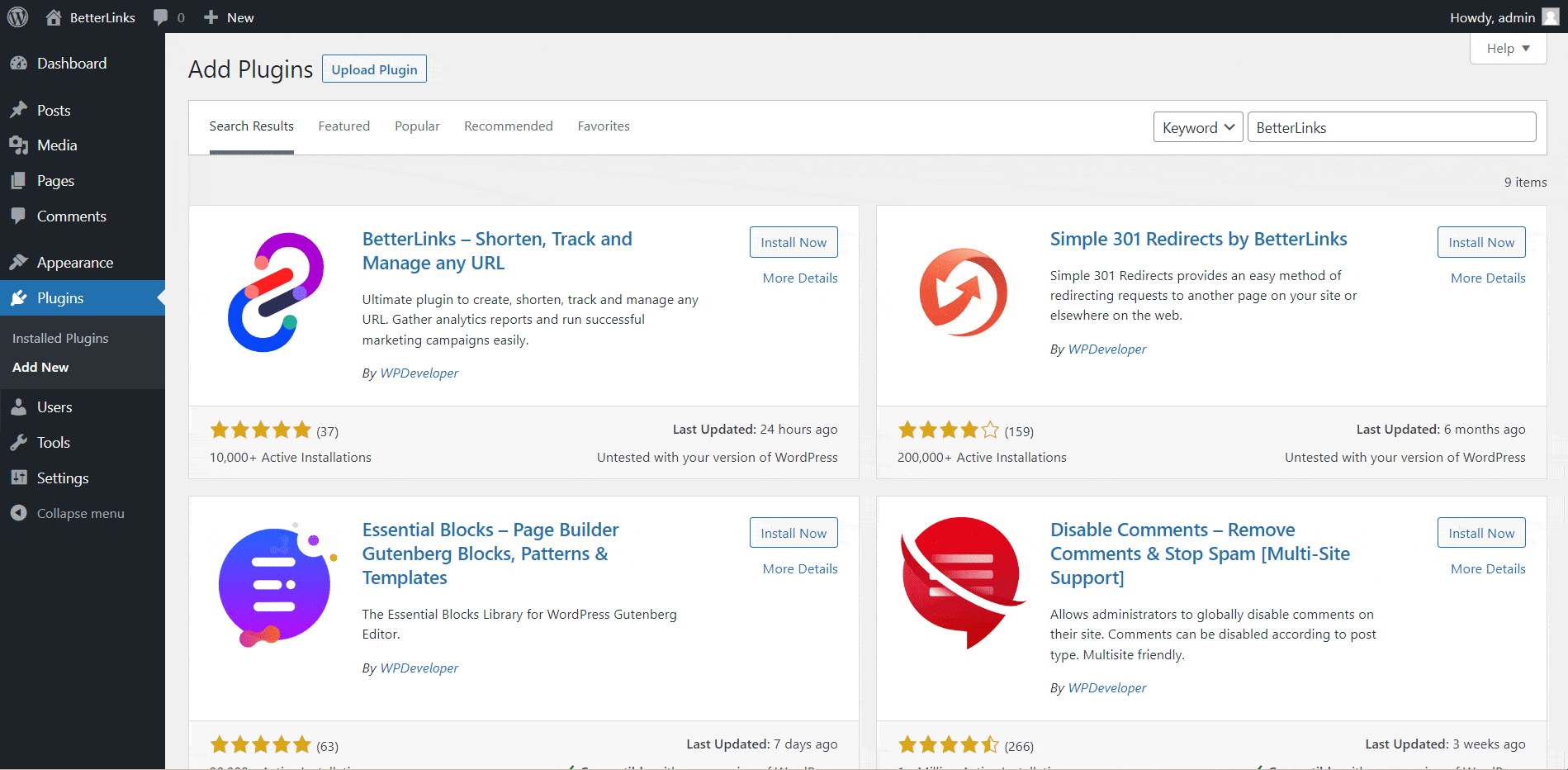 Step 2: Create A New Category
Navigate to the BetterLinks settings from your WordPress dashboard. Then go to 'Betterlinks'→'Manage Links'→'Add New Category' and click on the '+' sign to create your category.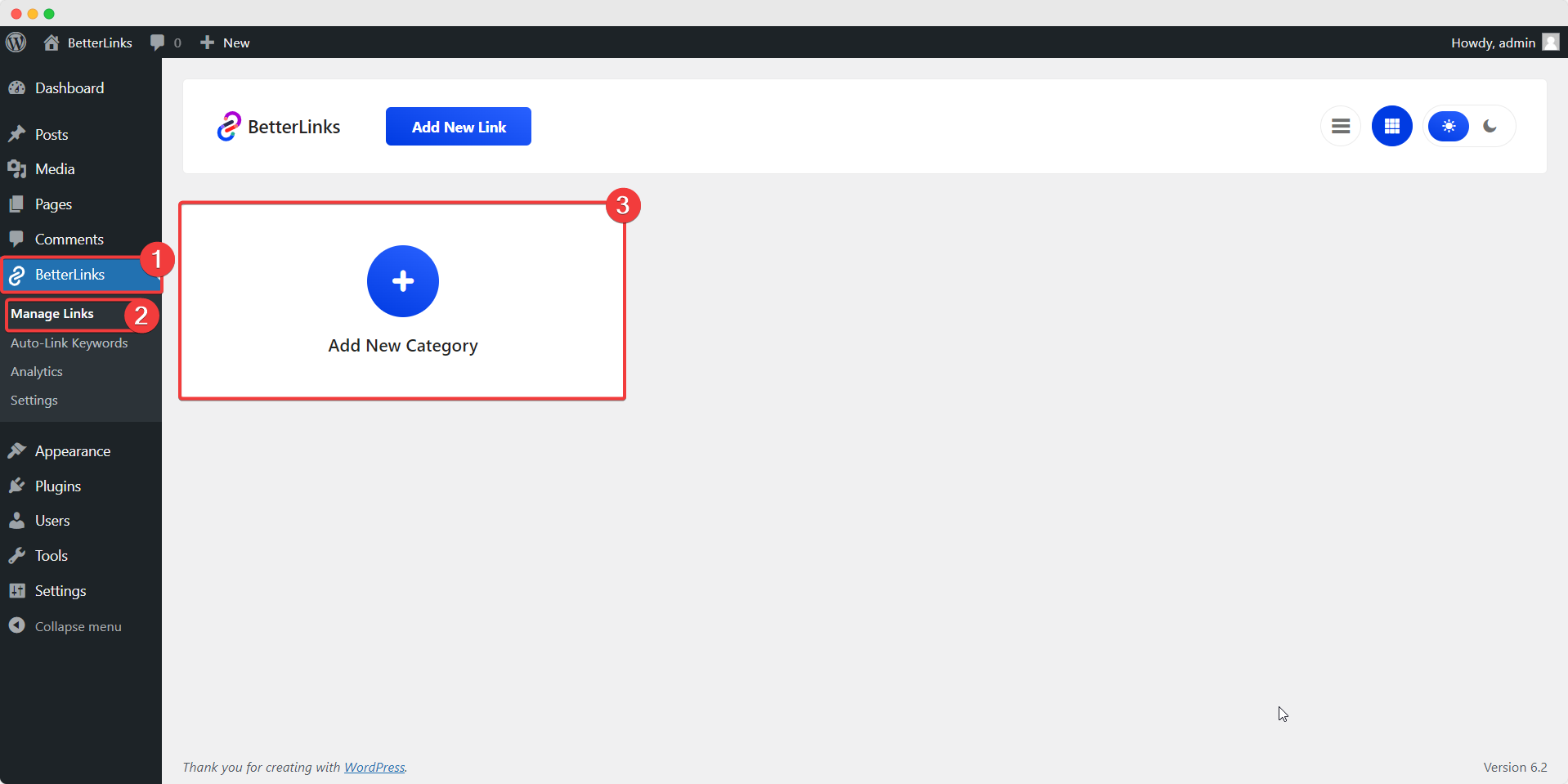 Provide a suitable category name for your link category. And then click on the 'Submit' button, and your shortened link category is created!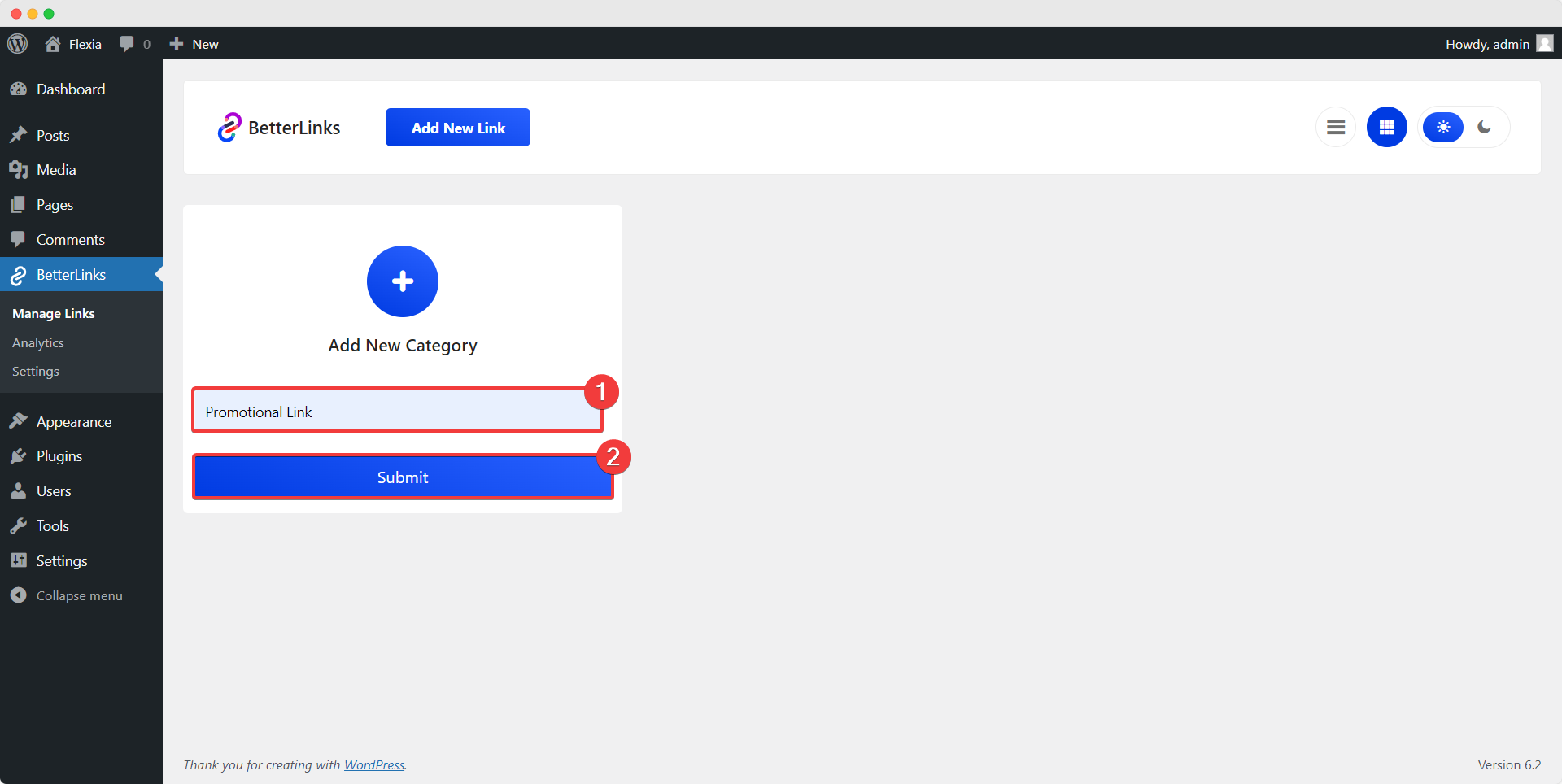 Step 3: Create A New Shorten Link URL For Your Long URL
You are now at the center of the game. To create a shortened link, navigate to 'BetterLinks'→'Manage Links'. Here, you can click on 'Add New Link' or you can directly click on the '+' under the category in which you want to place your link.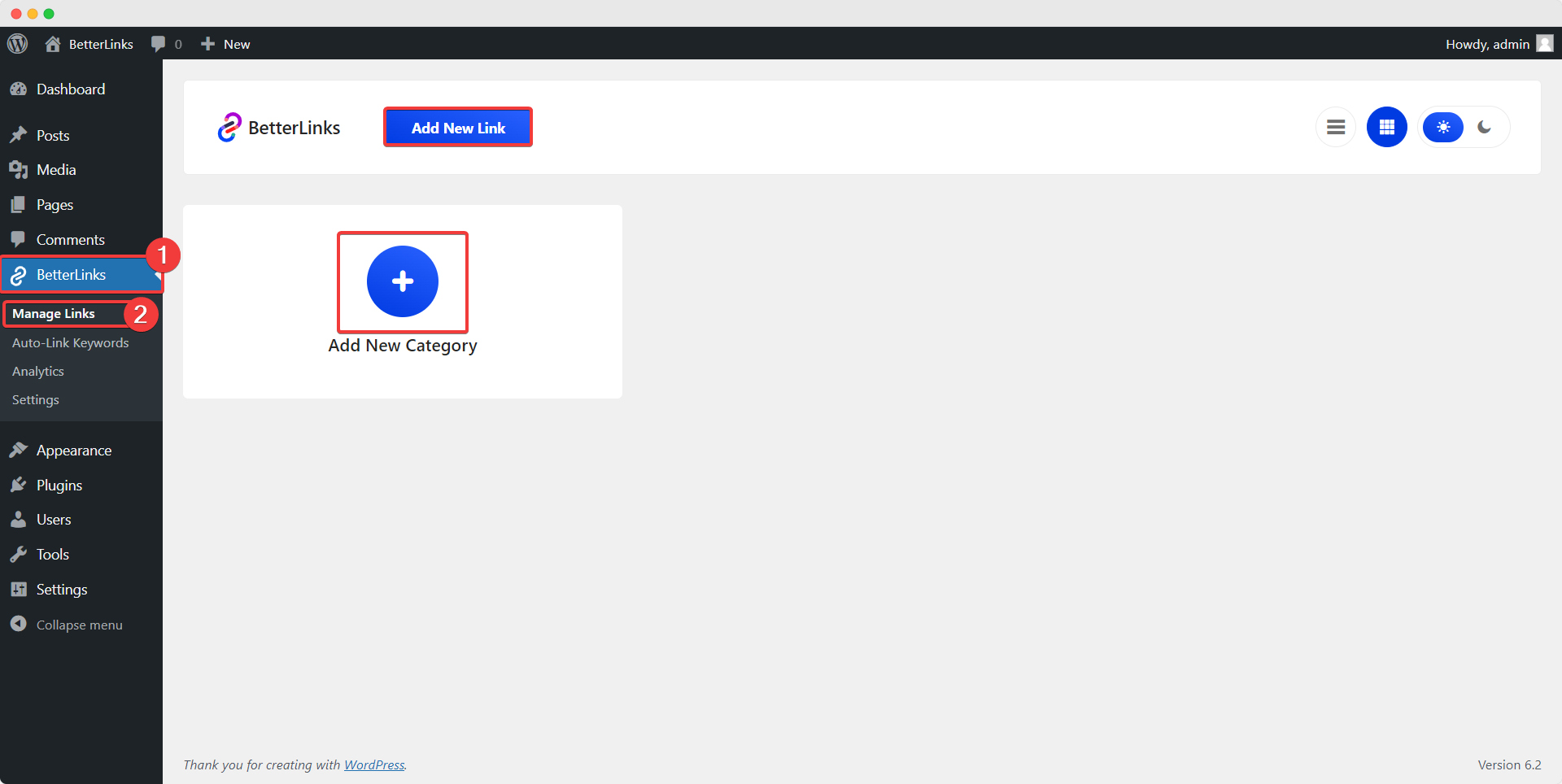 Now a popup window will appear containing three mandatory fields – 'Title', 'Redirect Type', and 'Target URL'. Fill up these mandatory fields and hit the 'Publish' button, and your new shortened link will be created under the selected category. 
In the field 'Shortened URL' you will see the automatically created shortened link. You can also modify it however you want. For tutorial purposes, we have changed the automatically created link to a different one, 'New Year'. So from the name people would understand that the content has to do something with the new year.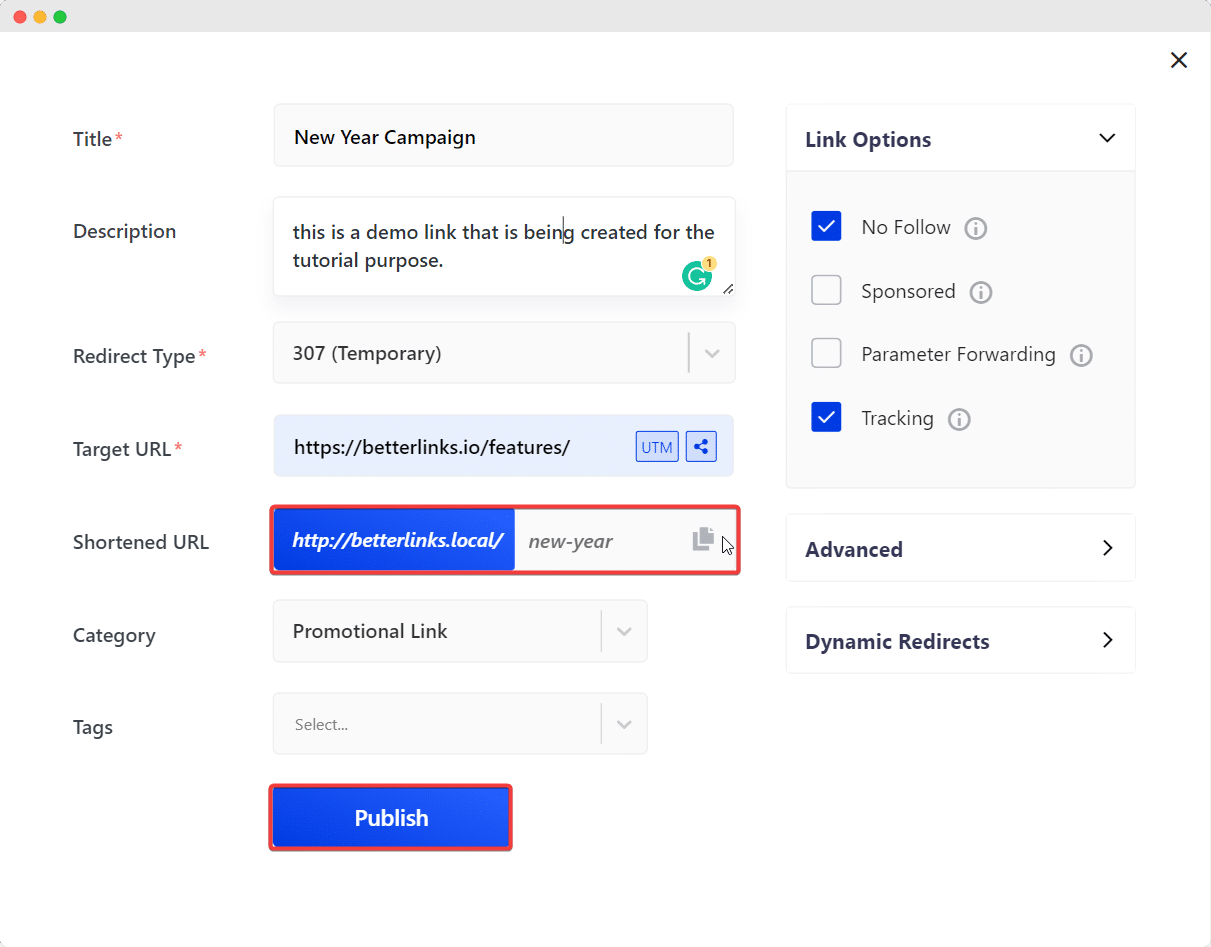 This is how easy and simple to shorten a long URL is with BetterLinks. Alongside the mandatory fields, there are many more fields to manage your links efficiently. You will get advanced features like 'Link Options', 'Advanced', and 'Dynamic Redirects' to manage your link.
Bonus: Manage Your Shortened Links Smoothly With BetterLinks

As you have already learned how you can shorten your links with BetterLinks, now, let's explore some of the exclusive features of BetterLinks. Other than shortening a long URL, it offers some super useful features.
BetterLinks is an all-in-one link management plugin that allows you to shorten, track, and cloak your URLs. It offers multiple and dynamic redirections and powerful integrations, such as Google Analytics, providing insightful data to aid in making better marketing decisions. Additionally, BetterLinks offers Split testing (A/B testing). It is a valuable marketing testing method to determine which offers or campaigns attract more customer attention.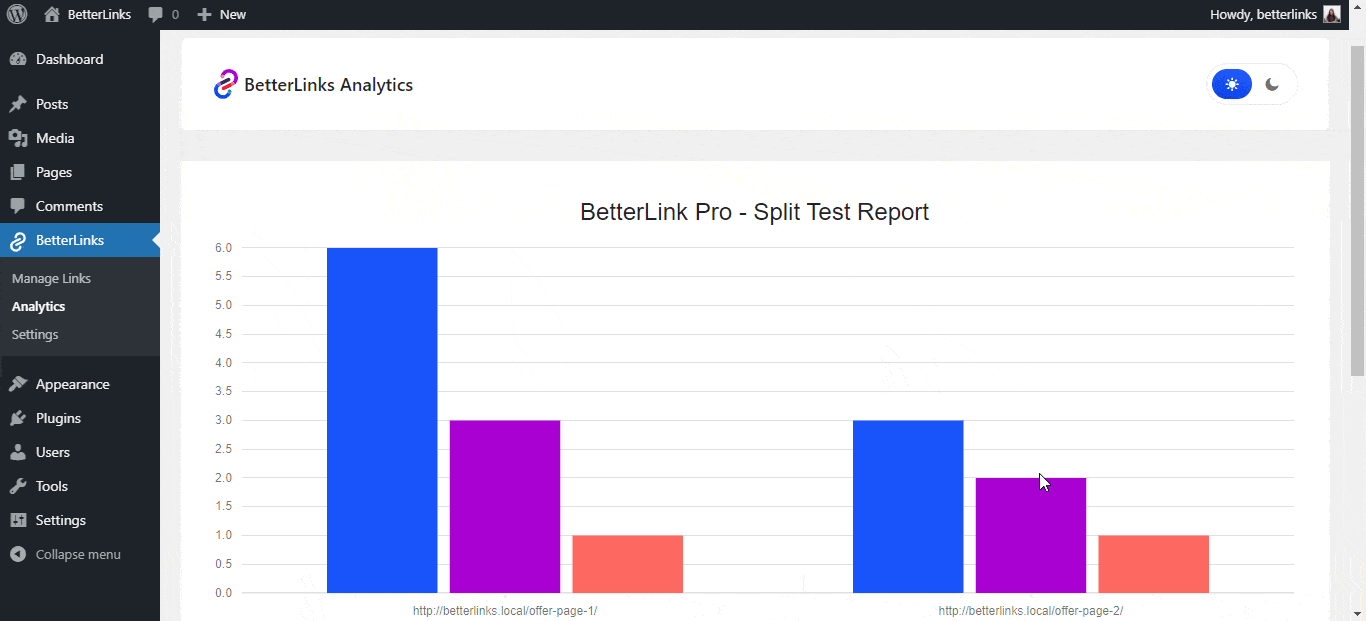 Smartly Shorten Your Link And Enjoy The Benefits
If you shorten a long URL to something good-looking, impactful, and easy-to-use, it will help you to promote your brands. This entire blog was to let you have a clear idea of how you can shorten a long URL and benefit from it. 
So, did you find this tutorial helpful? If yes, then subscribe to our blog to get more useful tutorials and blogs, and join our Facebook Community for interesting updates.