Did you know, with advanced A/B split tests feature by BetterLinks, now you can easily compare multiple marketing campaigns to track which ones convert better? That's right: data-driven split tests can help you measure the performances of each campaign URL, and put you ahead of the competition.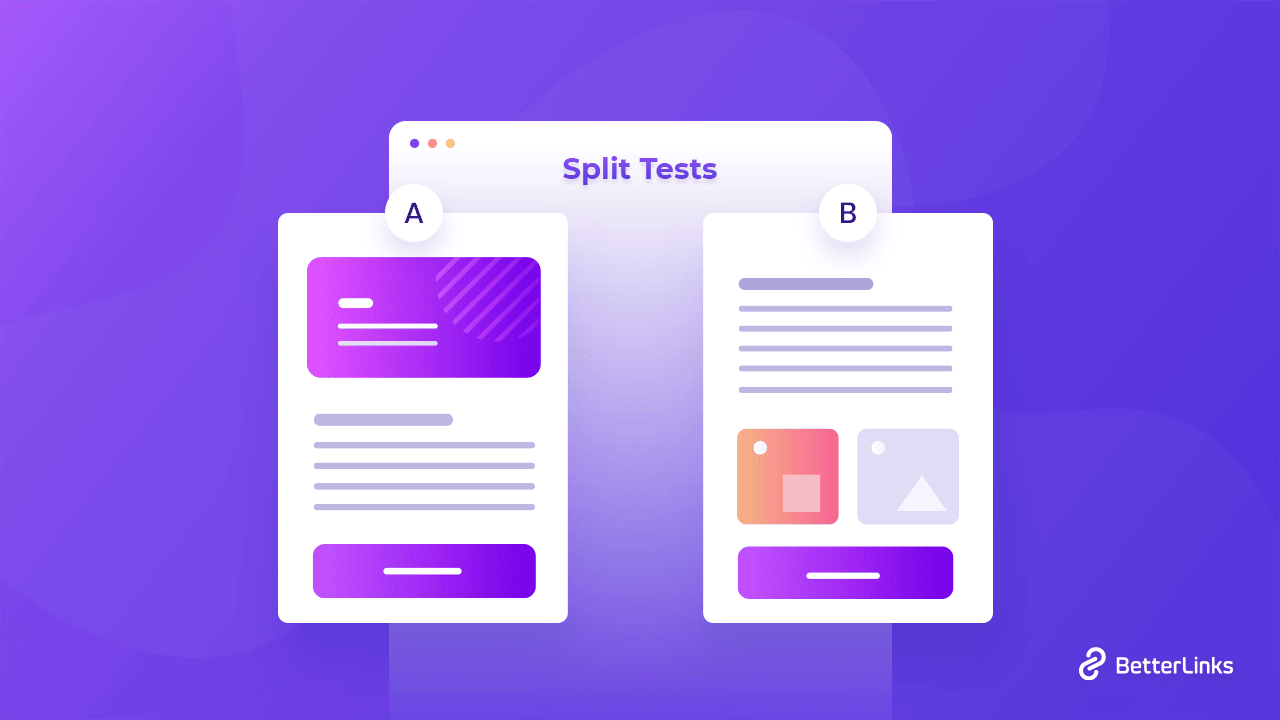 Until recently, however, conducting successful A/B testing was quite difficult and required many different steps to accomplish. But not anymore; WordPress link management tools like BetterLinks now bring you the ultimate features to effortlessly track every possible marketing campaign of your company. 
And in this in-depth and detailed guide, we will walk you through everything you need to learn about A/B split testing, starting from what it is to the very simple steps that you need to enable it with BetterLinks PRO. So, without further ado, let's dive in.
A/B Split Tests: Why Marketers Use It To Improve Conversions?
Before you learn how to track marketing campaigns using A/B split testings (also referred to as A/B tests), you need to understand what it stands for and it can be used to raise conversions. And in definition, A/B testing is the practice of sending one version of your campaign (deal pages, emails, or social media posts) to a subset of your subscribers while sending another version to a different group, with the goal of determining which version of the campaign generates the best results.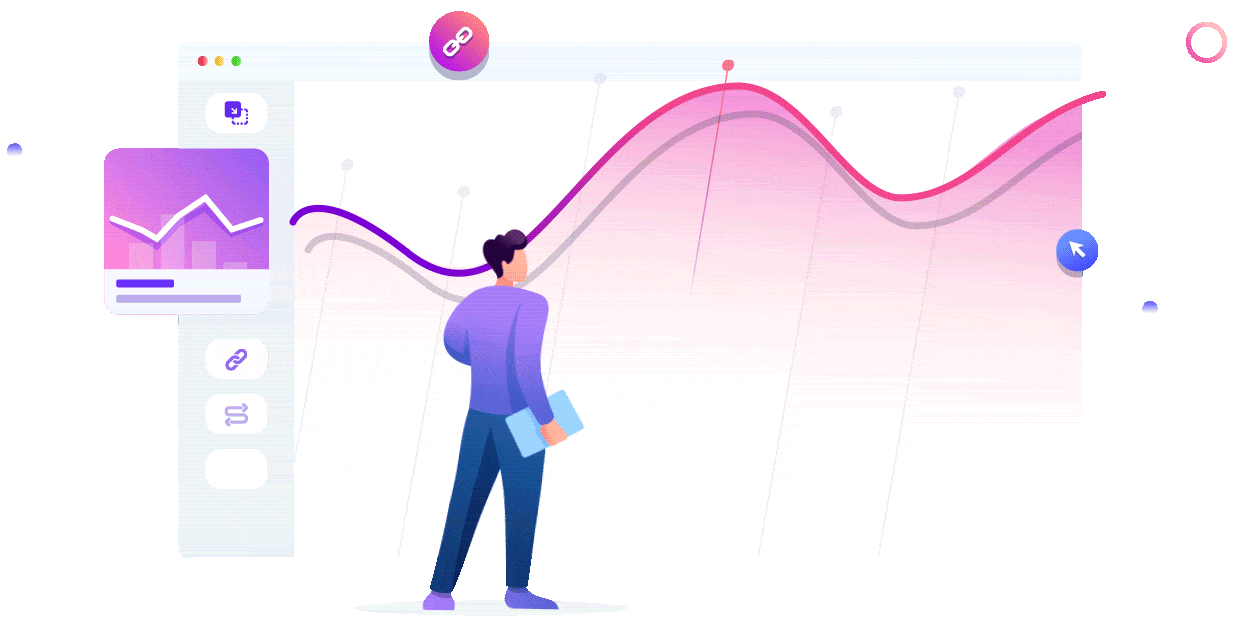 When you test multiple variables in your campaigns this way, you can easily obtain useful data on the behavior of your target audience, determine which type of content is better received and is more engaging. Marketers around the world carry out split tests to understand several aspects of their marketing strategies and find out which strategy is most effective in different campaigns.
To explain the concept of split testing in further detail, let's take an email marketing campaign as an example. Suppose, you are sending out emails to your customers during Black Friday to announce the all available deals on your website. What you need to do is send the same email to different batches of customers using varying email subject lines, and carry out a split test to see which type of subject line brings you more sales. That way, the next time you conduct an email marketing campaign, you will be able to focus on the type of content that brings you more clicks, traffic, and sales.
Is There Any Difference Between A/B Testing And Split Testing?
Now, it is important to understand if there are any differences between A/B testing and split testing before you start to carry them out on your marketing campaigns. Well, they are terms that are often used interchangeably and have very little difference.
Split testing is a method of determining which version of your website visitors respond to the best by comparing two completely different versions. On the other hand, when using A/B testing you will be comparing a number of tiny changes made to a single web page – suppose one web page with engaging images or videos while the other contains just text content.
A/B testing and split testing shouldn't be mutually exclusive. Instead, they should be used as complementary tests that can work together to get the most out of your site's pages.
It's best to use split testing for making huge changes. And then use an A/B test to optimize an existing page further once that considerable change has been made.
Top Goals Of Analyzing Your Campaigns Using Split Tests
Usually, when using A/B split testing to track marketing campaigns, businesses and marketers aim for the following:
🚀 Boost Website Traffic: You can test different email subject lines or blog headings, and track the number of people who click on them and visit your website. This way you'll be able to easily determine the click-through rates of your campaigns and increase website traffic accordingly.
🎯 Improve Conversion Rate: Testing different locations, colors, or even content on your campaigns can also put a massive impact on the number of people who click on your posts or emails. And with this, you can easily target to increase conversions from every click by leveraging the knowledge you gain about user behavior.
📊 Lower Bounce Rate: Another great benefit of testing which type of content works better with your customers or website visitors is that you can modify your marketing campaigns to lower bounce rates. You will be able to easily identify which items do not work and avoid using them on your websites and campaigns.
How To Carry Out An A/B Split Test Using BetterLinks PRO?
The ultimate link management solution for WordPress, BetterLinks, brings you the premium 'Dynamic Redirects' feature to track and analyze any URL using exclusive A/B Split Tests.

With just a few easy and simple clicks, you can use BetterLinks PRO dynamic redirects to carry out split tests and find out which links perform better. Follow the in-depth, step-by-step guide below to learn how you can do so effortlessly.
Note: Make sure to install and activate BetterLinks Pro as well as the free version of BetterLinks on your website.
Step 1: Redirect The Main Landing Page
To carry out split tests using BetterLinks, you need to have at least two separate offer pages (or more) and a goal landing page (suppose your Black Friday deal page) on your website. Here, the offer pages are the web pages where you will set the redirect link (through a hyperlink or call-to-action buttons, etc.) and the main landing page is where the user will be redirected to when they click on the offer pages.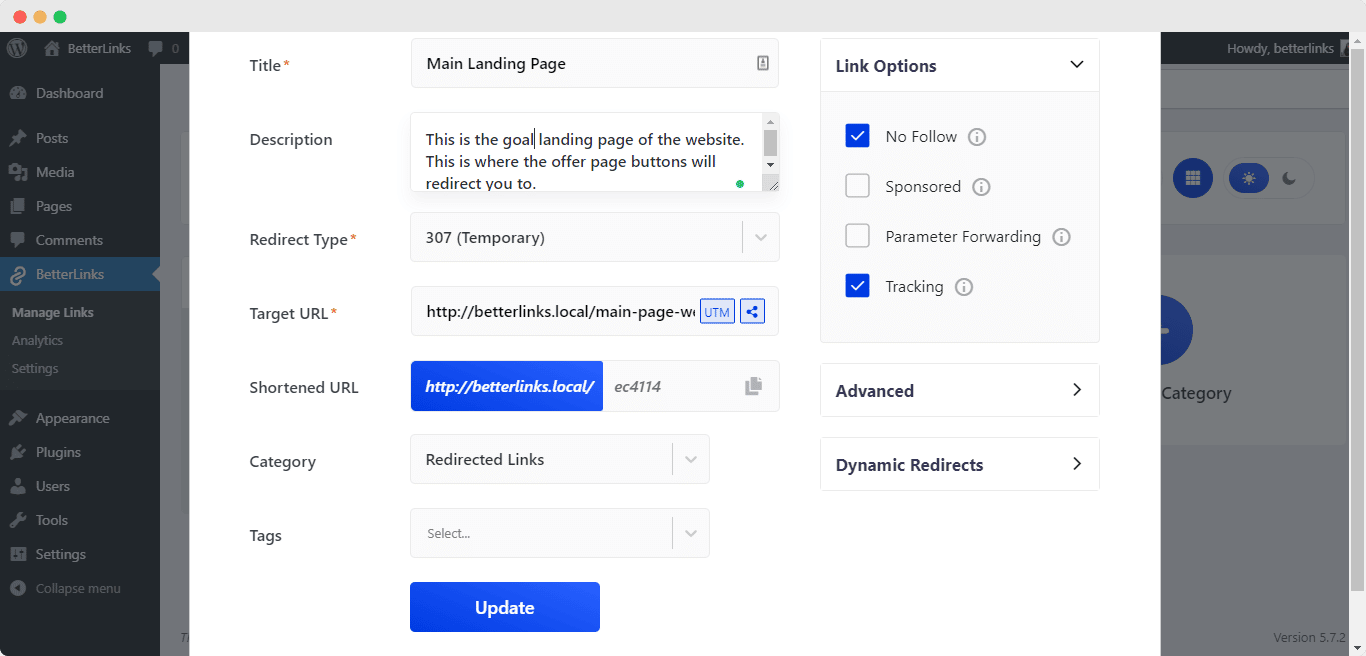 Make sure you have already created a shortened, redirect link for the main landing page using BetterLinks beforehand. Check out this documentation to learn how to shorten and redirect a URL effortlessly with BetterLinks.
Step 2: Insert The Redirect Links Into Your Offer Pages
Since the offer pages will redirect you to the main deal page, you must copy the shortened URL and insert it into the offer pages. The inserted redirect link can be in the form of a hyperlink, an affiliate link, or inserted into a call-to-action button, as shown below.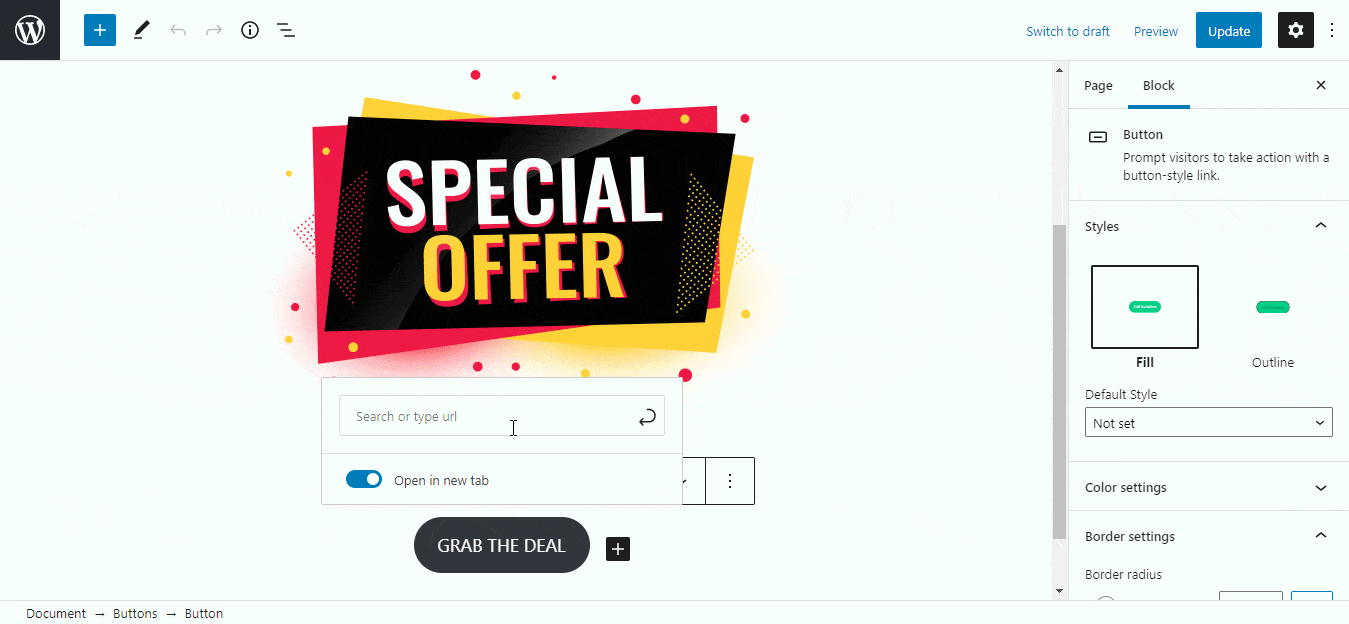 Step 3: Enable Dynamic Redirects Feature
Simply redirect any one of the offer pages and enable its 'Dynamic Redirects' option to create link rotations. To learn more about link rotations and dynamic redirects, check out BetterLinks' documentation.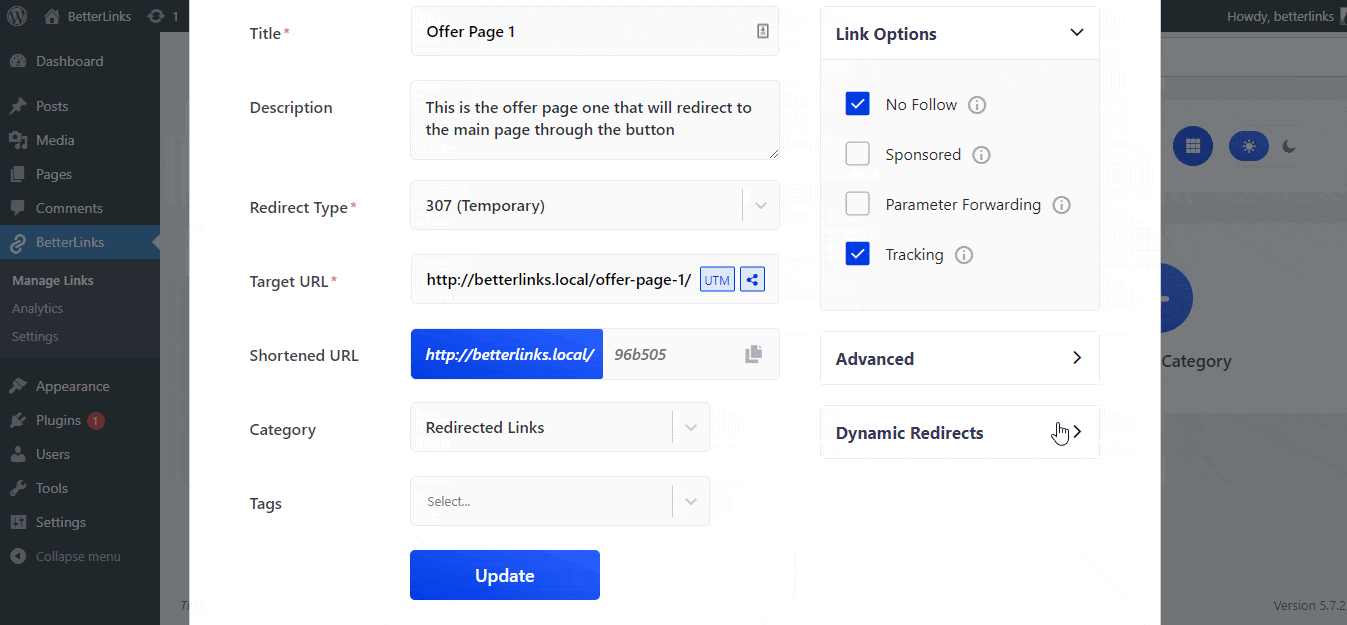 Step 4: Enable And Analyze Split Tests
Finally, click on the 'Enable Split Testing' checkbox and select the main page you want to test the conversion rates of from the drop-down menu, as shown below.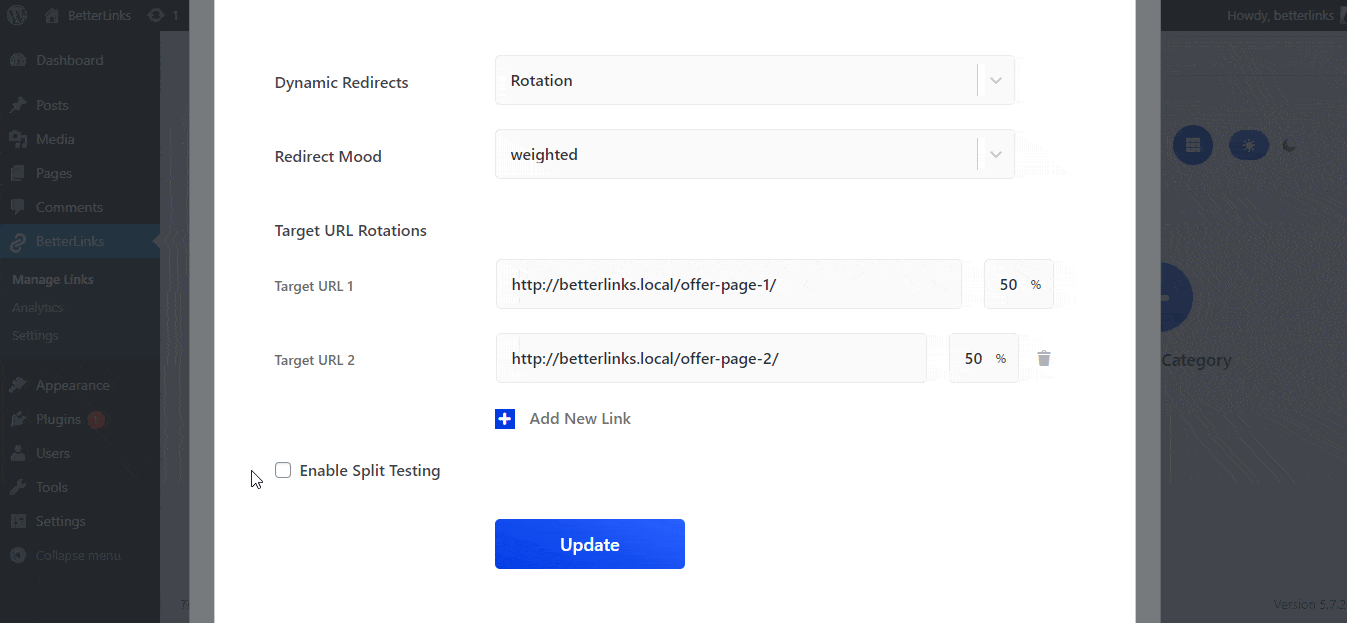 The redirected link will carry out a split test and redirect users to both the offer pages in rotation according to the percentages you set. When your users click on the redirect buttons or hyperlinks on these two offer pages, they will be seamlessly redirected to the main landing page you have selected.
Afterward, click on the 'split' icon on the redirected link, as shown. It will take you to the BetterLink Analytics interface, where you can check the click-through rates, the number of unique clicks, and the conversion rates for each page, both graphically and as a list.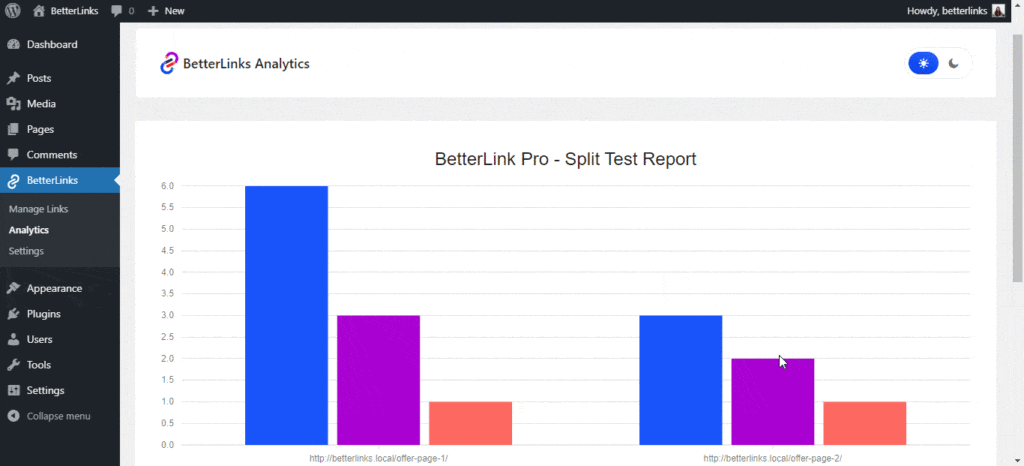 Note: Do not forget to refresh BetterLinks stats before checking the analytics.
This is how simply you can carry out split tests effortlessly with rotational URLs using BetterLinks PRO.
Effortlessly Track Any Campaign With BetterLinks & Boost Sales
In just a few clicks, BetterLinks allows you to track and analyze the performance of all your website URLs, marketing initiatives, and affiliate links. With this valuable link shortening and redirection plugin, you will get access to advanced, in-built analytics tools along with a number of other unique features such as Google Analytics integration, A/B Split Testing, and numerous sorts of Dynamic Redirections.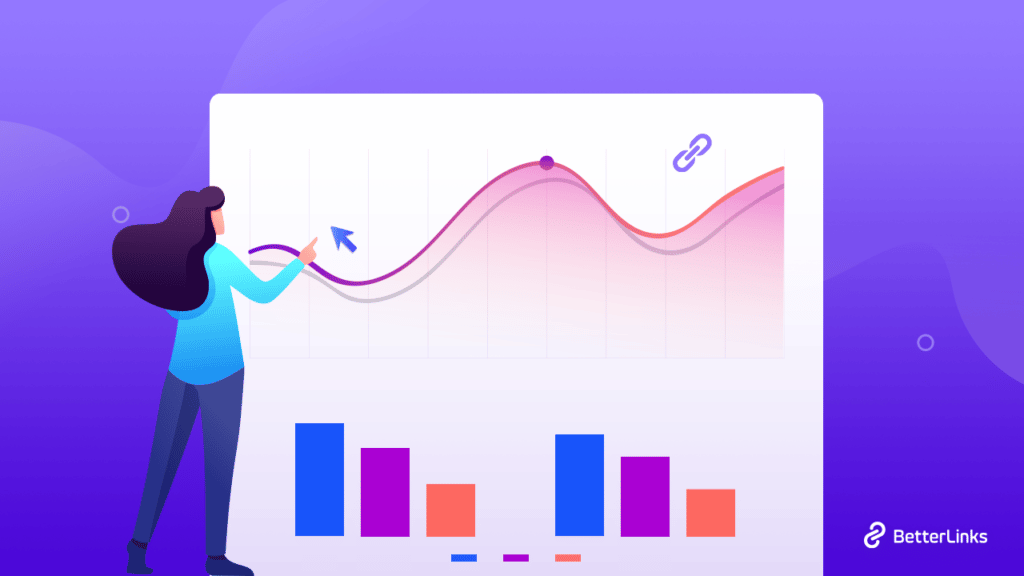 Learn more about all the different types of analytic features you can get from BetterLinks from our detailed blog 'BetterLinks Analytics: Everything You Need To Track Your Links Well'
Try BetterLinks for yourself, the ultimate link management solution for WordPress and analyze your campaigns and links with just ease, if you haven't already, and make the right decisions to skyrocket your engagement rates and conversion with just a few clicks.
Let us know about your experience, we would love to hear from you. Leave a comment below with your thoughts or suggestions. Join our Facebook group to communicate or subscribe to our blog for more useful tutorials, the latest news, and updates.