As of 2023, affiliate marketing has a market value of over $17 Billion. Undoubtedly, it is also one of the more profitable business models an aspiring marketer can venture into. While many might believe starting an affiliate marketing business requires a hefty amount of money, it is quite the opposite. So if you are someone who wants to start his own career as an affiliate marketer, but you are worried about how to get started, you've come to the right place. Today, with this detailed guide, we are here to walk you through all the steps you need to start affiliate marketing with no money!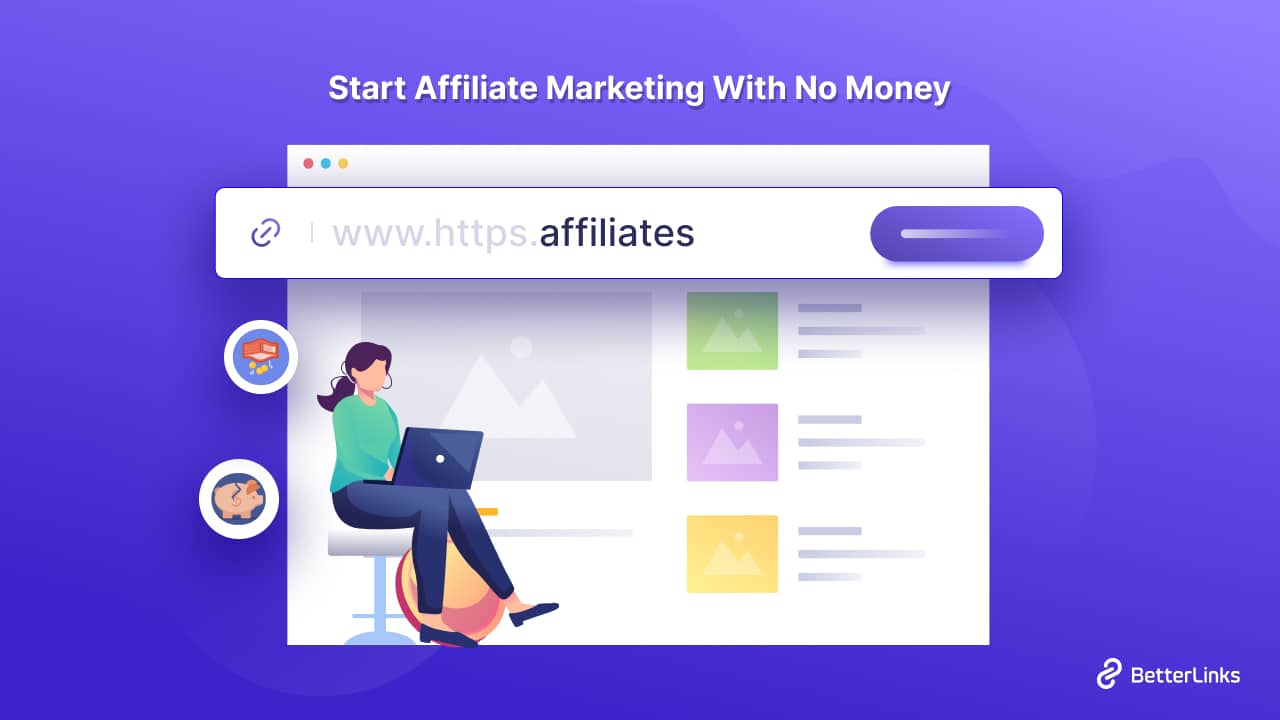 What Is Affiliate Marketing & How Does It Work: Basics For A Beginner
Let's begin our lesson with a brief but detailed explanation of what affiliate marketing stands for, for all the beginners out there. Simply put, it is promoting others' products, services, or businesses to your online audiences using a personalized affiliate link and making an attractive commission whenever someone purchases the advertised good through the link.
In this day and age of advanced marketing, you might have seen many influencers on social media promote makeup products or brands and urge their followers to purchase using a special discount coupon or link. This is a perfect example of affiliate marketing where the influencer (affiliate) will be commissioned a certain percentage of the sales every time someone makes a complete purchase using the coupon code or link.
What Makes Affiliate Marketing A Profitable Source Of Income?
It's a great and highly profitable business model because it has minimal overhead and requires no product manufacturing, shipping, or customer service. Still, you get a sure payment if you successfully promote the product to an audience.
But it's not just that; there are many other reasons why marketers prefer this strategy to grow their brand name and business:
💰 It's low risk: For new affiliate marketers, overhead costs stay low, as we will discuss in just a bit. And even if you do not hit the mark with your first campaign, your actual blog or video content still remains, bringing you traffic and recognition.
💰 It's a win-win situation for everyone: The purchase of affiliate campaigns is to promote someone else's business or products to your audience. So when a successful purchase takes place using your affiliate links, it benefits the business you're promoting. And they reward you in return with commissions. So overall, it's a business model where both parties win.
💰 You can work from anywhere in the world: Working as an affiliate marketer does not require you to be in the same localization as the business or product company that you're promoting. And it does not take up too much time as well. So, you can work on your projects while placing affiliate links into related content from anywhere in the world at any time.
💰 You can build a passive income: You'll discover that affiliate links on content or videos you posted ages ago continue to generate commissions even months or years later.
So it's easy to understand why affiliate marketing ventures can be a great source of income for anyone starting new. But the question remains, can you get started with affiliate marketing with no money in your bank accounts? Let's read more to find out.
Can You Get Started With Affiliate Marketing With No Money?
Diving right into the answer – yes, it is possible to start affiliate marketing with no money. Many successful affiliate marketers are well-known to have started their own campaigns in this ever-flourishing sector with little to no money. The key here is to find an affiliate marketing program that you can sign up for without any upfront payment, and these days, there are many such campaigns that even provide you with all the resources you need.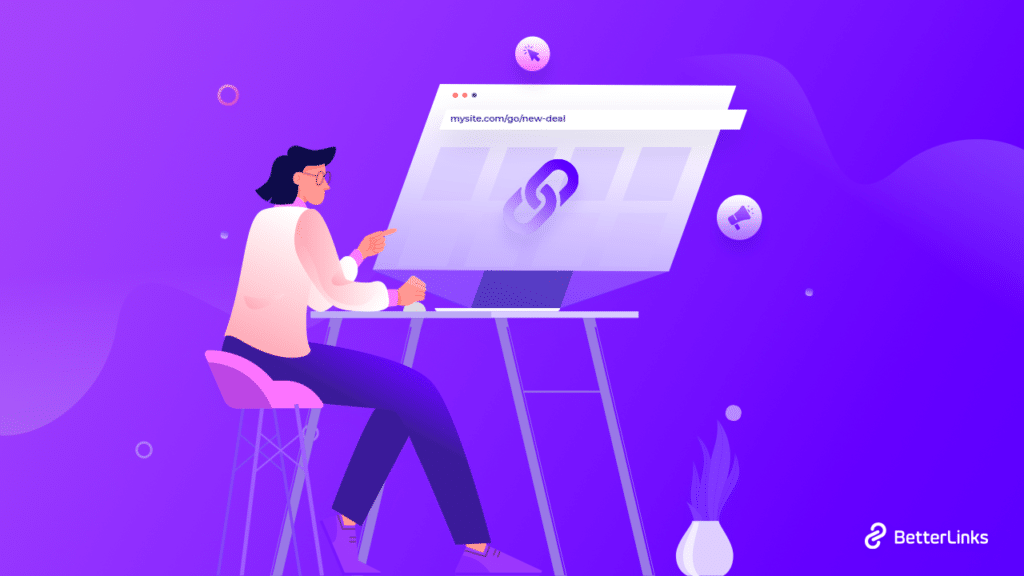 Initially, you can start off by sending the links to your network if you do not already have your own website. You can also start attaching affiliate links to your content or social posts – starting off here will always be free of cost too. Most successful affiliate marketers, however, prefer to create a website with creative content in order to drive traffic and be recognized among a larger crowd. This process does require some expenditure (purchasing a domain name and website hosting), but even then, you can get started with affiliate marketing with [almost] no money.
What you truly need to focus on is getting traffic to your affiliate links, and building traffic can be both free and paid. Some completely or partially free sources of traffic that you can look into are:
Personal blogs or websites
Social media pages (as mentioned above)
Email newsletters
Communities or forums
7 Easy Steps To Start Affiliate Marketing With Little To No Money
If you are ready to get started, here are 7 simple ways you can begin your journey as an affiliate marketer without breaking the bank.
Choose An Industry Or Niche For Your Affiliate Venture
Start off by choosing a segmented target market and audience (more commonly known as a niche) for your affiliate marketing venture. Wondering why? Because it will help you establish strong brand recognition and grow authority in the niche marketplace with time. And not just that, choosing a niche beforehand will help to determine the type of business, product, or service and, more importantly, the pricing structure you will be working with. 
But how to choose the right niche for your affiliate marketing business? You will need to analyze the competitors in your chosen niche, assess the demand for the products that you can promote to your audience, and also ascertain the size of the audience. This is crucial because the higher the competition, the more difficult it will be to drive traffic to your content and earn commissions.
Decide On Your Traffic Channels & Create A Presence
The next thing you need to do is choose a platform for your affiliate marketing venture where you can share promotional content and drive traffic. And this is necessary even if you have a website where you are writing or creating the content – as these platforms can help you create an engaged community, boost credibility, and grow leads, all of which are a must for affiliate marketers to be successful.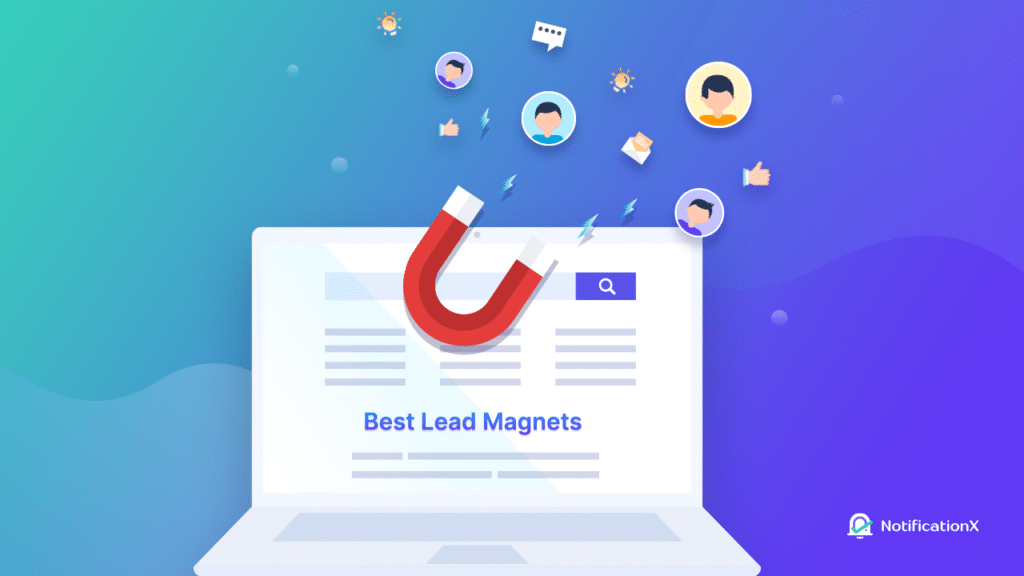 These platforms or traffic channels can be social media, email marketing channels, or even YouTube if you want to create audio-visual content. While some email marketing platforms might cost you some money to sign up for, most social media platforms, like Facebook, Instagram, and Tiktok, are completely free.
Now, depending on your chosen niche, you need to choose which of these traffic channels will be most effective or visible to the target audience. For example, if you have chosen to promote skin care products for teenagers, TikTok and Instagram might be a good platform to start interactions in.
Create A Website Or A Personal Blogging Channel
Next, you need to create a website or blogging platform if you do not already have one. But as mentioned earlier, building a website might cost you some money to start with. However, it is important to note that 65% of affiliate marketers around the globe prefer having their own websites completely customized to match their content, niche, and brand image. Here's a quick guide to getting started with WordPress for anyone starting from scratch.
Blog posts and landing pages can help you with opportunities to share your affiliate links multiple times with your audience without being intrusive. And not just that, you will be able to highlight the right affiliate content and promotional material as needed. Here is a resource that you might find useful if you want to create your own personalized affiliate marketing landing page on your website.
Find & Select Affiliate Programs Offered In Your Niche
Once you have chosen your niche, prepared your traffic channels, and have your website ready, it's time to dive deeper. And the next step is to browse through all the affiliate programs available in your niche and select the right one for your business.
There are several affiliate marketing programs offered these days that do not require you to pay upfront, which means it is quite easy to get started with affiliate marketing with no money. However, you will have to consider a few factors while choosing:
Cookie Period
Commission Structure
Support
Brand & Reputation Alignment
You can choose to be a part of the highly recommended Amazon Affiliate Program as well as it offers some exclusive benefits. And if you need some assistance finding programs that do not have any fees, you can look up affiliate marketing marketplaces available online, where you will be able to find many choices to explore through.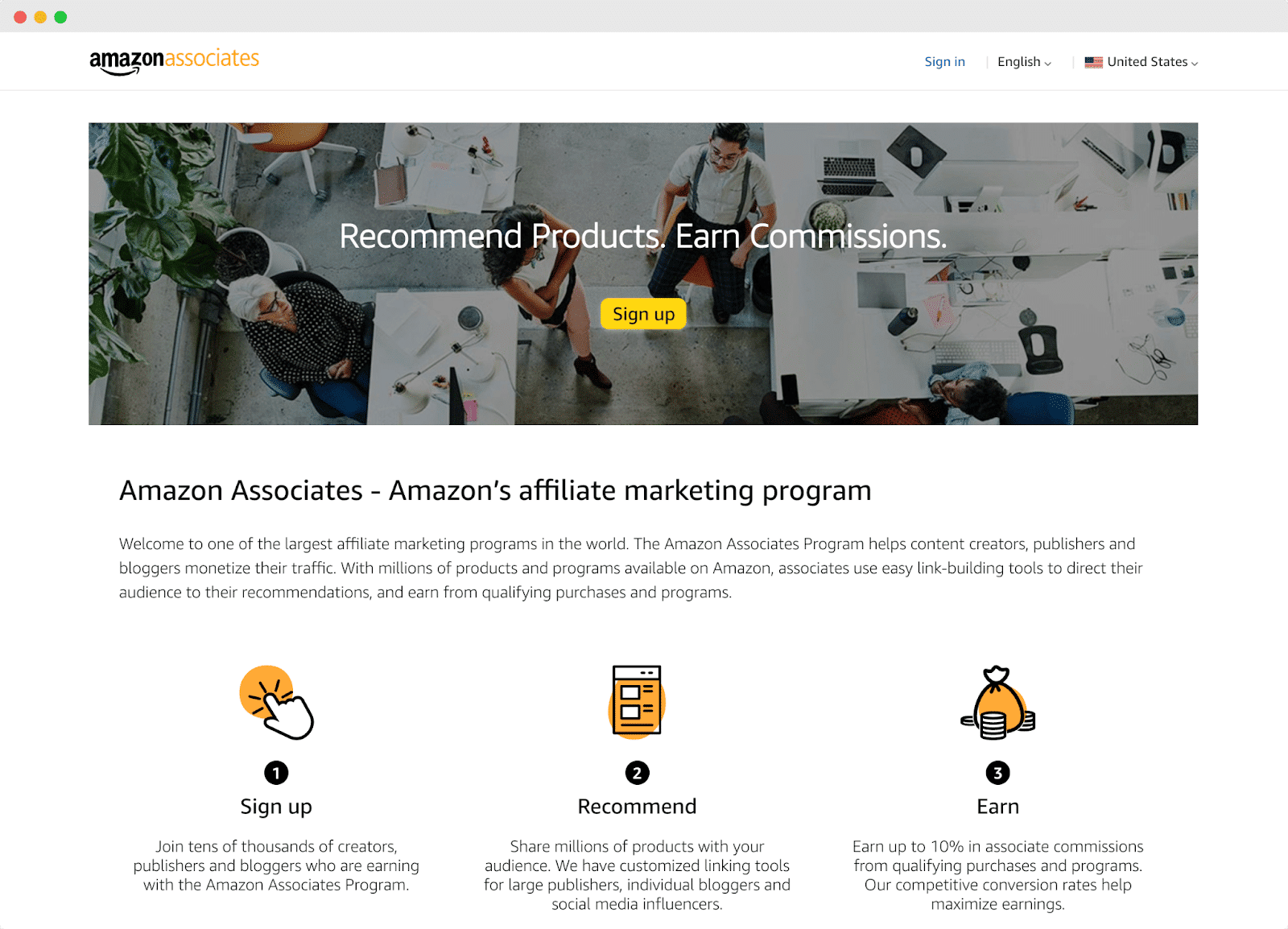 Create Content That Attracts And Attach Affiliate Link
Then comes the main part of affiliate marketing – creating top-quality content and putting your affiliate link or offer in it in a convincing way that drives sure clicks. And not just any type of content; these need to be ones that resonate with the readers or viewers in a way that converts.
You should try to create unique content that responds to the audience's questions or assists them in solving a specific problem, whether it's a YouTube video, blog post, or newsletter. Such content can be:
Product Reviews
Product Roundups
Product Comparisons
Tutorials
Q&As
How-Tos
Tips And Tricks
Optimize Your Content For SEO & Visibility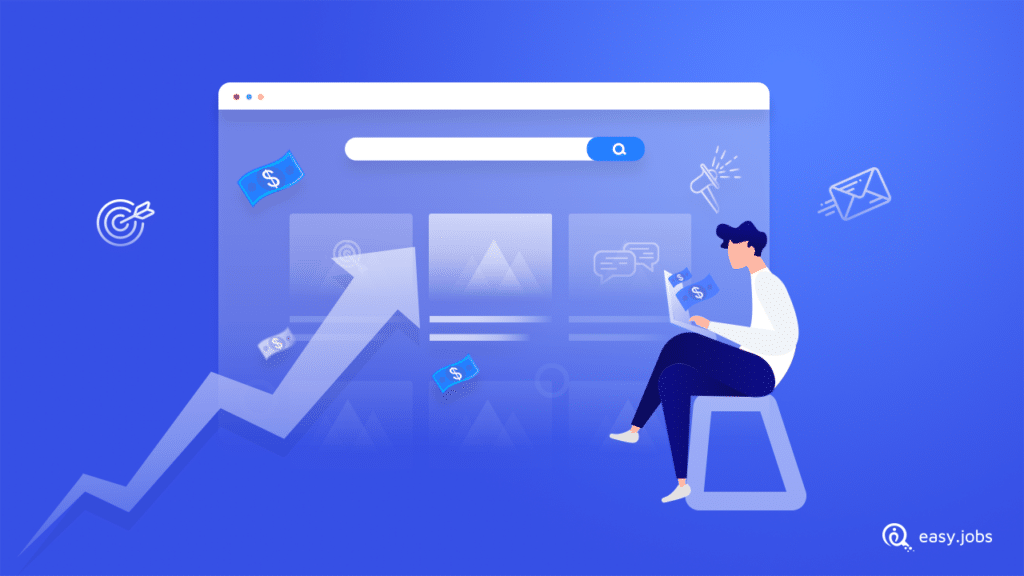 Success in affiliate marketing requires search engine optimization. You can increase traffic and exposure by writing blog articles, participating in Facebook groups, posting on Instagram, or producing videos for YouTube or other platforms.
Decide what content goes with your target audience and do keyword research before promoting affiliate products on your site or account page. Add relevant keywords to your content to rank high on search engines and send customers directly to you. Then engage with your audience by sharing your content (and affiliate links) with emails, social media posts, etc. All the while, make sure to follow all the latest trends and best practices for affiliate marketing in your chosen niche. And then promote everywhere you can!
Track Your Affiliate Links & Content Regularly
Tracking the most popular sites, links, and visual components is part of this process. You can utilize additional affiliate marketing tools to optimize your campaigns even if the majority of affiliate networks offer sales information through an affiliate dashboard.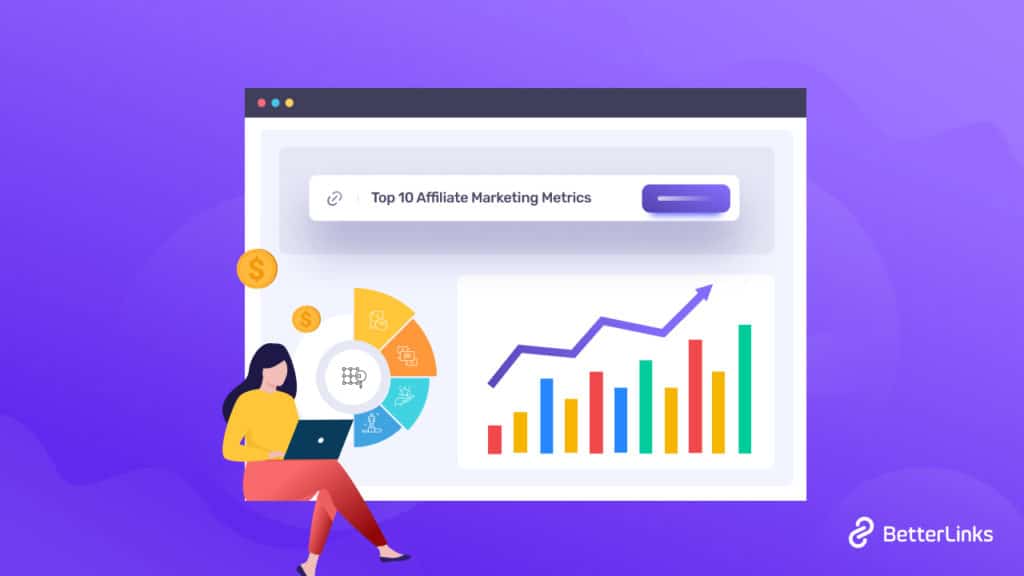 About 38% track their affiliate program metrics weekly, and another 14% track them every two weeks. And BetterLinks – the ultimate link management plugin for WordPress – can be just the tool you need. You can check out this complete guide on the top 10 metrics that you should explore and strategize for affiliate marketing.
Bonus: Follow The Best Practices To Affiliate Link Disclosure
Following these simple and easy steps, you can effortlessly get started with affiliate marketing and make money for yourself by promoting our products and businesses! But before we leave, we want to prepare you further for an excellent affiliate marketing experience.
Did you know you have to properly disclose your affiliate links in the blogs or websites while adhering to legal rules and regulations? Learn all about how to share affiliate link disclosures and what are the best practices to follow for it from our detailed guide here.
Join Popular Affiliate Marketing Programs & Earn Easily
And finally, here's a complete list of the top 10+ affiliate marketing programs you can sign up for free! You'll find everything you need to know about getting started and earning without any hassle. You'll even find programs that offer 30% or 50% commissions per sale. So, take a quick look now.
We hope this guide helps you start your affiliate marketing career with ease, even with little to no money. Let us know if you join any of the programs that we have suggested and also about your experience by commenting below; we would love to hear from you. Join our Facebook group to communicate or subscribe to our blog for useful tutorials, the latest news, and updates.