Affiliate programs play a vital role in helping marketers around the world boost conversions on their websites, and in turn, earn high commissions. But did you know that every time you add an affiliate link to your website, you must disclose it to your site visitors? Yes, you heard that right. Affiliate link disclosures are mandatory and a crucial part of such marketing campaigns and programs.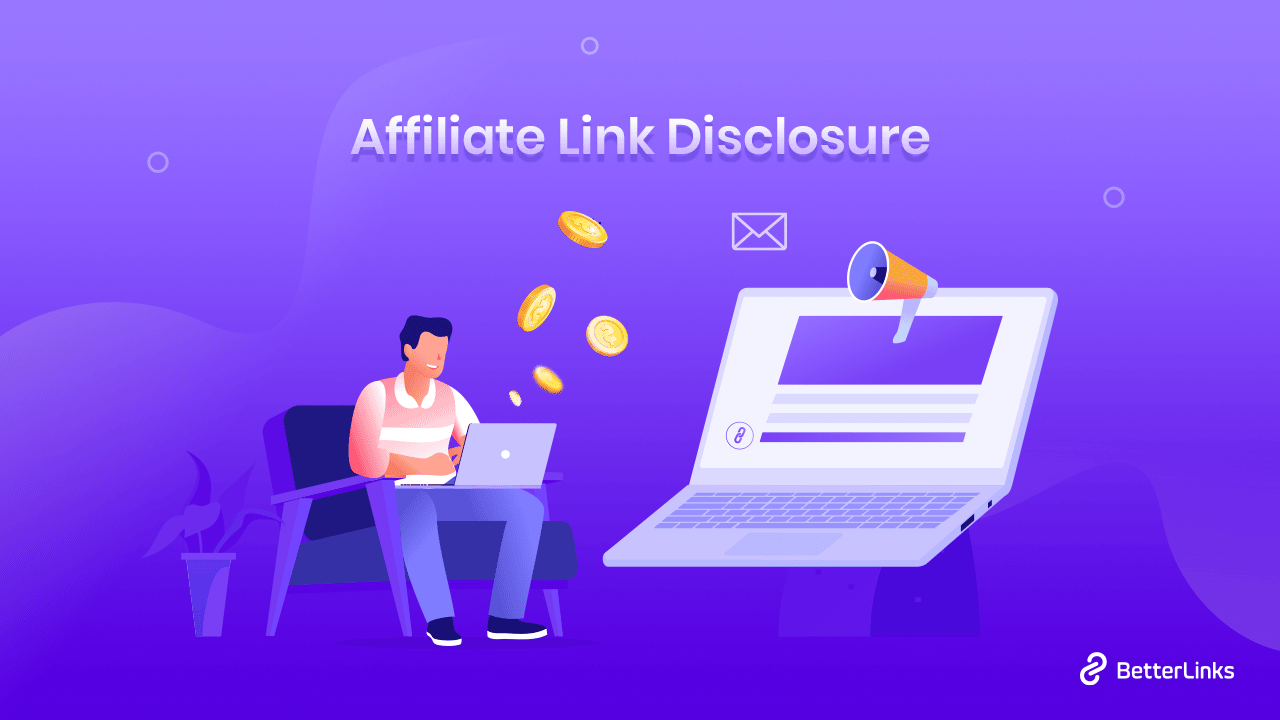 In this blog, we will take you through a complete walkthrough of what affiliate link disclaimers are, how and where to incorporate them in your websites, and the best practices to follow. So, without further ado, let's dive right in and find out more.
The Importance Of Adding An Affiliate Link Disclosure
Affiliate link disclosures are essentially a disclaimer statement that informs people that you have an affiliate relationship with certain brands, products, and services. This official clause tells the website users that when he or she clicks on an affiliate link in any given blog post or web page or makes a purchase following the said link, the website's owner will earn a commission from the brand.
Adding an affiliate link disclosure is a legal requirement. It is an FTC-mandated practice that is put in place to protect consumers in the U.S.A and other countries around the world from shady or deceptive companies. It is believed that a proper disclosure allows customers and clients to head into a completely transparent transaction.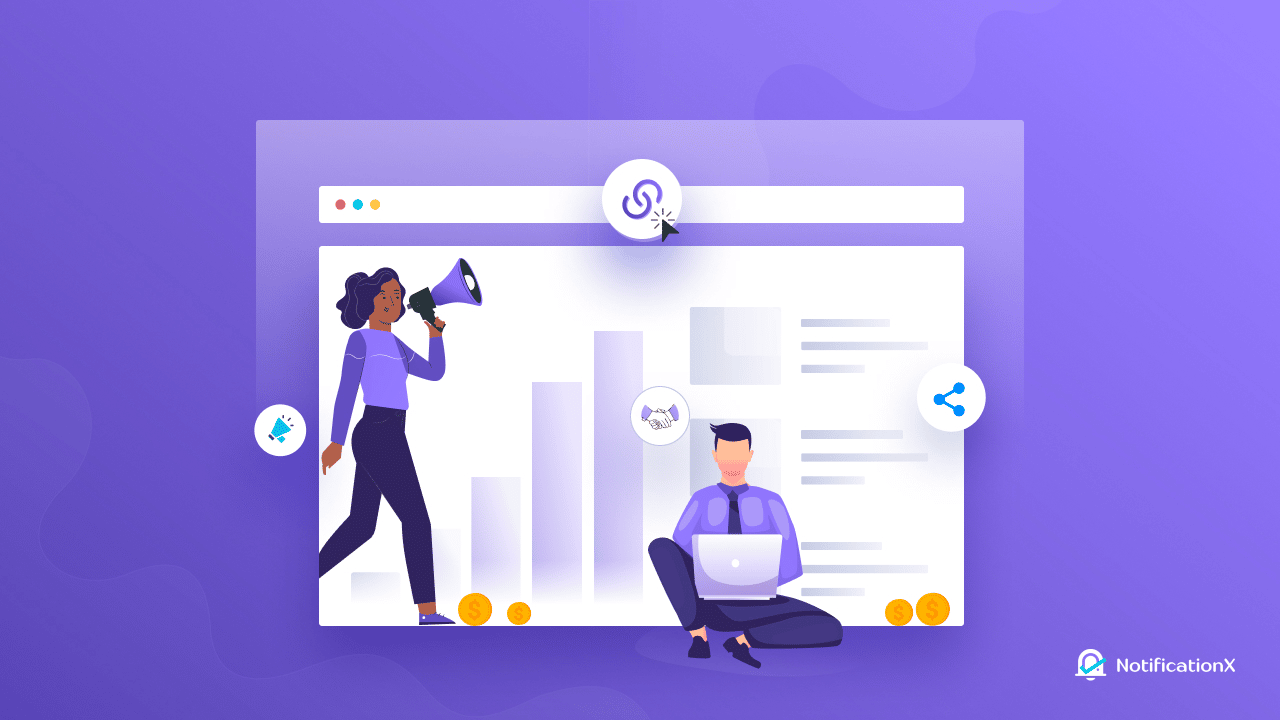 But why is this so important you may be wondering. Well, there are some major necessities:
🎯 This is a practice that ensures your business credibility and helps to improve customer loyalty; eventually leading to increased conversion. A research report from Bain & Co shows that implementing this practice has spiked their retention rates by 5%, which resulted in a massive 95% increase in your profitability.
🎯 On the other hand, it provides the necessary transparency that your readers or subscribers need to have about your business or affiliate relationships. And this empowers them to be able to choose from a company or marketer that they trust.
🎯 And of course, most importantly, as mentioned earlier this is a mandatory legal practice. Attaching a small affiliate disclosure can help save you from accusations of using false advertising claims, etc., that can get you into legal trouble.
Are There Different Types Of Affiliate Link Disclosures?
When implementing an affiliate link disclaimer to your website content, there are no specific types or ways of writing to follow. The mandatory essence of the disclaimer is that it must mention that you are an affiliate to the brand or products listed on your site and that there are affiliate links on the post or page or mail that they are currently viewing.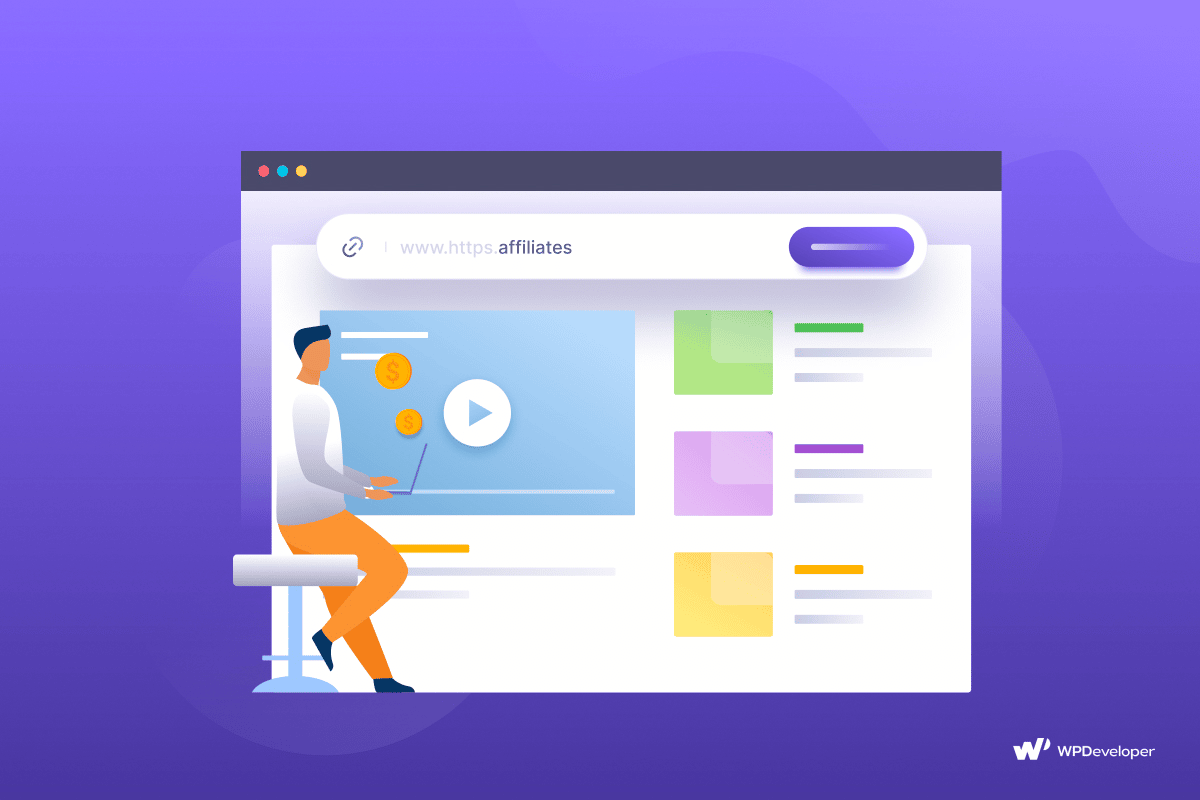 Having said that, it is also important to know that different brands or companies ask their affiliates to display their partnership in a certain format. For example, the Amazon Associates Program requires you to state: 'As an Amazon Associate, I earn from qualifying purchases.'
On the other hand, Clickbank, a global eCommerce platform and affiliate marketplace want your affiliate link disclosures to be as transparent as possible by stating the following: 'This page contains affiliate links. If you choose to purchase after clicking a link, I may receive a commission at no extra cost to you.'
And so, while we cannot say there are different types of affiliate link disclosures, it is essential that you read the terms given by the different websites or platforms, and follow accordingly. Because, not displaying the correct format of affiliate disclosure may lead you to get banned as a brand's affiliate, and hence, lose any commission that you have already earned.
Where To Incorporate The Affiliate Link Disclaimers On Site?
A question that comes up quite often is where to place the affiliate link disclosures in your website content. And the simplest answer to it is that you must add or incorporate the disclaimers in a section or area of the content (blog page/product page, etc.) from where your website visitors can clearly catch them. Basically, somewhere that's impossible to miss. If not, the FTC might consider your blogs and other website content as non-disclosed and non-transparent, which might lead you to legal problems.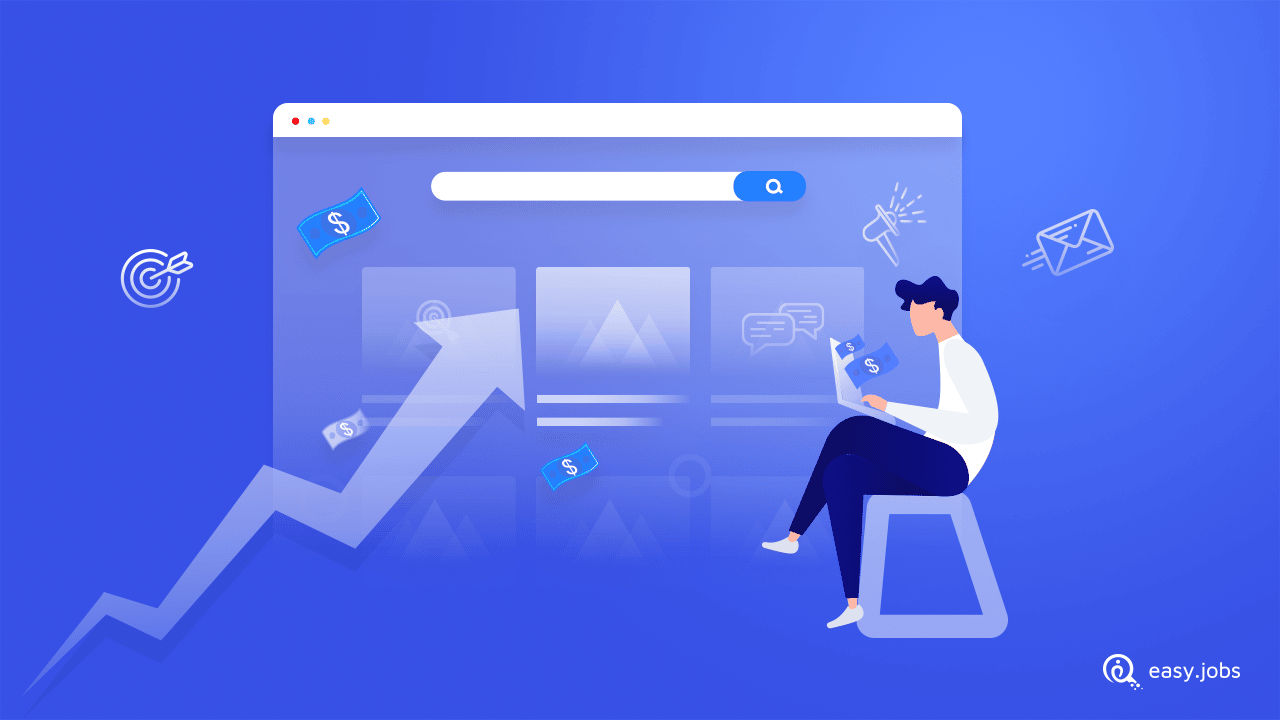 And this means not to add the disclaimers in sections like the 'Privacy Policy' page or the 'Terms & Conditions' page that people rarely visit. For best practice, try to include the disclaimers at the top of each and every blog post or page, which will grab the attention of the visitors instantly as they take a look at your content. As an additional measure, you can add reference links next to each of the affiliate links added.
It is also best if you do not incorporate the disclosures at the very bottom of the page, or in your footer, because a lot of your customers might not even read that far into your content, and be unaware of your transparency.
Top 5 Best Practices For Affiliate Link Disclaimers With Examples
So far, we have covered what affiliate link disclosures are, their formats, and placements. But what are the best practices to follow when you disclose the affiliate link? We have researched and listed down the top 5:
💡Place The Disclosures Prominently & Accessibly
First of all, one of the most crucial aspects of the disclaimer is its placement, as you can already tell. And as mentioned earlier, it is mandated by the FTC that the affiliate link disclosure in your website content MUST be clear and easily readable by your site visitors and readers. And so many bloggers follow a standard rule of placing the disclaimer right before the start of a blog post. Sometimes, they also add a link here which redirects the readers to a different page with more detailed information.

Take the website TechRadar for example, it places the disclaimer at the top of all of its blogs that contain possible affiliate links and then add a 'learn more' backlink redirecting the readers into further details.
Basically, the rule stays the same for all – the disclosure needs to be clear and placed somewhere easily accessible. And ideally, it should be made before the affiliate link is placed.
💡Use Clear Language But Keep It Precise
When wording your affiliate disclosures, keep in mind that not all your visitors will know what affiliate marketing is and what happens when they purchase a product or service from an affiliate link. And so, such disclosures must clearly state that you, as the affiliate to the company or brand, will be earning money if they make purchases off the links from your affiliate advertising program.
Best Practices To Follow:
✍️ Be direct and keep the disclaimer to the point
✍️Make sure to use trigger words like 'earn' and 'commissions' that readers can understand instantly.
✍️Personalize where possible, while maintaining the rules given by the brand you're an affiliate of

However, it is also important that you remember that writing long lines in the disclaimer will simply drive your readers away from it. Therefore, as we have already seen, you can simply add a redirecting link to another page instead, for those who want to learn about the affiliate program in further detail.
💡Follow The Brand Rules Accordingly
And just as we mentioned previously, we must follow the rules of affiliate link disclosures as stated by the brands or companies you are an affiliate to. If we take the Amazon affiliate disclosure policy for their associates, we see that they have made it mandatory to be very vocal and clear.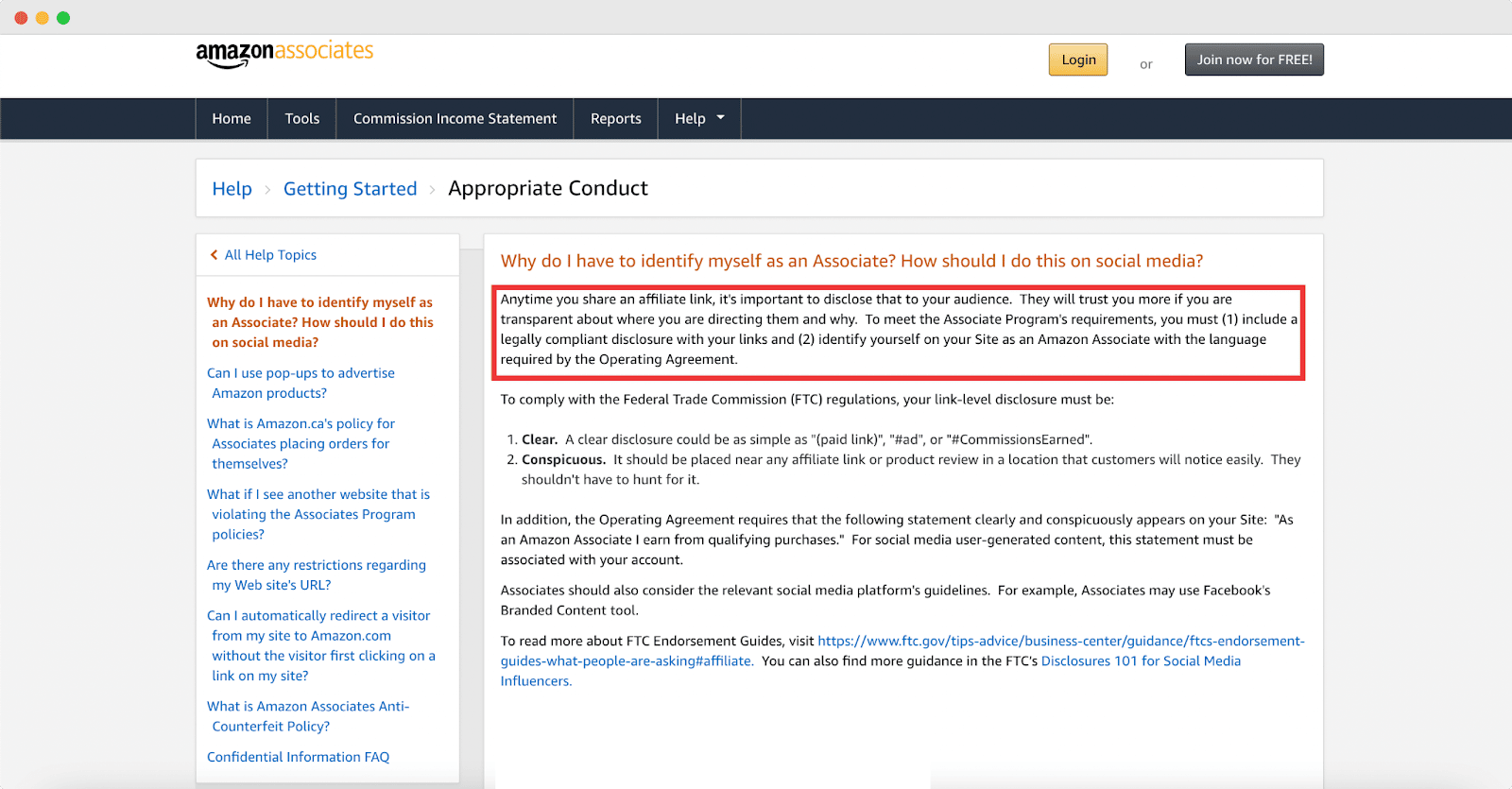 Similarly, other brands also have rules about how to word and where to place the affiliate disclaimers. Always make sure that you follow the proper ones; or else, the companies or FTC might even sue you for not being transparent enough or displaying the wrong information.
💡Disclosure Affiliate Links In Social Media Posts
With the recent popularity of social media platforms online, we get to see lots of influencers and marketers promoting sponsored products. And according to the FTC, It doesn't matter if you're making money on a blog, social media platform, or something else, as long as you are an affiliate to a brand, you must disclose it to your followers or readers or customers. Make sure to include proper disclosures on all your media platforms following FTC's guidelines for social media influencers.
💡Add Relevant Hashtags on Affiliate Social Media Posts
And the best practice when it comes to disclosing affiliate links on social media is to use relevant hashtags that are easy to understand. You cannot use abbreviated terms. To be more specific, you need to write out #sponsored instead of #spon, and #collaboration instead of #collab. However, #ad is perfectly fine to use.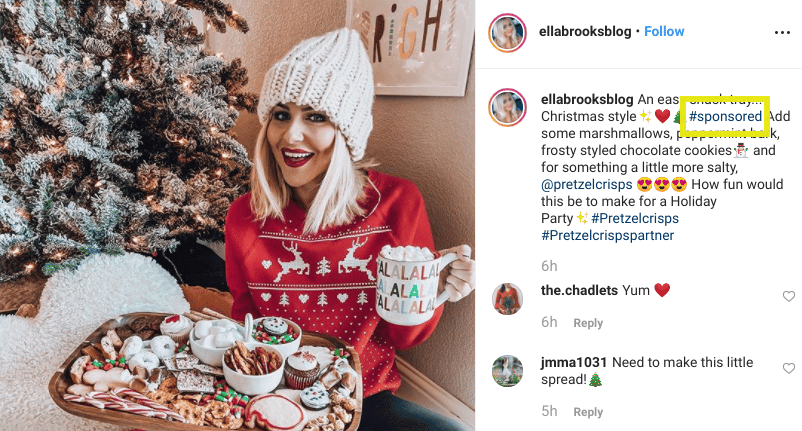 Another best approach here is to not add the word 'affiliate' because a lot of your followers might not understand what it means. Just make sure that the keyword you are using is not lost in the sea of random hashtags.
Bonus: Top 5 Best Affiliate Marketing Plugins & Tools For WordPress
Wrapping up our complete guide for the best practices to follow for affiliate link disclosures, we want to help you out a little more to make your marketing strategies easier. There are several affiliate marketing plugins and solutions available in the WordPress repository, but do you know which ones are the best? Take a quick look at this blog, and learn of the top 5 best affiliate marketing tools.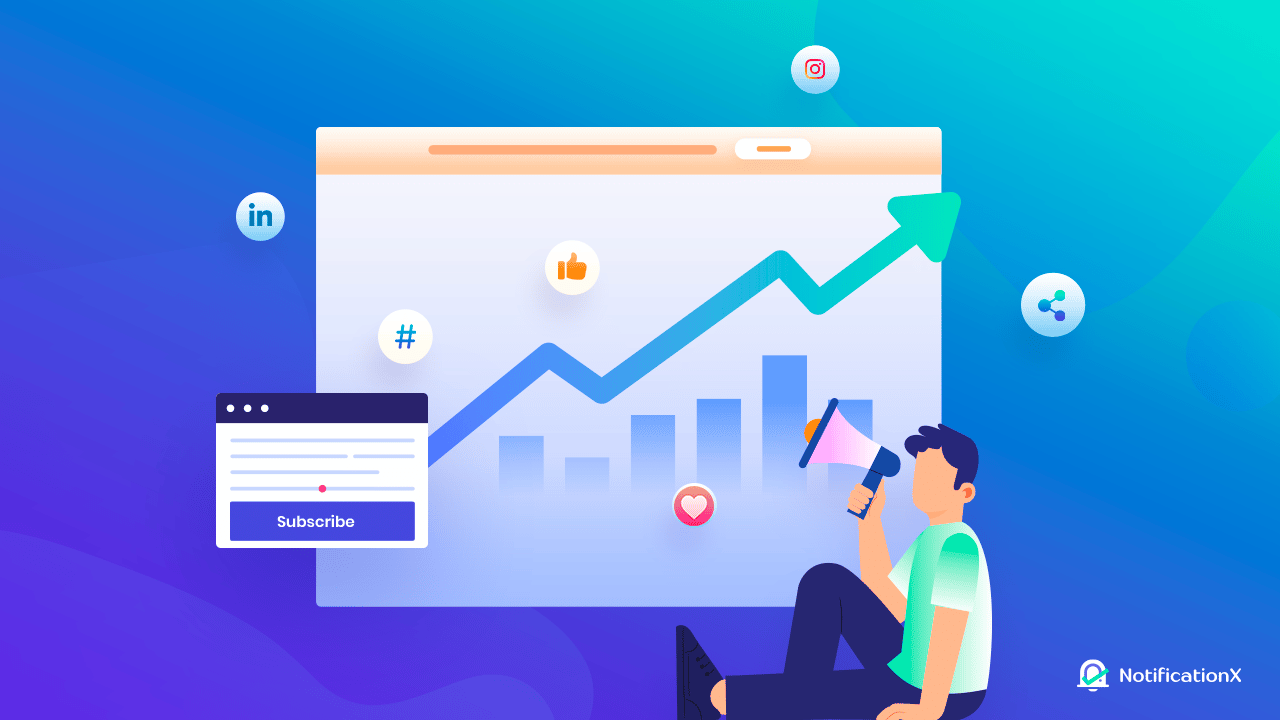 Choose any one of these and then disclose affiliate links following the best practices, and ensure high customer retention and loyalty. Let us know which one you chose and of your experience with them by commenting below; we would love to hear from you. Join our Facebook group to communicate or subscribe to our blog for more useful tutorials, the latest news, and updates.