BetterLinks brings you advanced user role management features to collaborate within the team and assign roles based on the responsibilities. Excited to know in detail? Take a deep dive into this blog.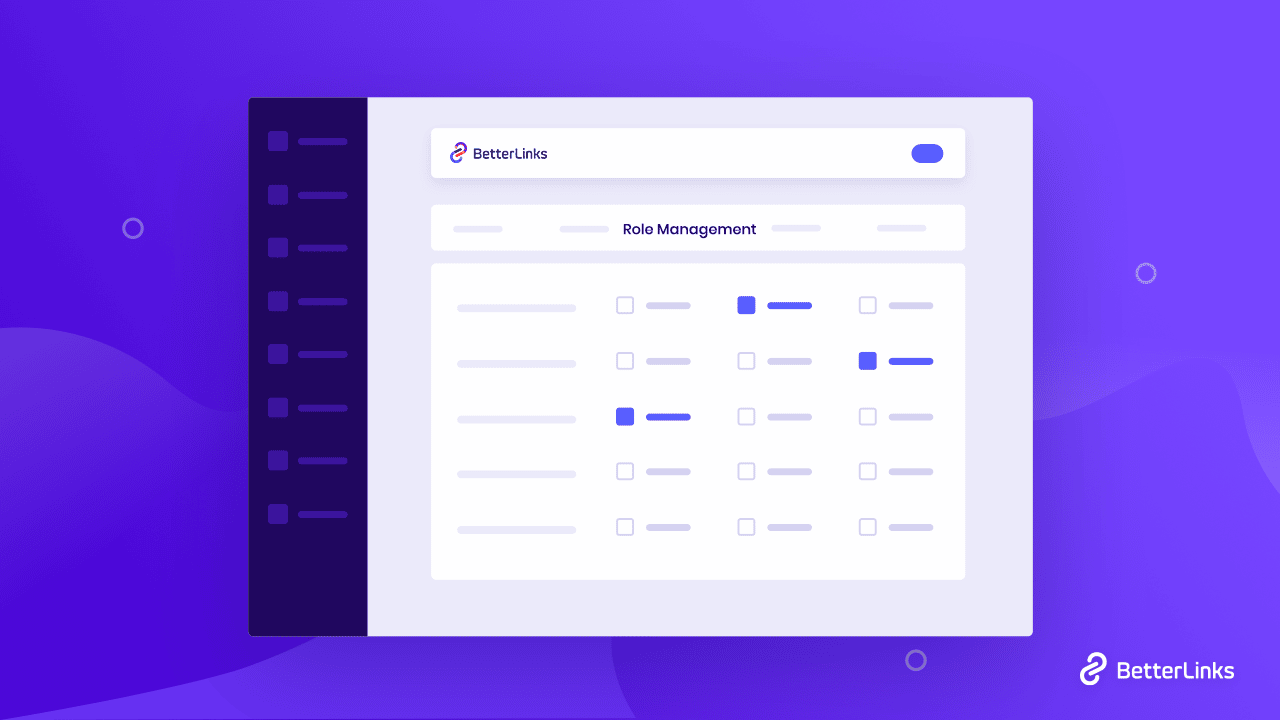 The user role management facility is essential for any type of WordPress website. And for advanced link management solutions, it is a must. Website links are the most sensitive function to deal with; your website ranking, SEO score, search volume, affiliate marketing, entire campaigns everything depends on it. 
Whether your business is small, growing, or established, in any case, you have to be careful about giving access to the right people to manage your links efficiently. Not anyone can make any changes to your links or any further world. That's why user role management needs are relying on.
You can decide to control who can create, edit and view the results of your links individually. It is one of those essential features you have to look at before getting any link management solution for your online business.
Guess what? BetterLinks comes with this premium user role management tool to make sure you can enjoy full freedom to give access to your shortened links to desired team members. You can provide access individually who can create new links, edit links or entire settings, check analytics, or others in advance. Let's get started!
Why Choose BetterLinks As Your Link Management Solution? 
BetterLinks is the latest, all-in-one link management solution for WordPress. Already BetterLinks is growing its user base within this short period because of lots of advanced, exclusive, and up-to-date features. You can not only shorten any type of URLs, but you can also create link redirects with 301, 302, 307 redirect types, manage your affiliate links, marketing campaigns, track them with BetterLinks in-built analytics tool, and much more.
This is because if your link management solution hits your entire database that makes your site slow and makes the entire process lengthy. BetterLinks ensures this to make your site faster and smooth without any hassles.
Check out what more BetteLinks has to offer you below:
Create, customize & shorten any type of links
Manage affiliates or campaign links in advance
Different redirections types like 302, 301, or others
Manage links with separate categories, tags, etc.
Get exclusive Wildcards facility
Automatically disable any bot links
Fetch data directly from JSON file
Get advanced UTM builder support
Set up link redirection expiry date & status
Export/Import all link shorten data anytime
Forcefully redirects target URLs in HTTPS
Advanced User Role Management facility
Mesure link performance with In-built Analytics
Powerful integration with Google Analytics
Split Testing facility for dynamic URLs & a lot more
Guide: BetterLinks User Role Management Explained
BetterLinks offers you this advanced user role management feature to streamline your workflow when tracking and monitoring your links, marketing campaigns, or affiliate links. This user role management feature comes with BetterLinks PRO to give you more flexibility and control.
Note: Make sure to install & activate BetterLinks plugin for WordPress. Since user role management is a premium feature, you will also need to install BetterLinks PRO.

Without any other intro let's follow the step-by-step guide below to configure BetterLinks user role management feature below:
Step 1: Configure Your BetterLinks Settings
First, you have to navigate to BetterLinks → Settings → Role Management from your WordPress dashboard. Here you can see the lists of options by which you can assign desired roles to your team members.
Step 2: Manage User Roles & Assign Individual Task
Afterward, check the boxes and assign permissions to your WordPress website users depending on their roles such as 'Editor', 'Author', 'Subscriber', and more. You can decide who can view links, create links, edit links, check analytics and edit BetterLinks settings.
BetterLinks gives you the freedom to provide multiple roles to each member. And after making all the changes, press the 'Save Settings' button and save all the changes.
Now Manage Your User Roles In Advance With BetterLinks
This is how simply BetterLinks user role management premium feature can be configured with a few clicks. And you can easily manage all your team member accesses and assign them their preferred with BetterLinks. So in one link management solution, you are getting all.
Hope you find this helpful and feel free to share your thoughts with us by commenting below. If you want to read more exciting blogs, visit our blog page, and join our Facebook community to get along with all WordPress experts.