In this fast-paced digital world, most businesses are switching to newer digital marketing strategies and one of the most popular ones is the use of QR codes. And to help all WordPress marketers around the world, the ultimate link management tool BetterLinks brings you a brand new feature – the BetterLinks QR Code Generator.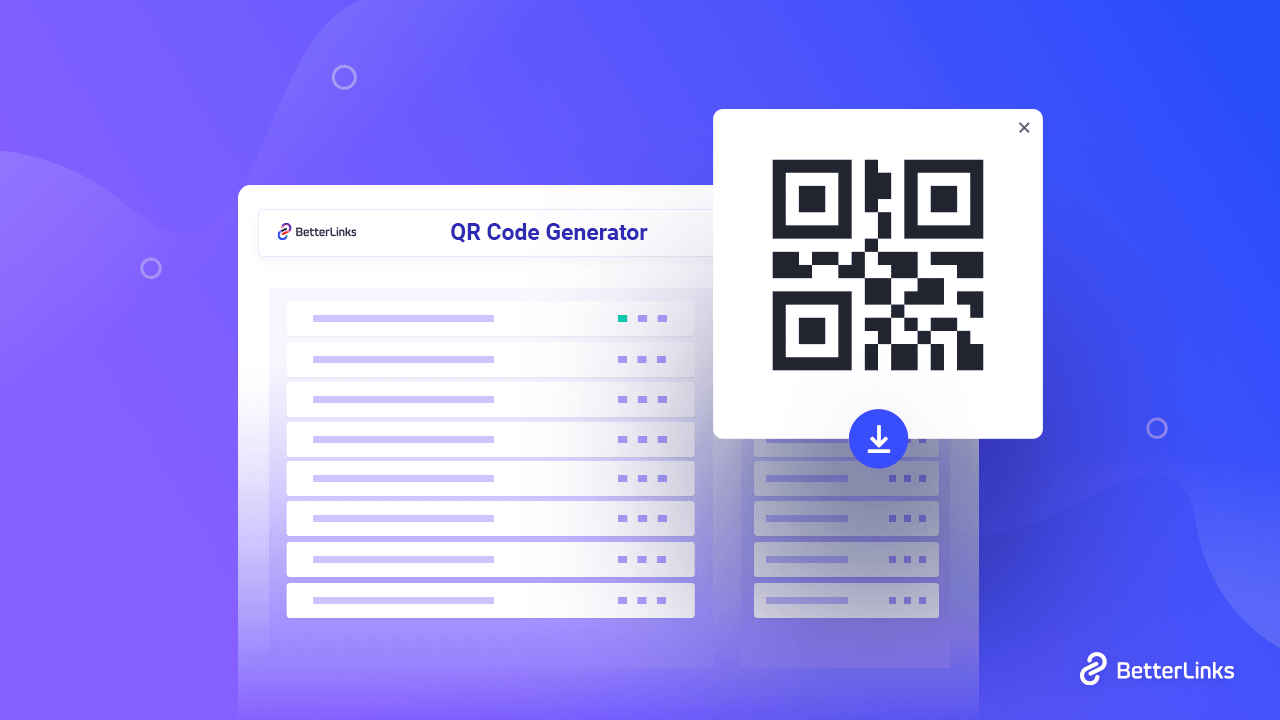 How Can QR Codes Help With Link Management In Marketing?
So before we get into BetterLink's useful new feature, let's understand what QR codes are and how they help with link management in digital marketing.
A QR (or Quick Response) Code is a two dimensional barcode that can be read and interpreted by the cameras of smartphones and devices via a QR code scanner. These days, such 2D barcodes are widely used in advertising, sales brochures, product documentation, and packaging for many different marketing communications and link management.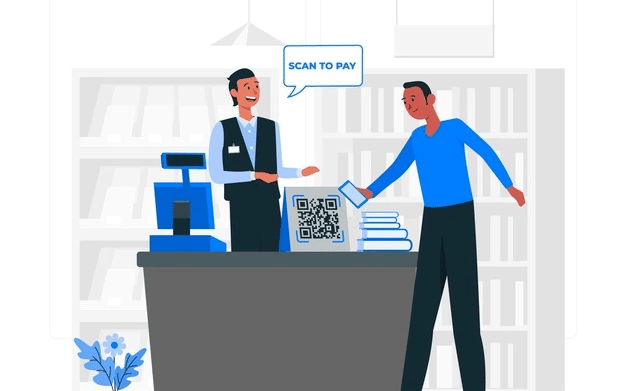 While it is a type of barcode, it can hold upto thousands of alphanumeric characters of information which is quite an upgrade from the traditional barcodes. Moreover, QR codes can be read in full 360 degrees in any direction, which eliminates any background or irrelevant issues with the barcodes, enabling you to have smooth communications with stored information every time.
When your website users and customers scan a QR code from your site or brochures with their phones, the codes can redirect them to a web link or content you set onto the code. And as the name of the code suggested ('Quick' Response), this redirection or communication takes place instantly.
For example, if you embed a QR code onto the emails that you send your clients or customers, they can easily scan the code and access important information, offer pages, contests and much more. This will not only highly improve customer satisfaction but also help spread a positive view of your business to potential clients and users.
And finally, the best part is that a QR code lets you keep track of all the redirected links. You will be able to instantly monitor the performances and the effectiveness of the marketing links and campaigns.
Step-By-Step Guide To Use BetterLinks QR Code Generator
To help you instantly generate QR codes for all your website links, BetterLinks brings you a new feature – BetterLinks QR Code Generator. With this super easy feature, you will be able to create and download QR codes in a couple of steps without breaking a sweat.
Step 1: Enable The QR Code Generator
To start off the process of generating a QR code for your desired URL, you need to enable the BetterLinks QR code generator. And to do so, you need to navigate to BetterLinks → Settings from your WordPress website's dashboard.
Here, all you have to do is click on the checkbox for 'Enable QR Code Generator', under the 'General' tab, as shown below. This will immediately turn on the BetterLinks QR code generator and you will be able to generate codes for all the existing and new links registered on your plugin.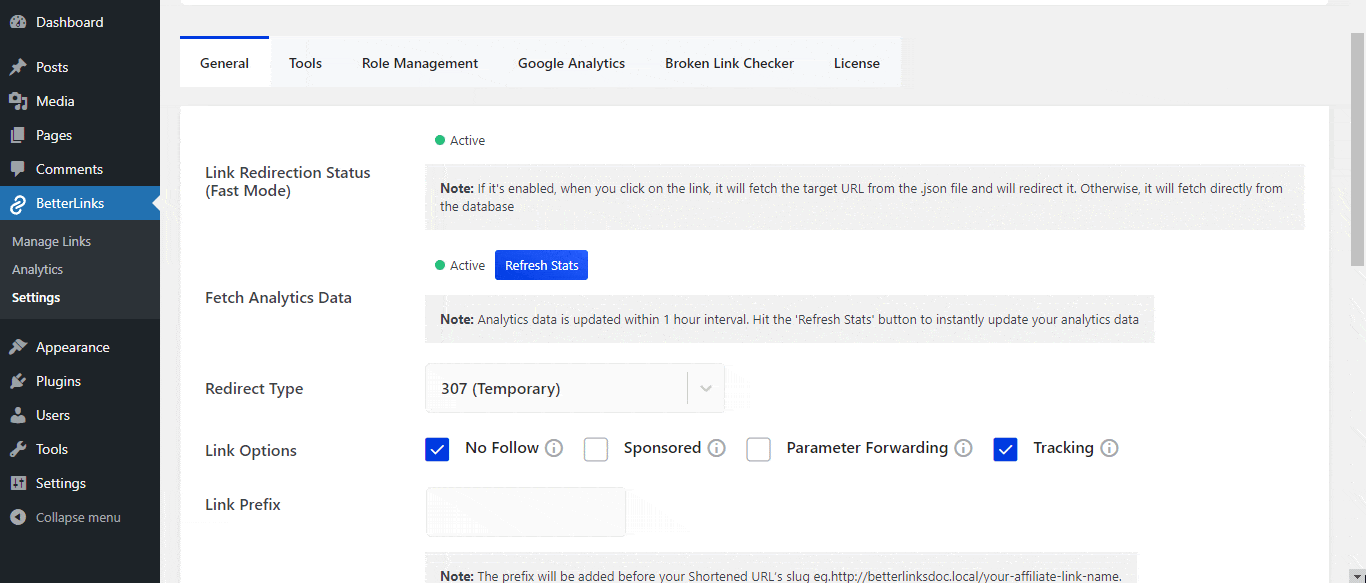 Step 2: Generate QR Codes With Ease
The next step here is to generate a QR code for the web page link you need. But before you can do that, there's one thing to keep in mind – you must create and publish (or import) the website URL using your BetterLinks plugin before you can generate its code.
So, if you are a new user, check out this step-by-step documentation to learn how easy it is to create and manage links using the ultimate link management solution.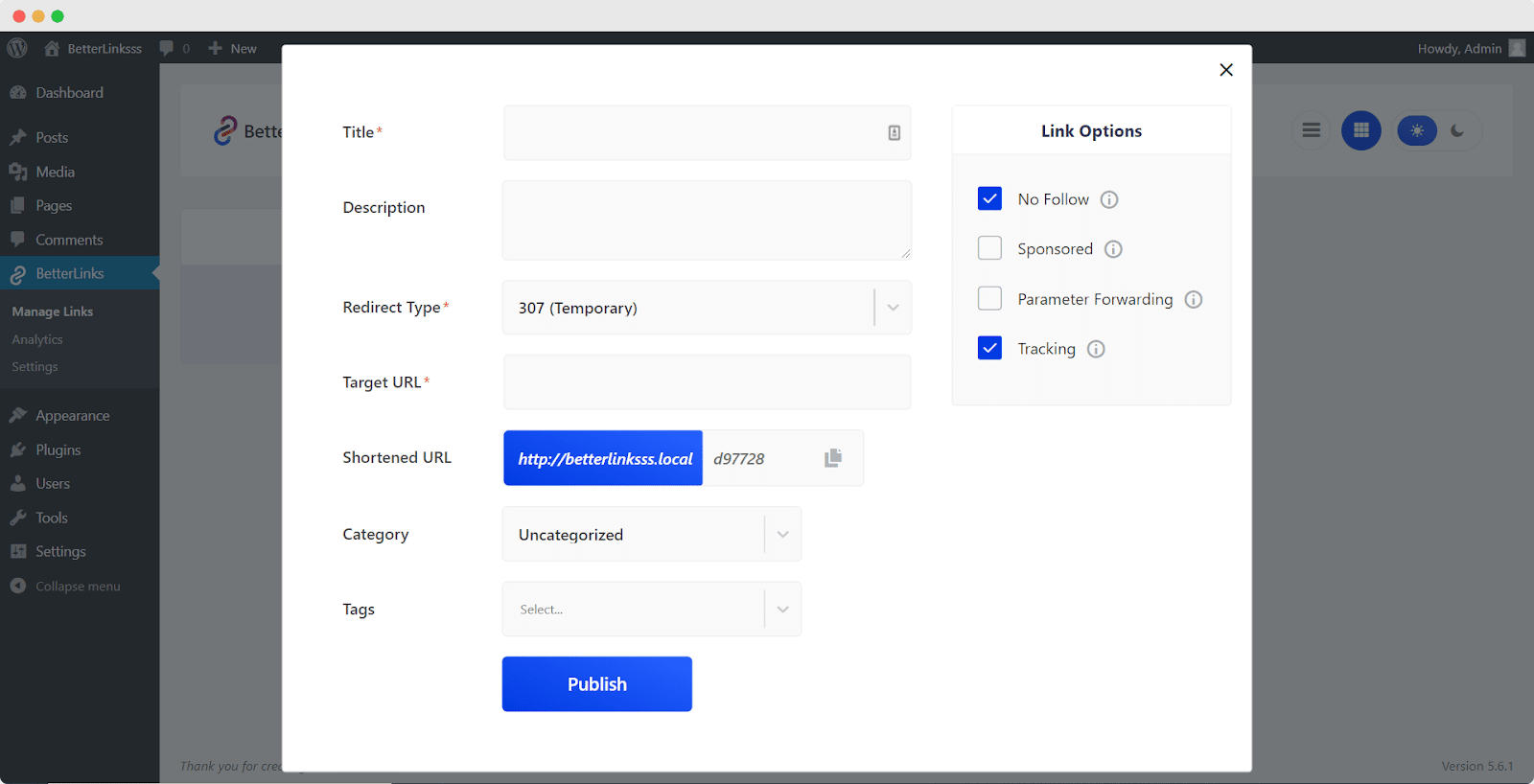 If you have existing links on your BetterLinks plugin and you have already carried out step 1 as mentioned above, simply navigate to the BetterLinks→ Manage Links interface.
Here, you will find a new BetterLinks QR Code generator icon on your existing links, as shown below. Simply click on this icon and a QR code will be automatically generated for the shortened or redirected link.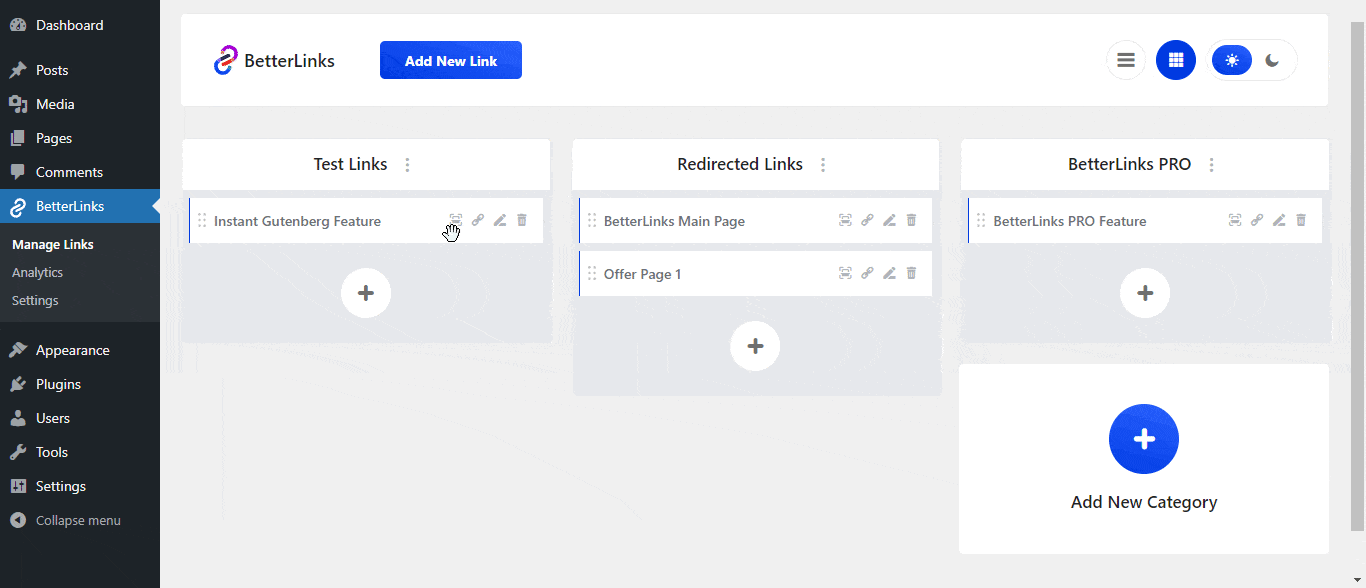 And that's it, it is that simple to generate QR codes for any and every one of your web page links, affiliate marketing URLs and more.
Step 3: Download QR Code Images
Once your QR code has been generated, it is important for you to share the QR code in emails, marketing campaigns, printed flyers, store brochures, or anywhere else needed to bring site traffic to that specific link.
Using BetterLinks, it is super easy to download and store the QR code for later use. When you generate the QR code, it automatically comes with a blue 'download' button, as shown below. You can simply click on it and a .png image file of the QR code will be downloaded onto your device instantly.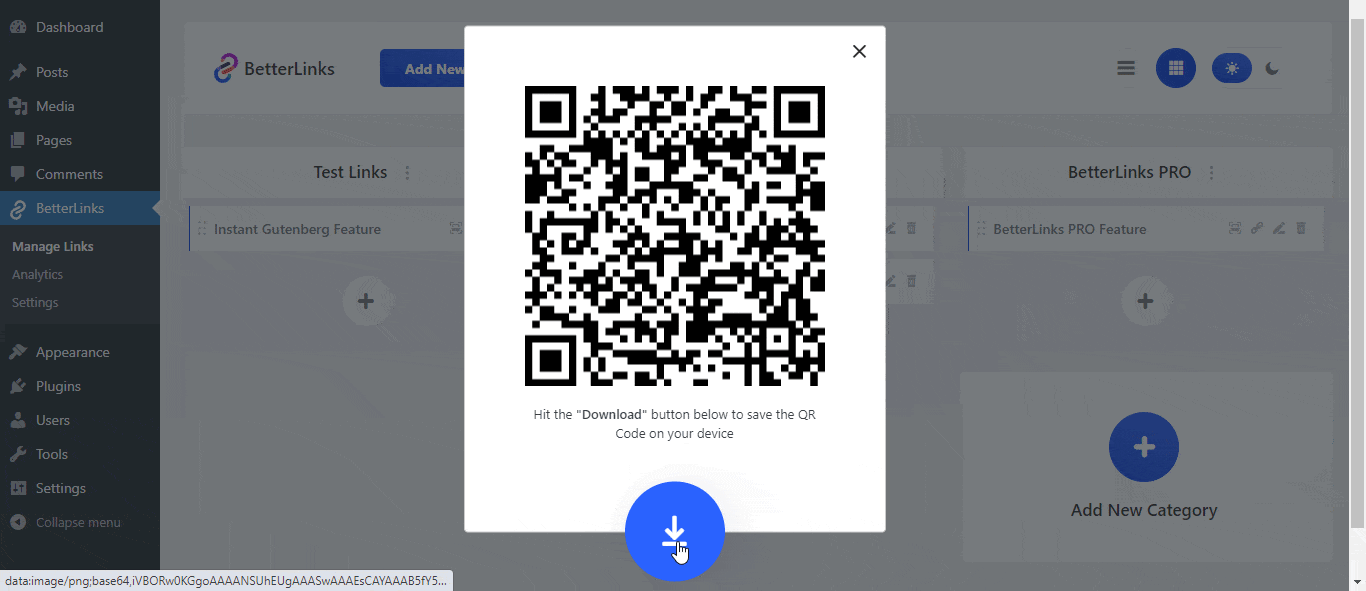 In these 3 very easy and simple steps, you can generate QR codes and optimize your digital marketing practices effortlessly using the ultimate link management plugin, BetterLinks.
Manage Links Better With Many New Features From BetterLinks
Here at BetterLinks, we are constantly trying to help enhance your link management system for WordPress. Therefore, we are always trying to introduce new features to ensure you get all the facilities you need to create, manage and track your website URLs.
And so, along with the recent QR Code Generator, we have many more features with the latest updates of BetterLinks:
⏳ Link Scheduler:
First up, we have the Link Scheduler from BetterLinks. This feature enables you to easily manage the status of your website links and helps you schedule a time for the URLs to be published at a later date using just a few quick steps.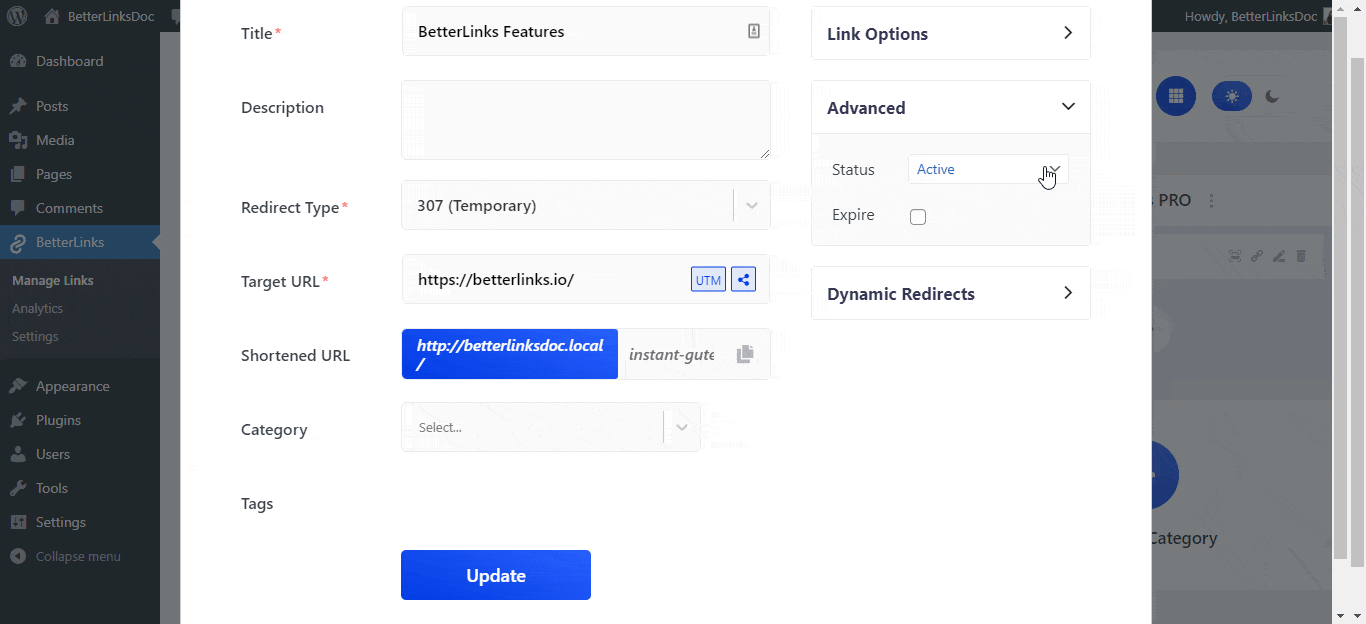 This feature is extremely helpful when you have a few upcoming marketing or affiliate campaigns planned out for later. You will be able to create and manage links beforehand and schedule a particular time and date for them to go live or active on.
⚠️ Broken Link Checker:
On the other hand, we understand that at times, even when you are extremely careful about all your website and affiliate marketing URLs, one or two broken or expired links might slip through the cracks.
To help you locate and fix such broken links from among hundreds on your site, BetterLinks brings you another new feature – the Broken Link Checker, which will enable you to effortlessly scan for broken URLs and take your WordPress link management process a notch higher.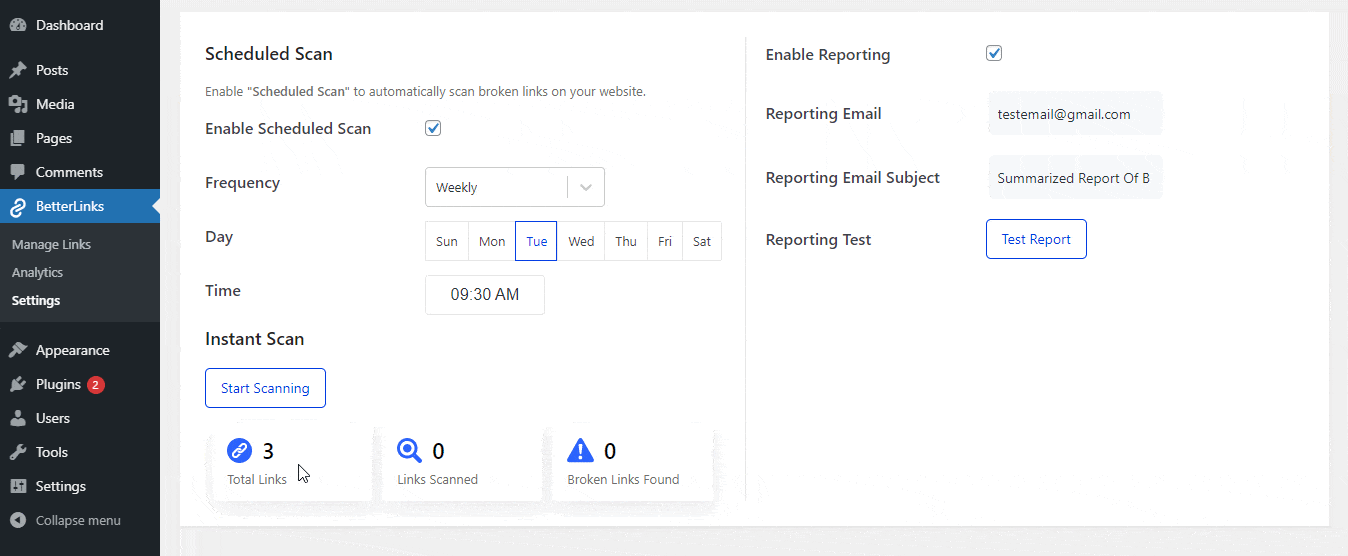 To learn more about all new features of BetterLinks, check out this blog here and give this ultimate link management plugin a try; you will not be disappointed. Let us know about your experience by commenting below. Or, take your URL management experience to newer heights using BetterLinks PRO.
Join our Facebook group to communicate or subscribe to our blog for more useful tutorials, the latest news, and updates.