The last thing you want your website visitors to see is a 404 error page. But unfortunately, as your WordPress website grows bigger, you will inevitably have many broken links that you need to locate and fix quickly. That's why we are here to help. Introducing the new BetterLinks Broken Link Checker, with which you can now effortlessly scan for broken URLs and make your WordPress link management process easier than ever. 🥳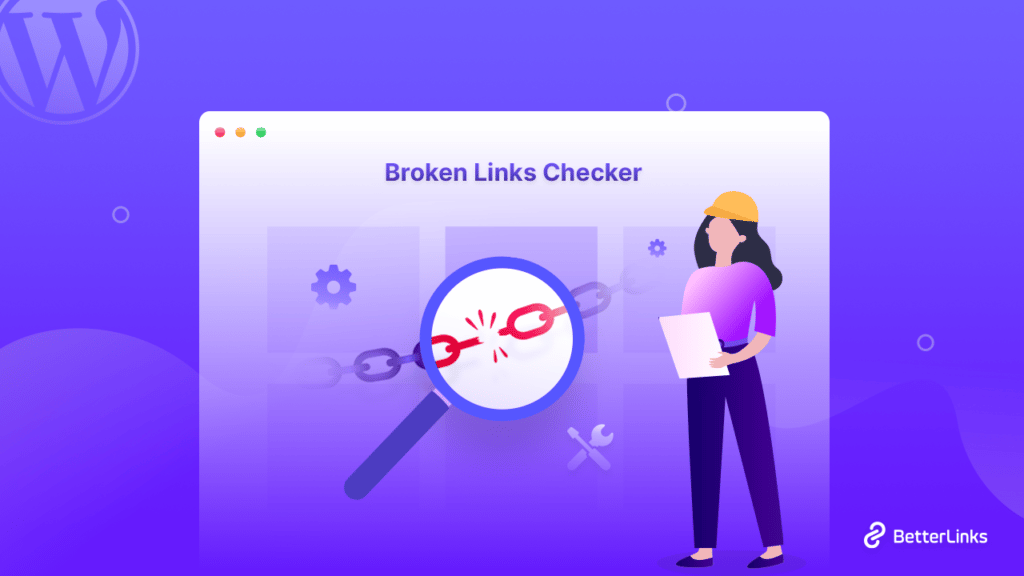 The Impact And Problems Of Broken Links On WordPress
Let's start from the basics. As you write blog posts or create new web pages, you may link to several content and URLs from your own site as well as those from others. Sometimes, when these contents are relocated or an external site you have linked to changes their domain, you may experience 404 errors when you click on the URL. These links are called broken URLs or broken links.
Some Common Reasons Why Links May Get Broken
There are many reasons why a URL can turn into a broken URL. Here are some of the most common causes:
➡️ If you have used a temporary URL & that has expired. Then the URL will be considered a broken link and result in 404 errors.
➡️ If the content you are linking to has moved to a different domain, and you have not updated the new URL.
➡️ If the external web page you have linked to is down for some reason, or changes its domain, then your link will be broken.
➡️ Any misspelling in the URL you have added will also show a 404 error to your website visitors when they click on those links.
These things could happen any time, which is why experts often say that link rotting (or link breaking) is inevitable. But, with advanced WordPress link management solutions like BetterLinks, you can take the necessary steps to resolve broken links as soon as they occur.
What Happens When You Have Broken URLs On Your Site? 🤔
On the surface, broken links may seem like a very simple issue. You may also feel that fixing these broken links is too much of a hassle for your WordPress website, especially if it is bound to happen one way or another.
However, broken URLs can cause significant damage to your website SEO and traffic, so it is very important you scan and fix broken URLs on WordPress on a regular basis. Let's look at the costs of having broken URLs on your website in more detail.
👉 404 Errors Can Lead To High Bounce Rates
When site visitors get a 404 error, they will immediately exit the page which will lead to high "bounce rates". High bounce rates are bad for your website, as they will lower your engagement rates and conversion rates. Moreover, these visitors may not want to return to your website again, so you will lose traffic.
👉 Broken Links Can Lower Search Engine Rankings
Broken links negatively impact your ranking in Google's search results. As broken URLs increase your bounce rate, which is one of the metrics Google tracks for your search ranking, your website SEO will suffer. Broken links will also make your page more difficult to index. So your website will not be able to get enough traffic.
👉 High Bounce Rates Can Lead To Loss Of Money
Customers will not buy from you if they can't find what they need on your site. In addition, if Google doesn't find your website useful, it won't rank it highly for prospective customers. Potential customers may also tell others about their bad experiences on your website, so you will lose money if you do not regularly fix broken links on your website.
Top, Easy Solutions To Fix Broken Links On WordPress
If you have a small WordPress website with only a few pages and not many external links, you can manually check them if you want. This will involve clicking on all of your links to make sure they work.
Nevertheless, manually checking things takes a lot of time, especially since you should ideally monitor your broken links every time your site is updated. There are several options you can try if you are unable to spend hours checking all your broken links. Popular ways to scan for broken URLs are:
SaaS web app tools
Desktop software
Google search console
Broken links checker plugin
Now, you can choose to use any of these above solutions, but what if you could get your hands on an advanced WordPress link management plugin that lets you scan for broken links, track your website URLs and shorten them too, all in one place? That's where BetterLinks comes in.
🎉 Introducing New Broken Links Checker From BetterLinks
Backed by WPDeveloper, the same team that is trusted by more than 3 million WordPress users, BetterLinks comes with several features that were most requested by the community, such as link shortening, tracking, UTM builder, and more.
We are now delighted to announce that we have added yet another highly requested feature to BetterLinks. With the new Broken Links Checker tool with BetterLinks, you can easily scan your WordPress website and fix broken URLs straight from your dashboard.
Things Can You Do With BetterLinks Broken Links Checker
BetterLinks offers a variety of unique features that make it different from similar plugins. From shortening links with a single click to checking for broken links, BetterLinks has everything you might need to manage links in no time at all. Here's what you can do with BetterLinks Broken Links Checker:
⚡ Instantly Scan Your Website For Broken Links
You can always scan your website for broken URLs with one click using BetterLinks Broken Links Checker. Within minutes, you will get a full list of all the URLs on your website with a quick overview of how many total URLs you have, how many have been scanned and how many need to be fixed.
Just go to BetterLinks → Settings → Broken Links Checker, and click on the 'Start New Scan' button. Betterlinks will display immediately if there are any broken URLs or not with all the details.
⚡ Manage Broken URLs Interactively
After finding the broken links, you can also fix them with BetterLinks Broken Links checker. If you have misspelled the URLs then Edit them to update the URL immediately. You can also choose to remove these broken URLs if you cannot update them, for example, if a link redirects a user to an external site that has completely shut down.
⚡ Set A Schedule To Scan Broken Links Regularly
Taking care of broken links is not an instant random chore to do. To improve your site performance and SEO ranking you have to scan broken links on a regular basis. BetterLinks broken links checker brings this facility to their users as well. You can easily schedule broken links checking by selecting time and date. You can also set whether to check weekly, monthly, or yearly.
⚡ Get Automated Email Reports For Broken Links
Whether you do instant scanning or scheduled scanning for broken links, BetterLinks broken links checker brings a unique feature; send broken URLs report to your email address. This reporting through email is a great help for marketers as well as site administrators.
How To Optimize Your WordPress Website With BetterLinks Broken Links Checker?
Here's the question we all want to be answered – how do you fix broken links in WordPress? In sections, we'll cover essential steps on how to fix broken links in WordPress with BetterLinks broken links checker. Here is the step-by-step guideline.
Step 1: Get BetterLinks Pro In Your Website
The first step of fixing broken URLs with BetterLinks is to get BetterLinks installed and activated on your WordPress website. To get the broken links checker of BetterLinks, you have to get the premium subscription of BetterLinks. Moreover, if you already have any other broken link checker plugin, then you can simply migrate to BetterLinks.

Step 2: Find Out The Broken URLs
Now to go settings of BetterLinks. You can run scheduled scanning or instant scanning to find out the broken URLs available on your site. To schedule scanning, give the date and time in the required field. And for instant scanning, just click on the 'Instant Scan' button.
Step 3: Fix Broken Links Of Your Site
The list of the broken links will be generated immediately. From there you can update the broken URLs or delete them permanently. Besides every URL you will find the option to Update or Delete. You can also take bulk action from BetterLinks broken links checker to delete URLs as well.
This is how easily you can find & fix broken links with the ultimate link management plugin, BetterLinks. Also, if you get stuck, you can communicate with the BetterLinks dedicated team anytime.
Here Is The Video Tutorial For Fixing Broken URLs With BetterLinks
✨ Bonus: Get Rid Of Link Rots With BetterLinks Broken Link Checker
The decay of hyperlinks on the internet over time is known as link rot. Basically, it refers to the linking to content that has been deleted or is missing. There are probably links on your blog content that lead to pages on your own website and other websites. Almost every website has links to other websites. Around 30% of shared social media links expire within two years.
Link rots are also harmful to your website ranking. But, the good news is, with BetterLinks broken link checker, you can find out the link rot and take care of them. In the same process as broken links, you can scan to find out the link rot and 404 error pages, and fix those links by redirecting visitors to another link.
Improve Your Site Performance With BetterLinks Broken Links Checker
It's bad for user experience and SEO to have broken links on your WordPress site, so you should periodically check for them and fix as many as possible. With BetterLinks' broken link checker, your website management will be easier than ever. In the long run, BetterLinks will help you to improve your site performance and ranking higher in the search engines.
Have you found all the resources you were looking for here? Whether your answer is Yes or No, do share that with us via comments or by joining our Facebook community. And to keep updated about the latest trends and tutorials, subscribe to our blog.