Are you looking for an easy solution to help you track and analyze the performance of all your website URLs, marketing campaigns, and affiliate links? Then, you will be delighted to know that you can do all that and much more using BetterLinks Analytics in a few, simple clicks.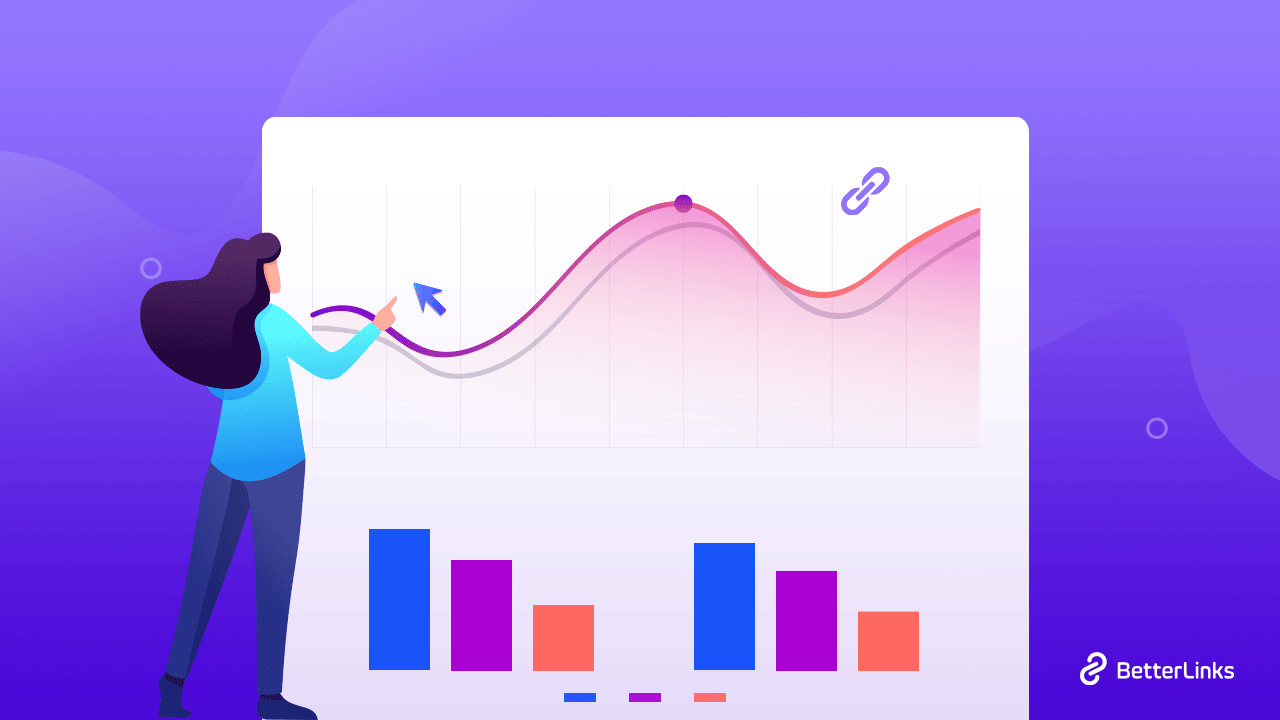 BetterLinks is the ultimate link management solution for WordPress that brings multiple unique and outstanding features to help you shorten, monitor, and manage hundreds of Website URLs completely hassle-free. But most importantly, it provides businesses and marketers like you with many advanced analytics features to help track your links well, and enhance your digital marketing experience with ease.
This useful link shortening and redirection plugin not only brings you an in-built analytics tool but many more exclusive features like Google Analytics integration, A/B Split Testing, and several types of Dynamic Redirections with BetterLinks PRO. So, without further ado, let's dive in and find out why it is essential to track your links for the success of your marketing campaigns, and the number of ways BetterLinks analytics can help you do so.
Create Better Campaigns With Advanced Link Tracking & Management
Digital marketers need to track URLs – of their websites, blog posts, affiliate links, and more – to manage their businesses more efficiently. Tracking URLs help marketers like you to understand the effectiveness of activities or campaigns; it is a source of direct insight into what provides the most value and drives the greatest traffic to your business.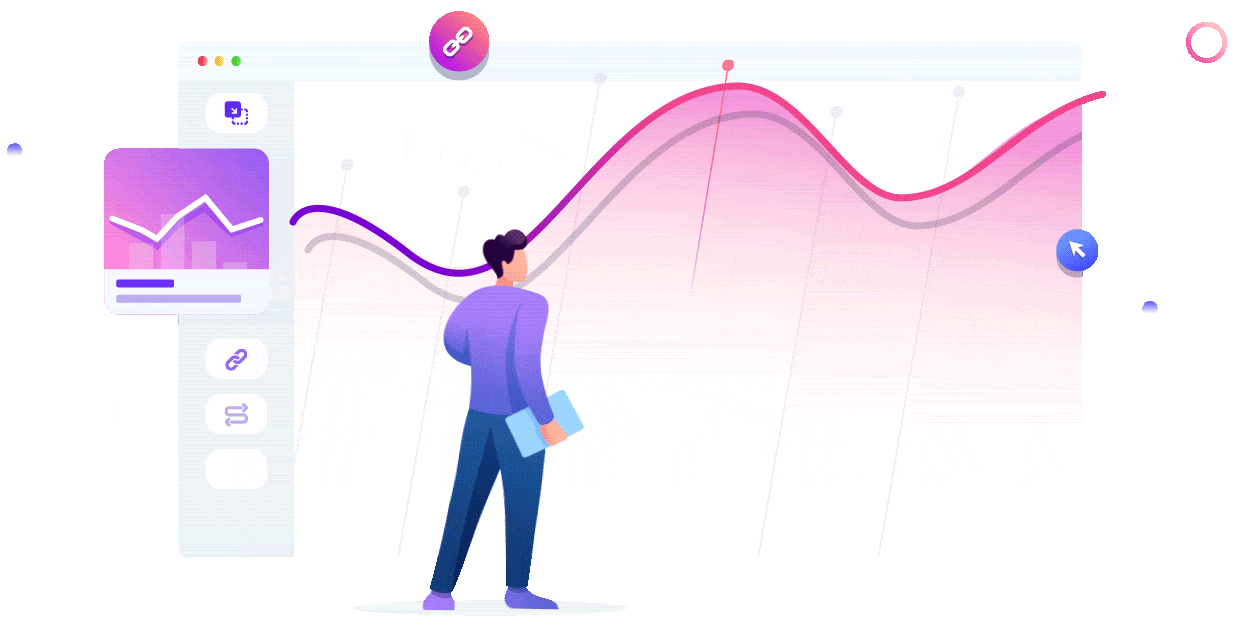 By measuring click-through rates on the links that you create or publish on social media you'll be able to know exactly how many clicks or the amount of traffic came from a specific post or page. To be more specific, you'll be able to know which type of topic, time of day, social network, and message works better for your business and actually boosts sales.
But not just clicks on single posts or pages, it is crucial to monitor marketing campaigns, especially for businesses during the holiday seasons. If you have multiple affiliate links referring to a particular campaign or website, it is always a good idea to keep track of which one is performing better.
Understanding these useful insights of your website pages and campaigns will help you figure out who your audience is and how your clients' minds work and eventually. You can also get a clear idea of where they are from and what types of products make a better sale. Advanced analytics is essential to get your business conversions to skyrocket.
However, it can be quite difficult to measure the performance of URLs based on all the different link tracking factors without using an advanced tool. This is why BetterLinks is your go-to, all-in-one link management plugin for WordPress. Let's dive in and take a closer look to understand why.
BetterLinks Analytics: Get Insightful Data About Link Performance
BetterLinks is the ultimate plugin with tons of advanced features and facilities to enable you to easily redirect URLs, shorten links, and analyze every and each aspect of a link's performance smoothly.

This all-in-one tool is perfect to track and analyze link performance, integrate it with Google Analytics, carry out split testing with Dynamic Redirects and add campaign parameters with an advanced UTM Builder, and much more.
Track Your Links Using Advanced, Built-In BetterLinks Analytics
BetterLinks is more than just a link shortener plugin. To help you manage your campaigns better, this useful plugin comes with an advanced built-in BetterLinks analytics tool that will give you insightful data about the performance of your links.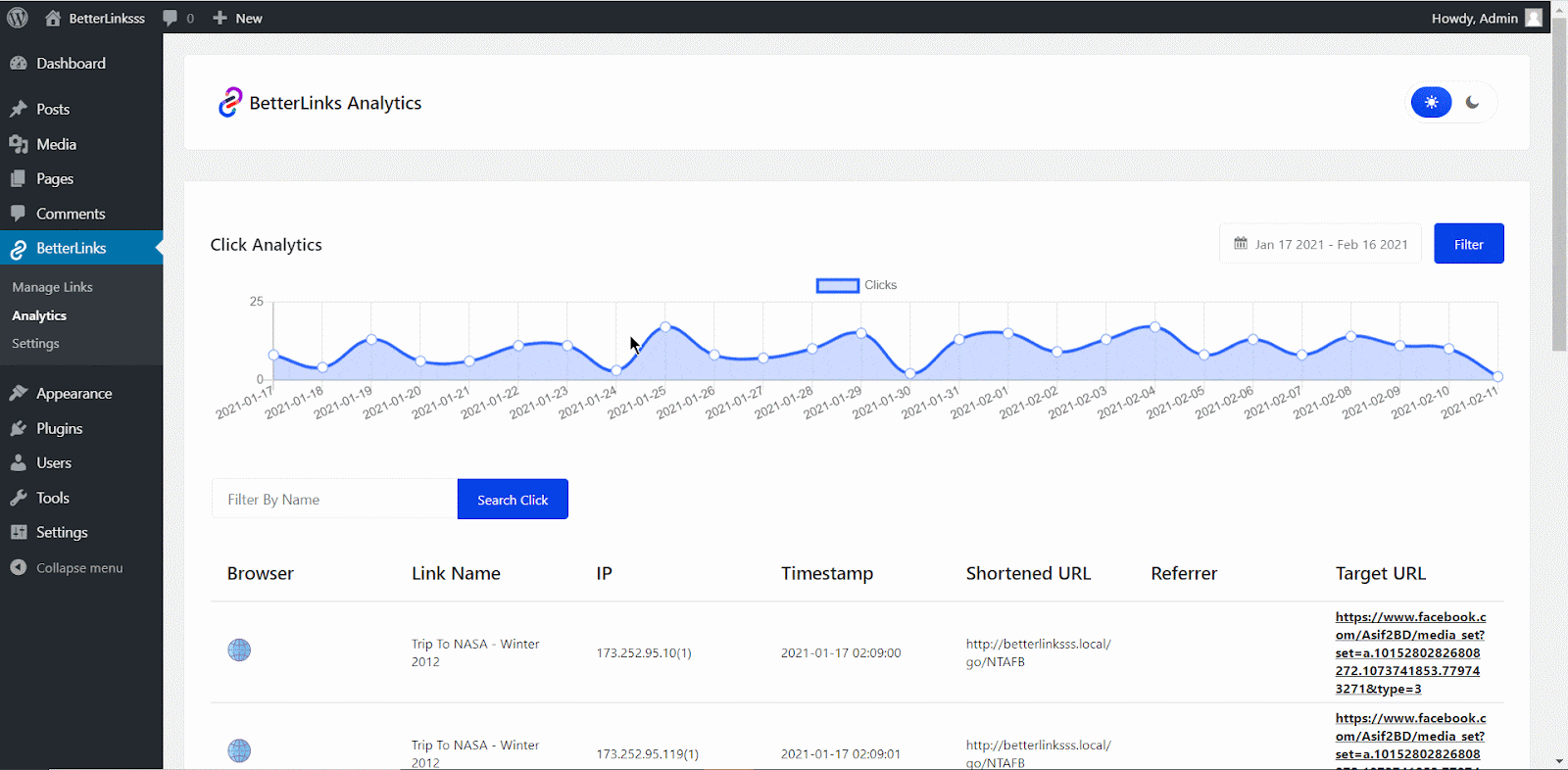 It lets you track and measure your click-through rate, along with details of the browser used to engage with the URL, link name, referrer, target URLs, and much more. You can even filter the data collected according to date and time to see how many clicks a particular link is getting during specific seasons or time periods.
Analyzing this BetterLinks analytics data can help you determine whether the promotional activities of your campaigns or affiliate links are performing well, enabling you to make better predictions and plan successful campaigns with more accuracy. And the best part, you will be able to access all these insightful data straight from your website dashboard, with a single click.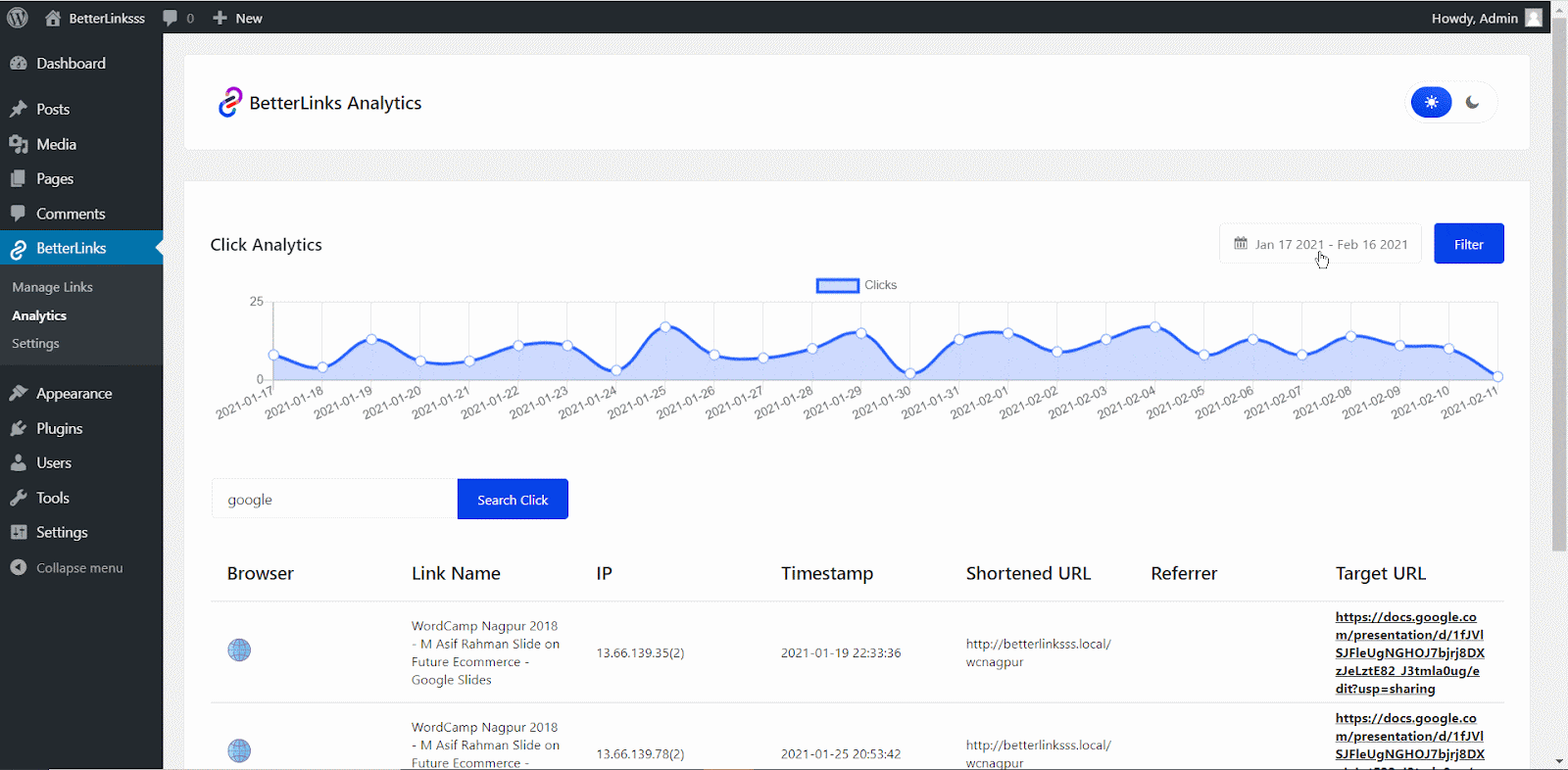 Monitor Data For Individual, Redirected URLs With BetterLinks PRO
To monitor data for specific, individual website URLs or affiliate campaigns, BetterLinks PRO brings you an even more advanced feature. With the help of this ultimate link management plugin, you can now track the performance of individual links from the plugin's user interface.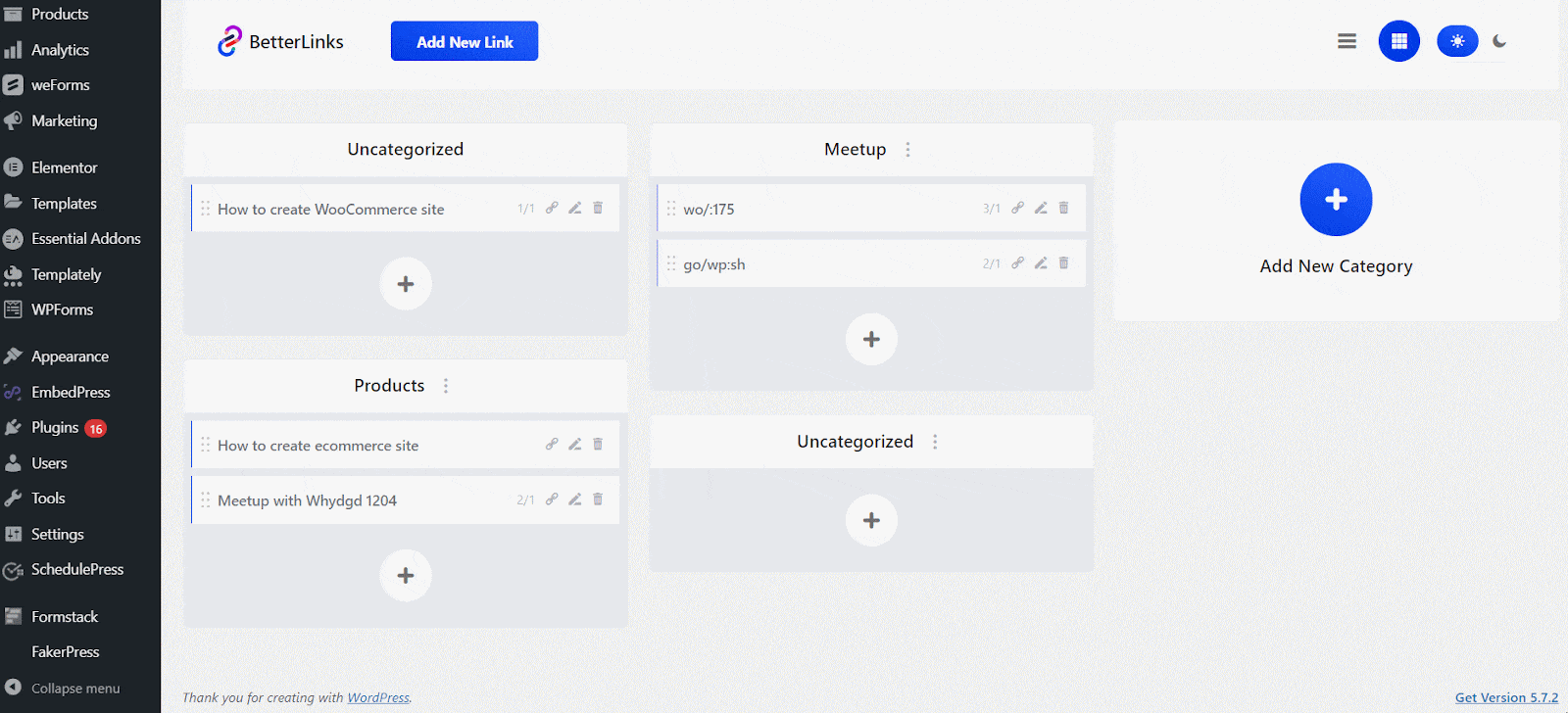 When you create or redirect a shortened URL, you will find click-through rate data next to the links. Just hovering on this data, will show you a popup giving you more BetterLinks analytics details – the number of clicks as well as unique clicks.
All you need to do is click on these data counts to get in-depth information visualized in a highly interactive graphical view on the analytics page of BetterLinks, for easier navigation.
Seamlessly Integrate With Google Analytics To Follow Campaigns
Using Google Analytics can give you an overview of all insightful data about your marketing campaigns and bring you more information about how your website visitors are interacting with your shortened links.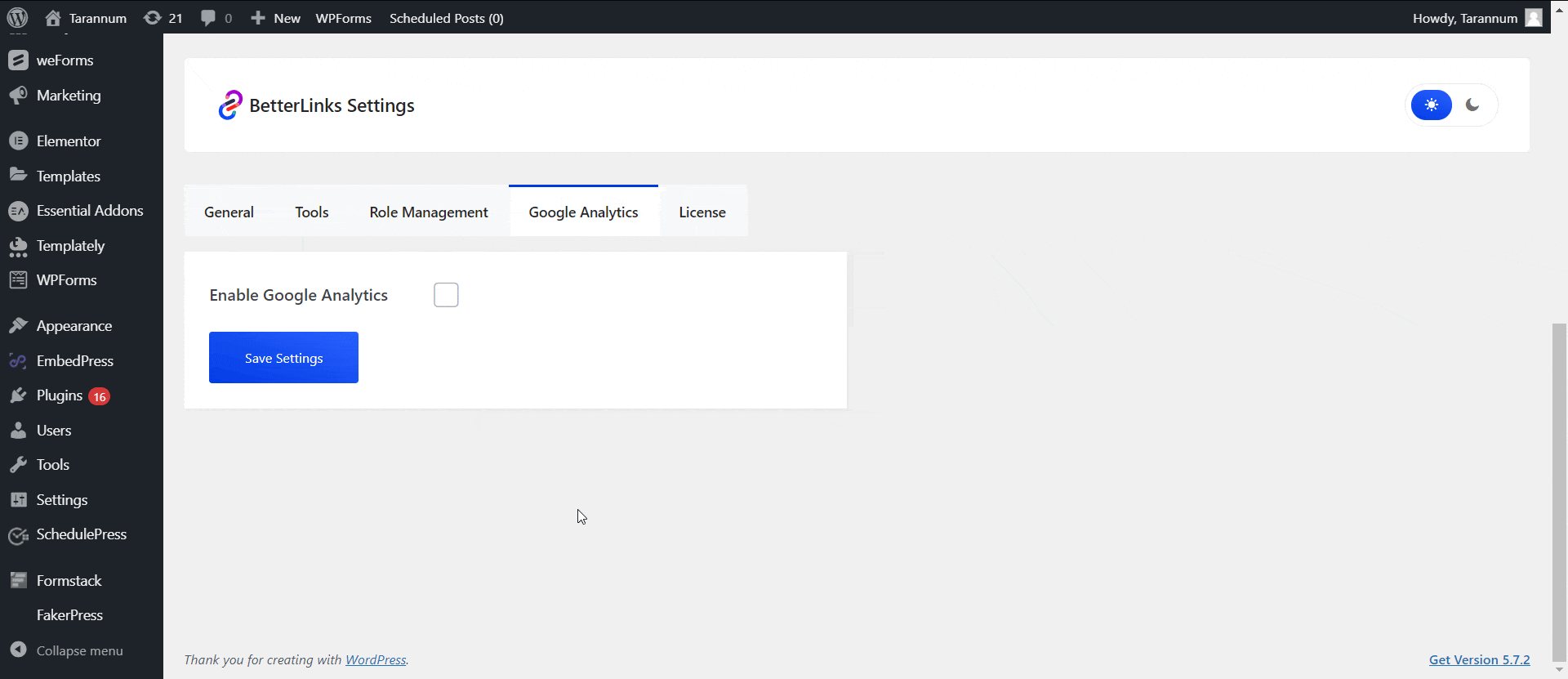 And to help you further in this aspect, BetterLinks PRO enables you to seamlessly integrate with Google Analytics to view important data that could help you finetune your campaigns.
You have to simply retrieve your 'Tracking ID' from your Google Analytics account, and input it in the required input fields on the 'Google Analytics' tab from your plugin's settings interface. And that's it – it is that easy to integrate the powerful web analytics platform to BetterLinks analytics for link management.
Add Parameters To Monitor Marketing Campaigns Using UTM Builder
Once you have configured Google Analytics with BetterLinks PRO, you can easily access another exclusive, premium feature of BetterLinks analytics – the advanced UTM builder. This outstanding feature enables you to easily generate a UTM code that you can use to track your links and marketing campaigns.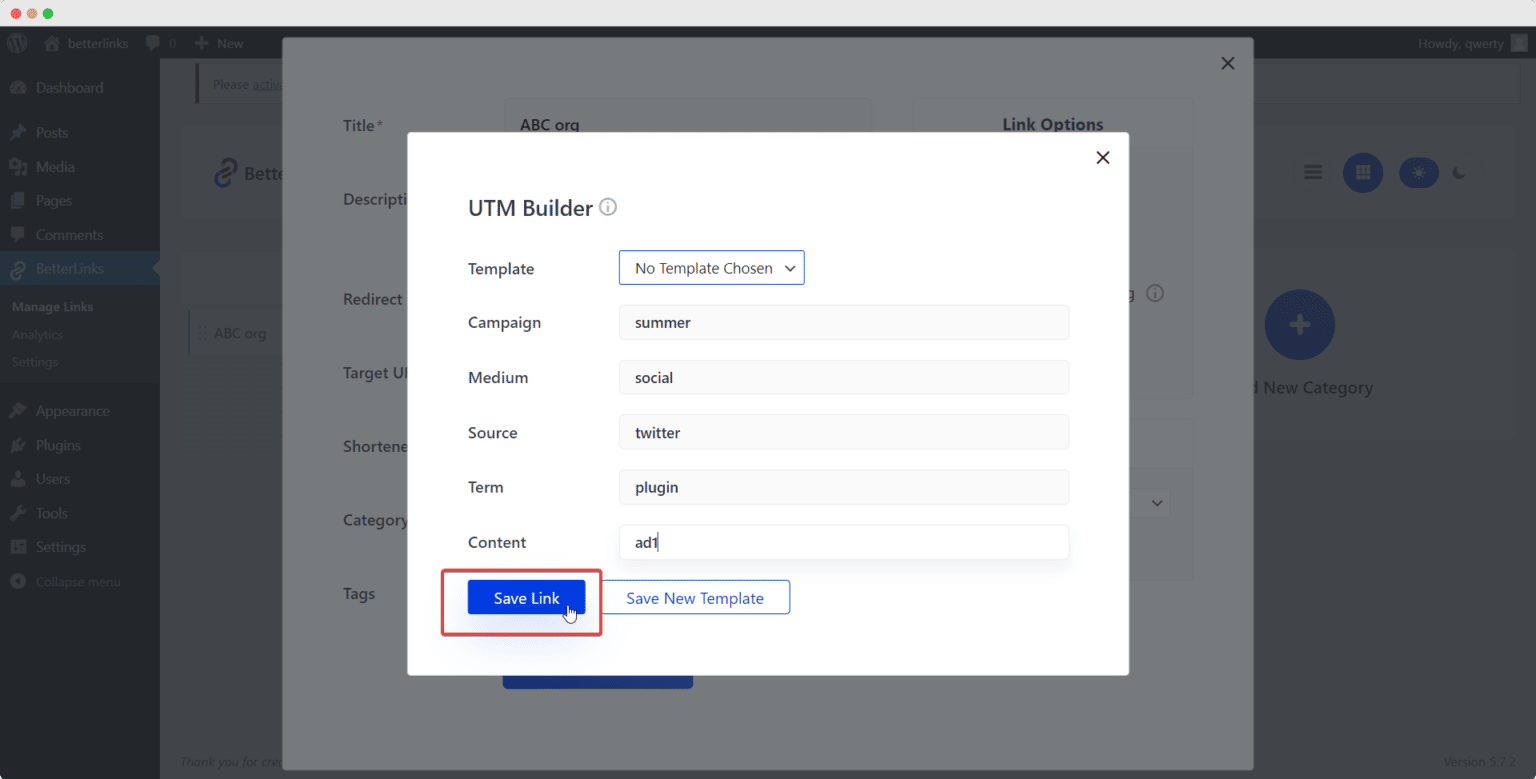 Using this advanced BetterLinks analytics feature, you can set parameters to your marketing or affiliate campaigns automatically and use it to fetch data from Google Analytics with ease.
Moreover, you can also save the configured data as a template and use it later for all your other redirected or shortened web URLs effortlessly.
Carry Out Split Tests With BetterLinks Dynamic Redirections Feature
Besides this, BetterLinks PRO lets you perform split testing with dynamic redirects. You can even create link rotations with dynamic redirects as well.
'Split testing' is a very important way for marketers to finetune their strategy and campaigns. To do this, you must have two offer pages (or more) and a goal landing page on your website. The offer pages are the web pages where you will set the redirect link (through a hyperlink or call-to-action buttons) and the main landing page is where the user will be redirected to.
Once you have inserted the redirect links to your offer page, it's only a matter of enabling the dynamic redirects feature and split testing option to see how your offer pages are performing using BetterLinks analytics.
You can view and analyze the results of your split testing with the built-in BetterLinks analytics tool mentioned above, and see the conversion rates and other reports for each of the offer pages in a beautiful graphical format.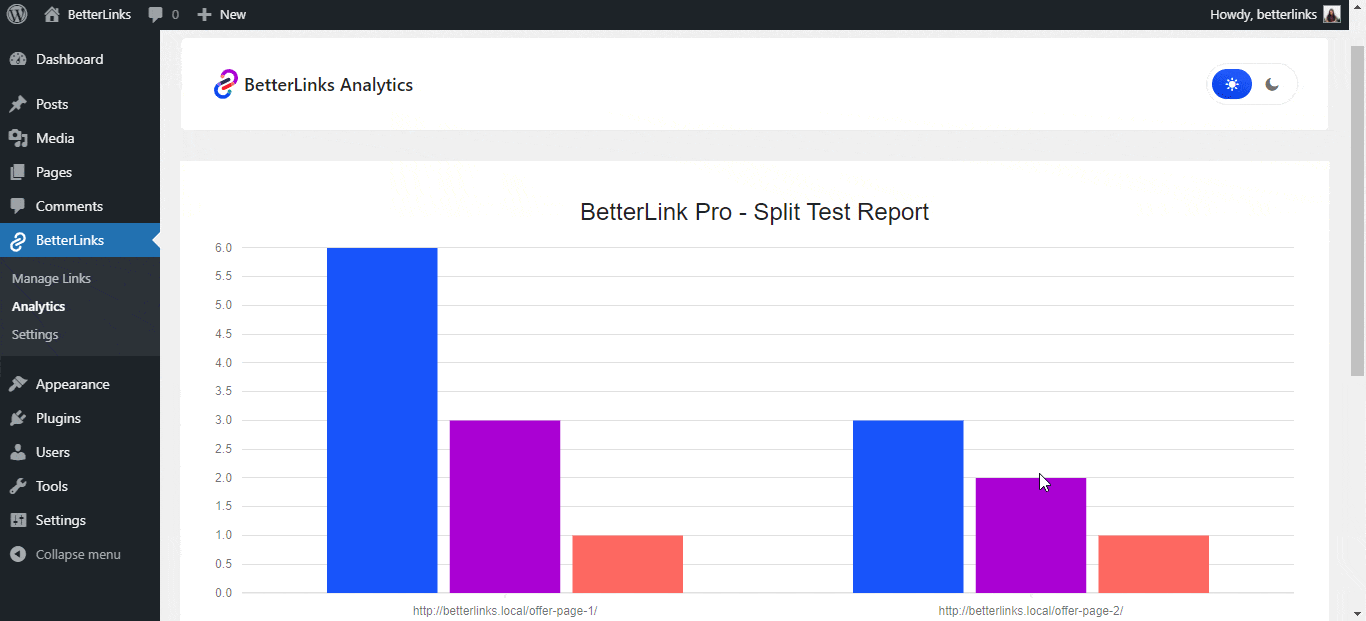 Enable Dynamic Geolocation, Device or Time-Based Redirections
Using the advanced Dynamic Redirections feature from BetterLinks PRO, you can also enable link redirects based on geolocation or device of the website user, or the time period of URL visit. These types of BetterLinks analytics features can easily heighten your link management procedures and make them more insightful.
🌍 Geolocation Based Dynamic Redirection:
Geolocation redirects enable you to automatically redirect a user to a page with a specific country or city domain or a completely different domain. A good example of this feature can be the website Uber.com – which takes its site visitors to specific country-based subdomains for a better user experience.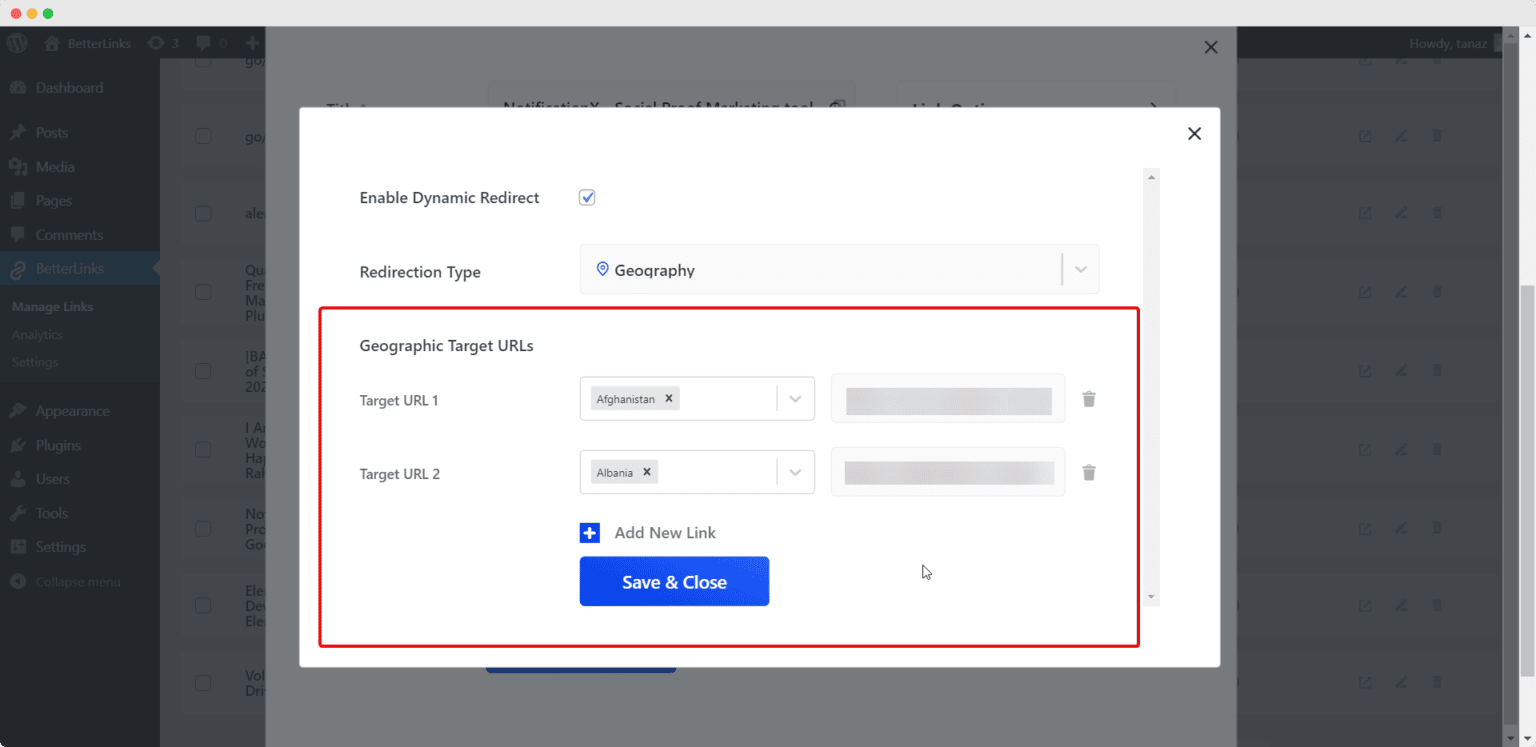 If you have a multinational-based WordPress website, BetterLinks PRO enables you to create seamless geolocation-based redirections using a few simple steps. All you have to do is set your dynamic redirection type as 'Geolocation', and add target URLs for different countries under the 'Geographic Target URLs' section.
💻 Device Based Dynamic Redirection:
Device-based dynamic redirects enable you to automatically redirect a user who is accessing your links from a particular device to be redirected to a different page. This type of dynamic redirection is best suited for websites or applications with more than one version developed to be responsive on different devices.
Enabling this advanced feature will allow your website visitors to view your site from different devices, such as mobile phones, tablets, laptops, or desktops with different screen sizes.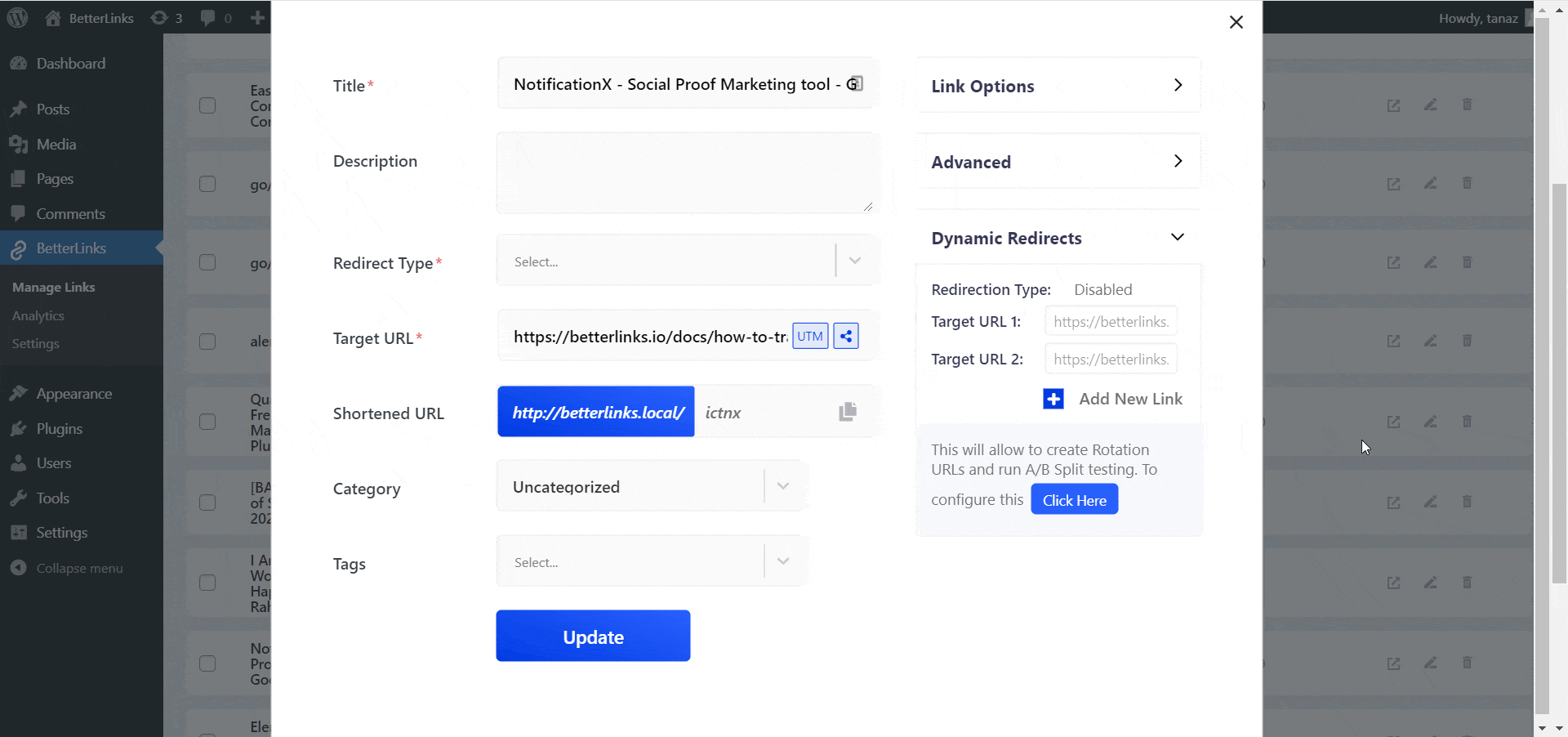 Again, BetterLinks PRO brings you this useful feature to create fully responsive, smooth device-based dynamic redirections using similar steps as mentioned earlier for Geolocation based redirects.
Here, you have to select your redirection type as 'Device' and set your target URLs for different device types under the 'Device Based Target URLs' section. Not only that, you can customize this type of device-based dynamic redirection even further by choosing the browser, and operating system. Users who are using these devices, browsers, or operating systems will then be redirected to the link you have set for them.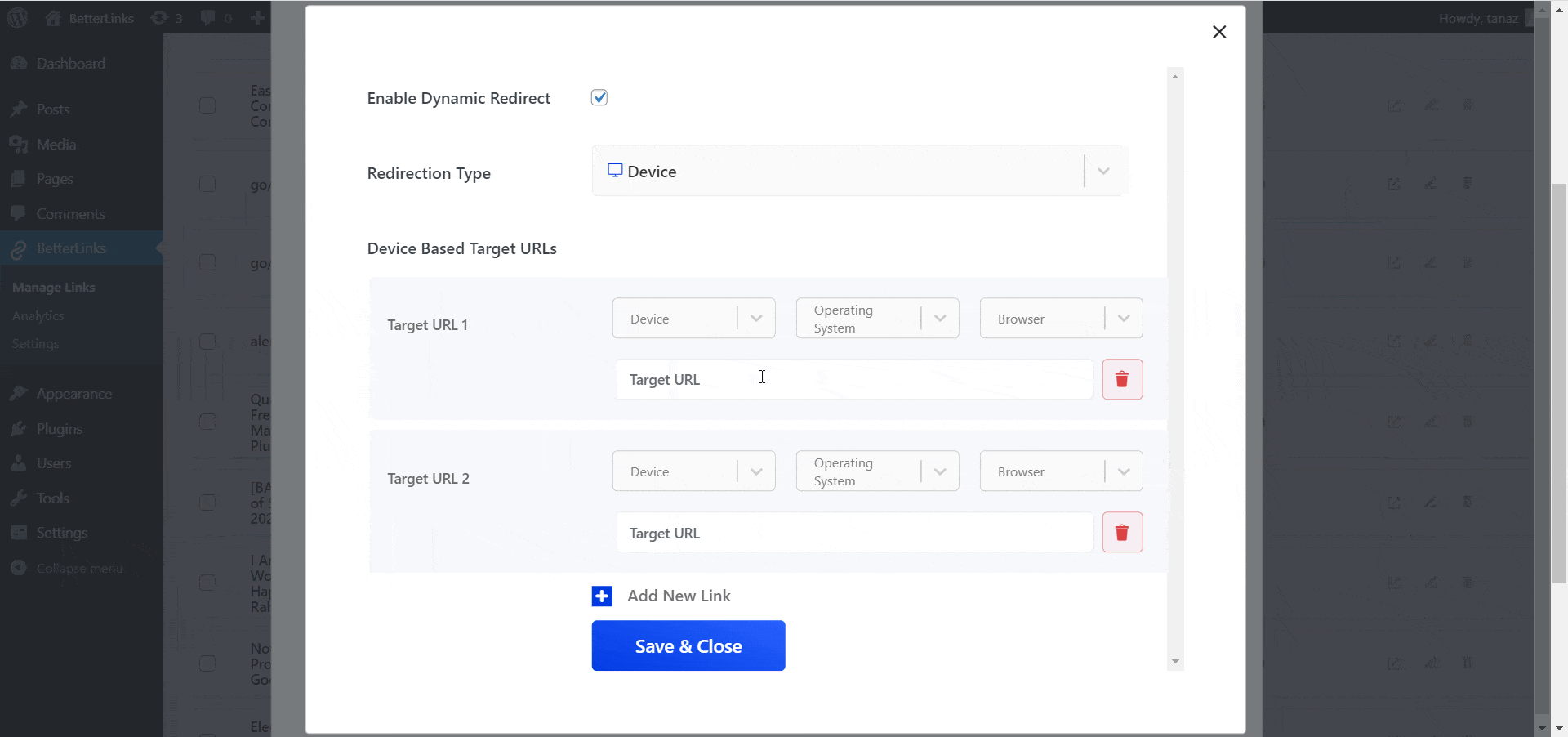 ⏰ Time Based Dynamic Redirection:
Time-based dynamic redirects allow you to send your website or link users to a different web page or domain when they click on a link during a specific time period.
To use this incredibly helpful feature, you need to choose the 'Redirection Type' to 'Time' to create a time-based dynamic redirect. Then, under the 'Time-Based Target URLs' section, you can set the starting date and time as well as the ending date and time during which your site visitors will be redirected to the target URL you have specified.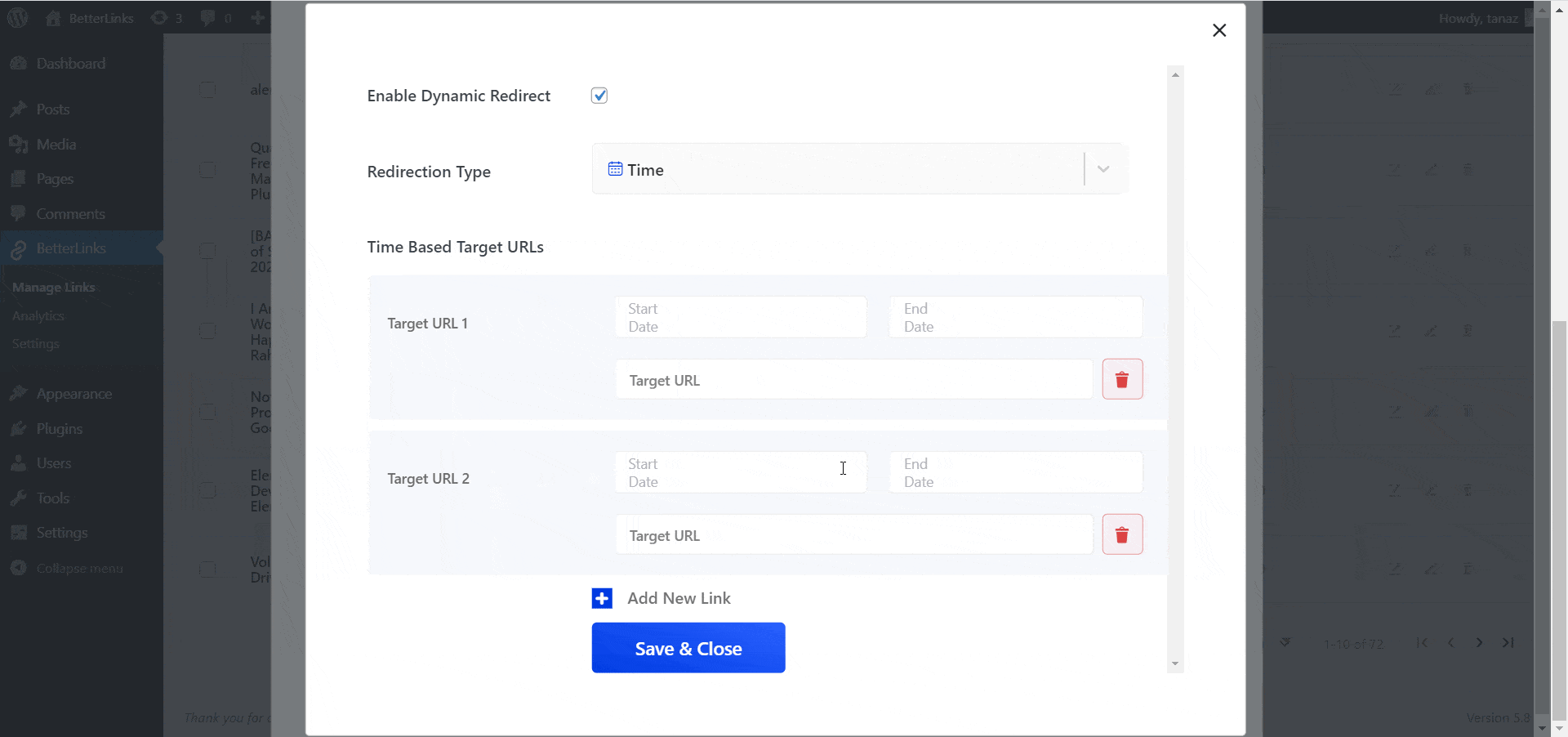 You can add as many time-based target URLs as needed, and configure this particular dynamic redirection feature for multiple time periods throughout the day or even the month. This way, for example, you can specify target URLs where the user will be redirected after a particular campaign has ended or is no longer available.
Experience Advanced Link Management With BetterLinks Analytics
BetterLinks enables all digital marketers like yourself to get useful, in-depth insights about your links and campaigns without using any codes or external, third-party applications. You'll be able to know all necessary details such as who is clicking on your link from which location, the number of unique clicks on a campaign link, analyze which of your affiliate links are bringing in more traffic, and much more.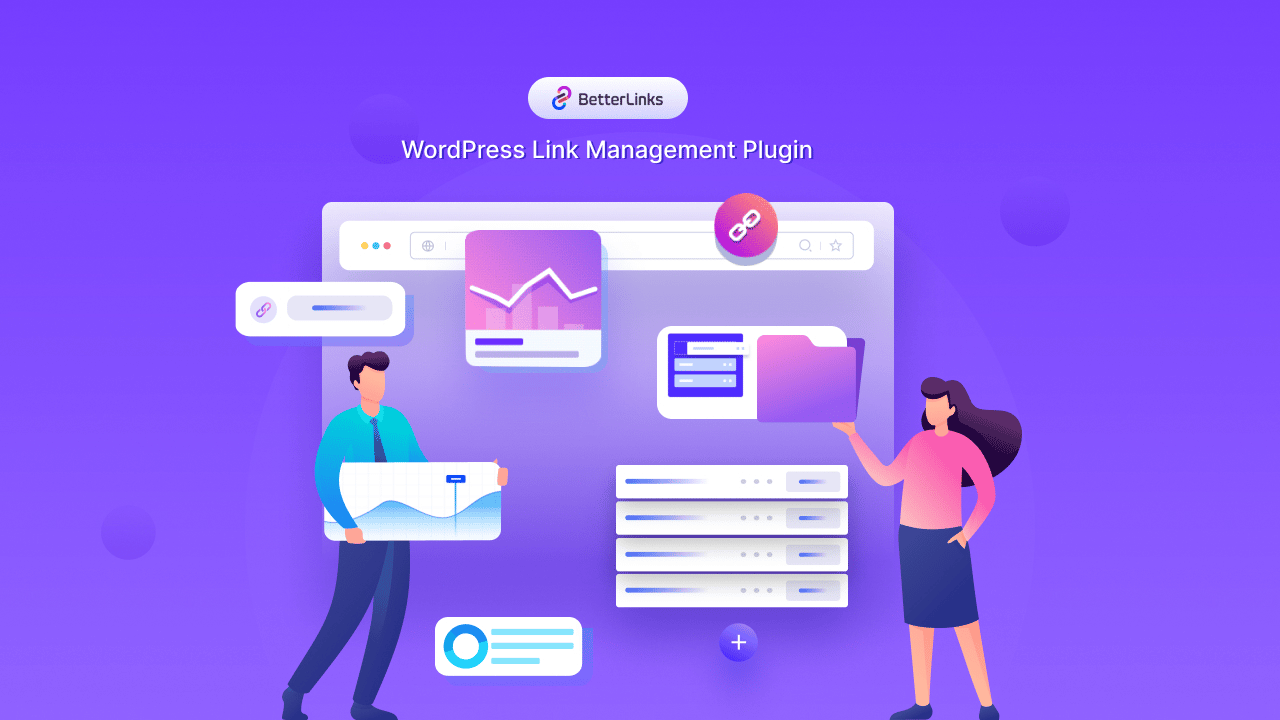 Try BetterLinks, the ultimate link management solution for WordPress and analyze your campaigns and links with just ease, and make the right decisions to skyrocket your engagement rates and conversion with just a few clicks. Or, take your URL management experience to newer heights using BetterLinks PRO; purchase any of our premium packages at an exclusive, limited-time offer at only $49!
Let us know about your experience, we would love to hear from you. Leave a comment below with your thoughts or suggestions. Join our Facebook group to communicate or subscribe to our blog for more useful tutorials, the latest news, and updates.