As the most popular WordPress website builder, Elementor is rapidly gaining more users every day, we knew there was a fundamental need to redirect links within Elementor with an easy solution. While there are multiple ways to redirect Elementor-built pages and posts to a new URL, the question still remains as to whether or not you can redirect links within the Elementor editor panel. In today's tutorial, we will show you how to redirect links within Elementor by using the powerful link management plugin, BetterLinks.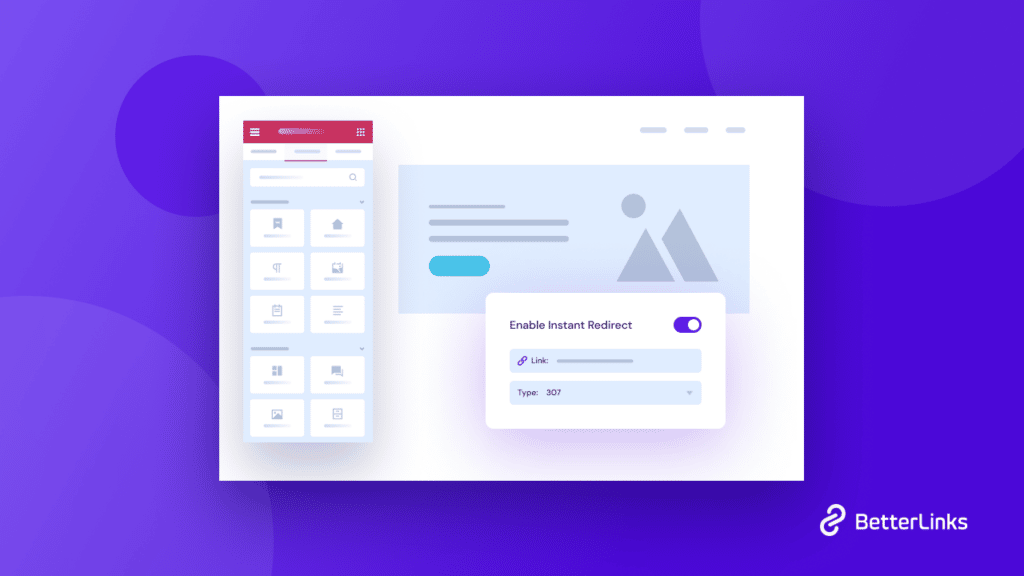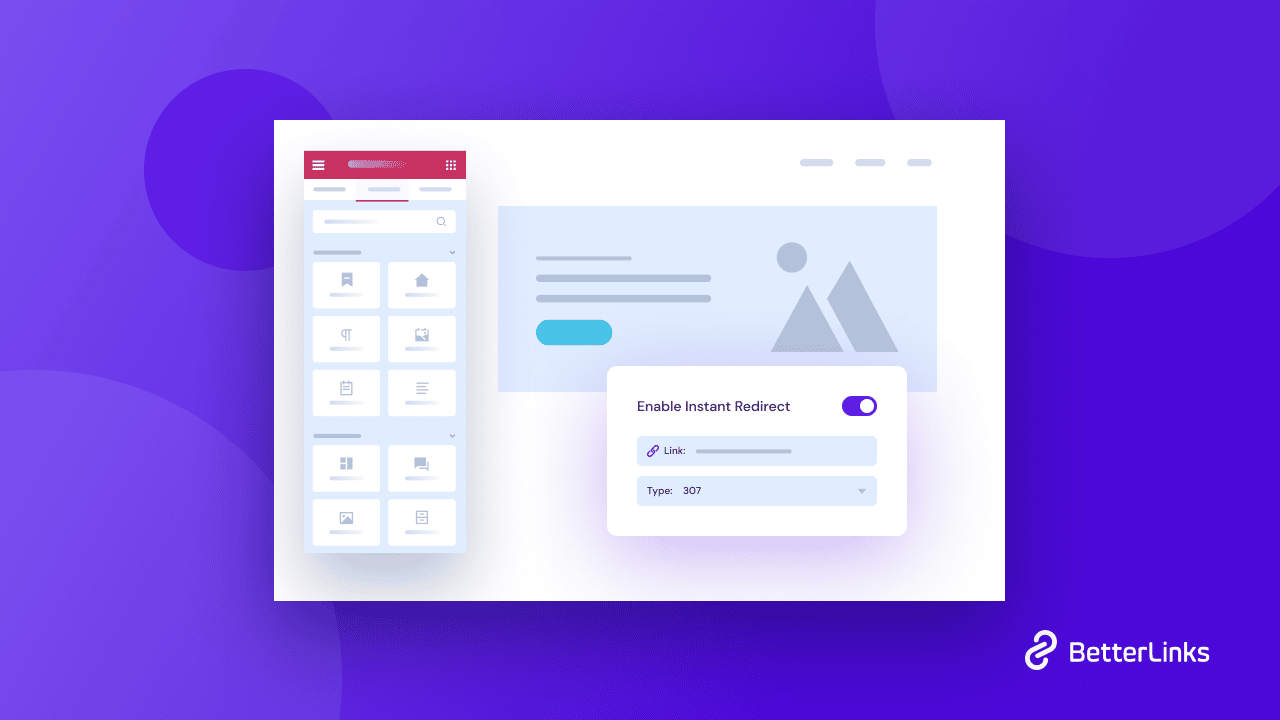 Basically, when you are redirecting your site visitors to another domain, page, or post, it is known as link redirection. And it is very much essential if you are in charge of online marketing or website management. Moreover, redirecting your visitors to another URL will also help you to deal with 404 eros, broken pages, etc.
Reasons Why You Should Redirect Links In Elementor With WordPress Plugins
There are many ways to redirect URLs to new destinations. You can either do it by third-party SaaS tools, custom coding, or from your WordPress website with a plugin. Let's check out why plugins are considered the best link redirection tool.
💈 When you are using web app-based or third-party SaaS link redirection tools, every time you have to open that tool or app for link management. On the other hand. with a link management plugin, from your own WordPress website, you can create and manage redirected links at the same time.
💈 When you are managing link redirection with a plugin, that means all your data are stored within your own database, not in others. All your data is therefore safe from misuse.
💈 Popular plugin like BetterLinks comes with the facility to migrate, import, and export facilities. So anytime you want to export your redirected links list or migrate from other resources, you can easily do that with this link management tool.
Introducing BetterLinks New Feature: Instant Elementor Redirects
Among other link redirection tools, BetterLinks is the new one yet with so many advanced features for managing link redirection. Its new integration 'Instant Elementor Redirects' features make it possible to redirect Elementor built pages and posts directly from the Elementor panel. No need to leave the Elementor editor panel to redirect pages and posts. Moreover, you can set the redirection type (301, 302, or 307), set link attributes as scheduled, sponsored links, and many more.
Check Out The Perks To Redirect Links Within Elementor
Before this Instant Elementor Redirects features, you can also create redirected links but have to leave the page and do it from BetterLinks plugin dashboard. Let's check out the advantages that redirect links within Elementor added to your website management.
🔗 If you have migrated an existing blog to a new destination, or created an updated blog on the same topic and want to divert visitors there, then open the blog in the Elementor panel and set the new destination from there.
🔗 While creating a new page on Elementor, if you want to redirect the audience for a time being to another old URL, then you can also do that with Instant Elementor Redirects.
🔗 Suppose you are creating a new business campaign and want to use the Elementor-build page for that. All the campaign scheduling, dynamic redirects, etc options are available directly from the Elementor panel.
Apart from these basic use cases, there are so many privileges waiting for you if you redirect links within Elementor using BetterLinks plugin.
Step-by-Step Guideline: How To Redirect Links Within Elementor Using BetterLinks
After getting introduced to the stunning link redirecting features directly from the Elementor editor panel, are you excited to redirect links within Elementor? Then here are the easiest steps to follow to redirect links within Elementor. Let's get started.
Step 1: Get BetterLinks Link Management Plugin To Your Website
In order to redirect links within Elementor panel, you will need the link management plugin BetterLinks, if you don't already have it. From your WordPress dashboard go to Plugins → 'Add New'. then install and activate BetterLinks plugin into your website. 8e5eff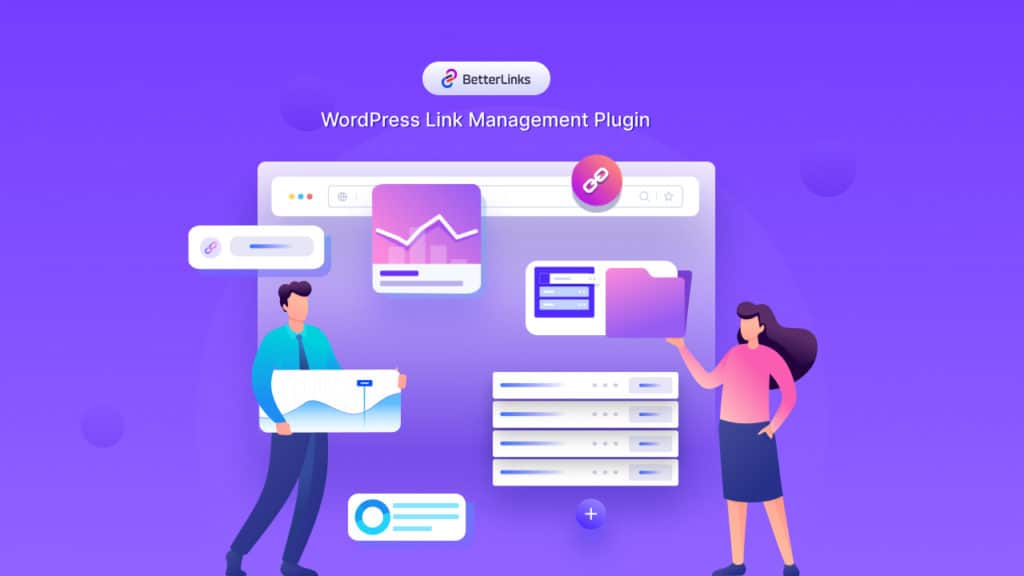 Need To Get BetterLinks Link Management Plugin Free For Your Site In One Click?
Step 2: Enable 'BetterLinks Instant Elementor Redirect' On Your Editor
As mentioned above, BetterLinks is an all-in-one link management plugin with so many features. To get the 'Instant Elementor Redirects' feature, navigate to BetterLinks dashboard → Settings → General Settings. Then toggle to enable the way to redirect links within Elementor.
Step 3: Configure The Redirect Link Types, Options & Others
Now time to open the page you want to redirect by clicking 'Edit with Elementor' button. The page will be instantly open in Elementor. Now go to the page settings by clicking the 'Gear' icon from the down bar. After that, navigate to the 'BetterLinks Instant Redirect' feature and enable it as shown below.
Instantly after that, all the options related to link redirection will be available from the Elementor editor. You can set the Target URL, your link redirection Type, and also link options like sponsored, do follow, no follow, etc. You can also enable the tracking of the URL directly from Elementor panel.
After configuring all, click on the 'Update' button and all the changes will be saved. That's it. This is now seamlessly you can redirect links within Elementor without any hassle.
Bonus: Check Out The Advanced Link Redirection Features That BetterLinks PRO Offers
By using the BetterLinks link management plugin, you will be able to not only redirect links within Elementor, but you will also be able to set expiration dates for links, change page and post statuses, and many more advanced features. To obtain all these advanced features directly from Elementor editor, you have to get BetterLinks PRO. then all the mentioned features will be available on the Elementor editor panel left-bar.
The benefits of using BetterLinks to redirect links within Elementor don't only end here. Right after you will set the page or post redirected within Elementor, the link will also be created in BetterLinks dashboard. From there you can set other advanced features like link scheduling, UTM campaigns, dynamic redirects, and many more.
BetterLinks provides the ultimate link redirection tool for WordPress users. And with the Instant Elementor Redirects features, Elementor now can also seamlessly manage link redirects without leaving the Elementor panel. For any type of link management assistance, you can contact a dedicated support team anytime.
Also don't forget to subscribe to our blog to get these kinds of easy tutorials, blogs, and insights from us.