Are users encountering broken URLs or 404 error pages on your website? If yes, you must be looking for ways to redirect your users to the right web page instead and continue providing the best user experiences. Well, you are in for luck today; as we bring you a complete solution to this problem by introducing you to the 3 best WordPress redirect plugins in the market.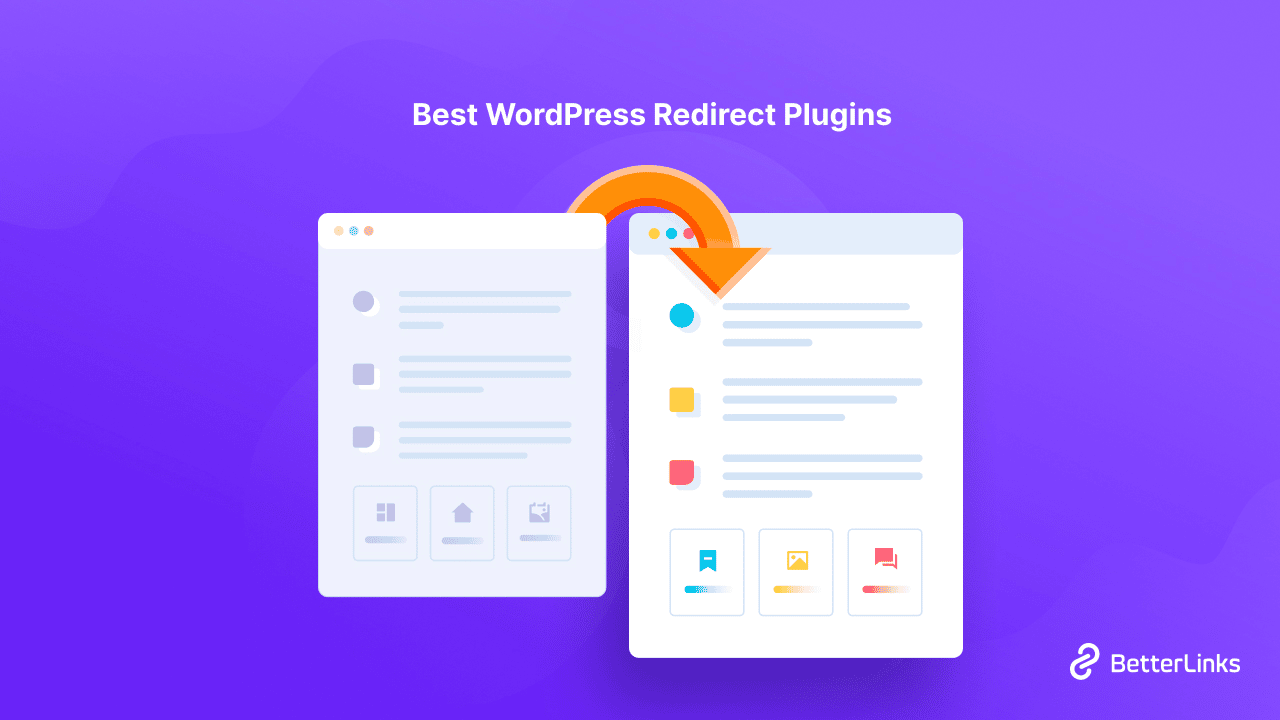 Nothing annoys your website users more than encountering broken or 404 error pages while surfing for something they need on the internet. And this can easily result in high bounce rates, lower engagement, or conversion rates on your site. This is when link redirections become necessary.
And to help you in selecting the right redirection solution for your website, we bring you a complete breakdown of the 3 best WordPress redirect plugins and explain their outstanding features to you.
But before we get into our list of plugins, let's try to understand what link redirection means, how many types there are of it, and most importantly, why you need redirect plugins to help you out. So without further ado, let's dive in and find out more.
How To You Define Link Redirection & Its Different Types?
The process of forwarding one website URL to another is known as Link Redirection. It's a way to send both users and search engines to a different URL from the one they request in order to avoid taking them to broken links or showing 404 errors. You can also use this helpful feature to redirect your website visitors when your marketing campaigns expire, but more on these later.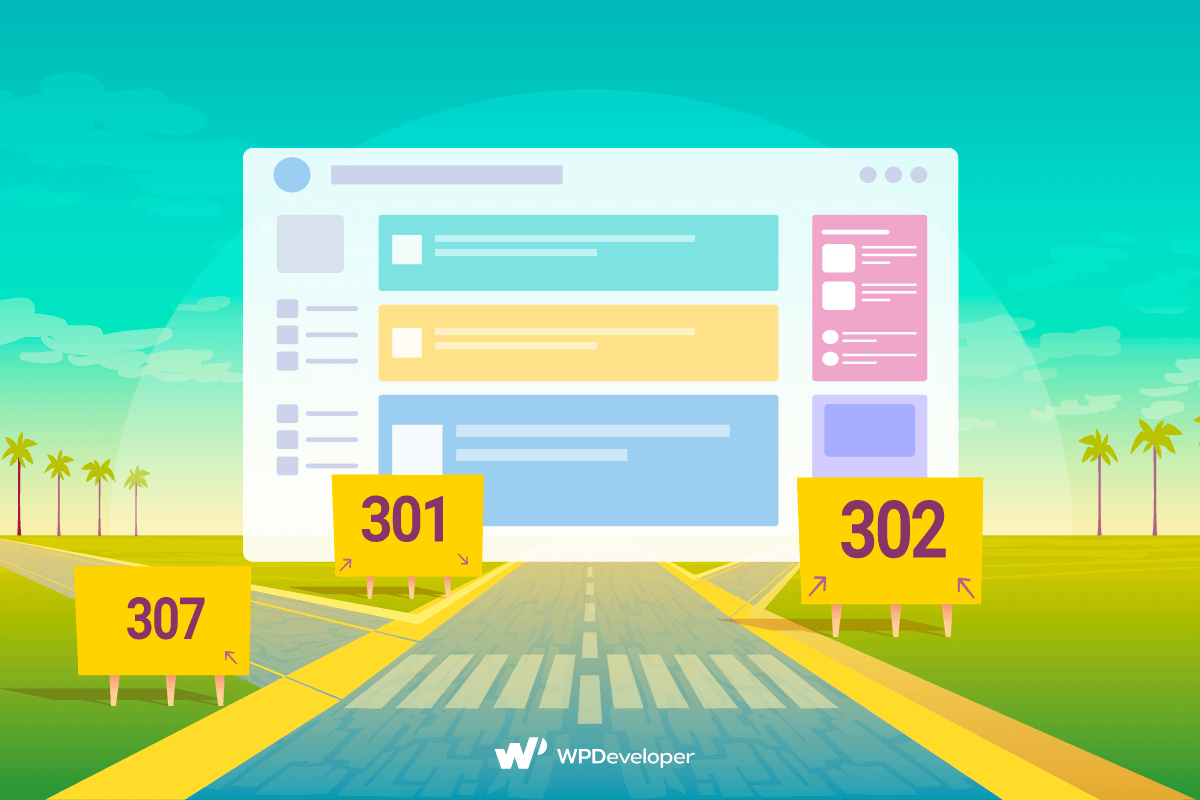 Before we get into the scenarios in which you need to redirect users, let's understand the different types of redirections there are:
⭐ 301 Redirects (Permanent redirection): implying that the content has been permanently removed or replaced from its original web address.
⭐ 302 Redirects: This type of redirect is used when the content is unavailable for a short period but will be reinstated soon.
⭐ 303 Redirects: This type of redirect response indicates that a previous resource has been 'replaced' within a domain or web setup.
⭐ 307 Redirects (Temporary redirection): This redirect works similar to the 302 and redirects a link when unavailable at the original web address.
⭐ 308 Redirects (Experimental permanent redirection): Similar to 301 and 307 redirects, but hold lesser SEO value. The best practice is to use a 301 redirect instead.
While there are many types of redirections and use cases for each, 301 redirect is one of the most used ones for many reasons, as mentioned below.
When Is It Necessary To Redirect URLs On WordPress Site?
Whether you are moving a web page from one URL to another or creating an entirely new website, you need to take the necessary steps to ensure your page visitors get sent to the right place.
That's not all; there are many more use cases of link redirection that can benefit your WordPress website. To mention a few, we have the following examples: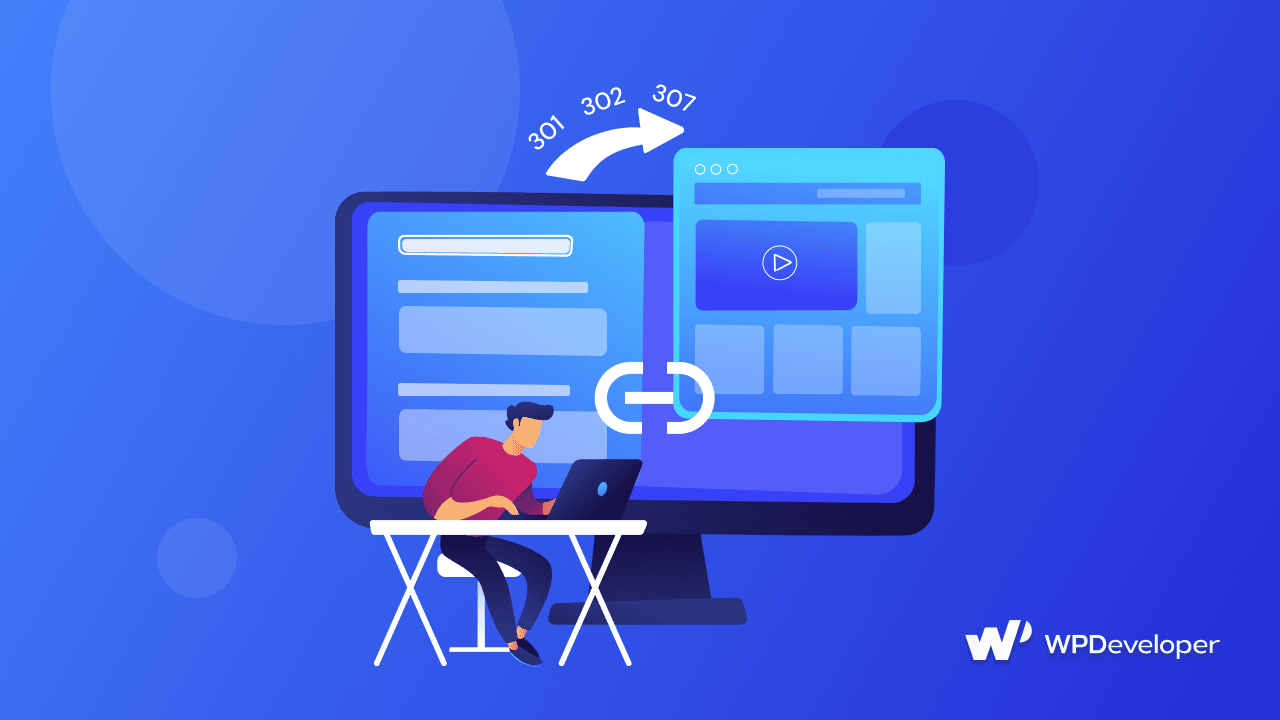 👉 When you want to recreate or transfer posts or pages from an older site that is no longer available to a newer one, you should just divert your users to the new site with link redirects.
👉 When you want to bring multiple pieces of similar content from different pages and consolidate them together onto a single web page or merge two websites, you need to set up a permanent link redirection from each old page to the new one.
👉 When a marketing campaign expires on your website, it is important to redirect users to a web page that is still live and active on your site. And a link redirection is the perfect solution to this problem.
👉 By providing your customers and employees with a branded portal, you can redirect them to your preferred vendors with just a single click.
👉 If you decide to move from a less secure connection (HTTP) to a more secure one (HTTPS) by installing a security certificate, you need to use a 301 redirect to make sure users who do not know about the slight change can still find the new web address.
Why Is It Important To Use A WordPress Redirect Plugin
However, there are ways in which you can redirect your website visitors to the right web location manually. So why do you need a proper WordPress redirect plugin to take over?
Using a redirect plugin on your WordPress website will automate the process of link redirection and help to keep your site's SEO scores intact. It is especially recommended to use such link redirection solutions when you handle a large website with hundreds of web pages and marketing campaigns.
Even if you fail to regularly monitor your website for broken links, your installed redirect plugin or link management solution will be able to keep a seamless flow of traffic on your website with ease.
The 3 Best WordPress Redirect Plugins For Seamless Redirection
And finally, to help make your web building and link management effortless, we bring you a list of the 3 best WordPress redirect plugins. We will tell you which features make them the perfect solution for link redirection, while also mentioning other exclusive features of the plugins. And so, without further ado, let's explore and find out which solution would be perfect for your website.
🔗 Redirect Users Seamlessly With BetterLinks

First up, we have the ultimate WordPress link management plugin, BetterLinks. While it comes with multiple outstanding features to help you shorten, monitor, and manage website URLs and campaign links with ease, this powerful is commendable for its many redirection features.
This excellent freemium WordPress redirect plugin helps you easily redirect hundreds of new or existing links in just a single click. With the free version of the plugin, you can simply carry out 301, 302, and 307 redirection types.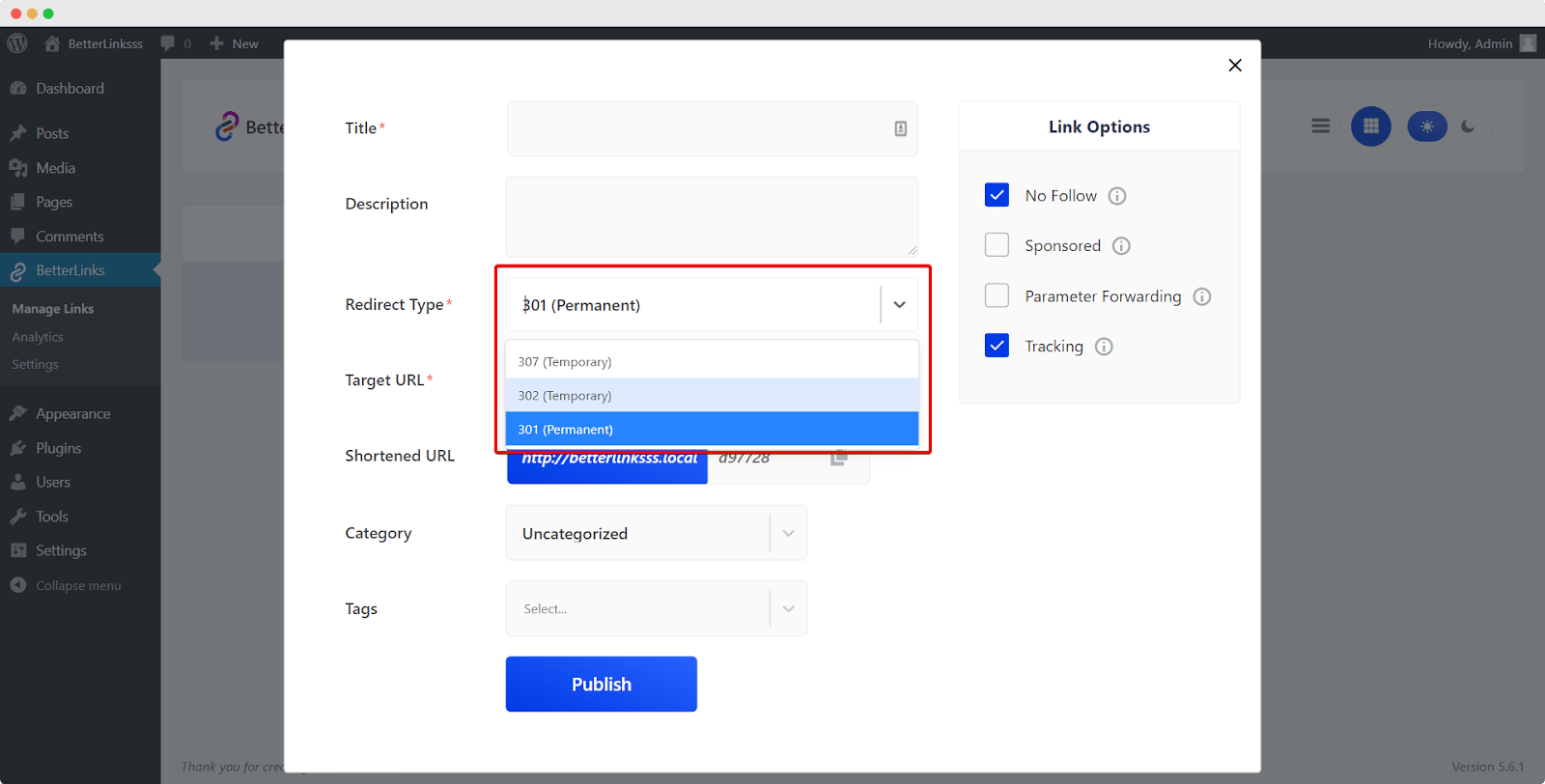 But this is not all for this WordPress redirect plugin. With BetterLinks PRO, you can take your link management a step higher and apply advanced Dynamic Redirection features:
🌍 Geolocation Based Dynamic Redirection:
BetterLinks PRO enables you to create seamless geolocation-based redirections using a few simple steps based on where users are accessing your website from, using the advanced Geolocation redirects. With this, users from a specific country or city will be redirected to dedicated web pages or website domains developed only for that location. A good example of this feature in action can be the popular website Uber.com – which takes its site visitors to specific country-based subdomains for a better user experience.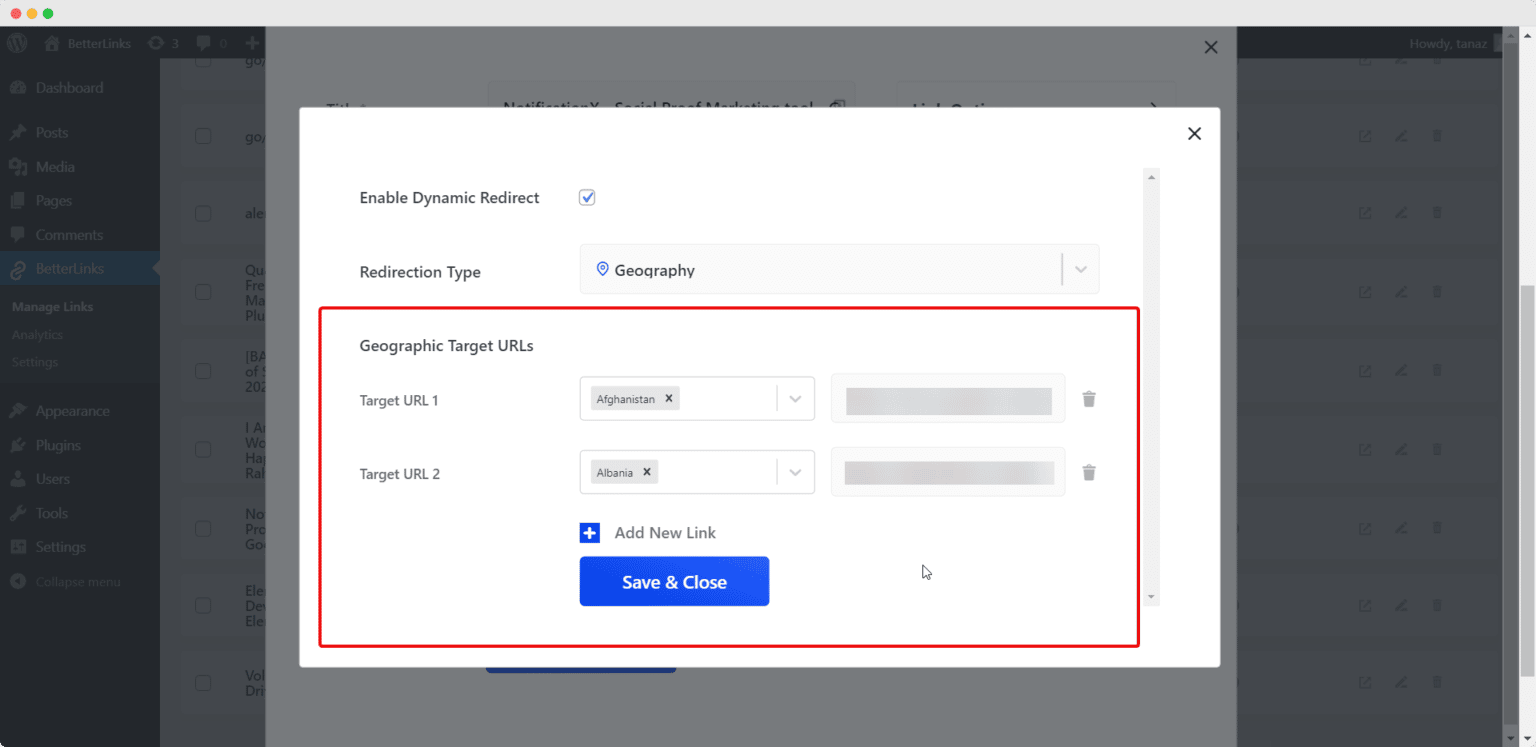 💻 Device Based Dynamic Redirection:
Another type of dynamic redirection supported by BetterLinks PRO is the Device-based dynamic redirects that enable you to automatically redirect a user based on the type of device they are using to access your website. This is particularly helpful in redirecting web pages that are developed to be responsive specifically on certain devices.
Enabling this advanced feature will allow your website visitors to view your site from different devices, such as mobile phones, tablets, laptops, or desktops with different screen sizes.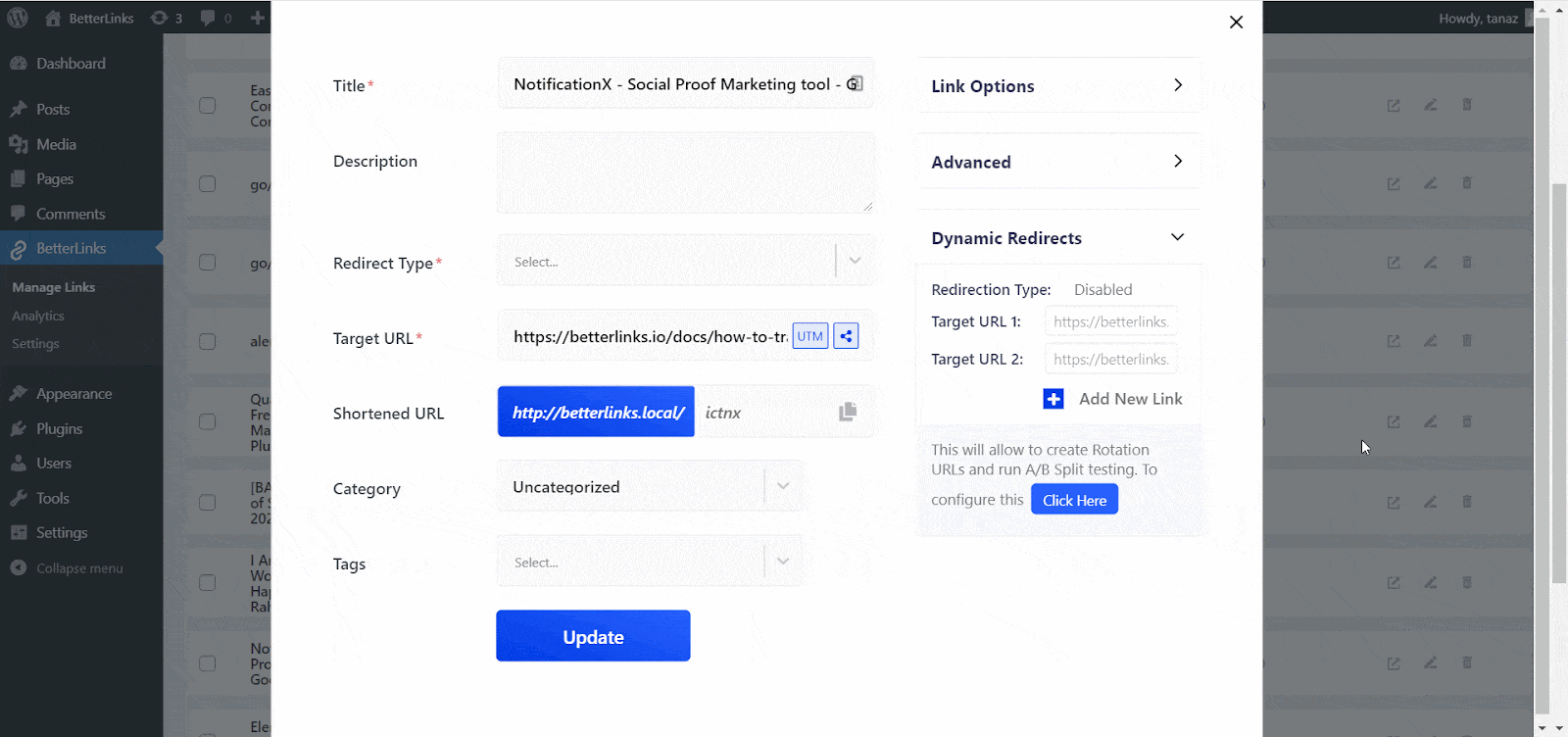 ⏰ Time Based Dynamic Redirection:
And finally, we have BetterLinks' Time-based dynamic redirects which allows you to redirect users to a different web page or domain when they click on a link during a specific time period.
Suppose you have created a separate version of your website that is planned to go live on Christmas Eve during this festive season. If you set a time-based dynamic redirection feature to it using BetterLinks, the website visitors will be automatically redirected to the dedicated holiday web pages at the exact right time.
While these are the many reasons BetterLinks is the perfect WordPress redirect plugin for your website, there are many more facilities to explore through. It brings you the advanced A/B split test feature, multiple types of analytics features, and more. You can also set a link redirection to your expiring campaigns with complete ease.
If you are interested to find out more about how this excellent new redirect plugin is taking the market up in storms and gaining quick popularity, please check out this blog on BetterLinks.
🔗 Easily Enable 301 Redirects With Redirection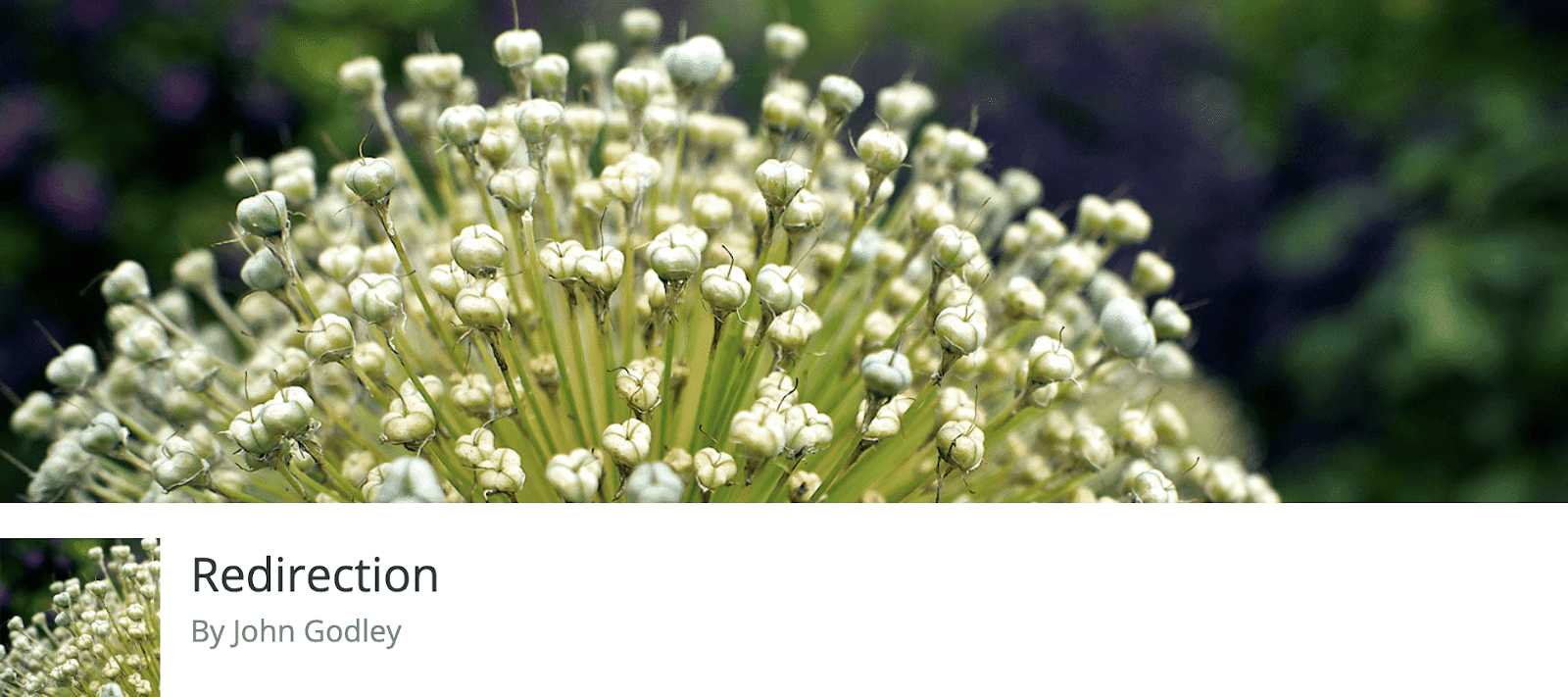 Next, we have another highly-reputed WordPress redirect plugin – Redirection. For more than 10 years in the WordPress market, this free plugin helps 2 million+ website developers and marketers, like you, solve web page redirection issues and improve their site ranking.
It lets you monitor 404 pages and permanently redirect any URL on your WordPress website with 301 redirections, regardless of the number of web pages it contains. And you don't need the knowledge of Apache or Nginx – all you need to do is make sure that your website supports permalinks.
It also supports conditional redirects, which include server redirects, role capability redirects, page type redirects, and more. You can effortlessly configure this plugin to automatically create a 301 redirect when the permalink changes or when certain set conditions don't match.

Similar to BetterLinks, you can also use this popular plugin to track and view all redirects occurring, keep track of several visitor data including the browser they used, and the referrer. The collected information can then be easily exported when needed.
And so, we can conclude this is one of the best WordPress redirect plugins to manage your website links and marketing campaigns with ease.
🔗 Retain SEO Scores With Simple 301 Redirects

If you want to solely focus on redirecting your website permanently, We would recommend another trusted and highly popular plugin, Simple 301 Redirects. This powerful and free WordPress redirect plugin helps you to create 301 redirects and manage them straight from your website dashboard.
Whether you need to redirect your blog posts, take your users to a new business page seamlessly, this plugin can be your perfect all-in-one and permanent solution. And the best part? It will help to retain your SEO scores automatically regardless of the redirects without any hassle.
A must-mention feature of this lightweight but a highly advanced plugin is the exclusive 'Wildcards'. This allows large business websites and WooCommerce platforms to redirect hundreds of web pages from one repository to newer ones at once.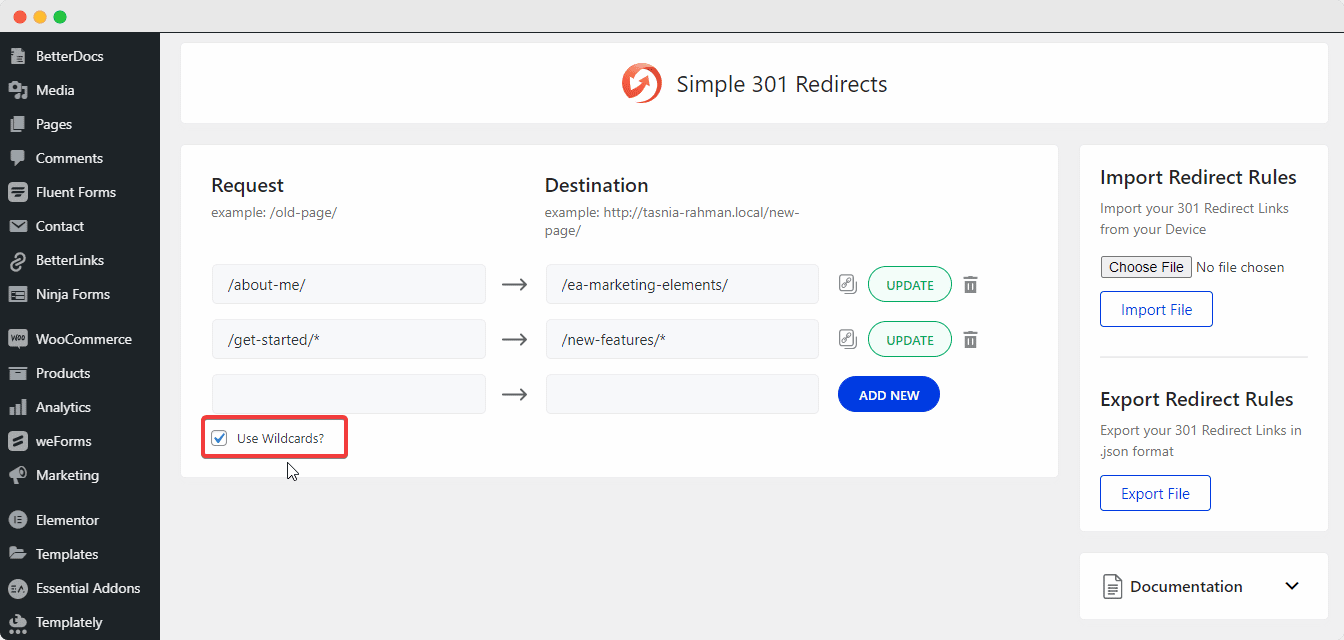 Like the other two WordPress redirect plugins mentioned above, this tool allows you to export, download and import multiple redirected links and URLs in bulk to and from other plugins.
Simple 301 Redirect also comes with seamless compatibility with BetterLinks to track and analyze the click-through rates of the new, redirected URLs. With just a single click, you can use BetterLinks' advanced Analytics feature to analyze your redirected URL's performance with their easy, in-built graphical interface.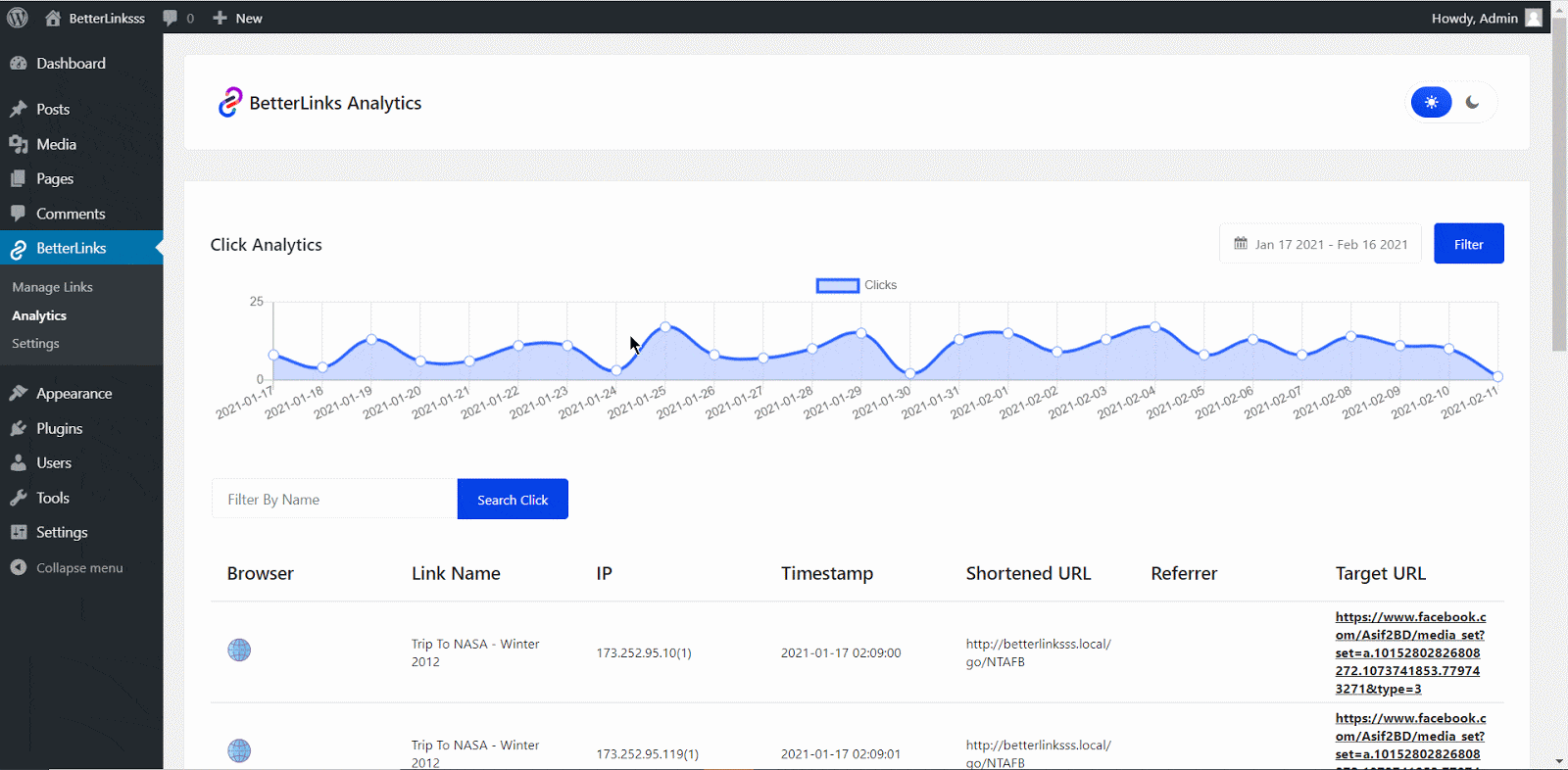 Manage Your Website Links Better With Best Redirect Plugins
And with that, we want to conclude our in-depth comparison of the 3 best WordPress redirect plugins. We hope this blog was helpful in deciding which one would be the perfect choice for your website – the freemium BetterLinks with unmatched features for multiple redirection types, or the two free but outstanding plugins for 301 redirections.
While all three brings you outstanding and seamless redirection features, BetterLinks comes on top by offering link redirection in several different types. Other advanced features are also exclusive to this plugin only, like split tests, link expiration, or schedulers that will help take your link management to the next level in no time.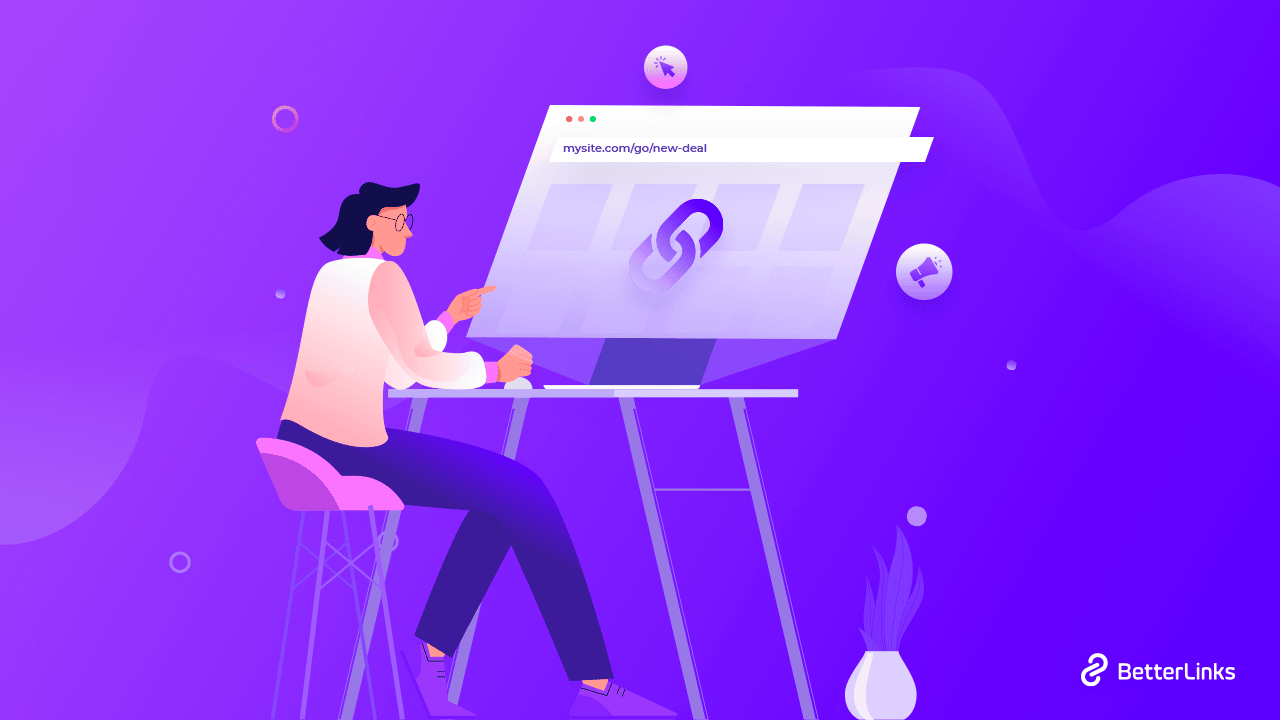 But choose any one of these, and you will not be disappointed. Let us know which one you chose and of your experience with them by commenting below; we would love to hear from you. Join our Facebook group to communicate or subscribe to our blog for more useful tutorials, the latest news, and updates.