UTM parameters in WordPress make it easy to identify which social methods are the most effective—and cost-effective. This information can assist you in making critical decisions about where to direct your efforts (and budget). These are basic, straightforward, and efficient methods of tracking web traffic. When someone clicks on a link with those UTM parameters, Google Analytics stores the information and allows you to monitor the activities of visitors who clicked on that specific link. Let's talk about the details of this topic.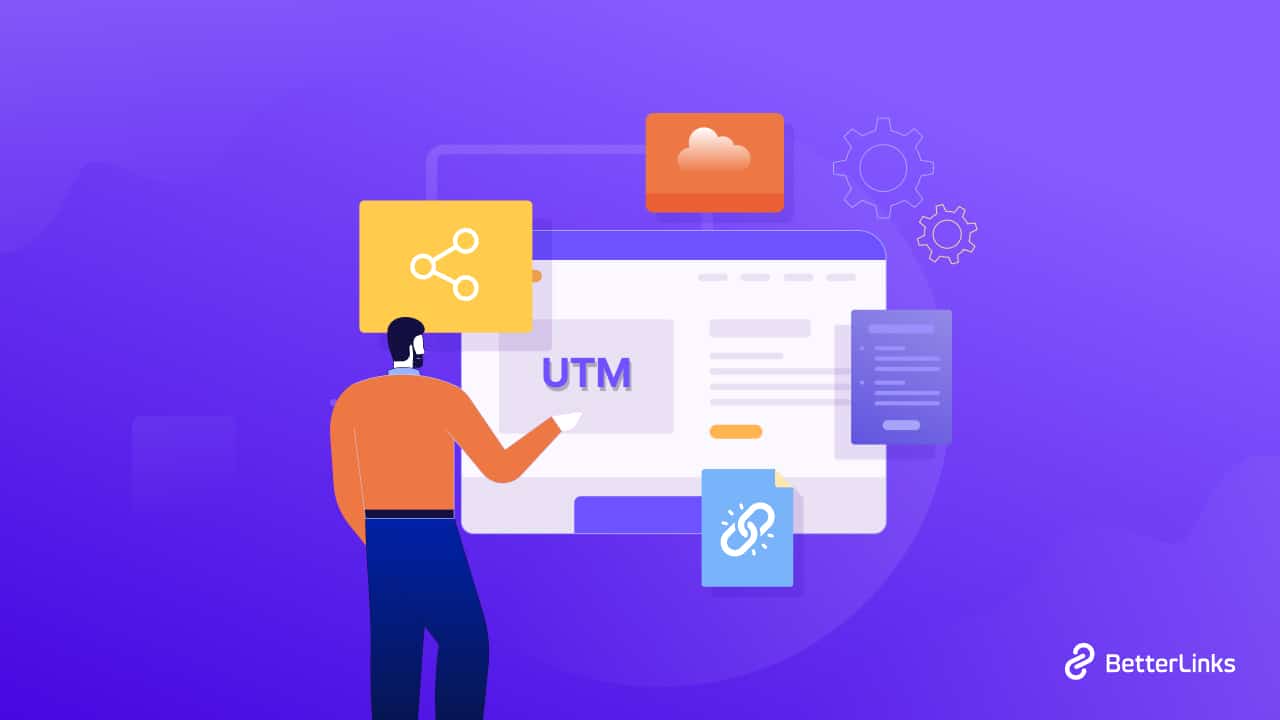 What Are UTM Parameters In WordPress? Definition & Example
UTM (Urchin Tracking Module) parameters, also known as UTM tags or UTM code, are short pieces of code you can add to the end of your standard URL to track traffic that clicks on that specific link.
A typical URL would look something like this:
However, if you use UTM tags in your email newsletter, your URL can look like this:
https://wpdeveloper.com/?utm source=newsletter&utm medium=email&utm campaign=onboarding
You can use any UTM builder to add 5 different parameters in of UTM snippets to your UTM codes.
👉 Source: If you want to know the precise source of the traffic to your website link, you can include this field.
👉 Medium: Medium is essentially an indicator of the type of content that has attracted traffic to your website. It may be a simple email, a presentation, a reference, or even social media.
👉 Campaign: If you are running an online campaign, you can simply identify visitors between platforms by using the campaign name in the UTM code.
👉 Keyword: A keyword that is frequently clicked on and drives traffic to your website simply needs to be identified.
👉 Content: It is also used as an optional UTM parameter for your links, and by applying this simple parameter, you can quickly assess the performance of CTA buttons such as 'Learn more,' 'Buy Now,' and so on.
Proper Guidelines For Naming UTM Parameters In WordPress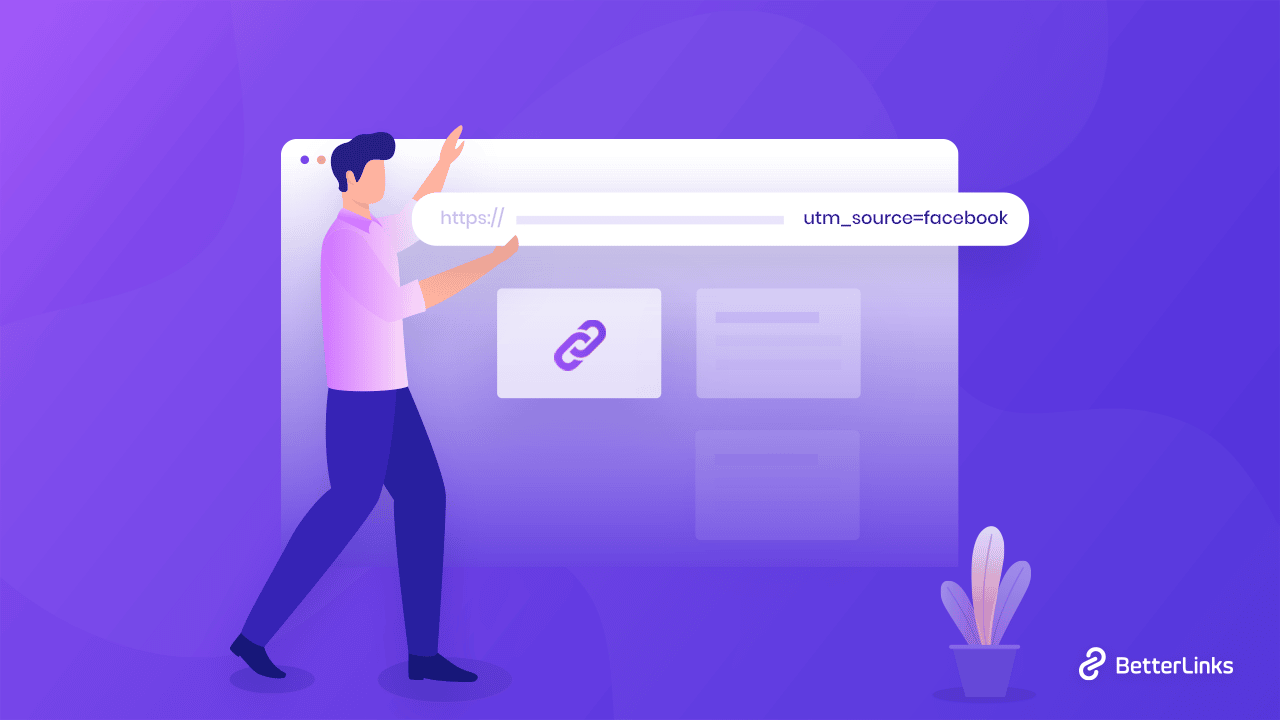 Usually, UTM parameters in WordPress have two different parts UTM parameters and UTM tracking variables. That is why you must understand the appropriate naming practices while utilizing UTM parameters.
Using hyphens and underscores: When using UTM builders to generate UTM parameters, you may use hyphens to generate the whole convention but underscores for terms that relate to a single subparameter.
Use lowercase all the time: For your UTM parameters, you must use lowercase characters only, and instead of spaces, you can use hyphens. This will assist you in avoiding receiving split data for your traffic.
Use the same name across all channels: It is recommended that you use the same names when adding parameters and campaign names across all channels.
Make shorter links: Adding too many parameters will, of course, make your URL lengthy and jumbled. That's why link shortener plugins like BetterLinks can help you shorten your URLs. According to research, shorter URLs are more likely to get clicks. However, you must first add the URL parameters to your links before you can shorten them.
Use key parameters based on your goal: If you're wondering how you'll put your URL parameters within your links, you should first assess your business goals. You must carefully consider whatever data you want to collect for every campaign and how it will benefit you in the future.
Benefits Of Using UTM Parameters In WordPress Properly
Now, let's look at some examples of how to gain from using UTM parameters in various campaigns.
Track Social Media Efforts
UTM parameters in WordPress aid in the tracking of social media initiatives. You can identify which articles and campaigns generated the most traffic and conversions by adding UTM code to your social media links.
Based on the data, you can improve future campaigns and efficiently analyze the return on investment (ROI) of your social media operations.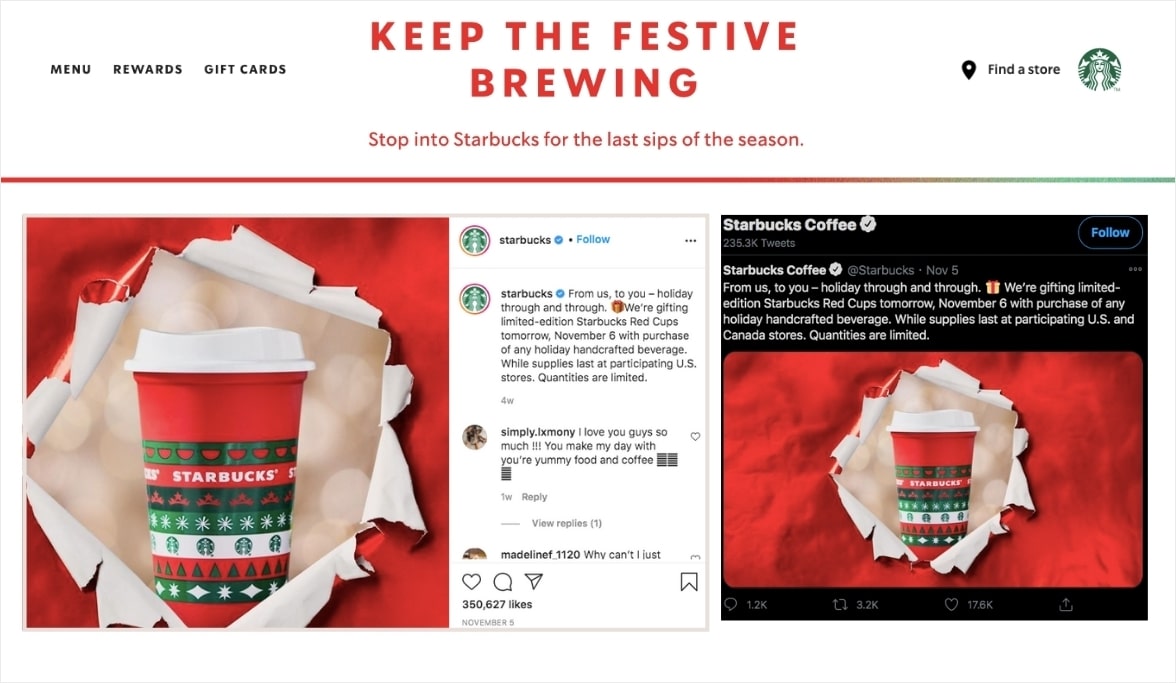 Understanding The Efficacy of Your Paid Search Keywords
UTM parameters assist you in determining which advertisements are engaging – which advertisements receive the most clicks and which ads lead to the increased time spent on website pages. It can assist you in determining what types of search keywords customers use while looking for your product/service offering.
Keep Track Of The Effectiveness Of Your CTA
Another essential usefulness of UTM parameters in WordPress is determining which call to action (CTA) on your website gets the most conversions.
Many effective websites have many CTA buttons or links that lead to a conversion page, such as a free quotation form or price page. You can figure out which CTA is getting the most hits and conversions by utilizing UTM parameters on those CTAs, and then utilize that data to optimize your site.
Another method is to do A/B testing.
Easily Create UTM Parameters In WordPress Using BetterLinks Without Coding
Businesses may use a number of UTM builders, such as ones integrated with Google Analytics, HubSpot, and BetterLinks. BetterLinks is an amazing addition for WordPress websites since it allows you to simply construct UTM parameters for UTM codes and add them to your links. You may also manage them all from your WordPress dashboard without having to write any code.
Because writing UTM codes with UTM parameters from scratch may be difficult for you, you can use the BetterLinks plugin to ease the process. All you have to do is add the UTM parameter to your URL and send it out.
If you are using WordPress for building your website, you can install and activate BetterLinks and get started
Step 1: Add New Links From Dashboard
After successfully installing and activating the BetterLinks plugin on your WordPress website, go to BetterLinks → Manage Links. By selecting the 'Add New Link' option in the BetterLinks UTM builder, you can quickly create a fresh URL. A pop-up window will appear, prompting you to enter your information. That's how you make a new URL.
Step 2: Add UTM Parameters In WordPress With BetterLinks
After you've generated your new link on BetterLinks, click the 'UTM' button next to the 'Target URL'.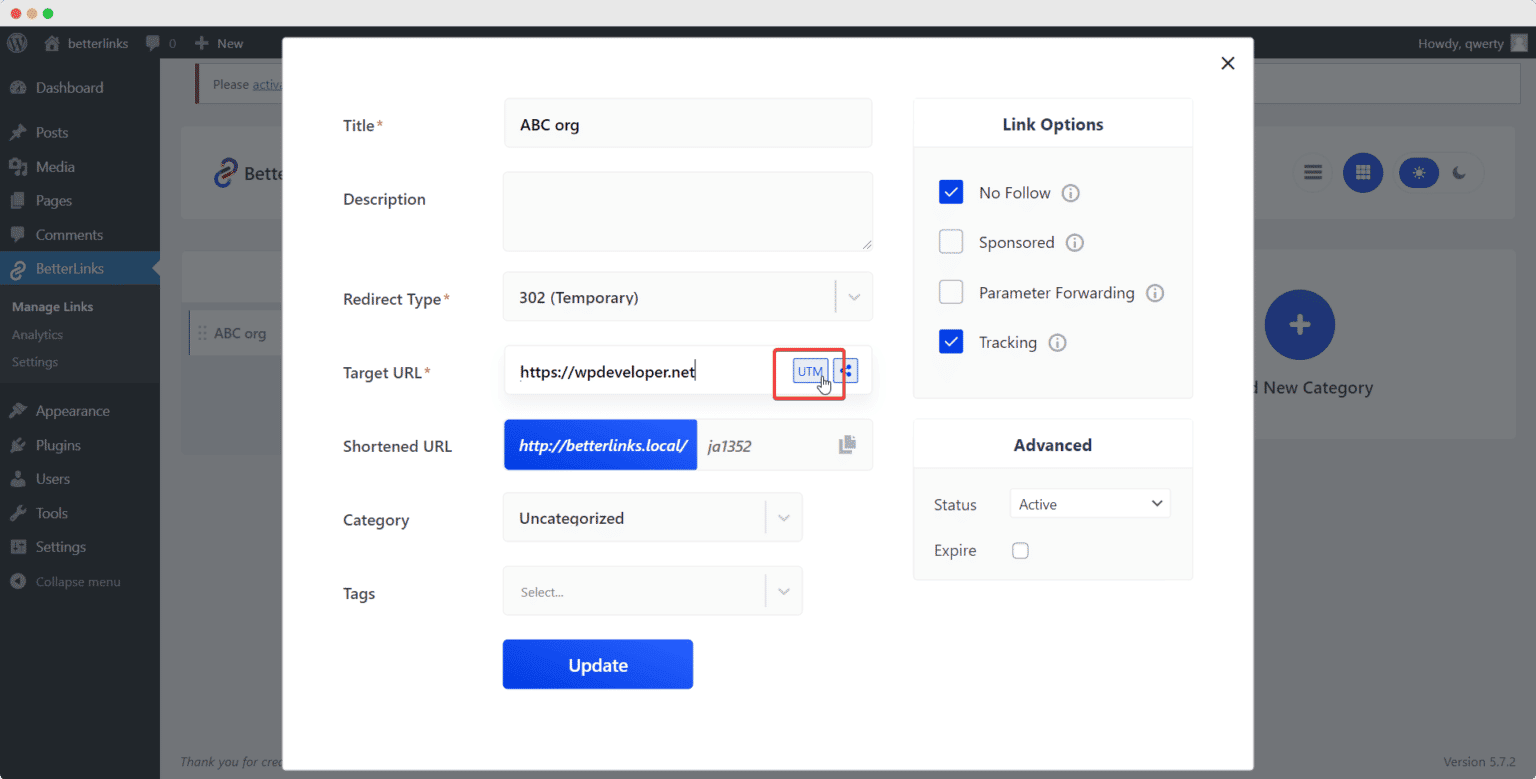 You can now enter 'Campaign,' 'Medium,' 'Source,' 'Term,' 'Content,' and other relevant information. Then, to save your progress, click on 'Save Link.' As a result, you can simply generate UTM parameters with the UTM builder with a single click. UTM parameters may now be used in your connections.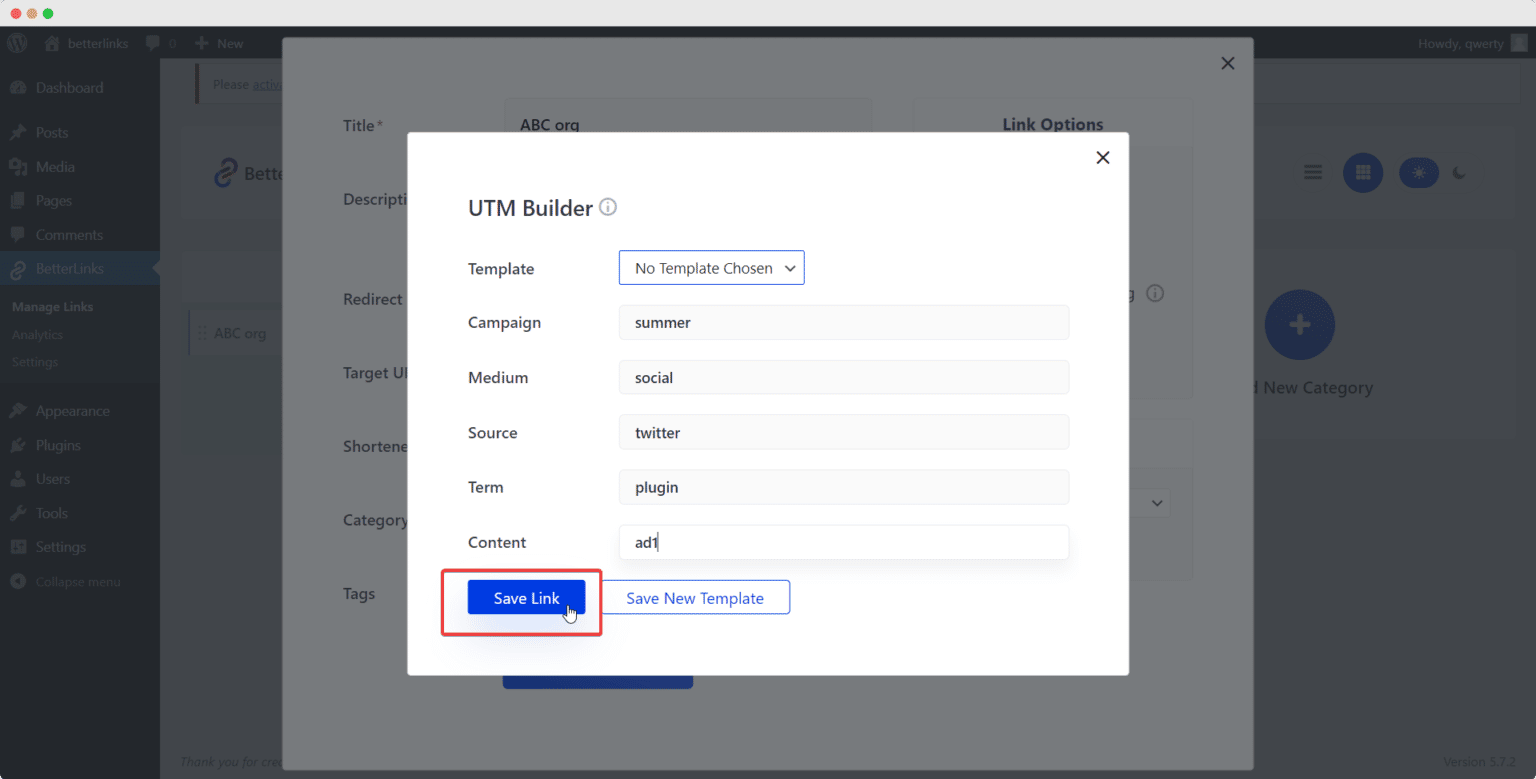 If you wish to reuse the parameters you just generated for your links, BetterLinks PRO allows you to do so by saving templates. Install and activate BetterLinks PRO in addition to BetterLinks free. Following that, a new button labeled 'Save New Template' will appear. If you click on this button, you can simply reuse it in the future, saving you time.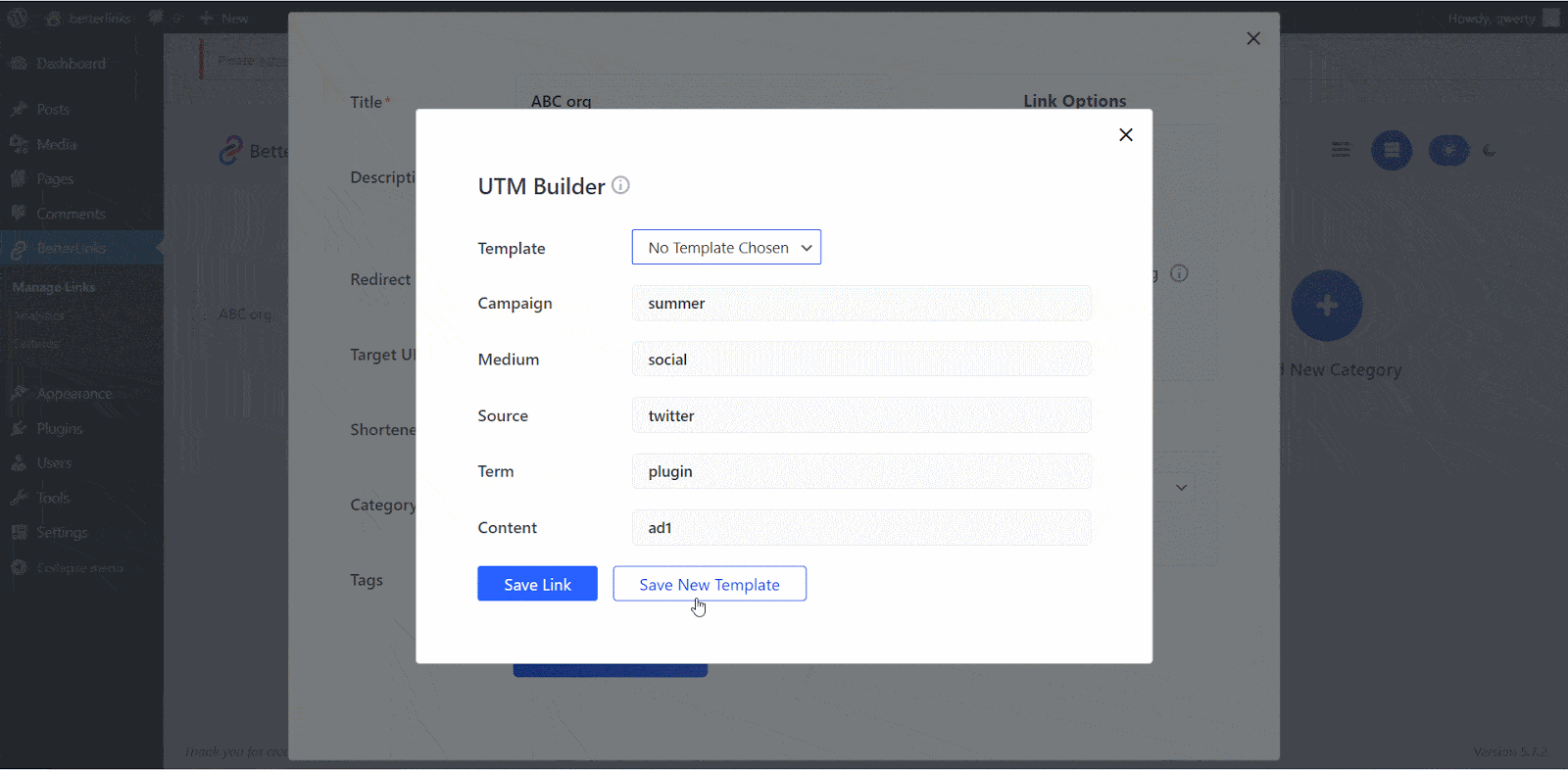 Step 3: Save & Publish URLs With UTM Codes
Since you've previously created UTM parameters in WordPress with the BetterLink UTM builder, it's time to add them to your targeted link. You are now ready to publish it once you have finished making it. After you've published the link, you can quickly follow its performance with Google Analytics.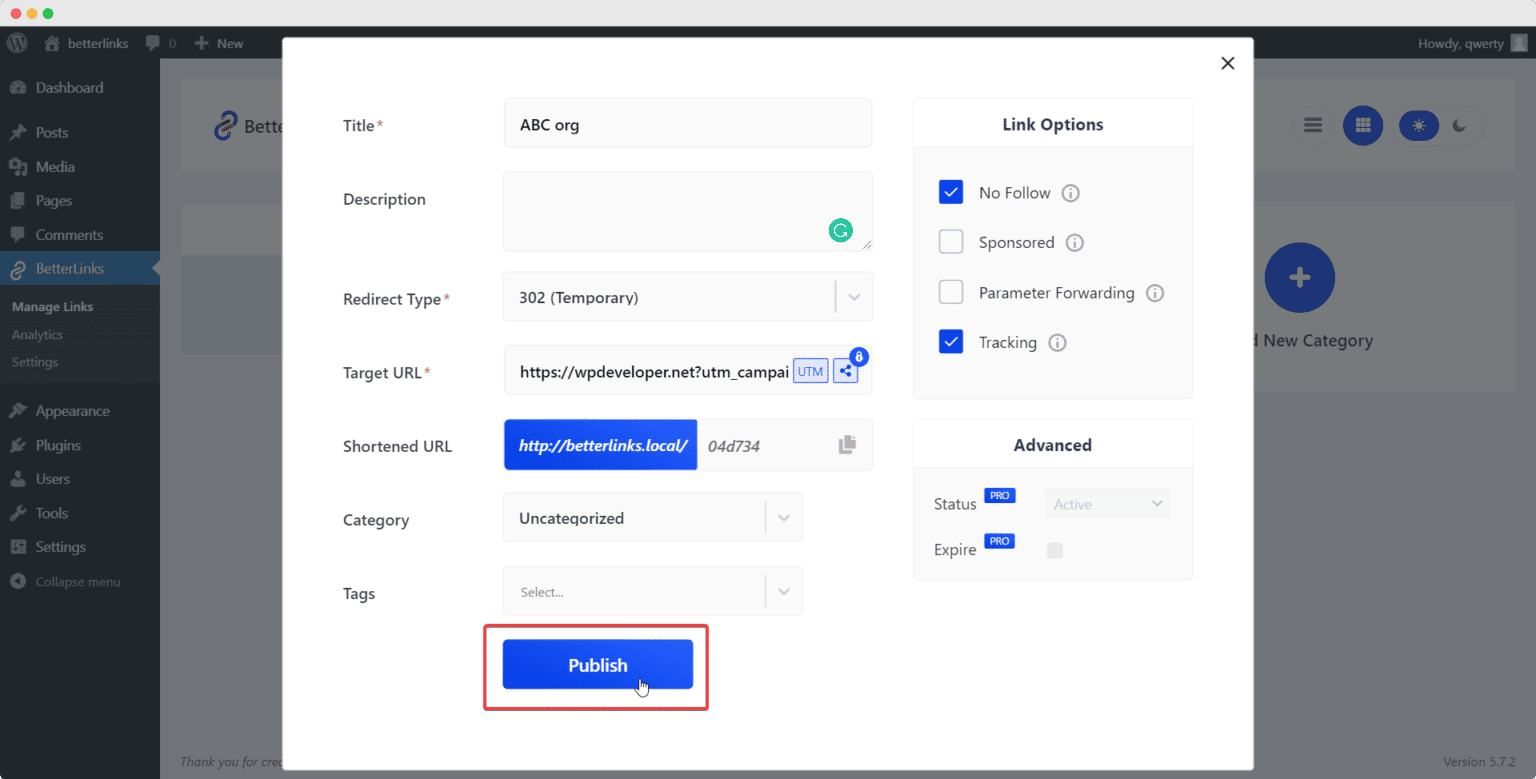 Easily Manage Marketing Campaigns With BetterLinks
UTM parameters in WordPress provide you with detailed information about where your traffic and conversions are coming from. They could be employed to assess the effectiveness of your content and determine which marketing channels are most effective for you. We've demonstrated to you how to monitor your content using UTM parameters in this article.
Liked this blog? Share your feedback in the comment section below, subscribe to our blog, and join our Facebook community for more exciting news.