A search panel is a must-have element in any standard website to provide a better user experience, boost conversion rates, and much more. Do you want to add an efficient search box to your WordPress site? Here is the list of 10+ best WordPress Search Plugins for you to explore.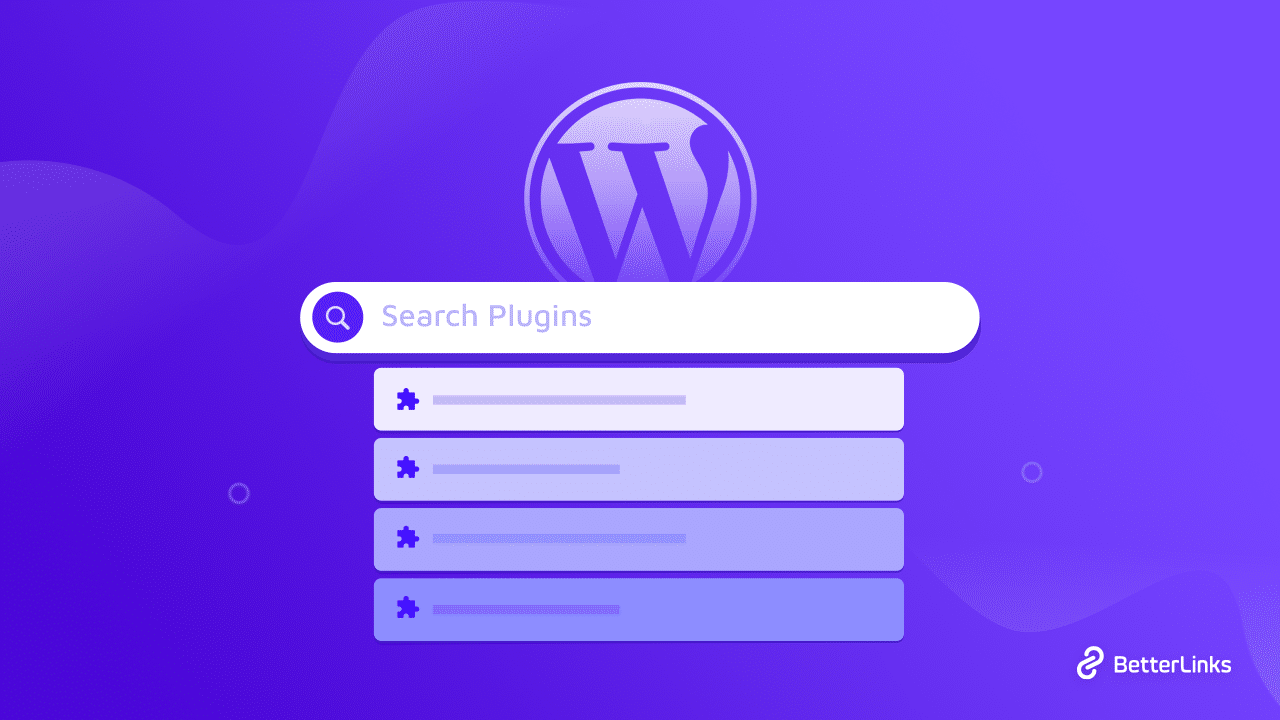 WordPress Search Plugins: Why Do You Need To Use Them?
Most visitors land on a website to look for specific products, blogs, documents, or any specific type of content. Of course, some visitors come to explore the site, but the number is far less than the number of visitors who come looking for something specific.
Every website has its way of presenting and organizing things. But your visitors do not want to spend time figuring out your website format. They want to find things instantly, and a powerful search box is the best solution for that. It helps your visitors find the content they want easily and keeps them engaged on your site. So, this improves your site's engagement, boosts sales and conversion rates, makes your website user-friendly, and much more.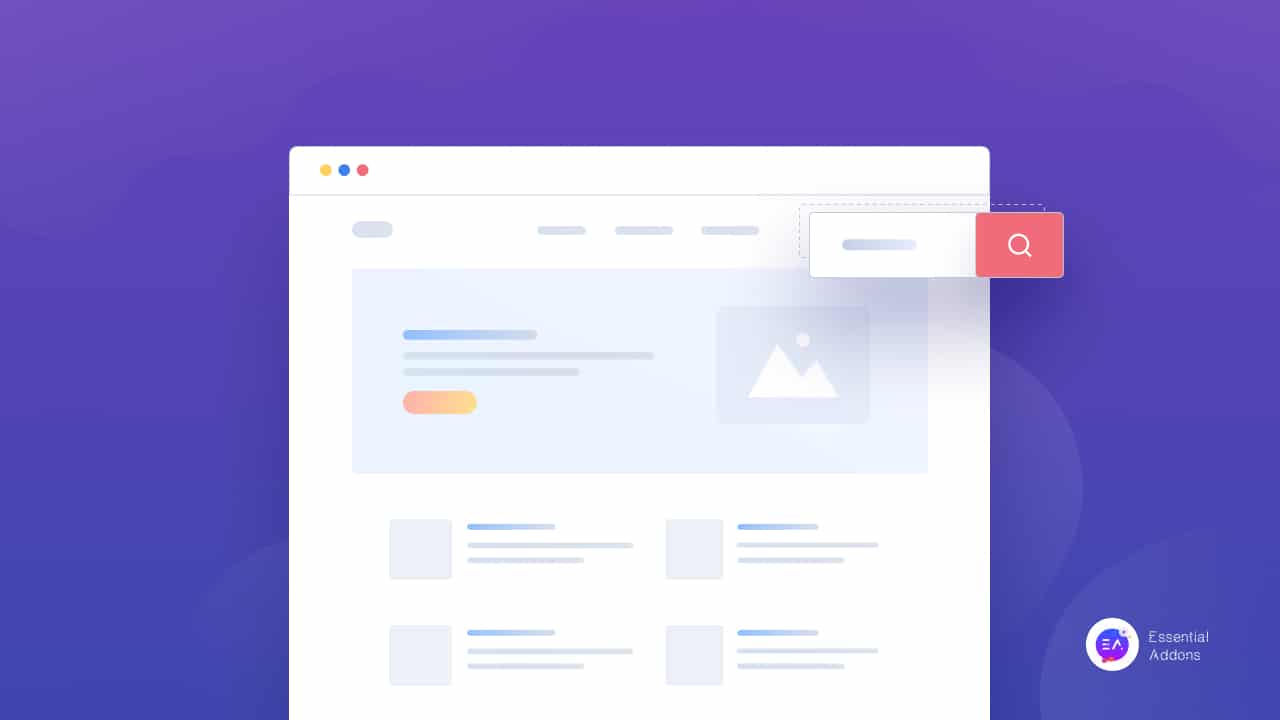 The absence of an efficient search bar will push away your visitors and would leave negative impacts on your site. Research shows that around 43% of people click on the search bar when they land on any website. These statistics only validate the importance of a search box on a website.
10 Best WordPress Search Plugins To Boost Your Website Performance
There are many WordPress search plugins available to add a powerful search box to your website. You need to choose the one carefully for your website considering what the plugin provides and what you need. So, here we have listed the best WordPress search plugins for you that you can explore.
Essential Addons

Are you an Elementor user who trying to add a stunning search bar to your website? Then Essential Addons can be the perfect pick for you! It is an all-in-one WordPress Elementor plugin that allows you to add a powerful search bar to your website along with many more features and functionalities for you to enjoy.
Essential Addons is one of the most popular element libraries for Elementor with 1 Million+ happy users and 40 Million+ downloads. It's a feature-rich WordPress plugin that has 90+ advanced widgets to help you catch up with your design creativity.
Among all of its amazing widgets, there's a widget named Advanced Search. This amazing widget lets you create an advanced search panel in Elementor with tons of customization features.
EA Advanced Search will help your visitors easily find the right content. It will also display popular docs categories, keywords, and more to make the search experience easier, more efficient, and faster. You can decide which post types should be included in the search results and which should not.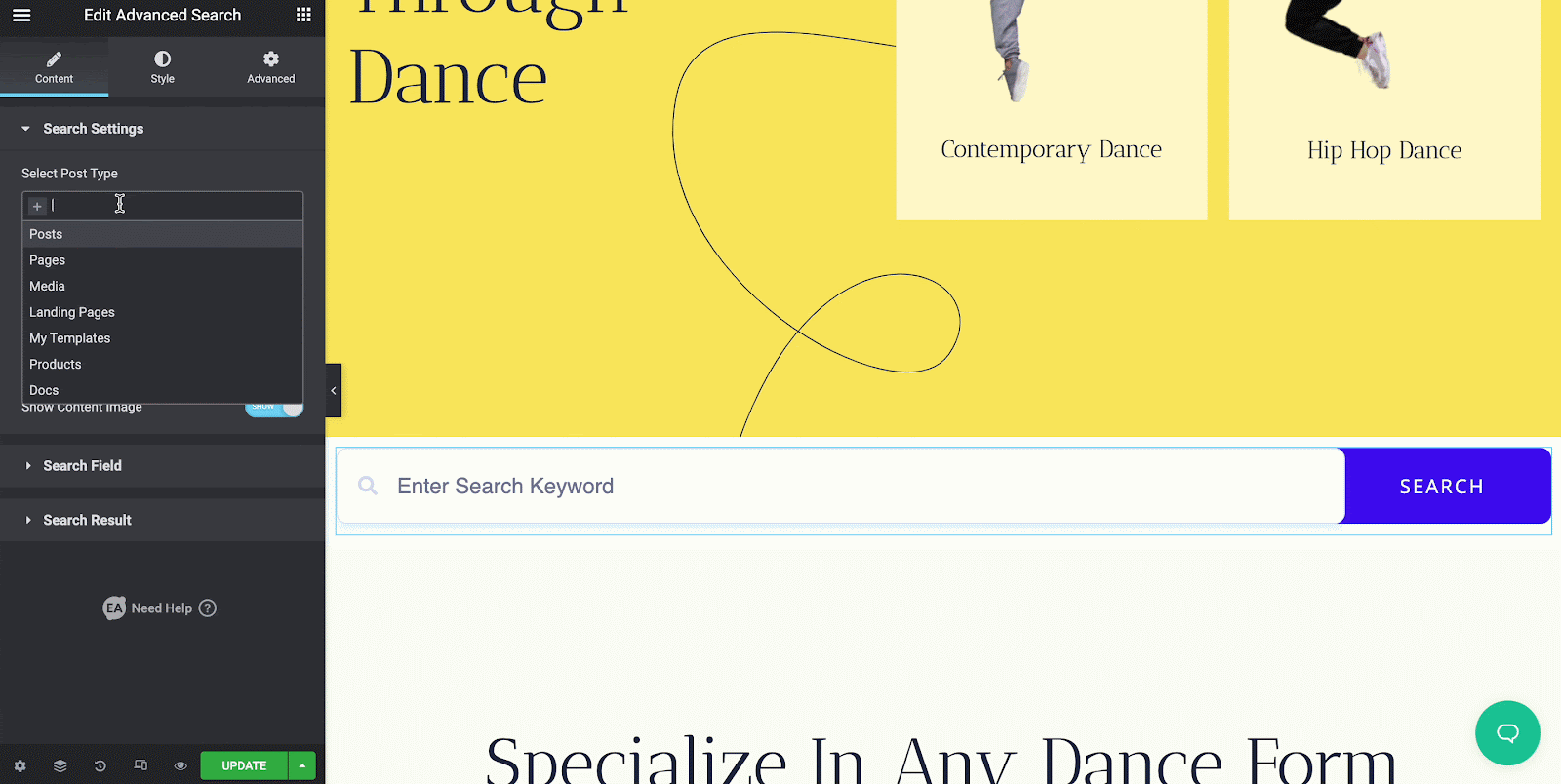 In addition to that, EA Advance Search will let you set the number of first search results for your search box along with a category list. You can also decide whether to display your search results with or without images, and the same goes for popular keywords too.
This widget comes with lots of other customization facilities. For example, you can alter the Placeholder Text, Category List Text, Button Text, and much more. You can even set the image, background color, type, margin, padding, and box-shadow and do so many more things to change the look of your search box and give it a spectacular vibe.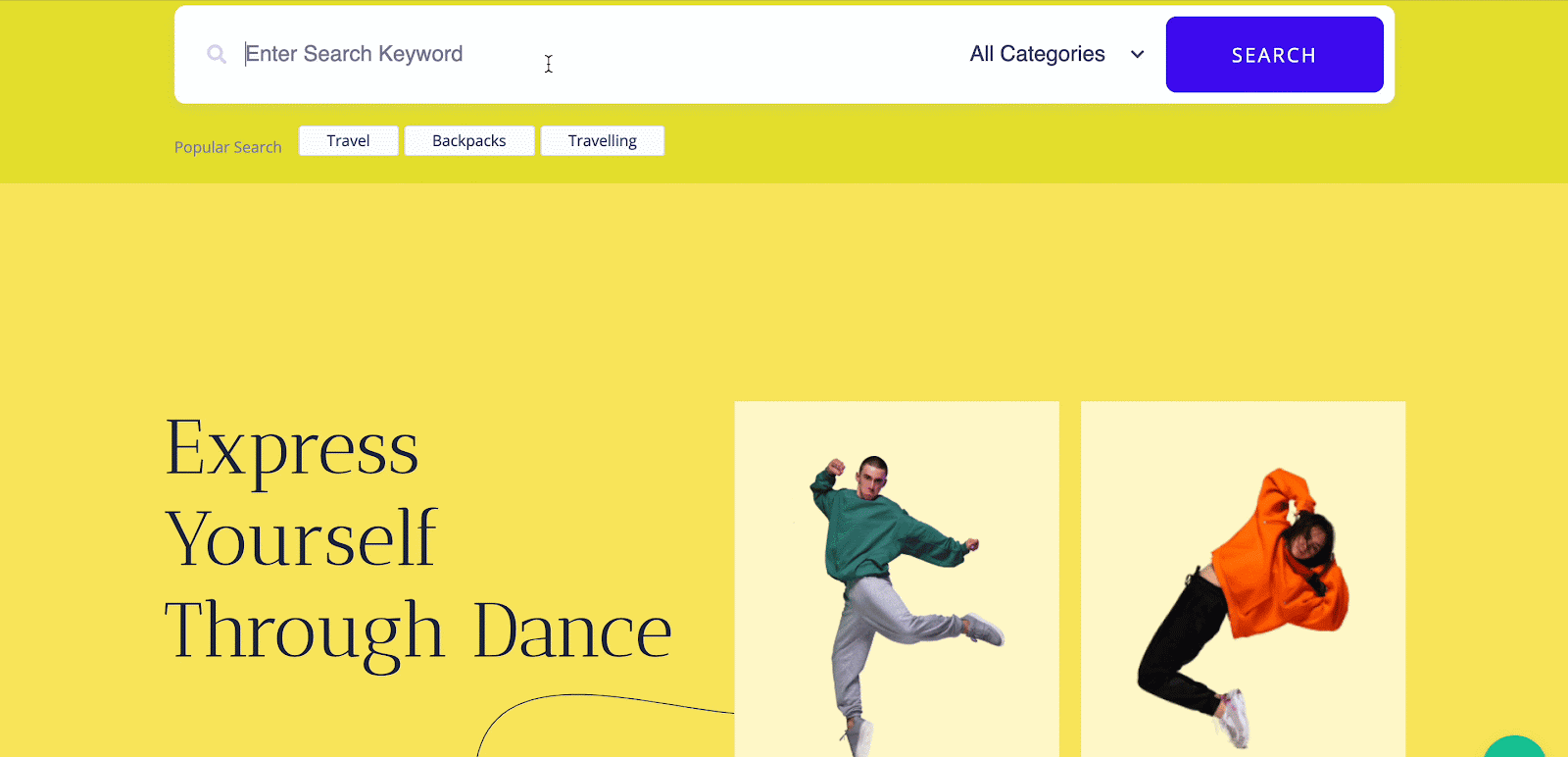 Along With the Advanced Search widget, Essential add-ons offer a bundle of widgets for you to make a stunning website. This will help you to unleash your design potential at its best. Just explore the plugin and do amazing things.
Relevanssi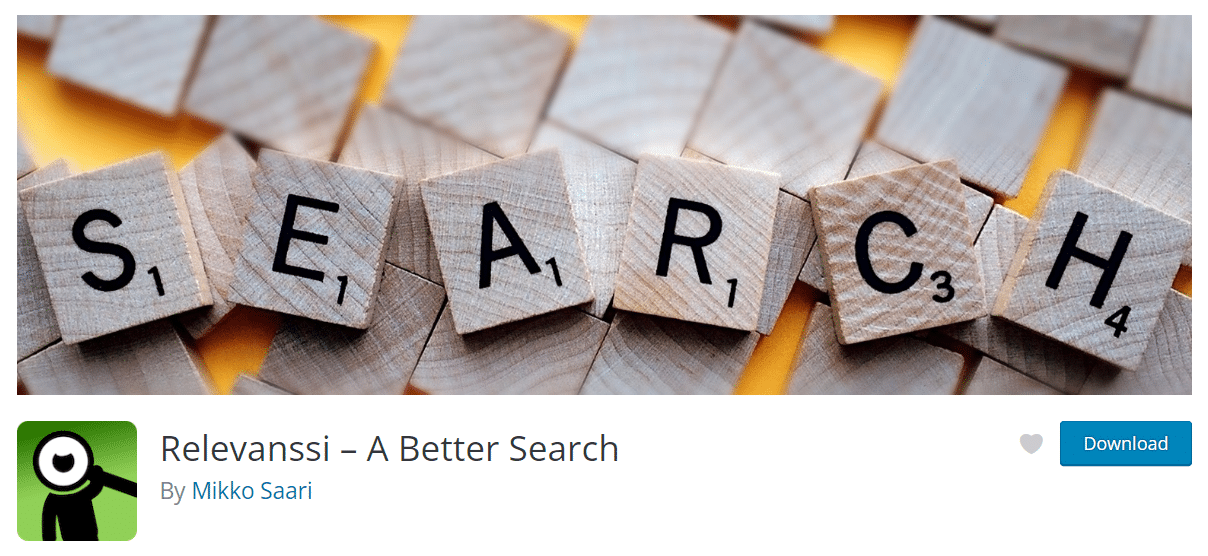 Relevanssi is one of the most popular WordPress search plugins. Till now it has 100,000+ active installations and a 4.9 user rating on a scale of 5 which is impressive. These figures only validate its popularity.
Relevanssi uses a partial-relevance algorithm to find results. It means if it can't find anything with an exact match, then it will display something that closely matches the search query. Here, the search results are sorted according to relevance, not by date.
This WordPress search plugin searches comments, tags, categories, custom fields, and phrases with quotes. For example, it performs a search query for "search phrase". It also creates custom excerpts to showcase where the hit happened by highlighting the searched phrase. You can adjust the weighting for titles, tags, and comments. You can also enjoy spelling correction with Google-style "Did you mean?" suggestions with this interesting WordPress search plugin.
It can index your post's attachment contents such as PDF, Word documents (DOC and DOCX), Open Office documents (ODT), RTFs, etc. This search plugin can perform searches on all the subsites on your multisite network.
You can also perform searches using a user profile. It means you can find users by their names and profile descriptions! With this WordPress search plugin, you get to enjoy a smooth integration with WPML multi-language plugin and Polylang.
One drawback of Relevanssi is that it needs a huge amount of database space. So, your hosting setup needs to be large enough for database tables if you choose to go with Relevanassi.
SearchWP
The next powerful WordPress search plugin that we're going to mention is SearchWp. This one is designed keeping performance in mind without compromising your website's speed. It provides a rich search experience in terms of accuracy, speed, and search result on small and medium-sized websites.
It offers you to search for a keyword in the post or page title, content, categories, tags, URL slug, WordPress excerpts, comments, etc. WordPress default search completely ignores Custom Fields (post meta), but SearchWp includes it in the game. In other words, it makes all the content on your site searchable
It comes up with a unique indexing system and will let you be in charge of the indexing algorithm. It will let you assign weight to each content type on a scale of 10 to influence how your results are ranked. The plugin automatically indexes your content upon activation and replaces the default search of WordPress.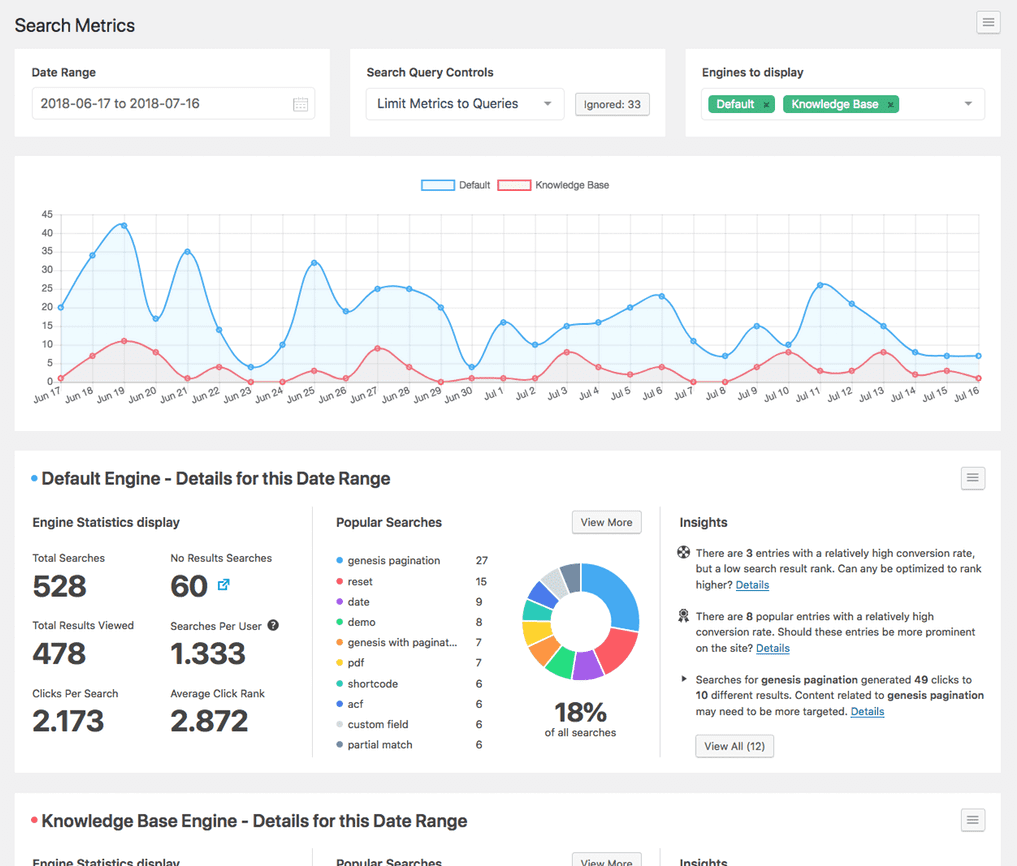 Source: searchwp.com
SearchWp recognizes how powerful the on-site search insights are and provides you with the data such as "Click Per Search", "Average Click Rank", "Popular searches", and much more.
SearchWP automatically integrates with your existing search form (Default themes, custom themes, or your themes) and results template. There's no need for coding to do that!
SearchWP offers live autocomplete search to make the search faster and more engaging. It improves your e-commerce site's search by product attributes searchable and boosts your sales and conversion rates.
There might be some pages, posts, attributes, or more things that you do not want to appear in your search result, SearchWP can make that happen for you! It comes up with lots of extensions, you need to fine-tune your search system with the extension you want to integrate.
Ivory Search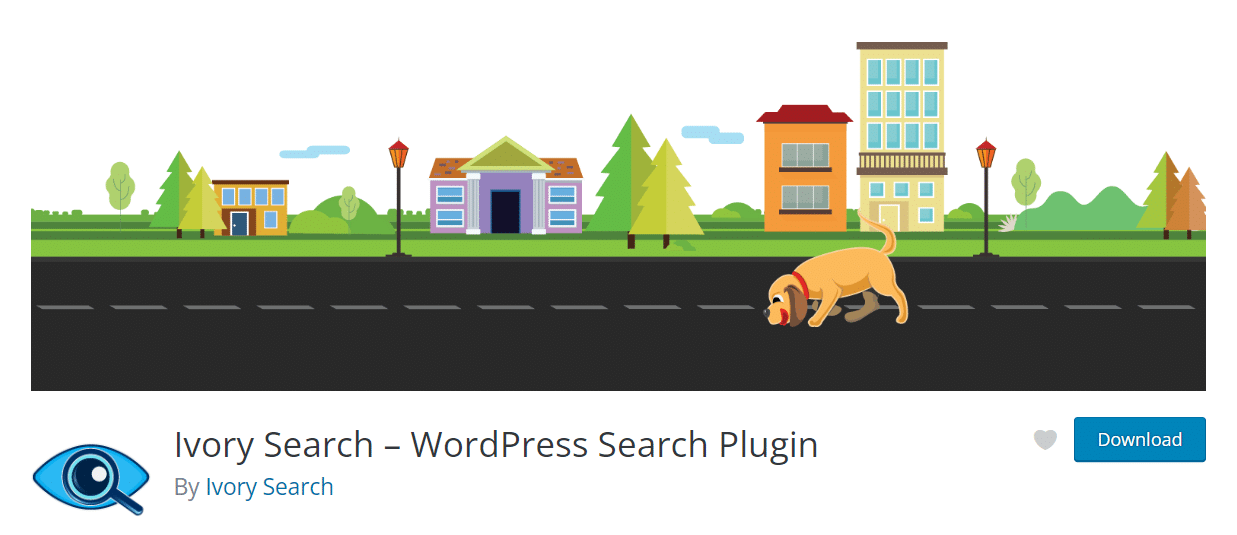 Ivory Search is an easy-to-use advanced and popular search plugin for WordPress with 90,000+ active installations and 4.9 ratings out of 5. It's a premium search plugin that enhances the default WordPress search. It will let you create custom search forms.
It will let you create unlimited search forms with numerous configuration facilities for each of them, to customize your WordPress search. This will let you perform different types of searches for on-site content.
You can display the custom search forms anywhere on your site using the shortcodes provided by it, such as on the site's header, footer, sidebar, navigation or menu, widget area, on pages, posts, custom post types, and much more.
It has a smart integration with WooCommerce. Search forms can be configured for searching specific product types, product categories, and product attributes such as size, color, title, and much more.
It keeps search tracks and provides its users with insightful search analytics. You can also exclude specific content or specific types of content from showing up in the search results. You can also influence the search result by directing where to look for and where not.
For example, you can restrict your search by specifying not to look for matches in the post excerpt, or in the posts under a specific category. This search plugin offers using Ajax for displaying live search results. One amazing thing about this WordPress search plugin is that it supports multilingual search.
Ajax Search Lite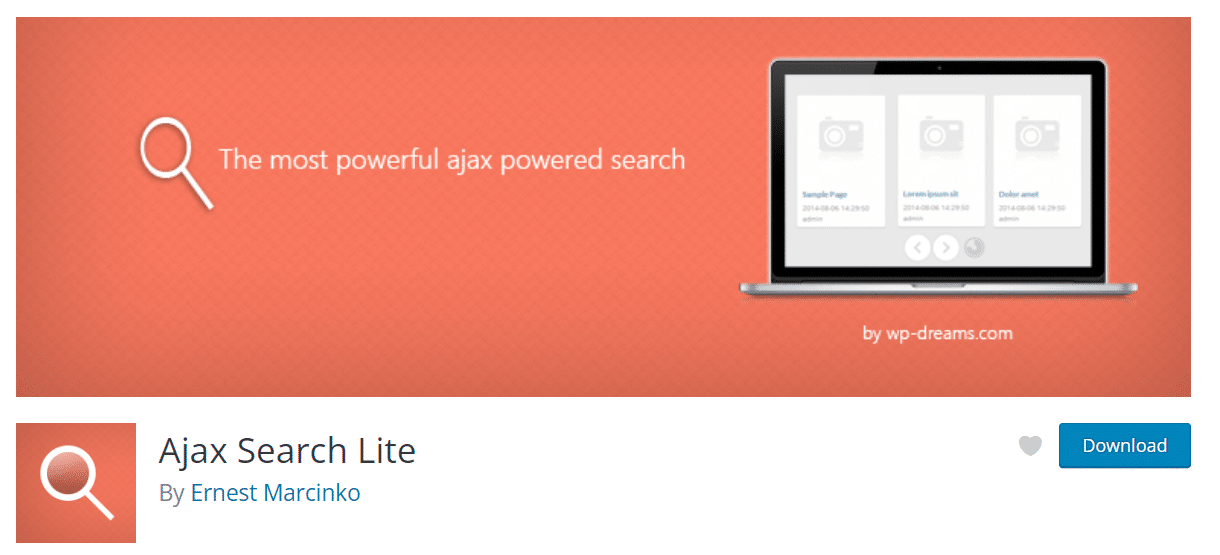 Ajax Search Lite is a WordPress search plugin with 70,000+ active installations and an impressive 4.7 user rating on a scale of 5. It comes with a responsive live AJAX search bar to improve the user experience. This Ajax live search form can easily replace the theme's search form.
Upon installation, you can use the widget or a shortcode to easily display the search form anywhere on the site. It provides unlimited customization opportunities including search in posts and pages, titles, descriptions, excerpts, categories, tags, custom fields, and custom post types such as WooCommerce Products, Events, Portfolio items, and more. The search result also includes Google autocomplete and keyword suggestions.
With this WordPress search plugin, you will get Custom Filter boxes (checkbox filters) for categories and post types, 8 built-in templates with options for color adjustments, post, and category exclusions, etc.
Ajax Search Lite has smooth compatibility with WPML and QtranslateX. It also has a smart and powerful integration with Google Analytics to get insightful data about the users with the search bar. This data comes in handy to fine-tune your search configuration to meet user demand.
This WordPress search plugin provides a fully responsive user interface. It displays images in real-time search results and caches images for faster response time. You can also change the placeholder text for the search field along with numerous other customization opportunities.
Advanced Woo Search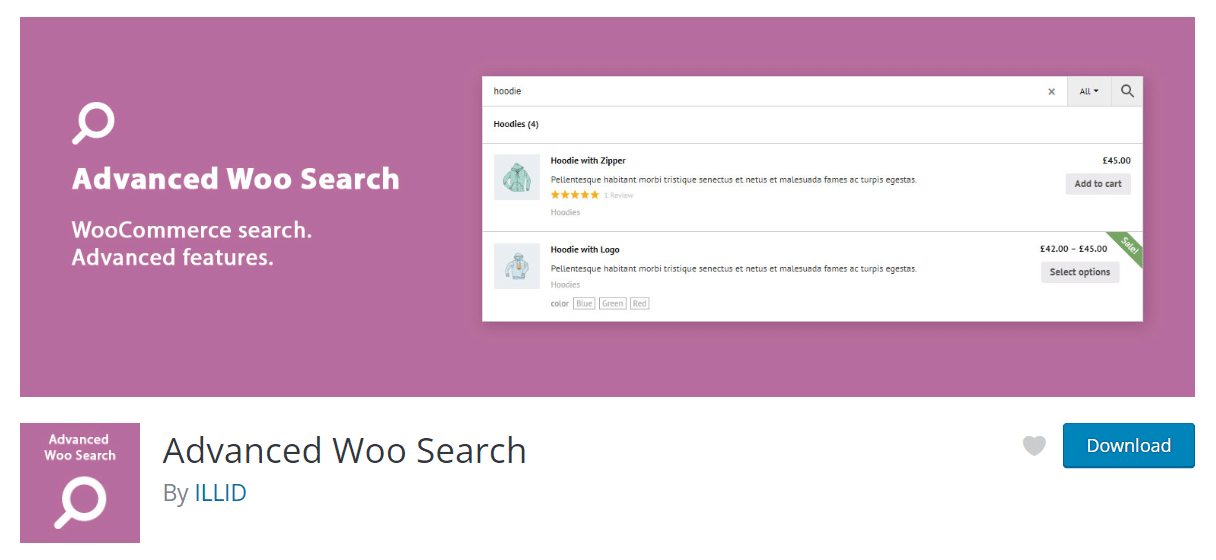 If you are looking for a WordPress search plugin for your WooCommerce website then Advanced Woo Search might be the best choice you can make. It has 70,000+ active installations with a fabulous 4.8 rating on a scale of 5. This plugin provides an advanced search solution for your WooCommerce store.
This one is a freemium WordPress search plugin that creates AJAX search forms for your WooCommerce site. It offers a shortcode and widget to embed the search box anywhere on your site.
It performs a search in the product title, content, excerpt, categories, tags, ID, and SKU. You can also enjoy searches based on product attributes, custom taxonomies, custom fields, and users.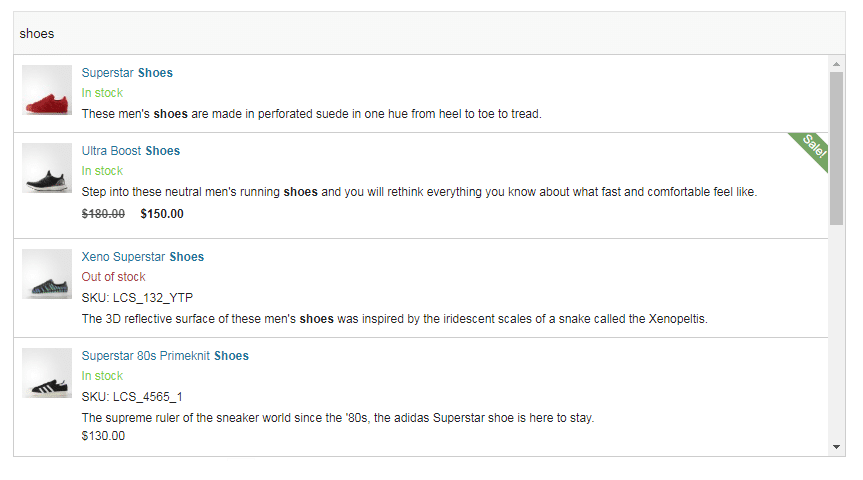 The search result displays products with images and prices and sorts them according to the priority of the source where they were found. It also displays the product status, whether the product is in stock or not. You can also display the "Add To Cart" button in the search result.
It can easily replace the WordPress default search function. On one hand, you can include Stop Words to exclude specific words from the search. On other hand, you can add a list of words with Synonyms that would expand your result. It also has seamless integration with WPML, Polylang, Google Analytics, and much more.
WP Google Search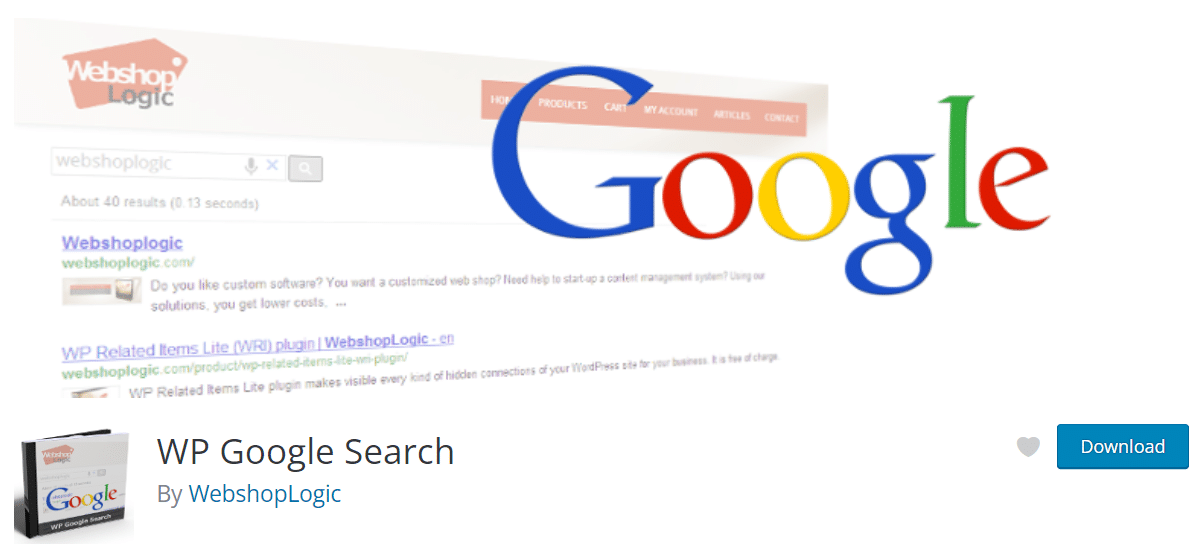 Google is a reliable and powerful search engine and if you want to incorporate it into your WordPress site, then WP Google Search is a good choice for you. It helps you to easily replace the default WordPress search form with Google Custom Search.
Featuring a Google search on your site helps you to gain credibility among your target audience and will boost conversion rates. Another thing is it reduces the load on your WordPress site as all the searching functionality happens on the Google server, not on your site. So your site works faster.
With this WordPress search plugin, you can embed the Google search box into your WordPress website or a collection of websites with either a custom widget or shortcode. It allows you to search both web pages and images.
This WordPress search plugin offers the flexibility to define if you want to search only on your site, a specific set of sites, or the entire web. It comes with lots of customization opportunities to change the look and feel of your search form, such as layout, themes, custom colors, fonts, thumbnails, and much more.
You can choose to display the search result either on a normal page or in a popup window. To enjoy the features of the plugin, you will have to install it and need to have a Google Search Engine ID. Get these two and enjoy the benefits of the WordPress search plugin.
FiboSearch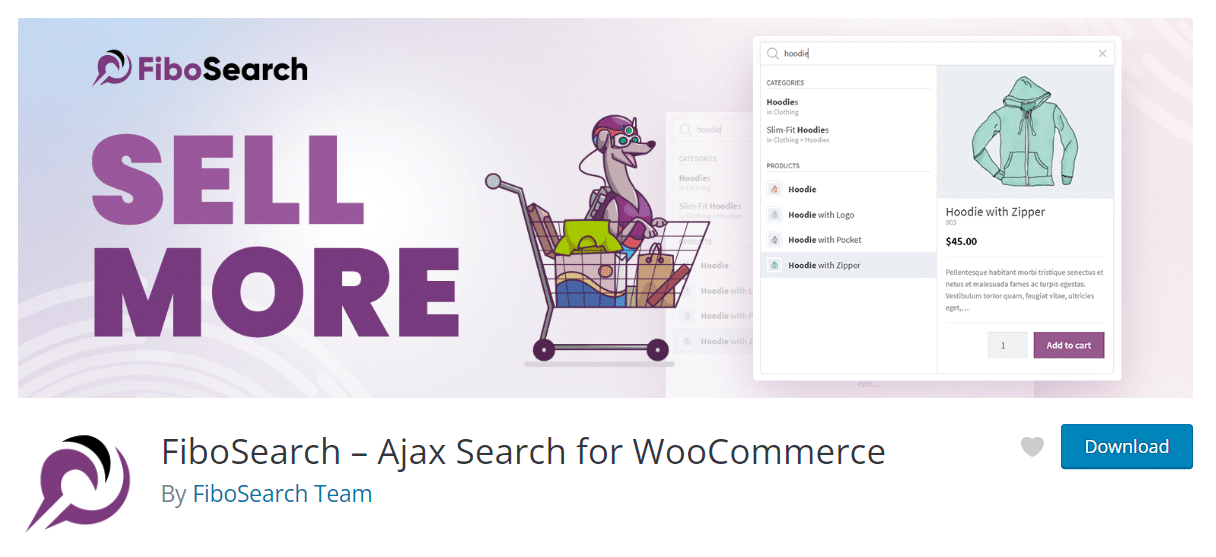 Another popular WordPress search plugin FiboSearch has 100,000+ active installations with an impressive 4.9 rating on a scale of 5. It offers an AJAX-powered live search option specially crafted for WooCommerce sites.
Users do love instant, as-you-type suggestions, and FiboSearch offers these to get better customer engagement for your WooCommerce site. It easily replaces the WordPress WooCommerce sites' default search functions. You can easily embed the plugin with a shortcode, as a menu item, or as a widget.
It implements Fuzzy search, so even with minor typos, users get a helpful search result. You can search in posts, pages, categories, tags, custom fields, product attributes, brands, and SKUs. You can use Synonyms to expand your search result and can also configure conditional exclusion of certain products.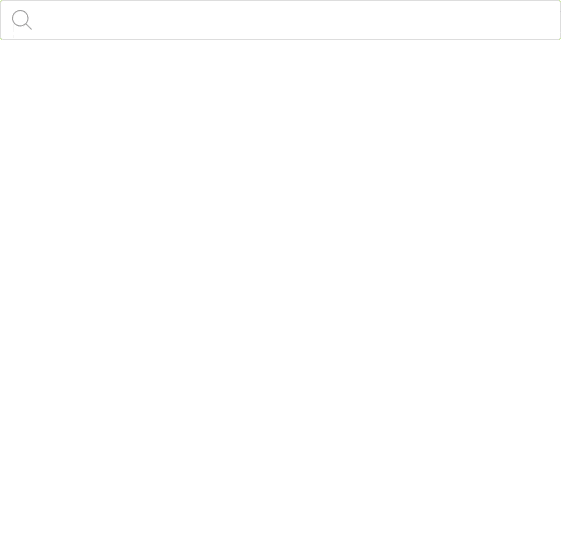 The search result can display the product images, prices, descriptions, SKU, and much more along with the product names. It also offers to display the 'Add To Cart" button with a quantity field when the customers hover over any live search result. Users can also see the search history by clicking/tapping on the search bar when they are yet to type any search query. It has a smart integration with WPML, Polylang, qTranslate-XT, and Google Analytics.
HUSKY – Products Filter for WooCommerce Professional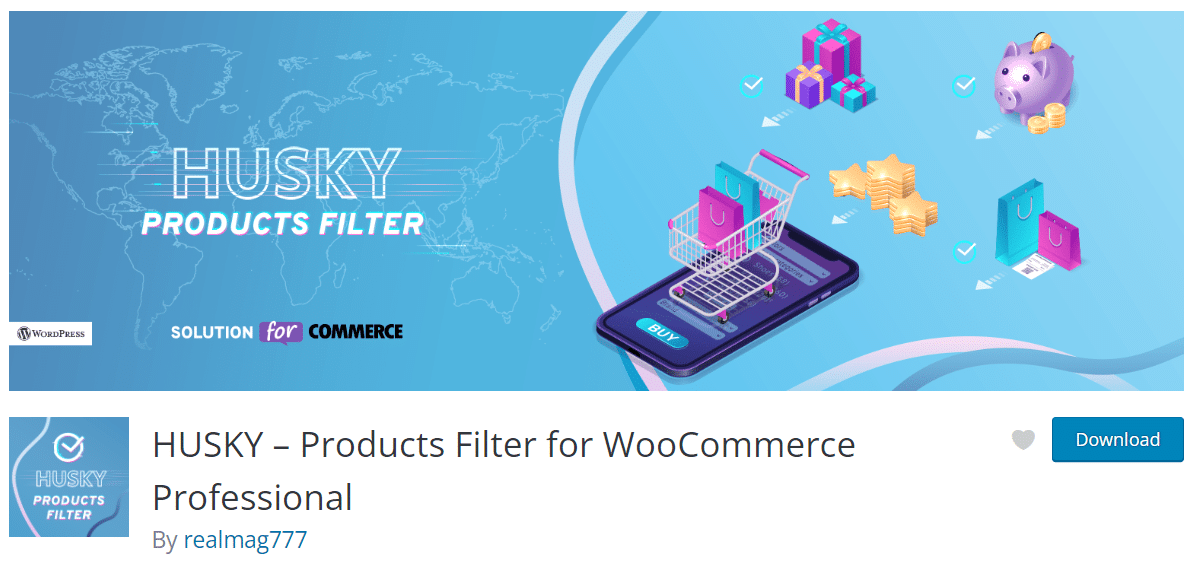 HUSKY – Products Filter for WooCommerce Professional formerly known as WOOF, is one more WordPress search plugin for WooCommerce sites. It is also a popular one with 100,000+ active installations and a 4.6 rating on a scale of 5.
It offers customers to filter products based on their categories, attributes, product tags, products custom taxonomies, and price. It offers AJAX search to make product filtering quicker without reloading the page.
This WordPress search plugin also provides shortcodes for embedding new features to enhance your search and display the search bar at any place on your site. It supports Turbo mode that speeds up the search and product filter, as does not render big MySQL queries when filtering products
If you are a WordPress developer with PHP knowledge, you can make changes to the search form interface. HUSKY will let you create HTML items for the search form along with a custom woo-products loop template to serve your purpose.
It also offers an infinite scrolling option. This means you can scroll to see all of the search results without having to click on any kind of paging button. You can also use images or colors as filter HTML elements in the search form. It will let your customers sort the search result on various parameters such as "sort by average rating", "Sort by price: low to high", "Sort by popularity" and much more. Just explore this wonderful WordPress search plugin and be amazed.
Jetpack Search
Jetpack Search is an incredibly powerful, smart, advanced WordPress search plugin. It offers an optimized ranking algorithm and advanced filtering by custom taxonomies and post types. This will let you enjoy mobile responsiveness, highly relevant search results, instant search, and filtering without having to reload the page, real-time indexing, fast result, and much more.
It will give you the flexibility to choose the format of your search results, their sorting procedure, and what post types should be a part of the search result and what post types shouldn't be. You will also be able to configure or remove filter types, including post type, tag, category, product tag or category, and date.
It offers fast and accurate spelling correction and highlights search terms on comments and post content. Note that, this WordPress plugin offers free services for websites with up to 5000 documents and 500 search requests per month. Beyond that, you need to pay as per the package's demands.
BetterSearch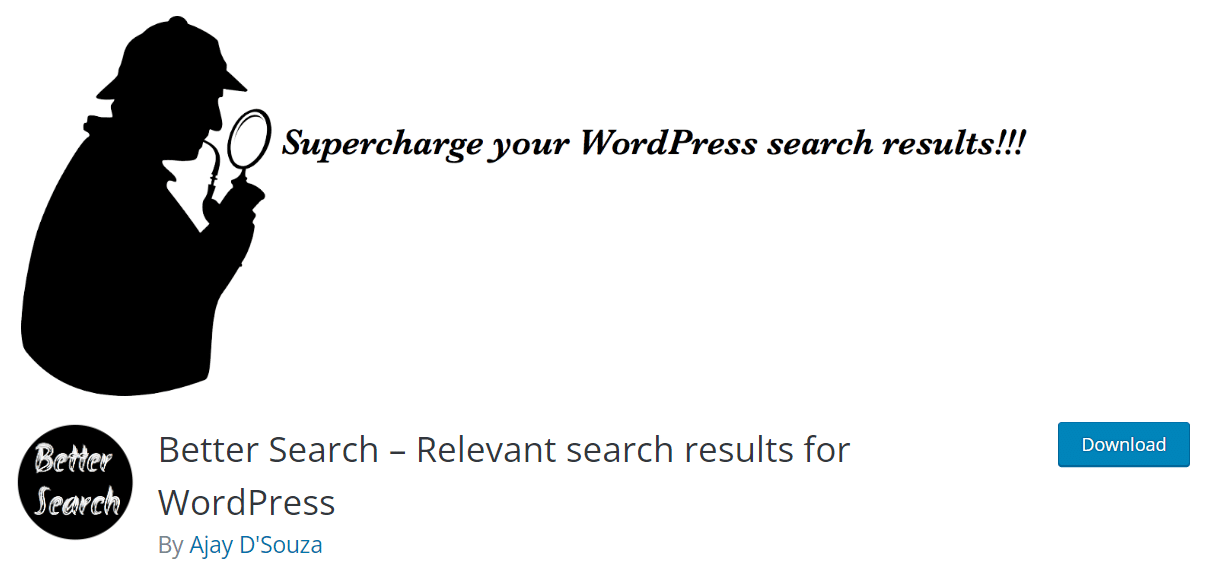 Better Search is a better alternative to the default WordPress search. Upon activation, this WordPress search plugin automatically replaces the default WordPress search.
This powerful WordPress search plugin performs searches in the post title and content. It not only searches through the posts, but also pages, and other custom post types. You can influence the search results by assigning a greater weight to either the title or the content. By default, it seamlessly integrates with your WordPress theme. But it also offers some super amazing templates for you to bring something new to your site. You can further style it with custom CSS.
It usually provides search results based on relevance. But if you want, you can turn it off. In such cases, the search results will be sorted based on the date. This popular WordPress search plugin also provides some insightful data such as who is visiting your blog, popular search terms, and much more as a heatmap on your site. It also has seamless integration with  WordPress caching plugins WP-Super-Cache and W3 Total Cache.
Get The Right WordPress Search Plugin & Find Anything In The Blink Of An Eye
A powerful search bar makes it easier for your visitors to find the content they are looking for and will help your site to have a better SEO ranking as it improves your site's user experience. This blog was to help you to find the perfect plugin for your website, and for that, we have listed down the top 11 WordPress search plugins for you. 
Did you find the blog helpful? If yes, then subscribe to our blogs for more useful information and tuned in with our Facebook community to be a part of an interesting community.