If you are a vlogger with a fun YouTube channel, then it's a given that you would want your videos to get more and more views, likes, and subscriptions. Showcasing your vlogs on your WordPress site is an excellent idea if you want more visitor engagement and conversion. The most popular way to do the job is to explore the WordPress YouTube plugins and use the outstanding features they have to offer.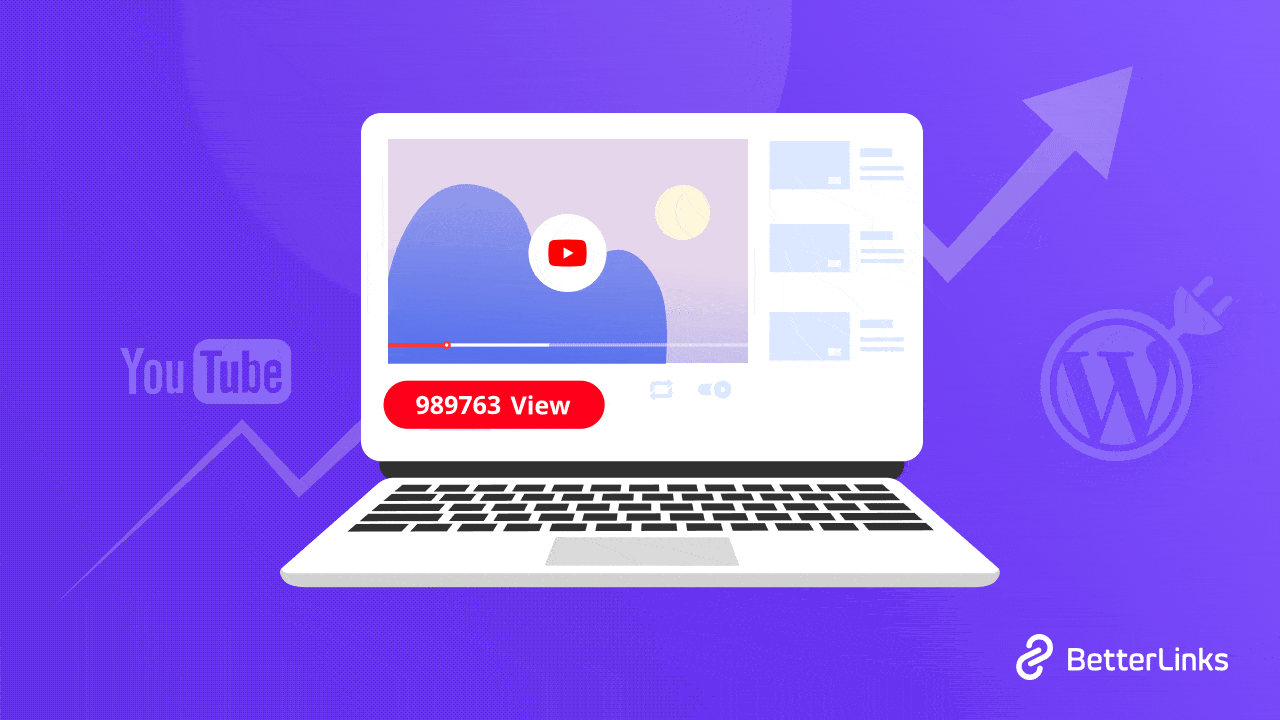 Why Add YouTube Videos To Your WordPress Site?
Videos are the most intriguing yet efficient way to stay connected with your audience and add an element of visual interaction. A huge part of our consumed information comes from visual sources, almost 90%, and we absorb them almost 60,000 times faster than any textual information! People prefer directly searching on YouTube for information, as they can get video help from here.
In today's world, YouTube has become the synonym for online video platforms, and it lives up to its popularity. Along with being the most popular video content platform, it is also the second biggest social media platform.
Having YouTube videos on your WordPress site will help from two different angles. Adding video content will help to create a more interactive and captivating site that will grab more and more visitors' attention and dwell time on your site. These facts have significant impacts in terms of SEO. With increasing visitor attention, you will have a better SEO ranking, and with improving SEO ranking, you will get more attention. What a beautiful chain reaction!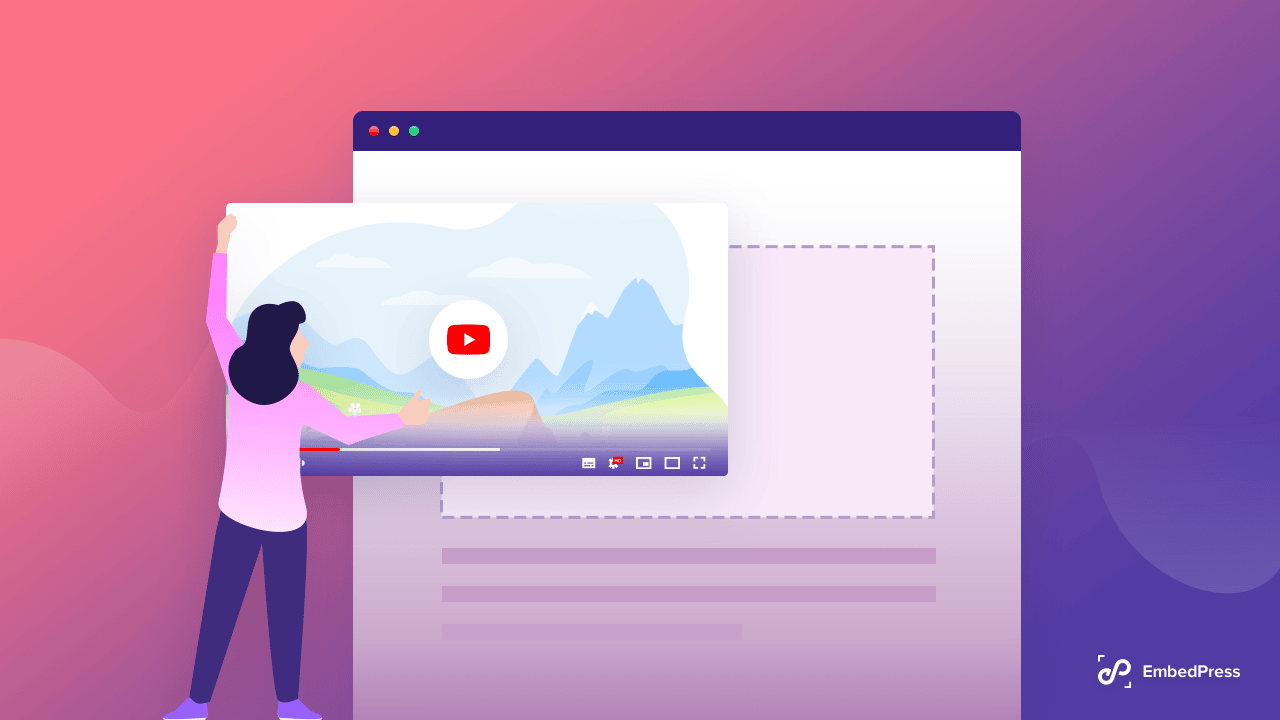 Another important thing is reducing the bounce rate of your WordPress site. Bounce rate refers to the percentage of people who leave your site right after visiting only one page. Video content piques their interest in them to explore a bit more to your site which helps you to reduce the bounce rate of your site.
Again a YouTube video shared on a site with a good amount of traffic will help the video to have an increasing number of YouTube views count along with an increasing subscriber base. So, why not bring these two together and have better performance for both? It's a smart marketing strategy to be well-connected with your target audiences.
So there must be some ways to integrate your YouTube vlogs into your site. And, of course, there is. Let's have a look at those.
How To Add YouTube Videos To Your Site?
There are several methods to add YouTube videos to your WordPress site. One of them is the iframe code method to embed YouTube videos. Collect the iframe code from the intended YouTube video and paste it into your editor. And done! To collect the iframe video, first, go to the selected YouTube video. Click the share button.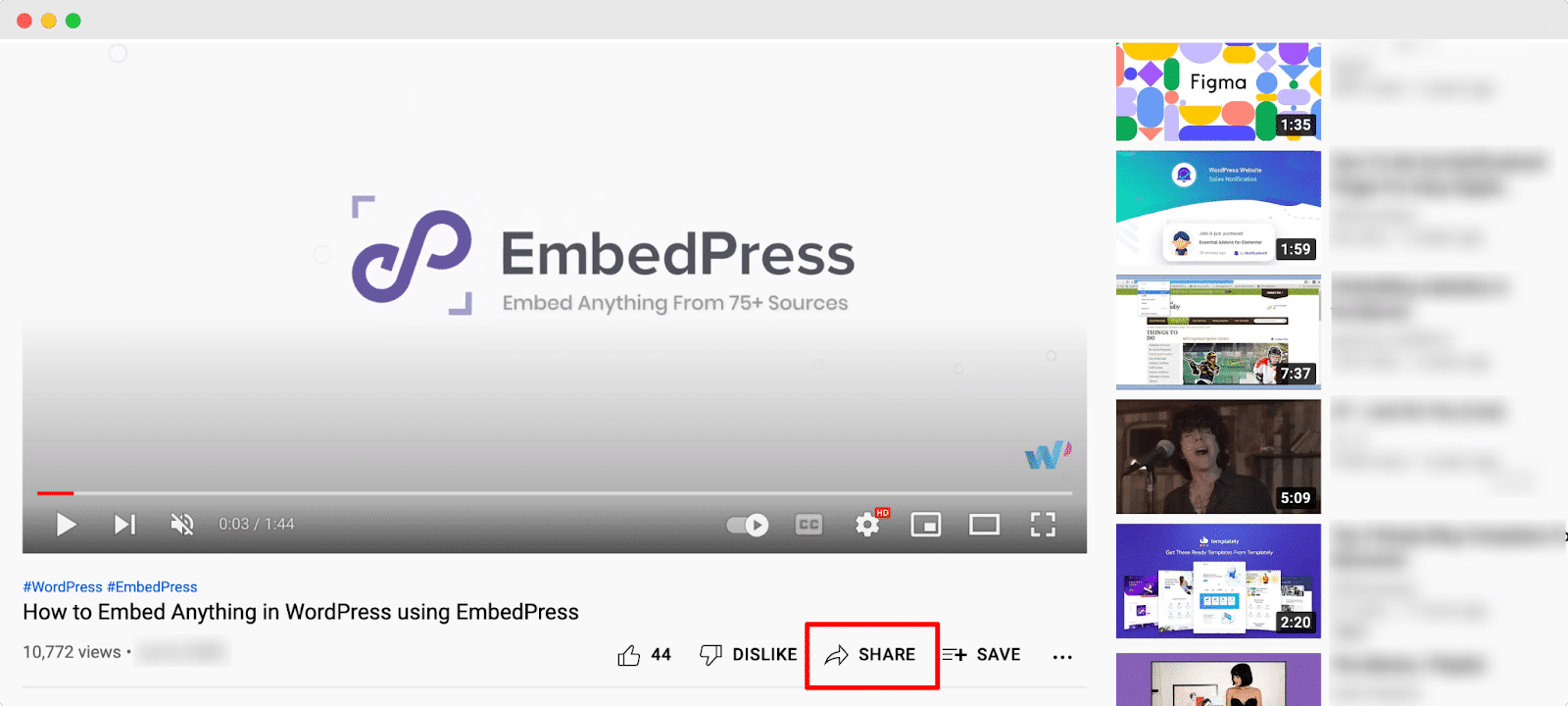 There you will see an option named Embed. Click on that, and you can see the iframe code on the left side of your window.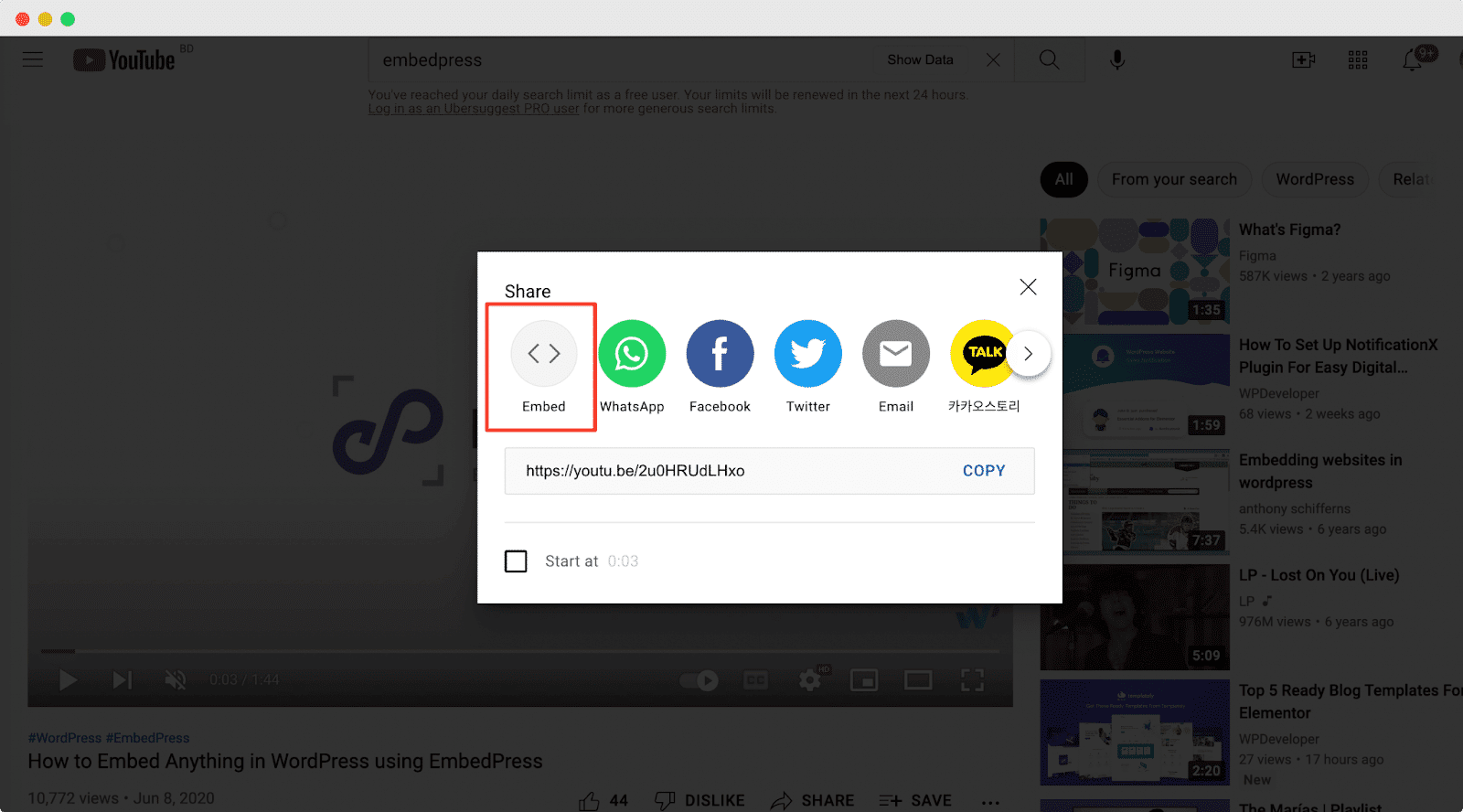 After that, you will find the iframe code. Copy and paste it, and your task is done. Easy! You can set the starting time of the video, decide whether to show the player controls, and enable privacy-enhanced mode. And then copy the iframe code, and your videos will be shown according to the selected parameters.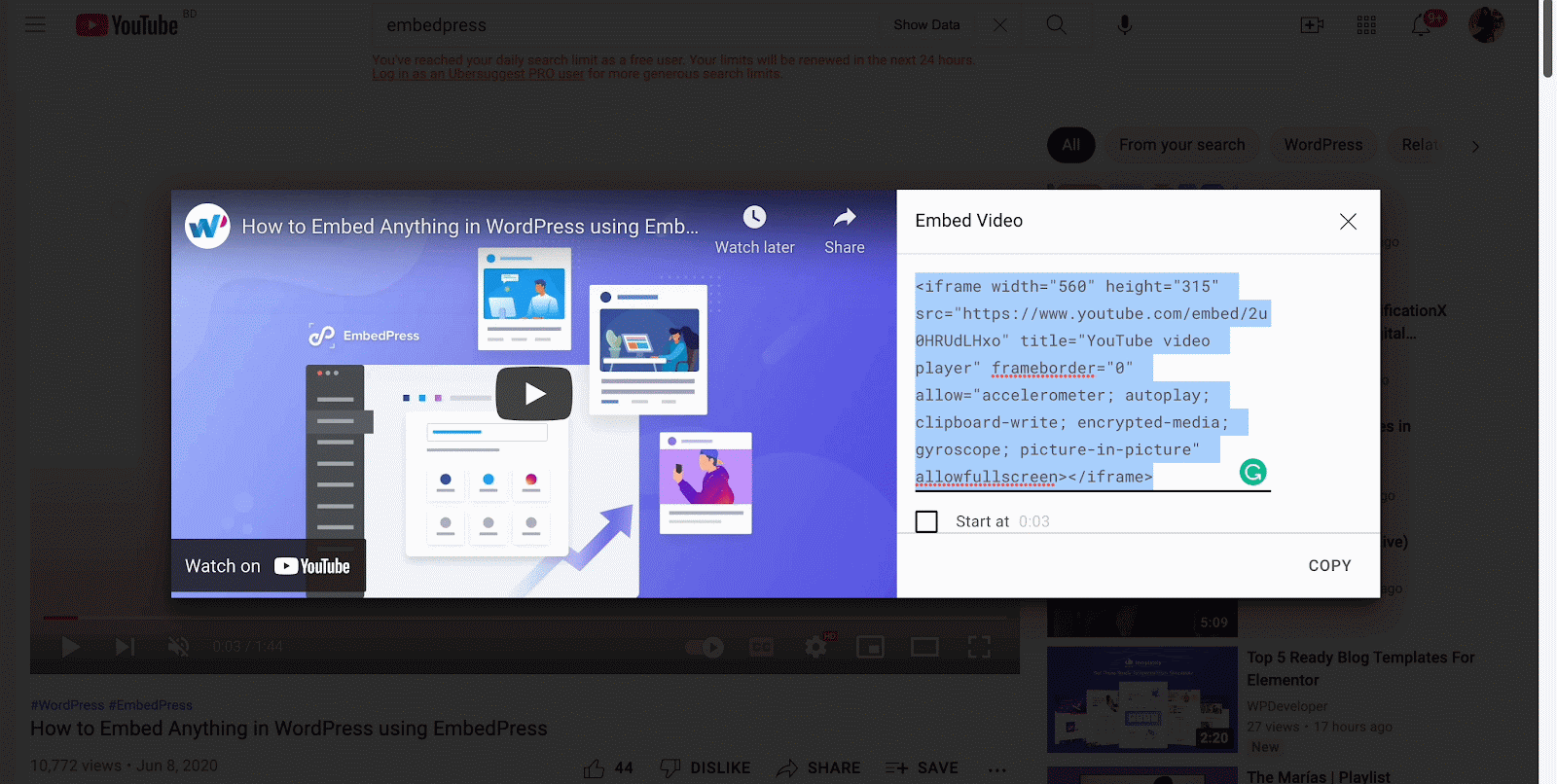 Another way to add YouTube Videos is much more simple with the built-in block of WordPress. WordPress default editor Gutenberg has a default YouTube block. You can embed your YouTube video to your site by directly copying and pasting the URL into the block.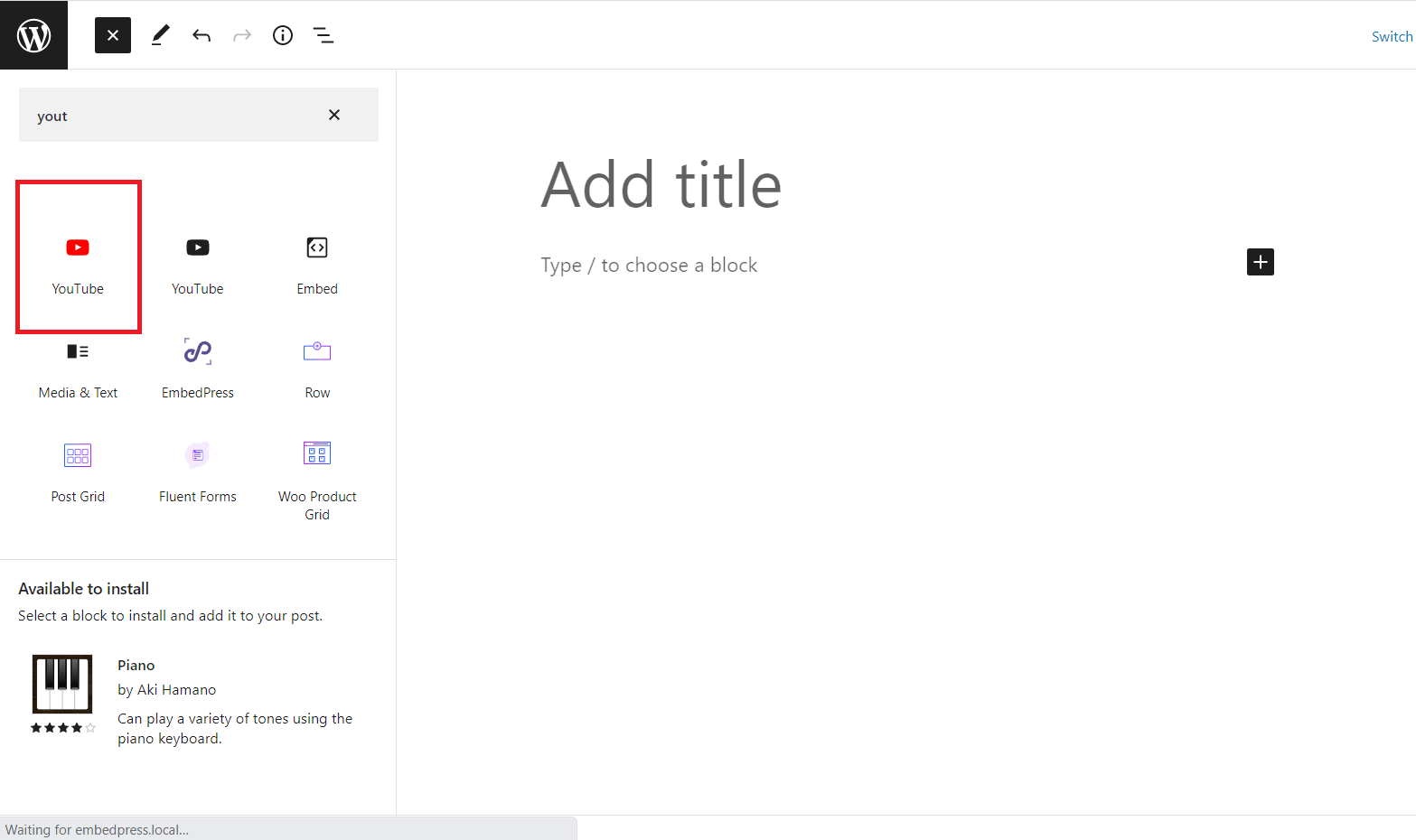 These are default features provided by WordPress. You can do it with a video player plugin too. Even if you can do it with a built-in block, it doesn't provide you with ultimate customization opportunities. Still, WordPress YouTube video plugins will provide you with so much flexibility. That's why it is preferred to use a WordPress YouTube plugin to embed YouTube videos on your site. Of course, you are the one who is going to decide what to do depending on the requirement of your project.
But if you choose to work with WordPress YouTube plugins and are confused about which video plugin to work with, you are in the right place. We will help you to have an overview of the most popular WordPress YouTube plugin.
Best WordPress YouTube Plugins For Your Site
There are several WordPress YouTube plugins for you to do the job. Each of the WordPress YouTube plugins offers you different kinds of unique and super handy features, such as adding galleries with YouTube video content, a list of videos, and much more. We will list down some of the most popular WordPress YouTube plugins for you, and you will decide the best video player plugin for you, depending on what you want to do.
1. EmbedPlus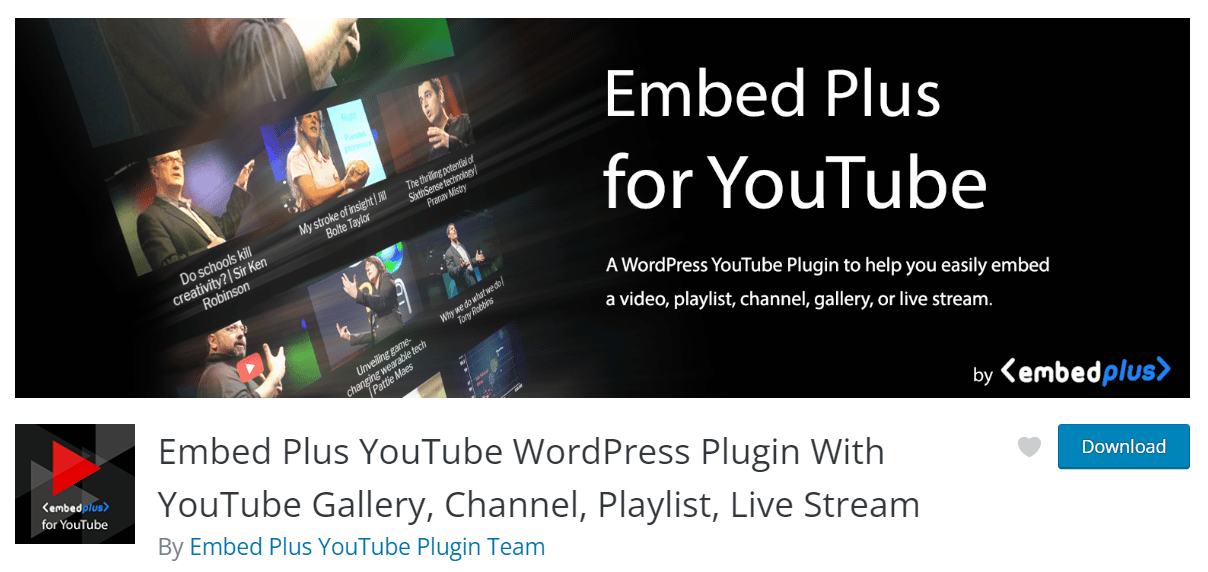 EmbedPlus, which is one of the most popular WordPress YouTube plugins, took great care in optimizing the performance of your embedded YouTube content. This WordPress YouTube plugin lets you play with your YouTube gallery, channel, playlist, live stream, and much more. It does all of these while manifesting a fast page speed.
Let's start with its gallery facility. It will let you create a gallery with a few clicks here and there and let you display your playlist or channel list on your site with the gallery. You can do it while perfectly maintaining responsiveness.
This smooth WordPress YouTube plugin supports Facade Mode with JavaScript deferral that helps you experience better performance by loading the lighter version of the player until it is clicked on. This reduces the initial website loading, which creates a better impression on your visitors as they have had a better user experience.
The more interesting part of this WordPress YouTube plugin is that you can simultaneously play multiple videos at the same time from your YouTube gallery. You can also play the gallery videos automatically and continuously.
It provides compatibility with many page builders, such as Visual Composer, Elementor, SiteOrigin, and Beaver Builder.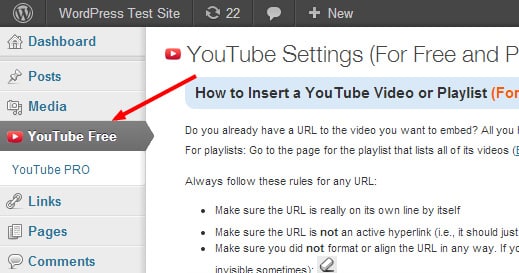 It also acts as a smart live stream plugin with multiple customization opportunities. With the basic live stream facility, you will also get some exciting things as a bonus here.
When you embed your channel's URL, it automatically starts retrieving the next scheduled Livestream's "countdown player". It will help your visitors to know the exact time of when your next stream will go live. Once the live stream is over, it looks for the next one!
If there's nothing then you will be able to see a custom placeholder. This WordPress YouTube plugin also offers you with YouTube live chatbox to add some more dynamics and engagement to your site.
It is a free WordPress YouTube plugin with lots of amazing pro features too. With this video player plugin's pro version, you will be able to add lady loading to your videos which is a super handy feature to have relatively better customer feedback. It will also suggest automatic SEO descriptions and tags for you to have a better-performing site.
You can also hide the related videos that show up at the end of the video, set the default volume of the videos, and much more to it. Hiding-related videos have an extra impressive sweet to offer. With this feature, you can set it so that the related videos it shows at the end, will all be on the same channel as the original video. So if you are the channel owner then all the suggested videos will be from your channel, not others. Good promotional activity right?
EmbedPlus Statistics
| | |
| --- | --- |
| Average Rating | 4.6 (out of 5) |
| Active Installation | 200,000+ |
2. Envira Gallery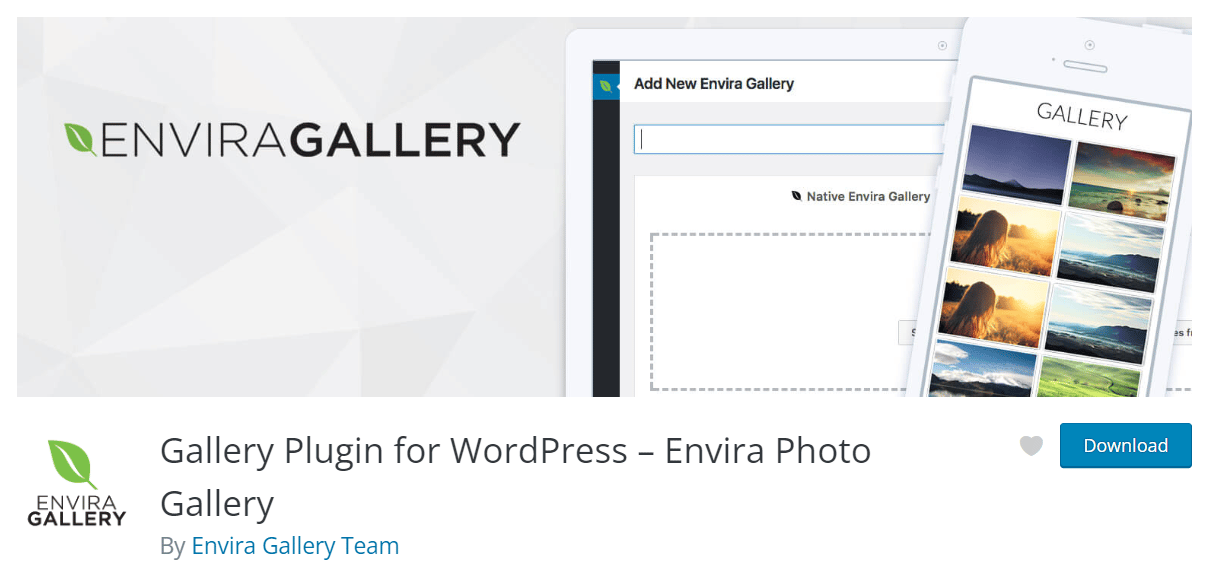 Envira Gallery, another popular WordPress YouTube plugin, will let you import YouTube videos into image galleries. This is one impressive WordPress YouTube plugin. This video plugin is mainly focusing on adding visuals to your site. It is commonly known as a WordPress photo gallery plugin, but it also has an impressive Envira Gallery Videos Addon for you to play with your YouTube video.
With this WordPress YouTube plugin, you can just copy-paste the URL of each video that you want to be in your video gallery and then specify the thumbnail to be shown. And that's it! The rest of the job will be done by the addon. It will then automatically pull the videos from the sources. You can also add your YouTube playlist to your site and display it for your visitors.
It lets you fine-tune the playback experience of your newly created YouTube gallery. You will have other customization opportunities too, such as setting the autoplay for your gallery, hiding the control player, or if you want, you can configure the settings in such a way that the videos open fullscreen by default.
This WordPress YouTube plugin is super user-friendly. It has an amazing drag-and-drop builder to make everything easier for you.
Envira Gallery Statistics
| | |
| --- | --- |
| Average Rating | 4.7 (out of 5) |
| Active Installation | 100,000+ |
3. EmbedPress
EmbedPress is the perfect WordPress YouTube Plugin choice that can be made to embed not only your YouTube content into your WordPress site but also almost any kind of media content that you want to embed on your site. Google Maps, PDF files, Images – name it and EmbedPress will let you add it easily to your site. It is a multipurpose WordPress plugin that also can be considered as one impressive WordPress YouTube plugin.
It will help you to create amazing WordPress sites by embedding anything from anywhere easily into your content. It has both free and premium packages for you to explore from.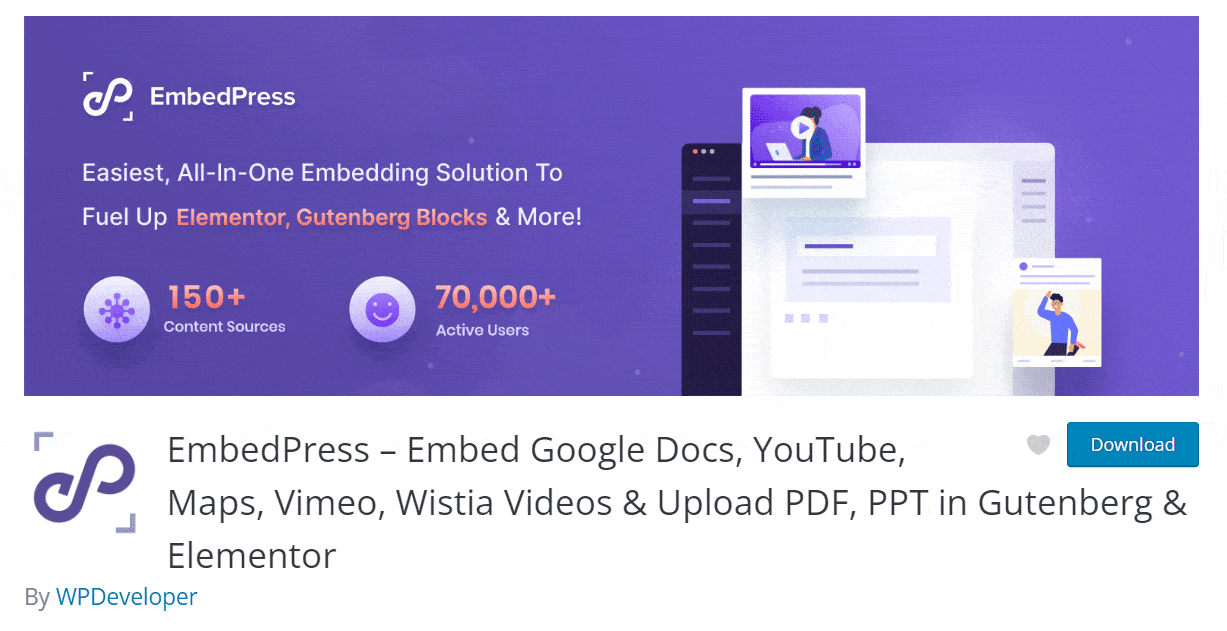 The integration of EmbedPress with YouTube comes with lots of customization and some interesting features, one of which is the YouTube Subscription Button.
You can add a YouTube Subscription Button to your video on your WordPress site, which is a pro version of EmbedPress. It will allow your visitors to subscribe directly to your YouTube Channel without leaving the site. It is one nice feature to help you with your YouTube channel's promotion and boost your subscriber growth.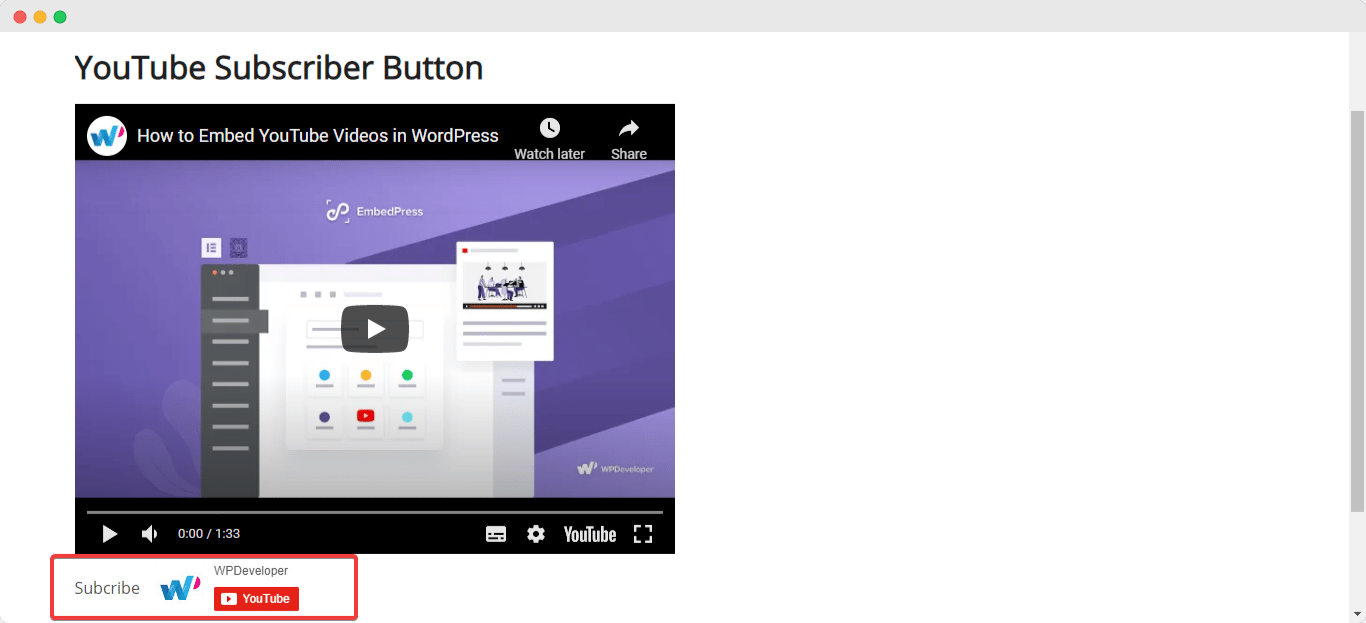 If you want to add your YouTube Playlist and Channel directly from any YouTube channel to your blogs or other sites, you can easily do it with EmbedPress. To do that, you will need to collect your YouTube API key and the URL of the YouTube channel; EmbedPress will do the rest for you.
You can embed YouTube Custom Logo & CTA (Call to Action) on your YouTube Video to make your site more engaging for your visitors. EmbedPress allows you to customize the whole outlook of your YouTube video content according to your preference.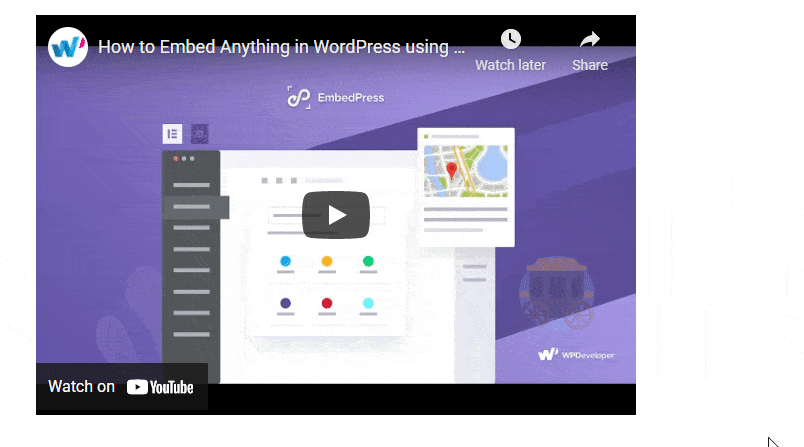 You can customize your YouTube video progress bar color, change the aspect ratio, and more. It allows autoplay, displays video annotations and related videos, and much more. It will also let you add YouTube live streams, and enable the Live Chat feature so your visitors can communicate with each other from your website.
It has seamless compatibility with Elementor, Gutenberg, and Classic Editor. It comes with customized blocks and widgets for Both Gutenberg and Elementor. For Classic editor, paste the link to the text editor, and you are done! And for other WordPress Editors, this plugin will generate shortcodes for you to use them.
This plugin will let you customize your WordPress site's youtube content according to your requirements. With all the customizations you can display stunning videos along with bonus marketing and branding activities.
EmbedPress Statistics
| | |
| --- | --- |
| Average Rating | 4.8 (out of 5) |
| Active Installation | 70,000+ |
4. WP YouTube Lyte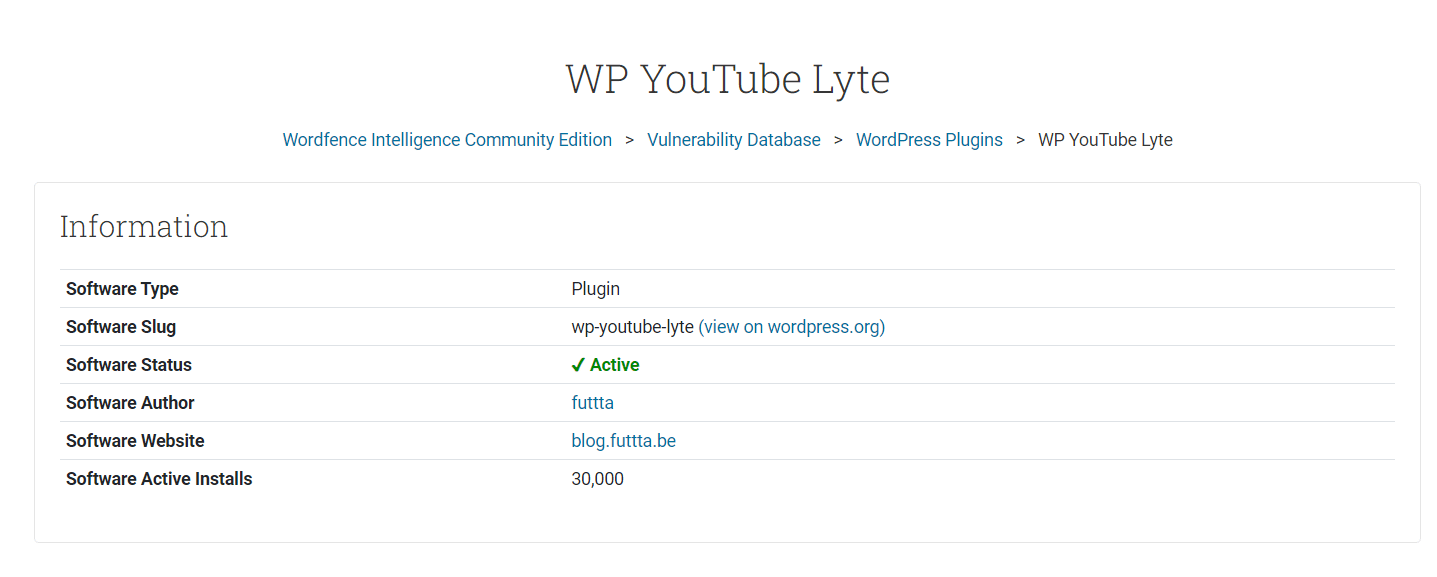 Here is another popular WordPress YouTube plugin for you. One of the key features of the WP Youtube Lyte plugin is Lazy Loading with the help of responsive "Lite YouTube Embeds". With this amazing feature, it loads the "fat" Flash or HTML5 player when someone clicks on it, not before it. So it does not create a lot of pressure on your server.
Your audiences will be unable to find any differences between the normal YouTube embed and this one. So it still loads the videos at a considerably fast speed.
This mechanism of this amazing WordPress YouTube plugin significantly reduces download size and rendering time. So the early load time of the website reduces and lets you experience a drastic improvement of your site, especially when multiple videos are embedded in it. Lazy loading of your YouTube videos can decrease your page load time by over 40%!
Optimal performance has always been and is still the primary goal of the plugin. It also performs well considering maximum browser compatibility and accessibility. To get full access to this exciting plugin's features and functionality, you will have to get a Youtube API key.
With the help of the key, this plugin will let you pull the thumbnail, video description, and title while embedding it to your site. This is one multilingual plugin with the support of English, Catalan, Spanish, Dutch, Hebrew, French, German, Slovene, and Romanian.
WP YouTube Lyte Statistics
| | |
| --- | --- |
| Average Rating | 4.8 (out of 5) |
| Active Installation | 30,000+ |
5. YourChannel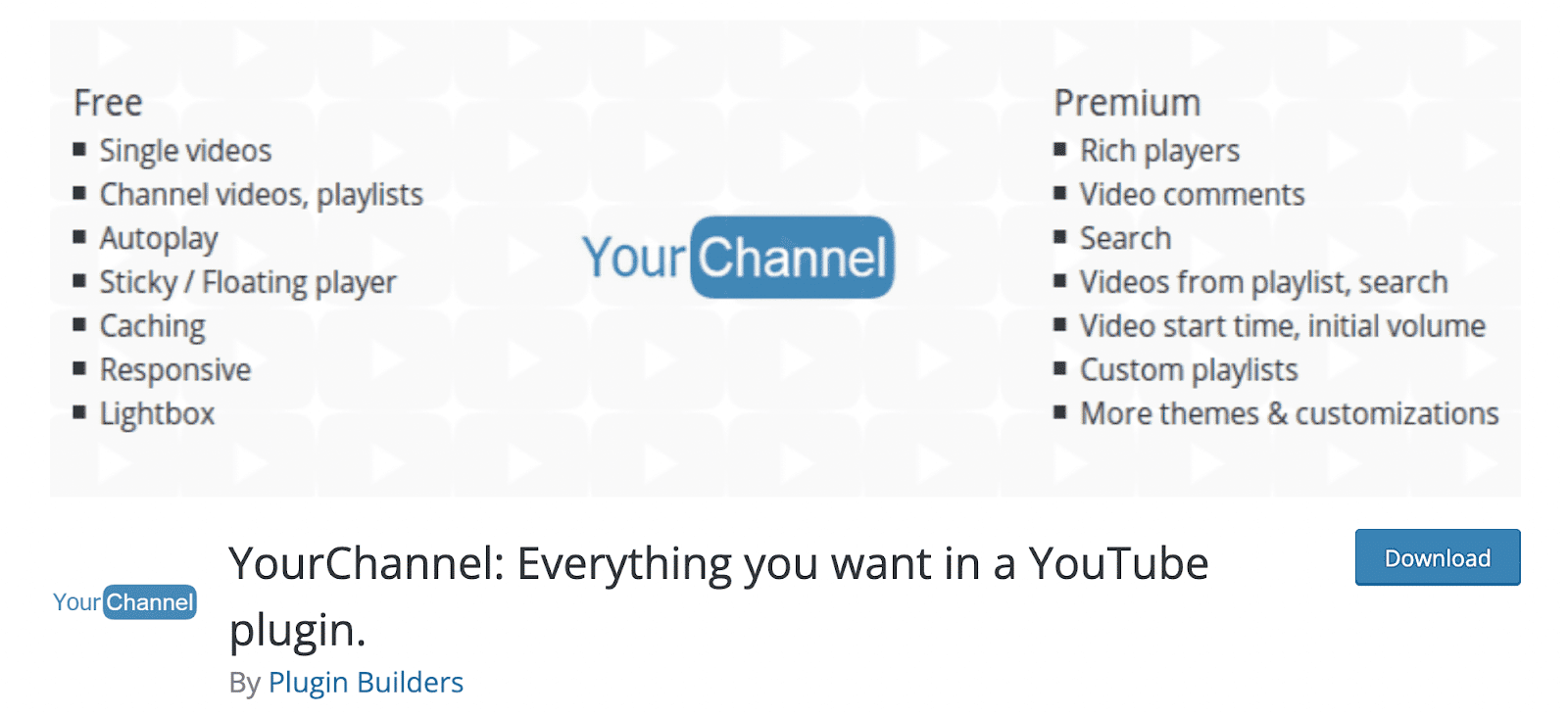 Here's another interesting YouTube video player plugin for you. You will find all kinds of amazing features to beautify your YouTube videos. It acts as a visual builder that helps you design your YouTube channel however you want your visitors to see it on your site.
It will help you to display a customized version of your YouTube videos, live streaming, playlist, etc. If you have your own YouTube channel with lots of videos, YourChannel can be a good WordPress YouTube plugin option for you. It will let you pull your entire YouTube channel and display it on your YouTube site. You will also get seven video thumb styles to add some creativity and interactiveness to y
This WordPress YouTube plugin will let you generate shortcodes that look like [yourchannel user="user"]. You can also play videos in Lightbox or Inline. It also offers you an autoplay option. It works with a cache system for fast loading.
YourChannel Statistics
| | |
| --- | --- |
| Average Rating | 4. 6(out of 5) |
| Active Installation | 10,000+ |
🔥 Bonus Tips: Add Eye-Catchy Links To Your YouTube Video
Let's give a bonus tip to give a new touch to your YouTube videos. Adding YouTube videos to your site is capturing more and more people's attention to your content or product video and all. While watching YouTube videos, you might have noticed that people add necessary links in the video's description box.
The purpose of this can be many, and one of them is that you want your visitors to browse those videos and spend some more time on them. This way, you will be able to promote your other videos and get more views on those videos. You can manage such links in a much better way with BetterLinks.

This will let you add links to YouTube videos in different ways. You can add as many clickable links to YouTube video descriptions as you want, on YouTube cards, and the YouTube video end screen with BetterLinks.
You can use customized shortened links on your YouTube video which in a way also helps your branding. The more interesting part is you can have a well-detailed track record of these Betterlink videos, such as how many people have clicked on these links, how much time they have spent on those links, their sources, and much more.
Ready To Pick The Perfect YouTube Plugin for You?
There are many more YouTube plugins for you to play with your videos and get more and more Youtube view count. But we have picked these five super popular plugins among all of them for you to have a look at. 
Which one do you think is the best YouTube plugin for WordPress? Please let us know your opinion in the comment section. Don't forget to subscribe to our blog to get more useful tutorials and blogs and join our Facebook Community for interesting updates.