In this ever-evolving digital world, understanding how to create deep links can be invaluable knowledge for you. You might be wondering what deep linking is and how it can come in handy for you. Well, to get answers to all of these questions, let's have a deep dive into this blog.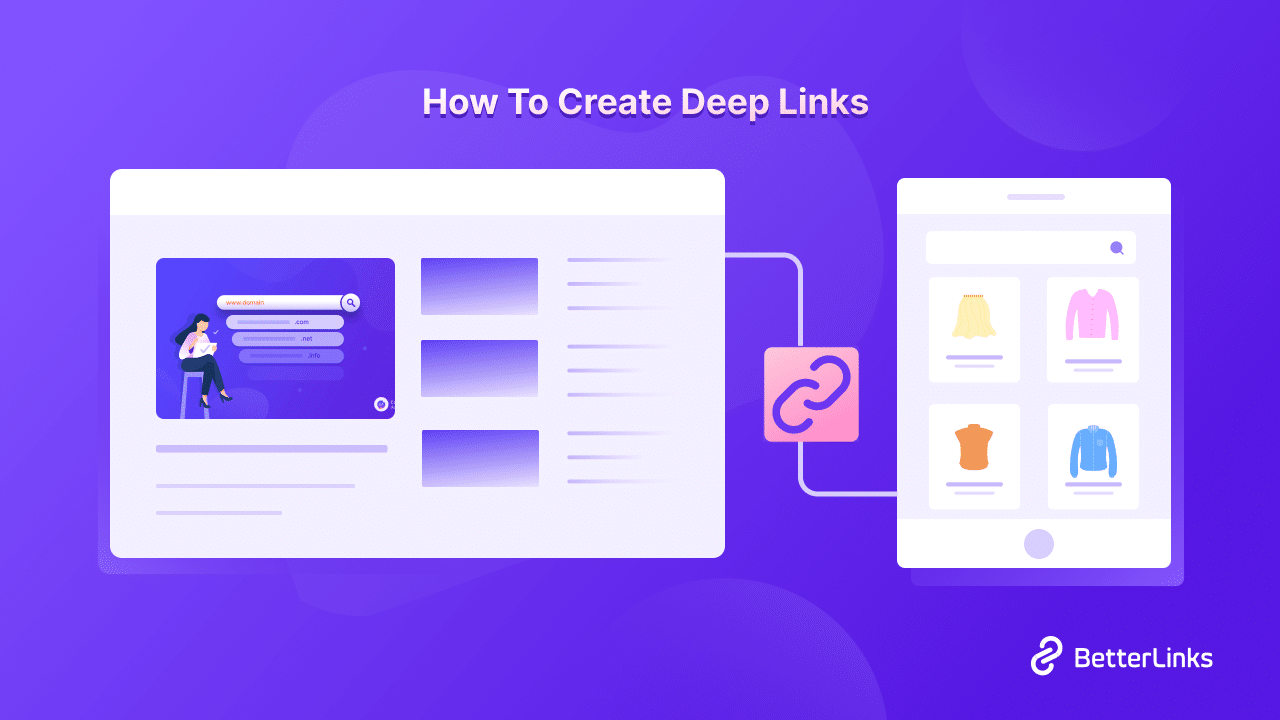 💡 What Are Deep Links? Why Does It Matter For You
Deep links can easily build a strong user experience by sending users to any specific content or page within websites or apps. While the general links take you to a web page, deep links can take you to precise locations within a website or an app. It works similarly to the regular links; however, when you click on them, they will take you exactly where you should be. 
Even though there is not much difference between deep links and regular links, here is why it matters to you:
Enhanced User Experience: With deep links, your users can find exactly what they want without navigating through multiple pages or sections.
Improved Conversion Rates: Deep linking leads can take your users to relevant content directly, increasing the chance of conversions.
Tracking and Analytics: With deep links, you can monitor the effectiveness of your marketing campaigns by tracking at ease.
✨ Different Types Of Deep Links You Should Know
You can find 3 different types of deep links that serve different purposes. Let's have a look at the types below.
⭐ Traditional Deep Links
The traditional deep link takes the users to a specific location within a website or app. For example, when you click on a traditional deep link, it will take you to a particular product page in an e-commerce app.
⭐ Deferred Deep Links
This type of deep link comes in handy when you want to create a tailored user journey. If you use deferred deep links, it will direct your users to a specific page after app installation, and then your users will be navigated to a specific page.
⭐ Contextual Deep Links
The contextual deep links can help you create an advanced user experience. Based on your user's location or device, these links will take them to a specific page. So you can show the most relevant page to your users and provide a better experience. 
📖 How To Create Deep Links: Easy Steps
Now that you understand deep links, let's dive into the step-by-step guide. Go below to learn how to create deep links to enhance user experience
🔵 Define The Deep Link Destination
First of all, you need to identify the specific content that you want to direct users to after clicking on the link. As the deep links help to send the users to a specific location, you should choose where the link destination is before creating deep links.
🔵 Create The Deep Link URL
Once you have chosen the link destination, you have to generate the deep link URL. Use any deep linking platform or library to create a unique URL for deep linking. You can also add any additional tracking or analytics parameters that you need for tracking your link performance.
🔵 Add The Deep Link In Codebase
Now that you have created your deep link URL, you have to implement it into your app's codebase. However, you need to ensure your URL is correctly associated with the relevant place when you want to be linked. So, you may have to modify your app's routing logic or utilize deep-linking SDKs offered by your app development framework.
🔵 Test Your Deep Link Functionality
Once you have implemented the deep link in your code base, you should verify that your link is working properly. You should click the link from multiple sources and check whether it is working as you want. That's it. This is how you can create deep links on your own.
🎁 Bonus: Install BetterLinks For Advanced Link Management
BetterLinks is an all-in-one WordPress link management solution that will help you shorten, track or analyze your link performance. Using this WordPress plugin, you can easily manage all your links from a single dashboard. It comes with amazing features like branded short links, UTM Code generator, link redirection, etc., to supercharge your link management game. You can also track and analyze your link performance with in-built analytics and make data-driven decisions. So, you can definitely try this link management solution for enhancing your marketing campaigns. 
⚡ Provide Seamless User Experience With Deep Links
Using deep links can help you to provide the best possible user experience to your visitors. It can also help you to improve your conversion rates as well. We hope our blog helped you to learn how to create deep links. So, try creating deep links now to provide a better experience to your customers.
Have you found this article helpful, then subscribe to our blog to keep yourself updated with the latest trends, tips, and tricks about link management. Also, don't forget to join our Facebook community and stay connected.