Would you like to launch an Amazon affiliate store? Do you want to make money from your WordPress website? With the Amazon Associates affiliate program, you can create a business in little time and at a low cost. Then start selling things to earn a commission on each sale you make. In this article, we will demonstrate how to simply create an Amazon affiliate store using WordPress.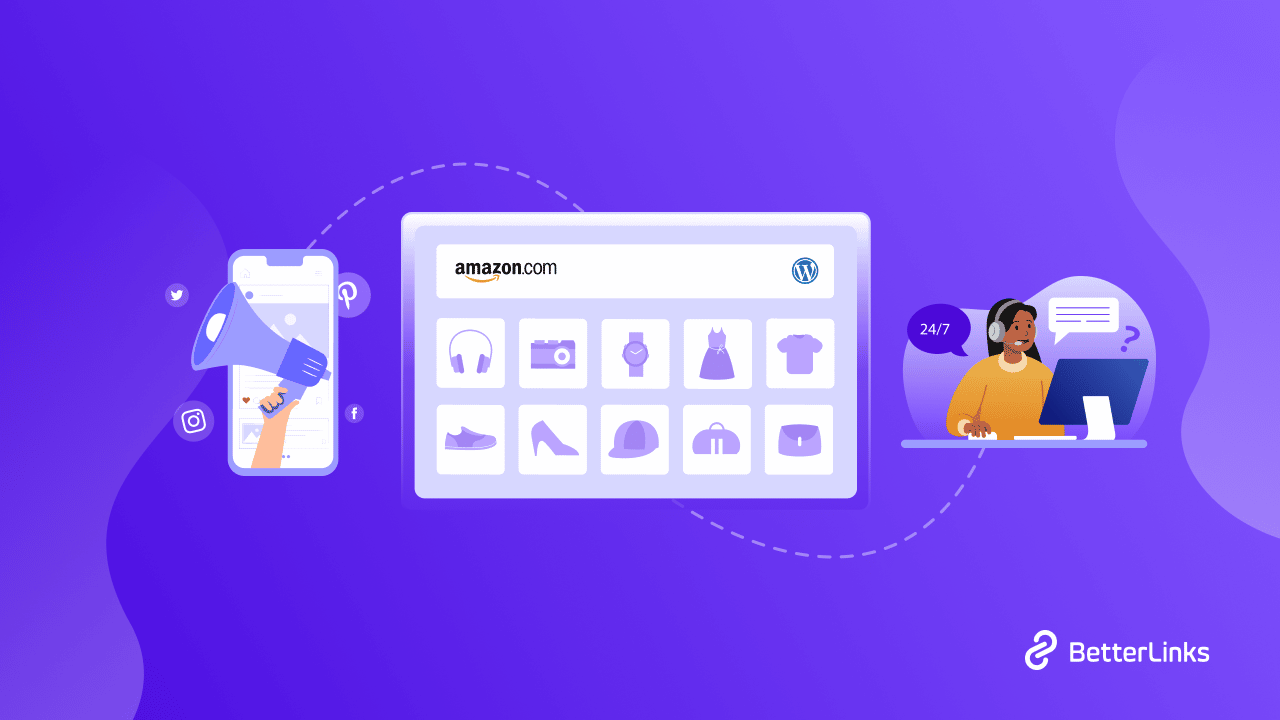 Amazon Affiliate Store: What Is It & How It Works?
An Amazon affiliate store is a website or eCommerce business where you sell your Amazon.com items.
So, how do you make money? When a visitor clicks on one of your site's product listings, they are sent to Amazon. And if they finish the transaction, you will receive a commission. It's that easy!
The benefit of an Amazon affiliate store is that, unlike a typical online store, you don't have to deal with shipment, distribution, inventory, or order management. Amazon takes care of everything.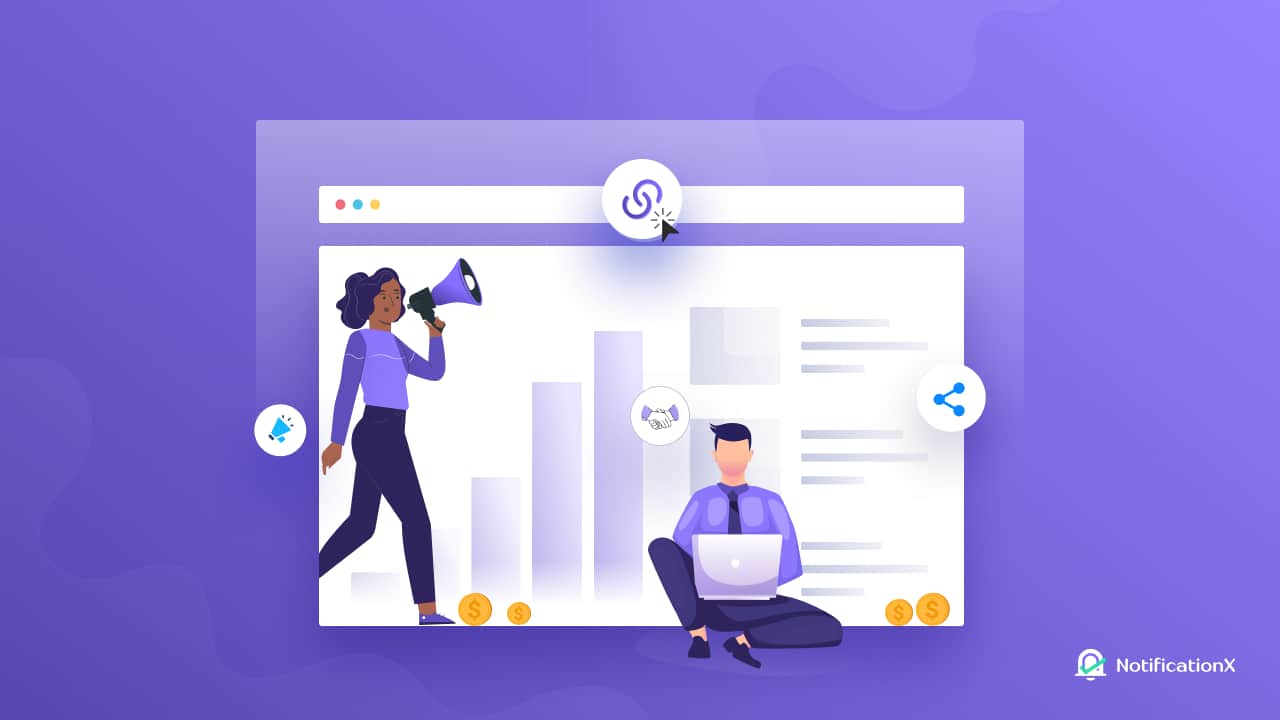 Follow this amazing post if you want to see the ultimate list of the 5 greatest affiliate marketing plugins and tools that will help you not only build, but also manage, organize, and track the effectiveness of your affiliate programs with ease.
Why Should You Register For The Amazon Affiliate Program?
Assume you work in the health and fitness industry. If you were to buy a product relating to your specialty, We are sure you'd go to Amazon for starters 9 out of 10 times. If you do not find what you are searching for, you could consider browsing some online health and fitness retailers.
Without a question, Amazon is enormous. And, if we're just getting started, competing with Amazon isn't the best way to go. So, what comes next?
This is where you should narrow down your niche. Home and furnishings, health and fitness, beauty and wellbeing, and so forth. Create your own specialty store. Create material centered on your specialty.
Create epic pillar articles in the health and fitness sector, such as 'how to gain six packs in six months,' 'how to lose weight at the home with easy exercises,' and so on, and add your affiliate connections.
And, if you develop into a major player of expertise in your field, you will have far more sales than Amazon very soon. High hopes, but hey, that's motivation enough to get your new enterprise off to a good start! What do you think?!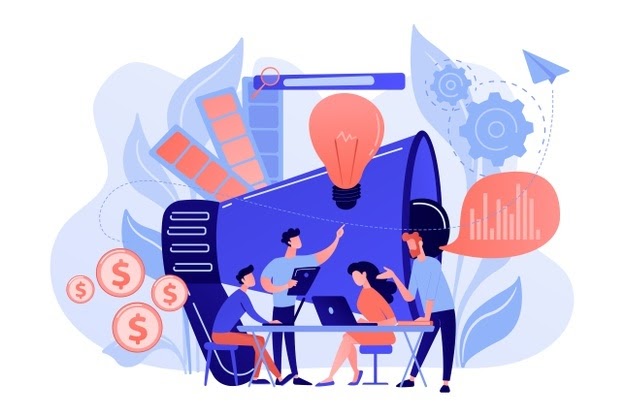 Getting Started: How To Build An Amazon Affiliate Store With WordPress
Let's go over how to set up an Amazon affiliate store with WordPress and WooCommerce.
Step 1: Create Your Website With WordPress
Are you ready to get started with your affiliate store with WordPress? Let's get started.
Creating a WordPress website is super easy if you know the right steps. All you have to do is get a unique, memorable domain name, and choose the right managed hosting provider to begin with. For more details, check out our full, step-by-step guide on how to create a WordPress website.
After you are done, make sure to install and activate WooCommerce plugin and set up your online store on WordPress. We'll get to the details of using WooCommerce to create your affiliate store in a bit.
Step 2: Set Up Affiliate Account, Domain & Hosting
Let's start by creating an Amazon Associates account. Go to this website and fill out the form.
Please keep in mind that in order to become an associate for a different country's Amazon affiliate program, you must sign up on each country's particular website.
As shown in the screenshot, change the region from the top right corner.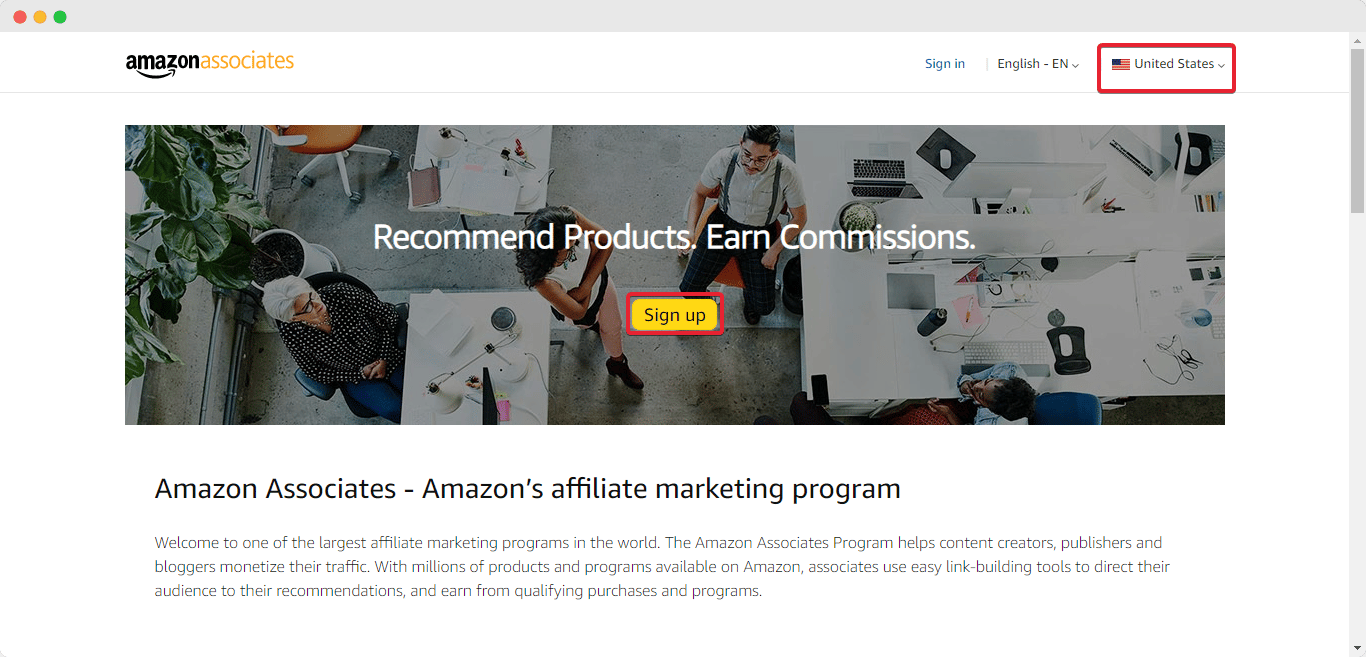 To get a clear idea about how to get involved in the Amazon Affiliate program you can follow this super helpful blog on how to become an amazon affiliate. You will find every step is very easily discussed and shown.
Set up the affiliate IDs for your business once you've signed up for the program. These IDs let you trace the source of the sale and be paid, so name them carefully so you can monitor them properly.
Then, from any other domain name provider, purchase a domain. While you are free to use any hosting provider, we recommend SiteGround or BlueHost for their speed and dependability. If you purchase your domain name and hosting from different companies, you must change the DNS records.
You can also buy your domain and hosting at the same time, which simplifies the process because there is no need to change servers.
Anyone who applies to Amazon's affiliate program is instantly authorized. However, according to Amazon's guidelines, you must generate at least three eligible sales during the first 180 days of your application.
This implies that at least three individuals must click on your affiliate links and then buy anything from Amazon.com. If you do not accomplish this goal within 180 days, Amazon will deactivate you from their scheme and you will no longer be able to make money from your Amazon affiliate links.
Step 3: Find The Best Product For Your Amazon Affiliate Store
After you've joined the Amazon Associates program, you can begin building affiliate links. Most physical and digital items offered on Amazon may be obtained through affiliate links.
When you have logged in to the home page you add any product affiliate with SiteStripe. The SiteStripe function lets you copy affiliate links directly from Amazon.com without visiting Associates Central. It allows you to create affiliate links to any Amazon product and even share such links on Facebook or Twitter.
Simply head over to Amazon and click on any product that you want to promote. Then click on the 'Text' option from the 'Get Link' section of the SiteStripe as shown below.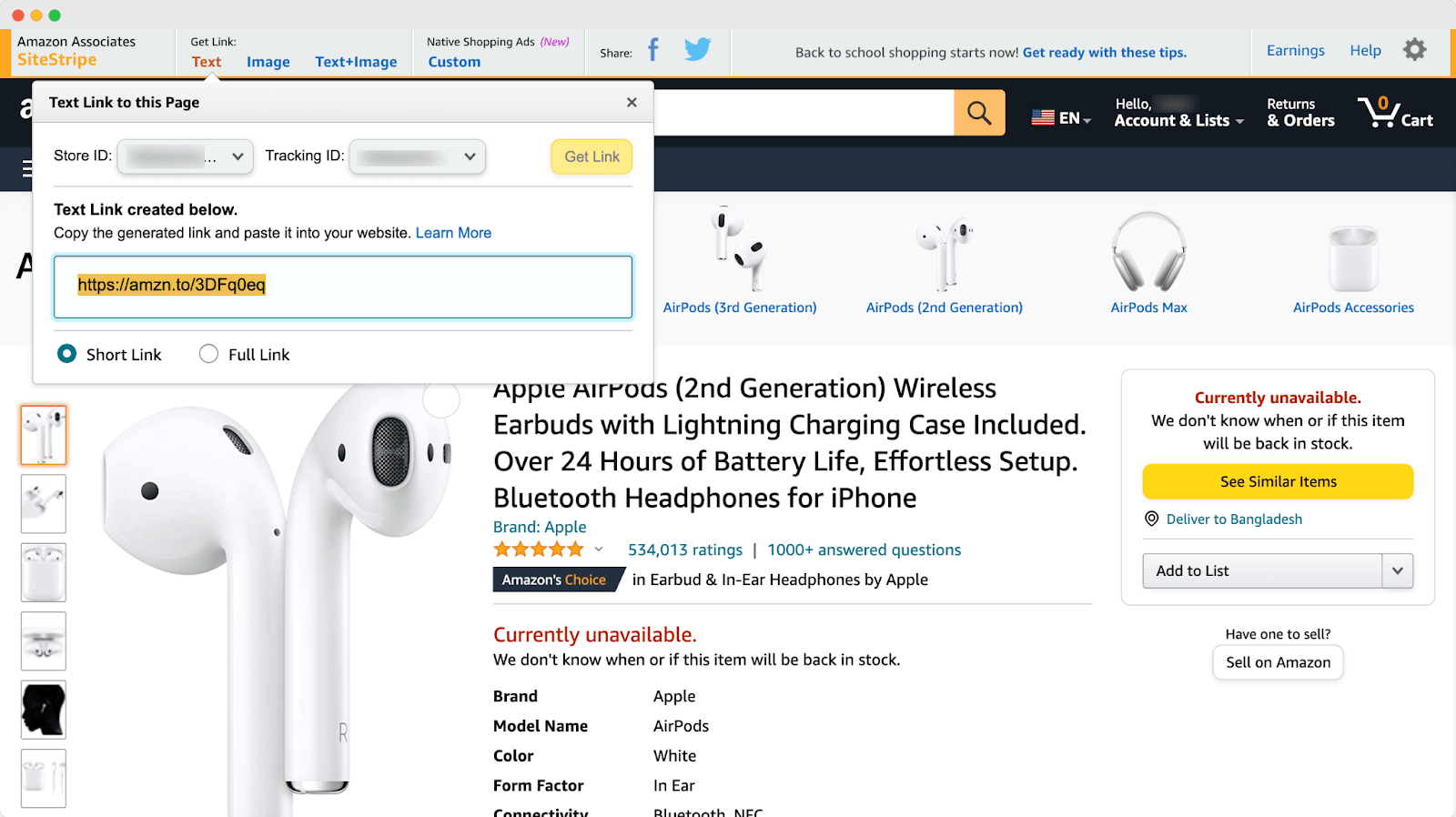 If you click on the 'Text' button, you will instantly get a shortened affiliate link for that Amazon product. Your store ID and tracking ID will be automatically embedded into the shortened link. Copy this link and keep it somewhere safe, you will need to add it to your products on your WooCommerce store.
Step 4: Add Affiliate Products To WooCommerce
So far, you've built a fully functional online store with a wonderful domain name and a working SSL. You've also set up an Amazon Associates account to track everything you sell. Now for the final section.
Let's begin adding products now that we've installed a new theme with WooCommerce. In the WordPress dashboard, navigate to Products→ Add New. In the applicable section, enter the product title and description.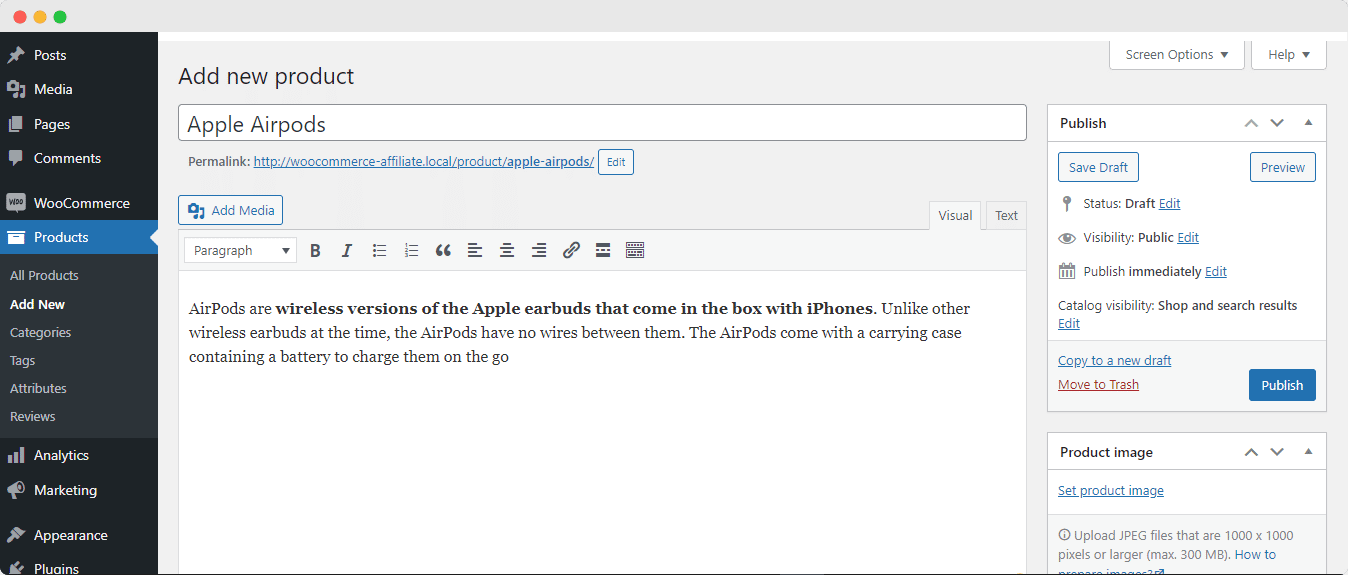 After you have successfully added your products, click on the "Product Data" and choose your product type as 'External/Affiliate product'. Inside the Product URL simply paste the affiliate link for the product you had copied earlier with Amazon SiteStripe and you are good to go.
Add photos and make the page as fascinating and enticing as possible because this is where your stuff will be sold!

Step 4: Additional Customization Of Your Affiliate Store
Themes dictate the appearance of your Amazon affiliate store, including the colors, layout, and fonts. Your theme serves as the face of your online store and might entice customers to click on your affiliate links.
The good news is that there are several free and paid WooCommerce-ready themes to select from. To increase sales, select a theme that looks attractive, complements your items, and has all of the functions you require.
We've compiled a list of the finest WooCommerce WordPress themes to assist you in making the correct decision.
Bonus: Easily Add An Affiliate Program In WooCommerce (No Coding)
Including an affiliate program in a WooCommerce store is becoming a common practice. Although affiliate marketing may be done at any time of year, the sale season is the busiest period for marketers to meet their sales goals. Learn more about this in our detailed guide.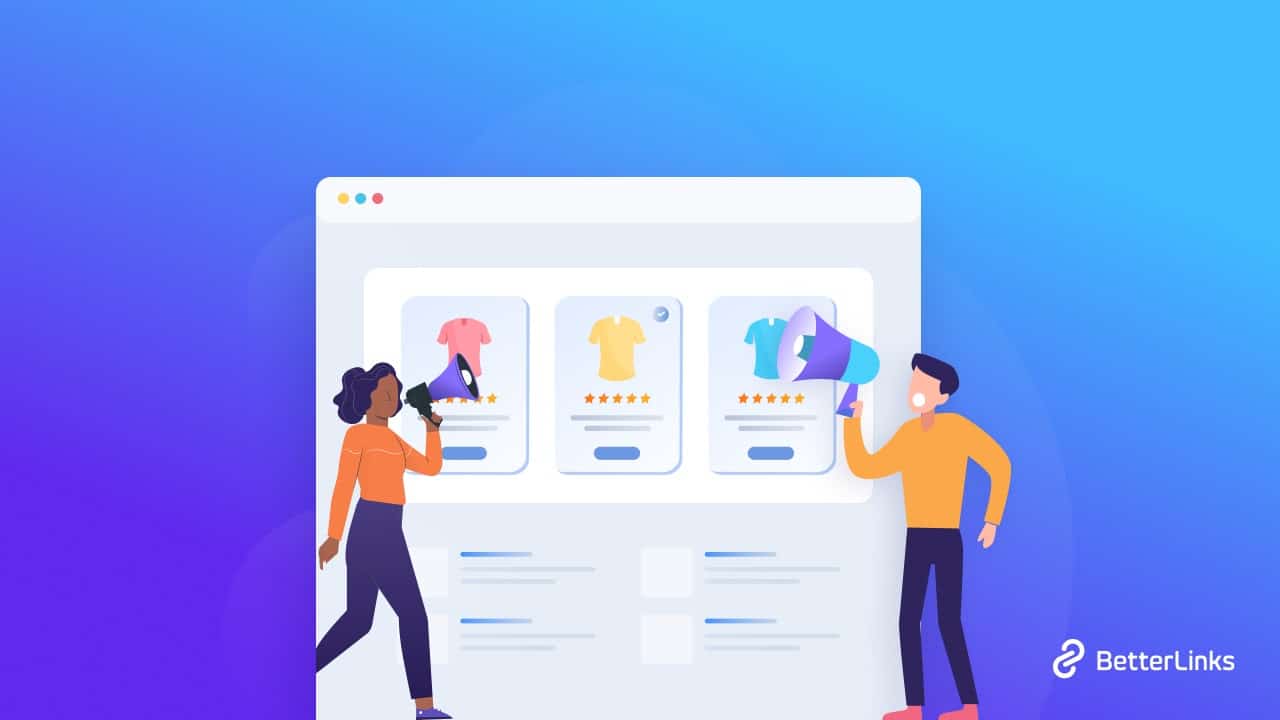 We hope you enjoyed this tutorial. Subscribe to our blog for more exciting content and join our Facebook community for more exciting updates.