Whether you are a content creator or an affiliate marketer, you can generate expiring URLs in WordPress for your newly launched short time campaigns. Expiring URLs are commonly used by affiliates and marketers when a link loses its relevance after a certain campaign, for example. Let's have a look at how to create expiring URLs for any sort of page in WordPress using some of the best WordPress plugins.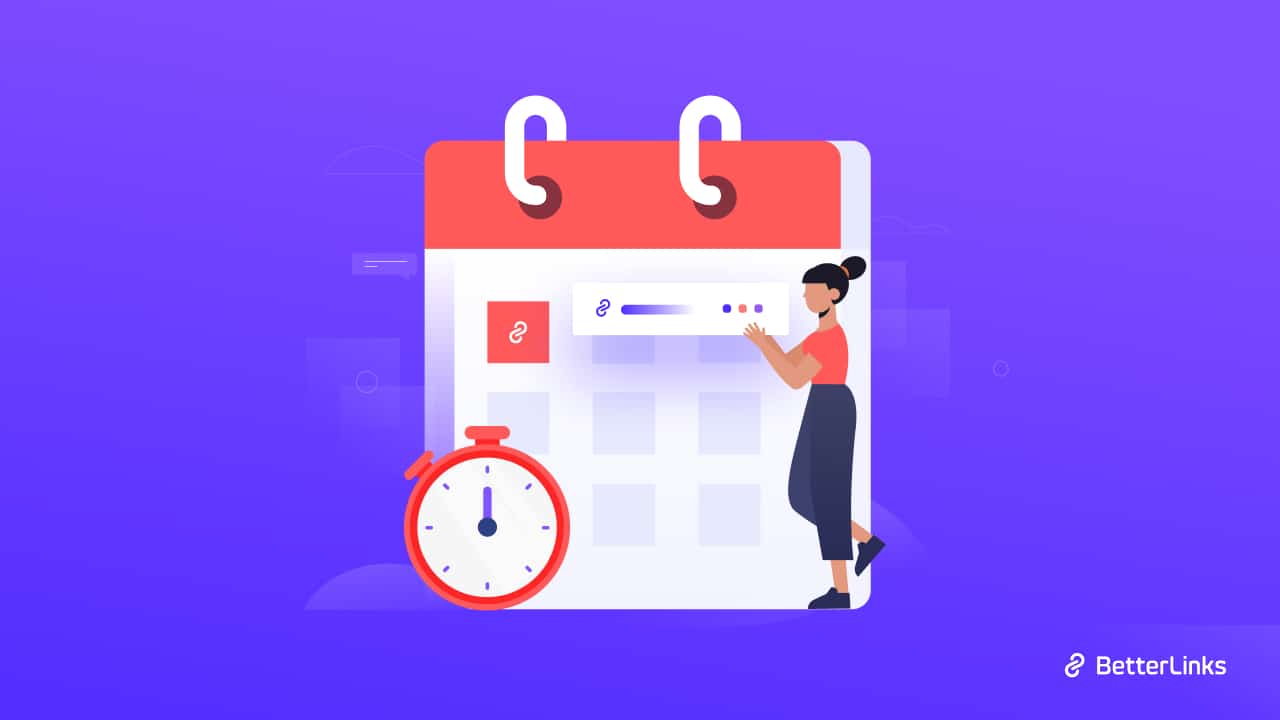 What Is Link Expiration & When Do You Need It?
When you create expiring URLs, you're limiting access to your followers or readers after a set period of time or a specific date. Bloggers and online marketers typically utilize this function to set a brief time limit for online promotions that expire either by a number of clicks or by time.
For example, if an affiliate marketer offers a bonus to the top 20 persons who buy things from him first, he can specify the affiliate link's expiration time. As a result, the link will expire after the customers' 20th click. That is the time it takes the affiliate marketer to choose the top 20 giveaway candidates. Let's look at some of the other advantages of using WordPress to create expiring URLs for any website.
Expiring Links Can Be Useful For FOMO Marketing
Limiting clicks for any URL is a useful tool for digital marketers because you can have full control over your campaign all through. Suppose, you are going to launch limited-time offers from your business website. You can use link expiration for promoting FOMO marketing. The 'Fear Of Missing Out' concept is famous among online marketers to create urgency while selling their product or service. You can use this concept and limit the clicks using expiring URLs.
Top 3 Best WordPress Plugins To Generate Expiring URL In WordPress
For all the WordPress users, generating expiring URLs is even easier using the exact useful plugins on their WordPress website. Here we have listed down the top 3 best WordPress plugins to generate expiring URLs in WordPress easily.
🔰 BetterLinks – Ultimate URL Shortener & Link Management Plugin

If you are searching for a simple and easy to use a WordPress plugin to shorten your links and also set URL expiration at the same time, BetterLinks is the most suitable plugin for you. This plugin offers a simple and lively interface with a drag-and-drop feature to easily organise all your WordPress URLs and create expiring URLs without having to code.
This plugin will allow you to integrate Google Analytics, set up multiple link redirection, and set an expiration time for URLs in addition to shortening and tracking your WordPress URLs. For any form of a short-term marketing campaign, setting an expiration time for a link is useful. The BetterLinks plugin simplifies the process even further.
🔰 Pretty Links – Most Popular Link Shortener For WordPress

Pretty Links is another amazing link shortener plugin that can help you to set an expiration for your URLs. If you are searching for a clean coded plugin that runs faster on your WordPress website, this plugin is the one. This plugin also helps you to redirect your links just like BetterLinks. This can be another option to create expiring URLs for your WordPress website.
🔰 Post Expirator – Easiest WordPress Post Expiration Plugin

Post Expirator is another WordPress plugin to automatically expire your URLs after a limited date or time. Using this plugin, you can add limitations to any post, page, or content. This plugin allows you to 'bulk edit' or 'quick edit' to set URL expiration easily.
How To Generate Expiring URLs In WordPress With BetterLinks?
As you have explored some of the top best plugins to generate expiring URLs in WordPress, let's see how you can do this using the ultimate link management plugin BetterLinks. This premium feature is available in BetterLinks PRO and you can easily avail of this feature by installing and activating both of the free and premium versions of the BetterLinks plugin. 
Step 1: Manage Links Using BetterLinks Dashboard
After you have successfully installed and activated the premium version of BetterLinks on your WordPress website, you can now easily manage your links from one place. BetterLinks offers an easy-to-use drag and drop interface to seamlessly manage your URLs. You can go to the BetterLinks plugin and click on the 'Manage Links' option from the left sidebar. Here you can create categories by clicking on the '+' sign and categorize all your links one by one.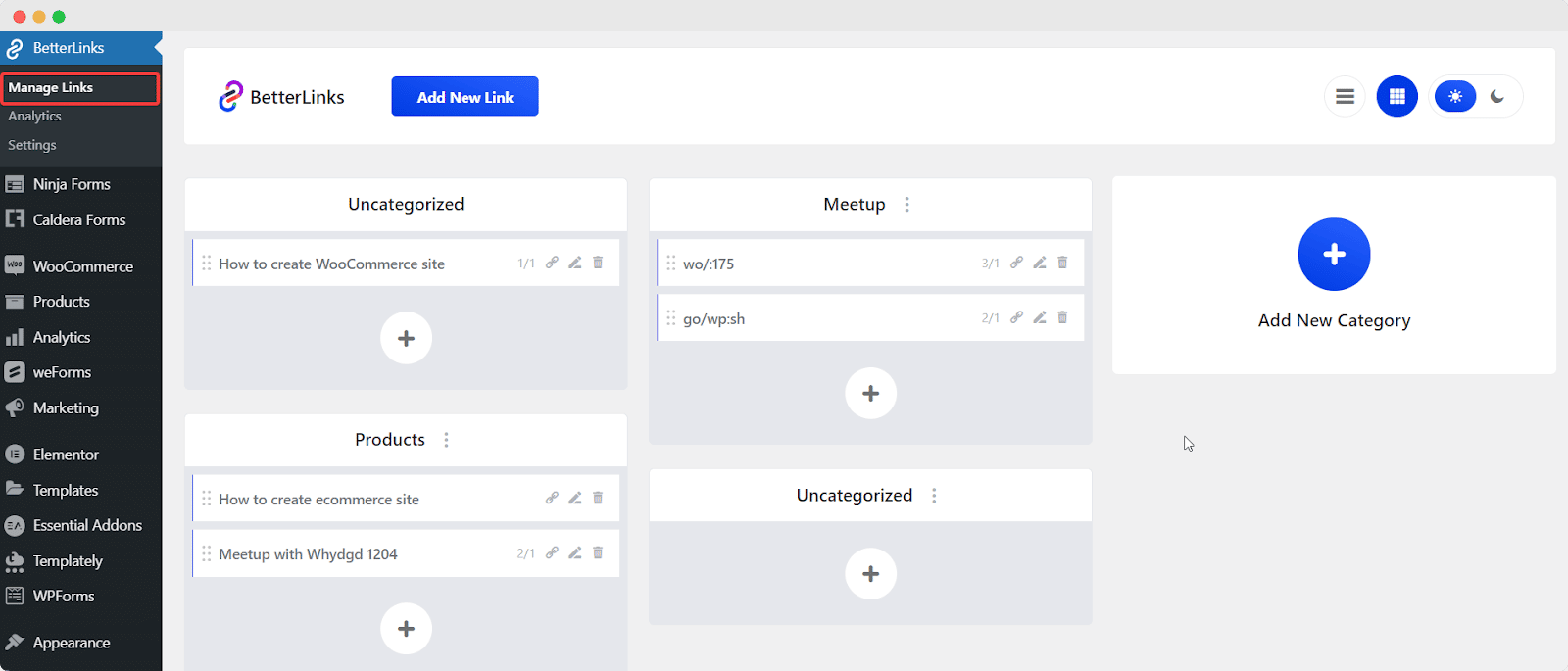 Step 2: Edit Your WordPress Links Using BetterLinks
Next, you need to click on the 'Edit' icon beside the link that you want to set the link expiration. When you click on the icon, a new popup will appear with all the details you need to know about the link. You can configure each of the sections easily from one place.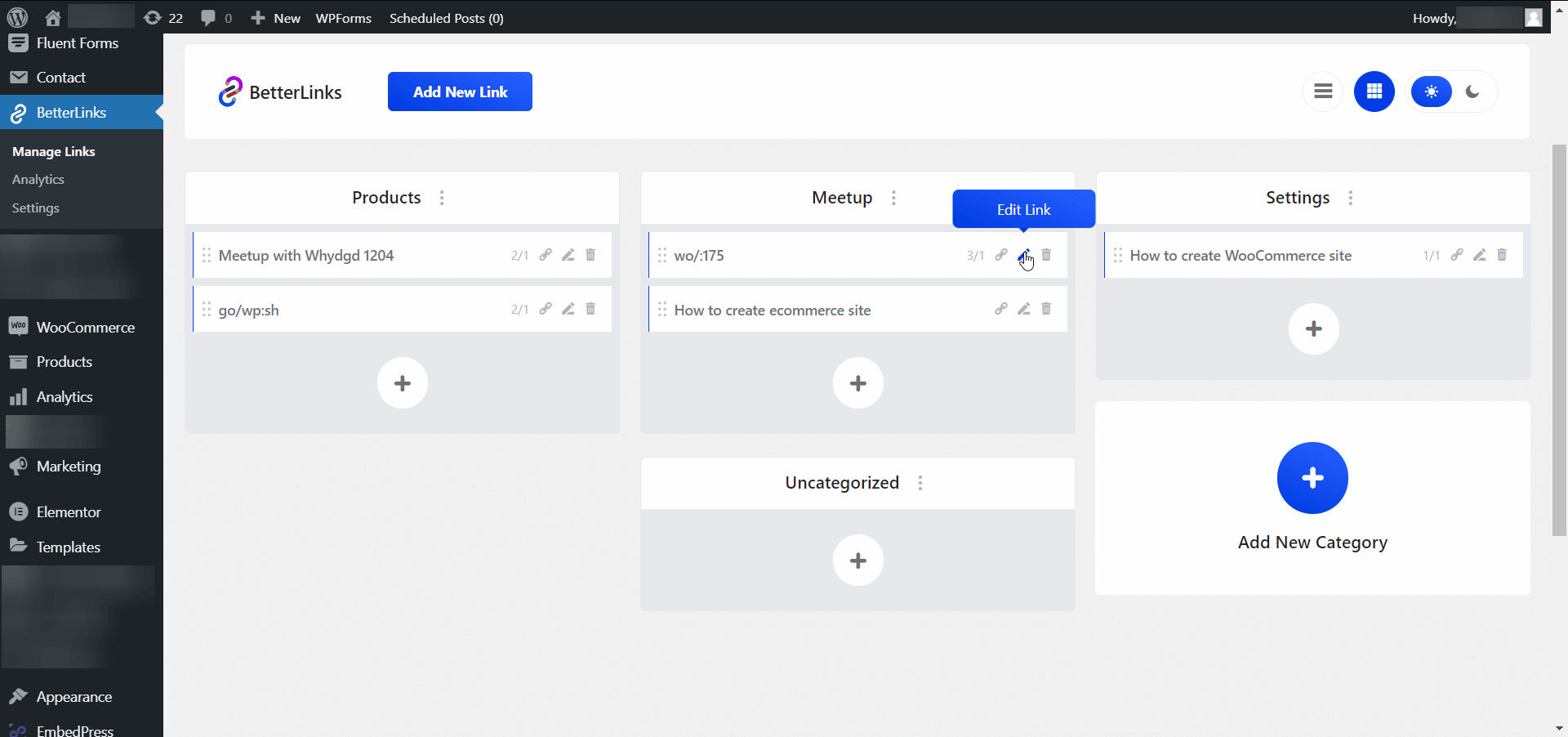 Step 3: Create An Expiring URL For Your WordPress Website
From the popup, you can set a title for the link with a small description. You can even shorten the URL by pasting the target URL in the designated box. Editing slugs is much easier from the same place. Now, from the 'Advanced' field, tick the 'Expire' checkbox.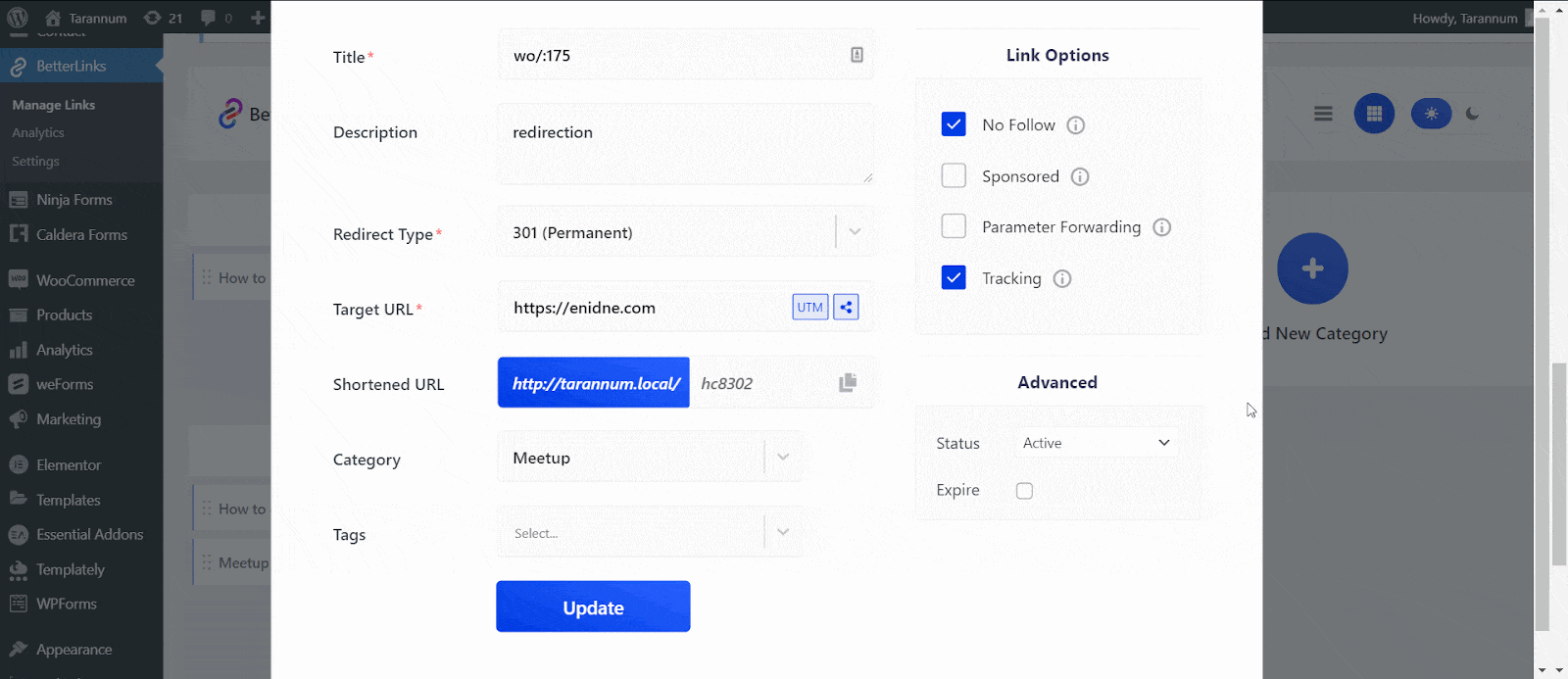 You can even set the type of link expiration from this section. You can easily set a certain date that you want to expire the link for. Now you can save your progress by clicking on the 'Update' button. You can also set the number of clicks after which your link will expire.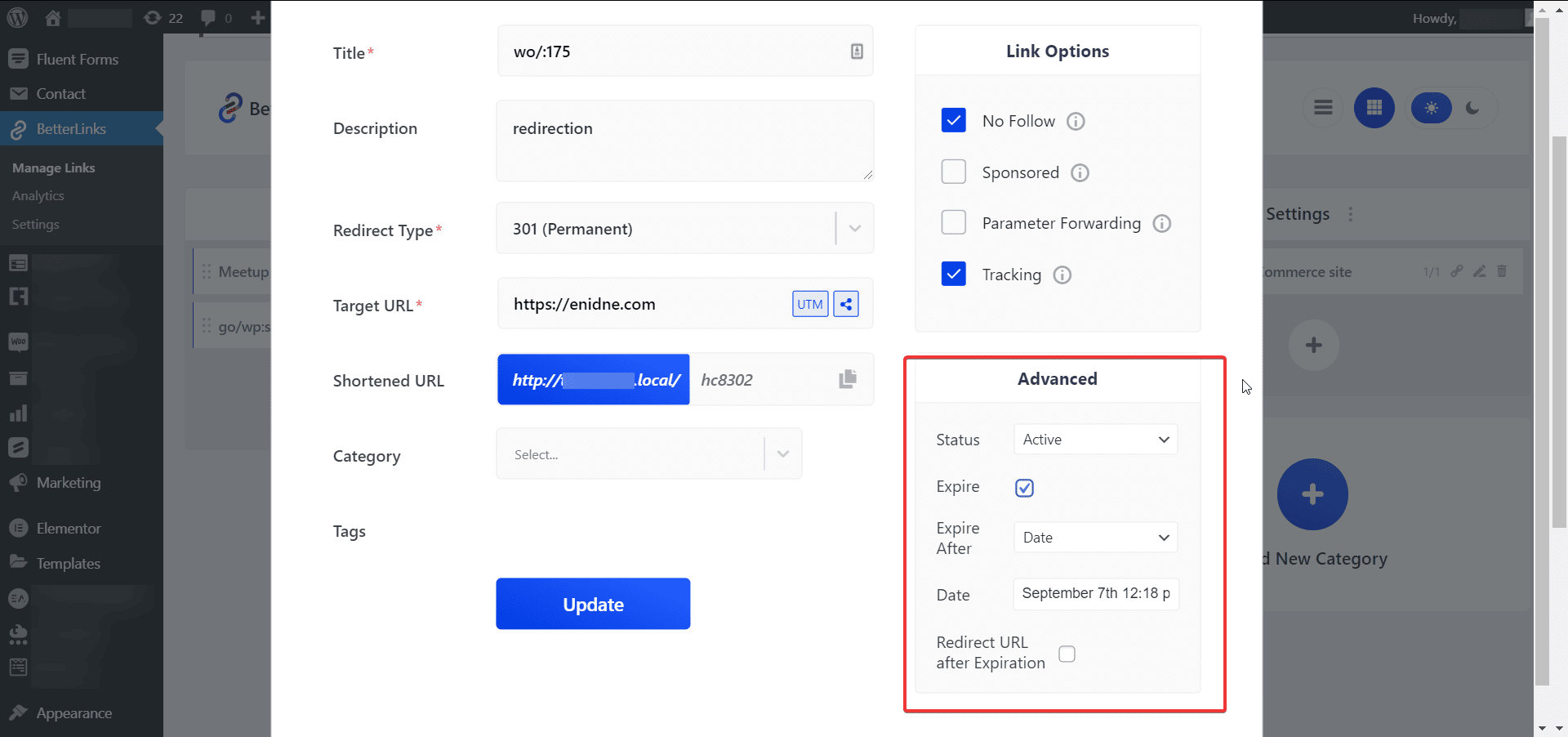 Easily Create Expiring URL With BetterLinks
Now you know how to generate expiring URLs in WordPress using an easy solution like the BetterLinks plugin on your WordPress. If you want to run short time offers online or create limited-time promotional content, the BetterLinks WordPress plugin can be an easy solution for this. For more fun tutorials, tips and tricks, subscribe to our blog or join our Facebook community.