Please tell me if this sounds familiar: You're reading an article and decide to click on a link to learn more about a topic that was discussed briefly. Instead of being forwarded to a newer post, you are brought to an error page that claims that the content you are searching for is no longer available. You've just reached a dead end, also known as broken links. Today we will talk about the bad impacts of the broken link and how to correct them.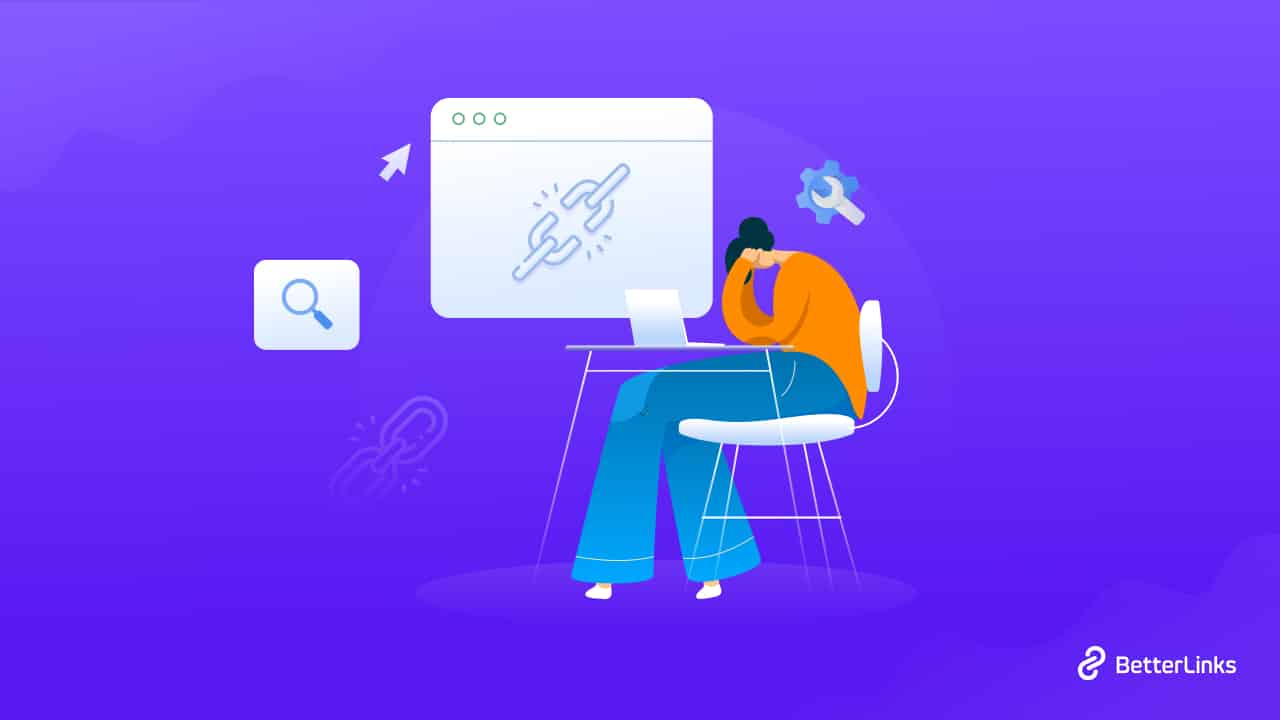 What Are Broken Links In WordPress: Definition & Examples
A broken or dead link is one that you click but does not work or does not take you to the intended page.
Assume you're looking for WordPress courses on Google. You expect to see a web page containing the courses you were promised in the search results when you click on one of the results. When a link is broken, you are sent to a 404 not found error page, which informs you that the page you are looking for is not accessible.
How Broken Link In WordPress Affects SEO
Let's start with the fundamentals. As you publish blog posts or develop new web pages, you also include links to both your own content and those of others. When these contents are relocated or an external site to which you have connected changes its domain, you may see 404 errors when you click on the URL. These are known as broken URLs or broken links.
Broken Link Hampers Customer Experience
If your site is a jumbled mess of broken links that hinders visitors from getting needed information or performing a job, don't be surprised if they move on to the next site that works. And it'll most likely be one of your competitors. So your website will face a higher bounce rate, and your client will spend lesser time on your site.
Broken Link Results To Higher Bounce Rate
Whether you have one or more broken links, each visitor to your page will make their choices on usability, experience, load speed, and content. Potential consumers may also tell others about their negative experiences on your website, so if you do not frequently replace broken links on your website, you will lose your audience and potential customers.
Broken Link Can Cause Reputation & Revenue
No matter how much time and money you've spent bringing potential buyers to your site if what they see is a broken site, all of your efforts will be for naught. How can people give their personal information or credit card information to an untrustworthy website that doesn't even work? It takes time to create trust, but just a minute to lose it.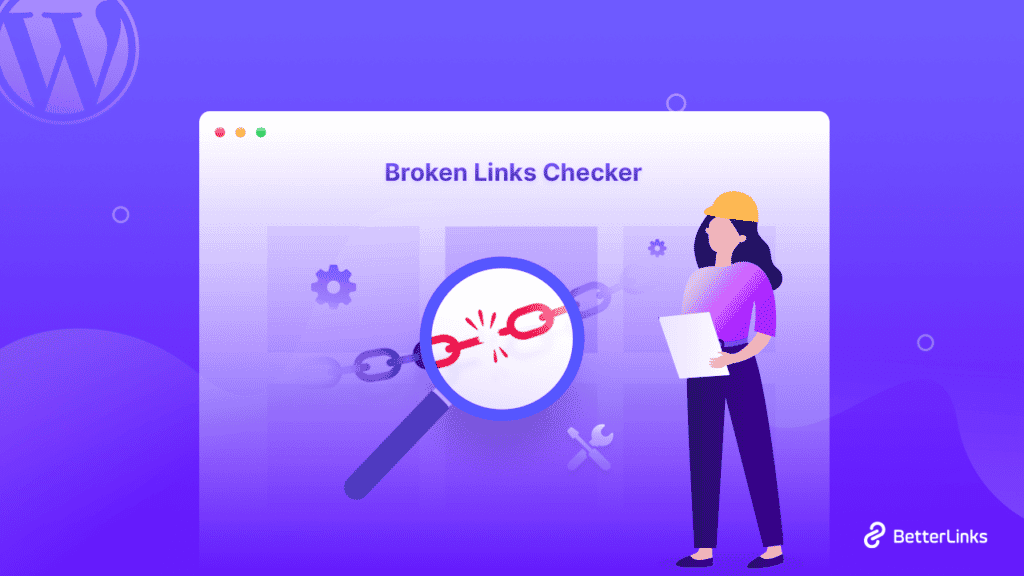 Solve Broken Links In WordPress With BetterLinks Broken Link Checker
Backed by WPDeveloper, the same team that more than 3 million WordPress users trust, BetterLinks comes with several features that were most requested by the community, such as link shortening, tracking, UTM builder, and more.
We are now pleased to add another much-requested feature to BetterLinks. With BetterLinks' new Broken Links Checker tool, you can instantly analyze your WordPress website and replace broken URLs right from your dashboard.
How BetterLinks Broken Link Checker Functions
BetterLinks includes everything you need to manage links quickly, from shortening links with a single click to checking for broken links. Here's what BetterLinks Broken Links Checker can do for you:
Rapid Scan For Broken Link In WordPress
BetterLinks Broken Links Checker can always scan your website for broken URLs with a single click. Within minutes, you'll get a complete list of all the URLs on your website, along with a short overview of how many total URLs you have, how many have been scanned, and how many need to be repaired.
Simply navigate to BetterLinks → Settings → Broken Links Checker and select the 'Start New Scan' option. Betterlinks will show you if or whether there are any broken URLs, along with all the data.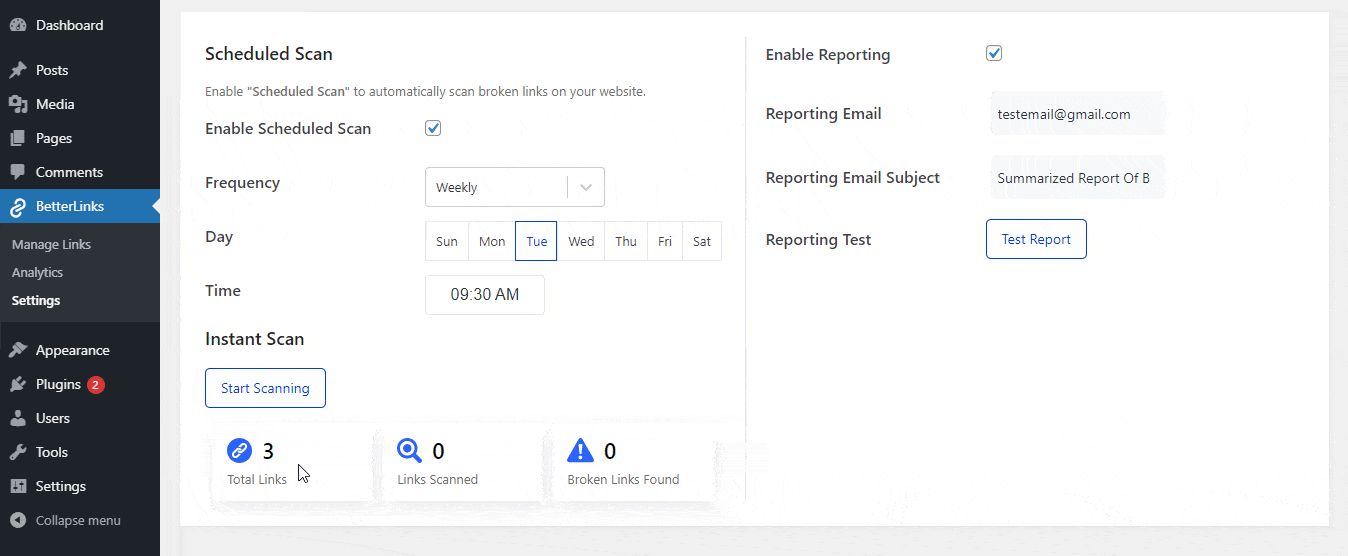 Easy Managing Of Broken Link From Dashboard
After locating the broken links, use BetterLinks Broken Links checker to repair them. For misspelled URLs, edit them immediately to change the URL. If you cannot fix these broken URLs, you can opt to delete them.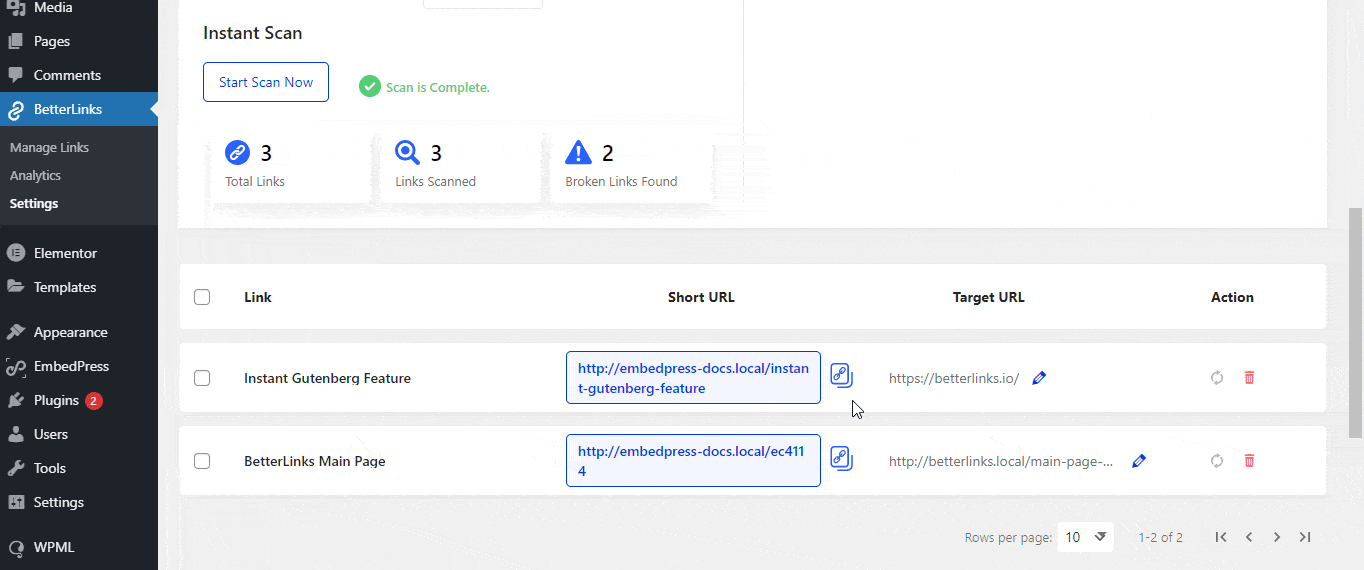 Get Automated Email Reports For Links
BetterLinks broken links checker has a unique function that sends broken URLs reports to your email address whether you perform instant or planned scanning for broken links. This email analytics is quite useful for both marketers and site admins.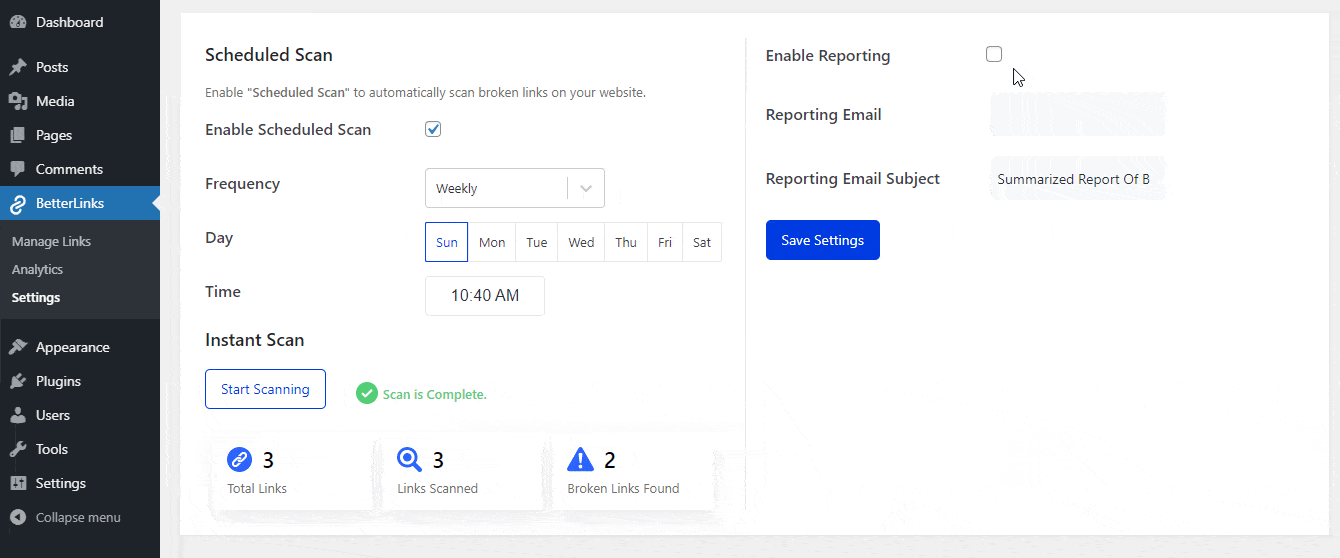 Guide: How To Configure BetterLinks Broken Links Checker For WordPress
In the following sections, we'll go over the essential steps for fixing broken links in WordPress using BetterLinks' broken link detector. Follow this step-by-step procedure.
Step 1: Install & Activate Betterlinks PRO
The first step in fixing broken URLs with BetterLinks is to install and activate BetterLinks on your WordPress website. You must have a BetterLinks premium subscription to access the broken links checker. Additionally, if you already have a broken link checker plugin, you may easily switch to BetterLinks.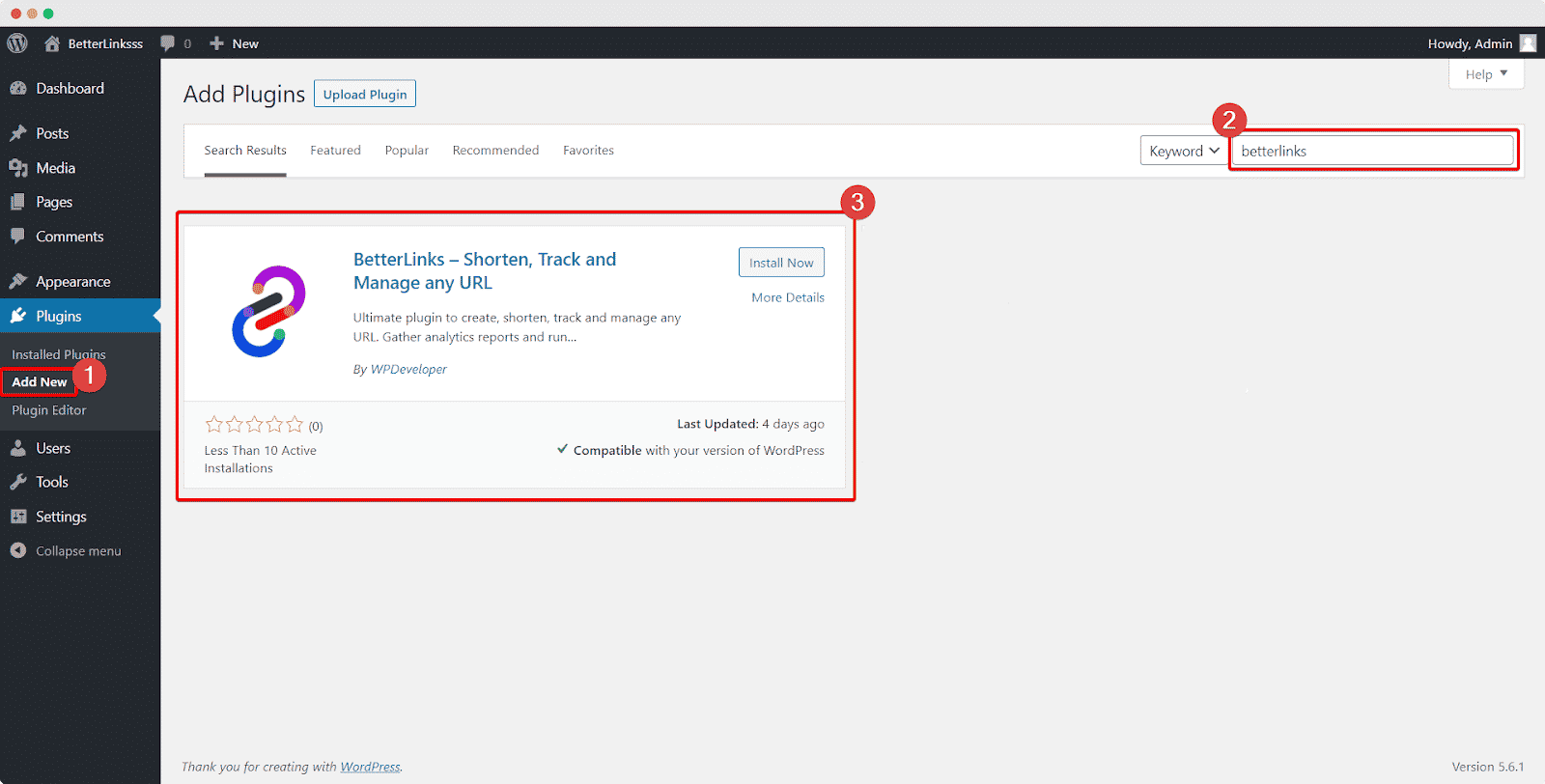 Step 2: Look For The Broken Links On the Website
Now it's time to configure BetterLinks. You can perform scheduled or quick scanning to identify broken URLs on your site. Fill in the appropriate fields with the day and time to plan to scan. For instant scanning, simply click the 'Instant Scan' button.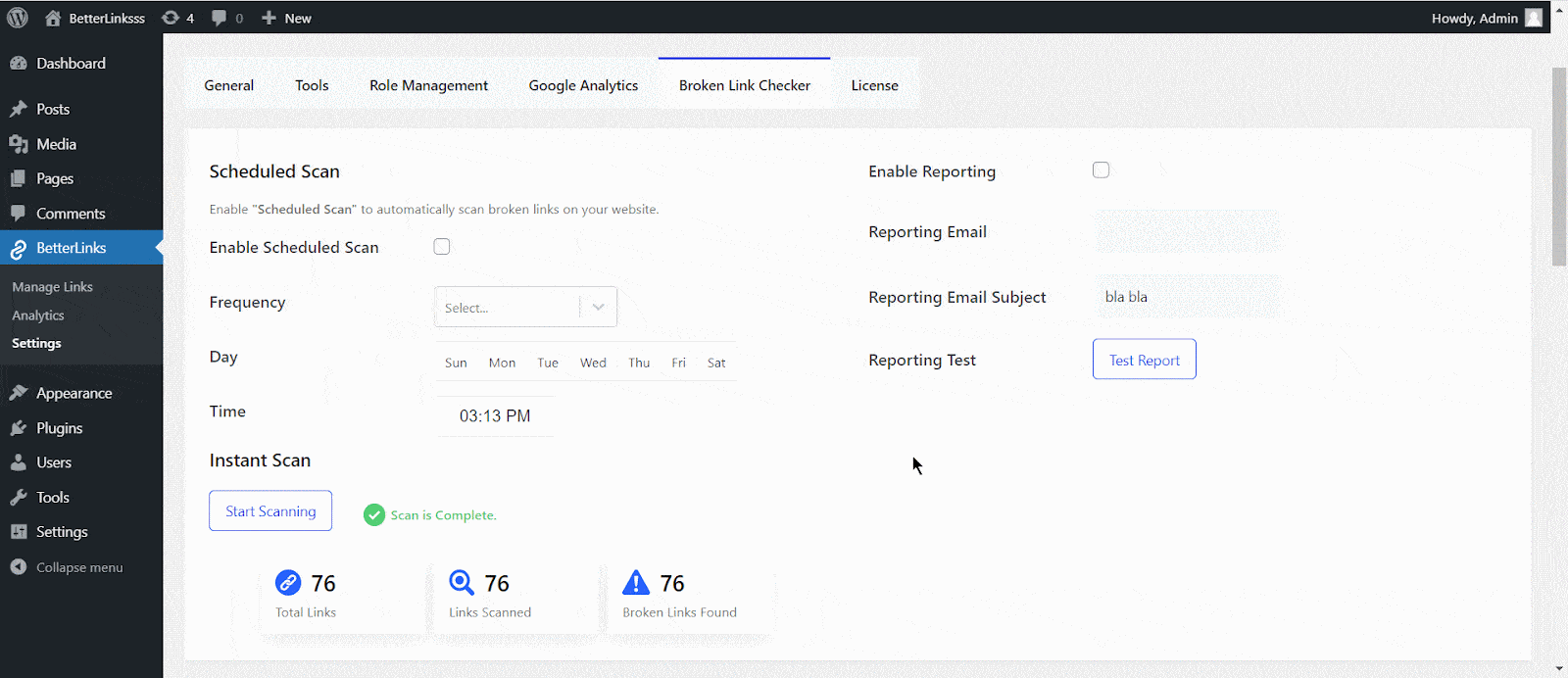 Step 3: Easily Fix The Broken Link
A list of broken links will be created right away. You can then either update the broken URLs or simply remove them. Each URL has the option to be Update or Delete next to it. You can also remove URLs in bulk using BetterLinks' broken links detector.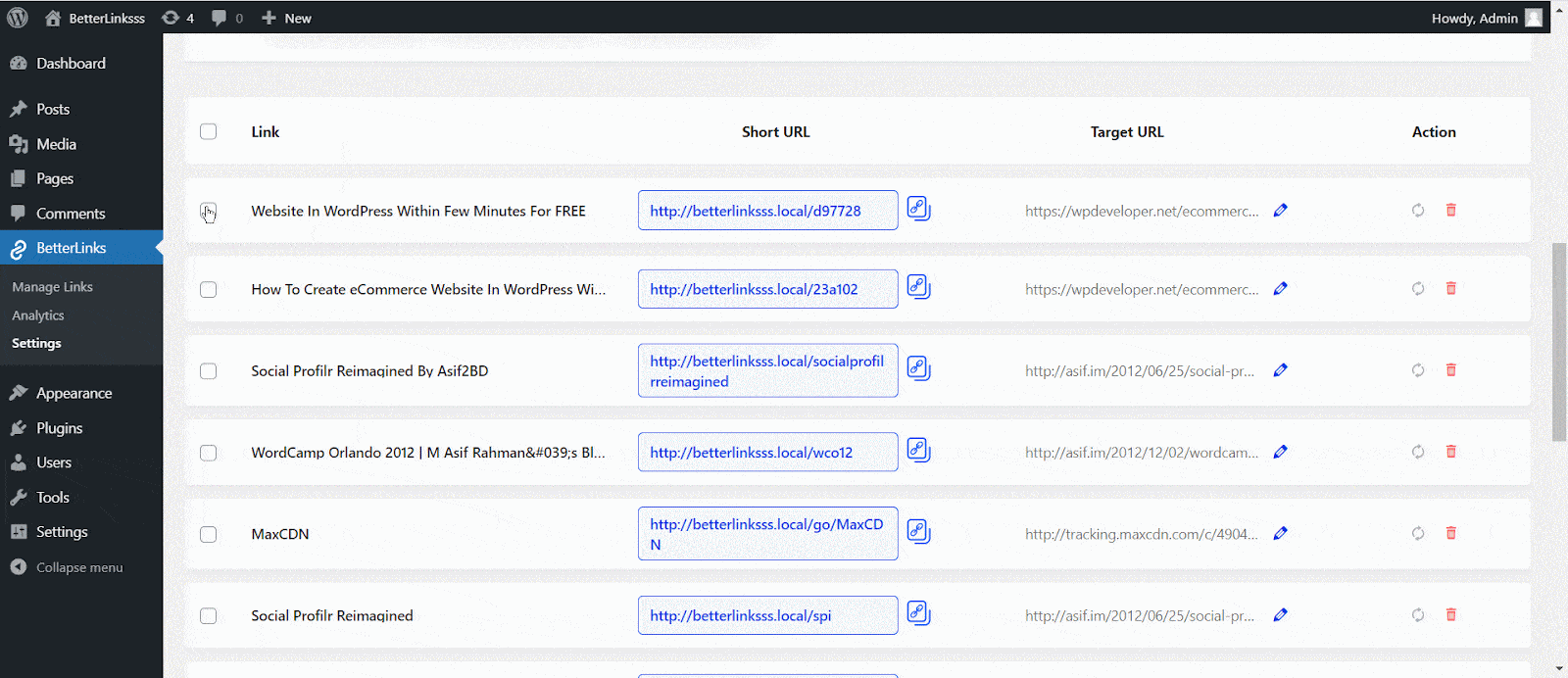 This is how simple it is to discover and repair broken links using BetterLinks, the best link management plugin. In addition, if you get stuck, you may contact the BetterLinks support team at any time.
Get Rid Of Broken Link In WordPress With BetterLinks
Don't put off fixing broken links now that you have the knowledge and tools to check, locate, and repair them. Try to fix the broken links daily, because it can hamper your site performance and company reputation in a wrong manner.
Share your feedback in the comment section, subscribe to our blog, and join our Facebook community for more exciting updates.