If you intend to increase the value of your brand, conversion rate optimization tools should be at the top of your must-get checklist. By optimizing the conversion rates, you will be able to achieve your desired business goals, boost sales, and promote your brand at the same time. But which tools are the best among the thousands of options available on the market? We are here to provide you with the answer and help you choose the right one for your business. ⬇️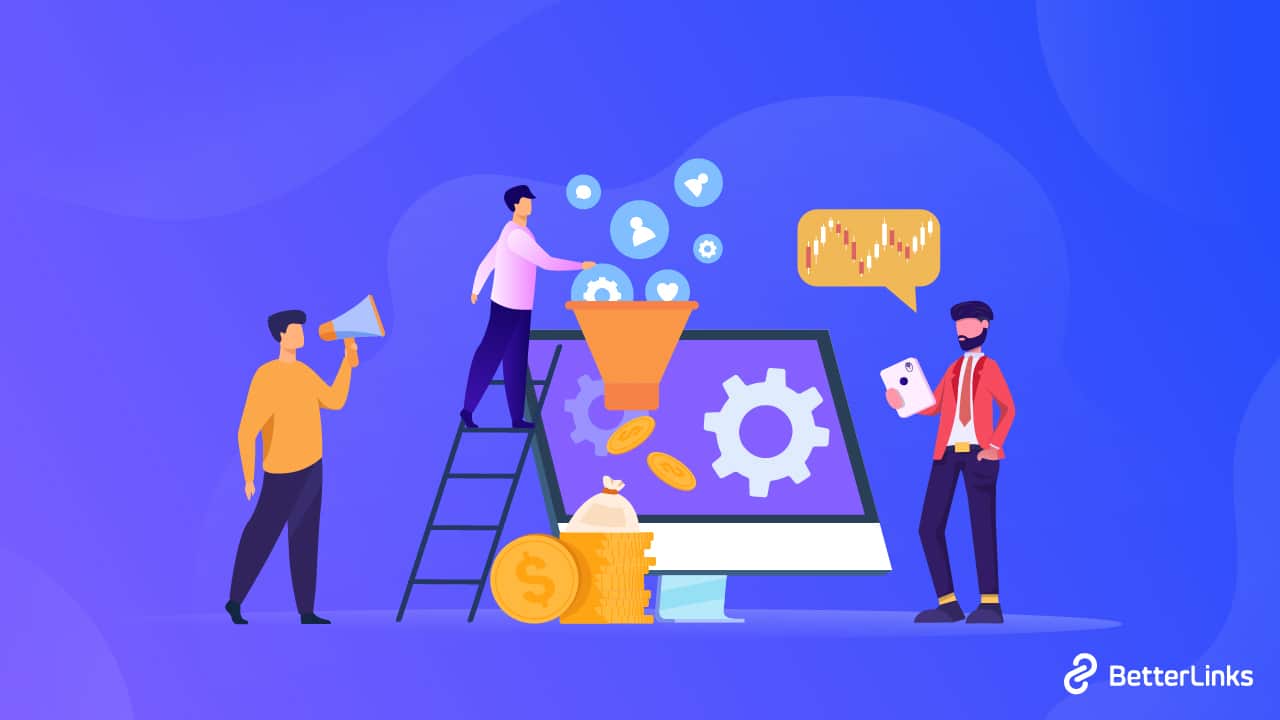 Before jumping into the must-have tool list, let's find out what conversion rate optimization (CRO) means and what it signifies for any business. Conversion Rate Optimization (CRO) is the systematic process of improving a website, landing page, or digital platform to increase the percentage of visitors who take a desired action, commonly referred to as a "conversion." A conversion can be any action that aligns with the goals of the business or website owner, such as making a purchase, signing up for a newsletter, filling out a contact form, or downloading a resource.
The primary objective of CRO is to enhance the overall user experience and encourage more visitors to complete the desired action, thereby maximizing the effectiveness of your digital marketing efforts and increasing the return on investment (ROI). This is achieved by analyzing user behavior, testing different elements and variations, and making data-driven decisions to optimize the conversion funnel.
It's a strategic approach that combines experimentation, analysis, and user-centered design to achieve higher conversion rates and ultimately drive business growth. Key aspects of Conversion Rate Optimization include Data Analysis, Testing and Experimentation, User Experience Enhancement, Conversion Funnel Optimization, and so on. In essence, Conversion Rate Optimization aims to make the most of your existing and incoming traffic by fine-tuning your website to encourage more visitors to take the desired actions.
Importance Of Conversion Rate Optimization For Your Brand
In the fast-paced digital landscape of today, Conversion Rate Optimization (CRO) stands as a beacon guiding brands toward unprecedented success. Imagine the scenario: you've invested substantial resources to drive traffic to your website or landing pages. But what if those efforts could yield even greater returns? The next step would be to get the traffic to take action. And this is where CRO steps in, armed with a strategic arsenal aimed at transforming visitors into loyal customers. Let's check out why we should focus on conversion rate optimization.
🎯 Pinpoint Precision Of Your Company
CRO isn't just about increasing numbers; it's about precision. Analyzing user behavior, scrutinizing each click, and crafting seamless user journeys to craft strategies that work towards business growth. Every aspect, every button, and every color choice are optimized for maximum impact.
🔍 Unveiling Conversion Insights
CRO unearths invaluable insights into what makes your visitors tick. It helps you dive into the minds of your audience to understand their preferences, pain points, and desires, and mold your brand's offerings accordingly.
💰 Elevating ROI Gradually
Your resources are precious, and CRO ensures they're well-utilized. By refining your website's performance through calculated strategies, you can achieve higher conversion rates without constantly pouring in more money. It's a smart investment.
🌐 Nurturing Trust & Building Credibility
A smooth, user-friendly experience isn't just convenient; it's vital for building trust. Potential customers are more likely to engage with a brand they find credible and user-focused. CRO paves the way for these meaningful connections.
📣 Amplifying Impact In Every Aspect
CRO isn't limited to web design tweaks; it amplifies the impact of every marketing endeavor. From PPC campaigns to email marketing, each effort becomes more potent when guided by CRO insights. And numbers don't lie. CRO delivers tangible, measurable growth. So when you apply the right growth hacks using detailed analysis, you can easily witness your conversion rates climb, your revenue surge, and your brand's influence expand.
To stay ahead of the game in the competitive digital arena, Conversion Rate Optimization isn't an option; it's a necessity. It's actually the compass steering your brand towards higher conversion rates, enhanced user experiences, and unparalleled success. So, don't just settle for good business growth; embrace CRO and transform your brand's ultimate potential into reality.
Top 9+ Conversion Rate Optimization Tools For Your Brand
Utilizing the top conversion rate optimization solutions will help you achieve more customers, revenue, and all that we have mentioned before. Let's dive into the list.
🌟 Opt-In CRO Tools
Opt-In CRO tools are those with which we can create opt-in forms. It can be optin banners, exit intent banners, site popups, etc. Here are the top Opt-In CRO tools you can check out.
1. NotificationX
NotificationX is a versatile WordPress marketing plugin that enables website owners and marketers to create and display various types of notifications on their websites. These notifications can be used to capture user attention, promote offers, announce updates, and encourage specific actions.
One of the key features of NotificationX is its opt-in capability, which allows users to choose whether or not they want to receive notifications. By utilizing NotificationX as an opt-in CRO tool, you're able to engage users in a more personalized way, potentially increasing conversions and sales.

Here's an example of how NotificationX can be used as an opt-in CRO (Conversion Rate Optimization) tool:
💡Showcase the number of subscriptions, downloads, or purchased persons with opt-in popups. So that site visitors get triggered and purchase your product right away.
💡Create a promotional discount header banner to highlight ongoing discounts and grab instant attention with NotificationX.
💡Enable the Flashing Tab to bring visitors again to your site and complete their actions. It can be purchasing, downloading, completing reading blogs, and so on.
💡Showcase geographical locations in opt-in popups to target specific area customers, create leads, and in the end increase the conversion rate.
💡 Most importantly, with NotificationX, you can track down every opt-in banner/ popup performance and smooth out the conversion rate optimization process.
2. ConvertBox
ConvertBox is another fantastic hosted application that enables you to create robust opt-in forms and call-to-action pop-ups to record customer journeys. With a variety of unique fields and layouts, ConvertBox provides customers and traffic with a more tailored experience. Segment funneling and A/B split testing are also supported. This enables you to select the best designs and tactics for maximizing conversions.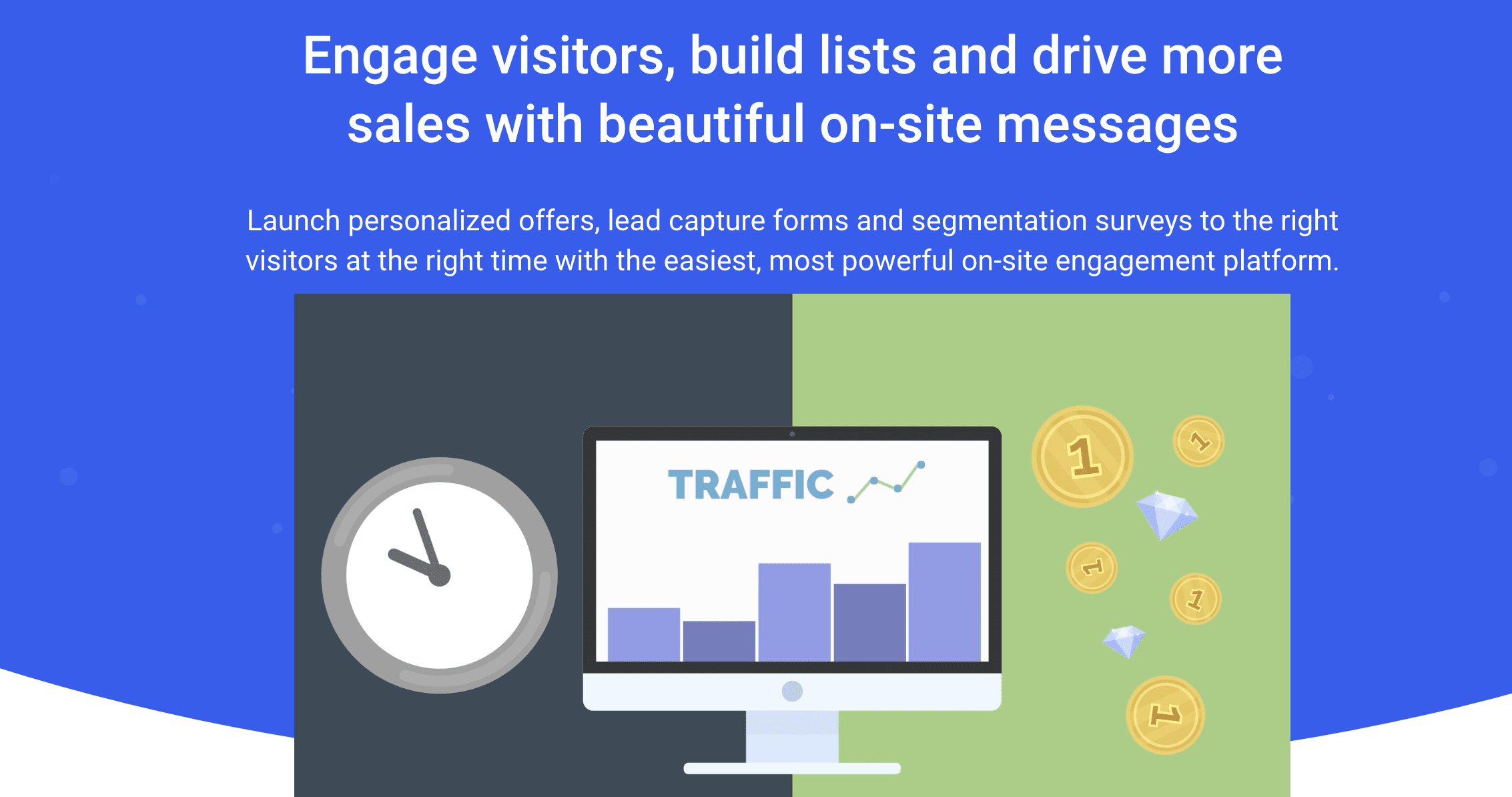 In order to more effectively target particular consumer segments, ConvertBox's algorithm also analyzes a variety of other factors, such as the number of clicks and the scroll percentage. Additionally, real-time tracking enables you to catch errors as they happen and improve your strategies in the long run.
3. Omniconvert
Omniconvert is a thorough and flexible platform for conversion optimization. OmniConvert gives users the ability to create personalized experiences for visitors based on factors like cart value, weather, geography, and more. These possibilities are in addition to A/B testing, bespoke popup banners, and user survey options.
In fact, with 41 data points spanning from API and CRM data to user behavior and traffic sources, Omniconvert claims one of the most sophisticated segmentation capabilities on the market. It helps you build an omnichannel strategy as well.

However, Omniconvert might not be the best choice if you're managing a small website and merely require a fundamental and basic lead generation solution. Advanced marketing experiments and product teams will benefit more from them.
🌟 CRO Testing Tools
We already know that CRO stands for conversion rate optimization but how do you verify if your strategies are working? It is easy to test the tactics you are implementing with CRO testing tools. Let's take a look at popular CRO testing tools for your brand.
4. HotJar
The heat mapping program HotJar aids in understanding the workflow and customer journey. Simply put, HotJar integrates with websites to offer a color-based visual representation of user behavior. The color in those areas is bolder in areas where user engagement is higher. Users can adjust websites using this information for the best user experience and conversion rates.
Even non-technical people will find HotJar to be quite simple to use. There are several freemium alternatives, and the user interface and UI are really nice. Additionally, you can speed up user sessions up to four times, greatly lowering wait times. The inability to download recordings is one restriction. Google Analytics cannot be used with the plugin.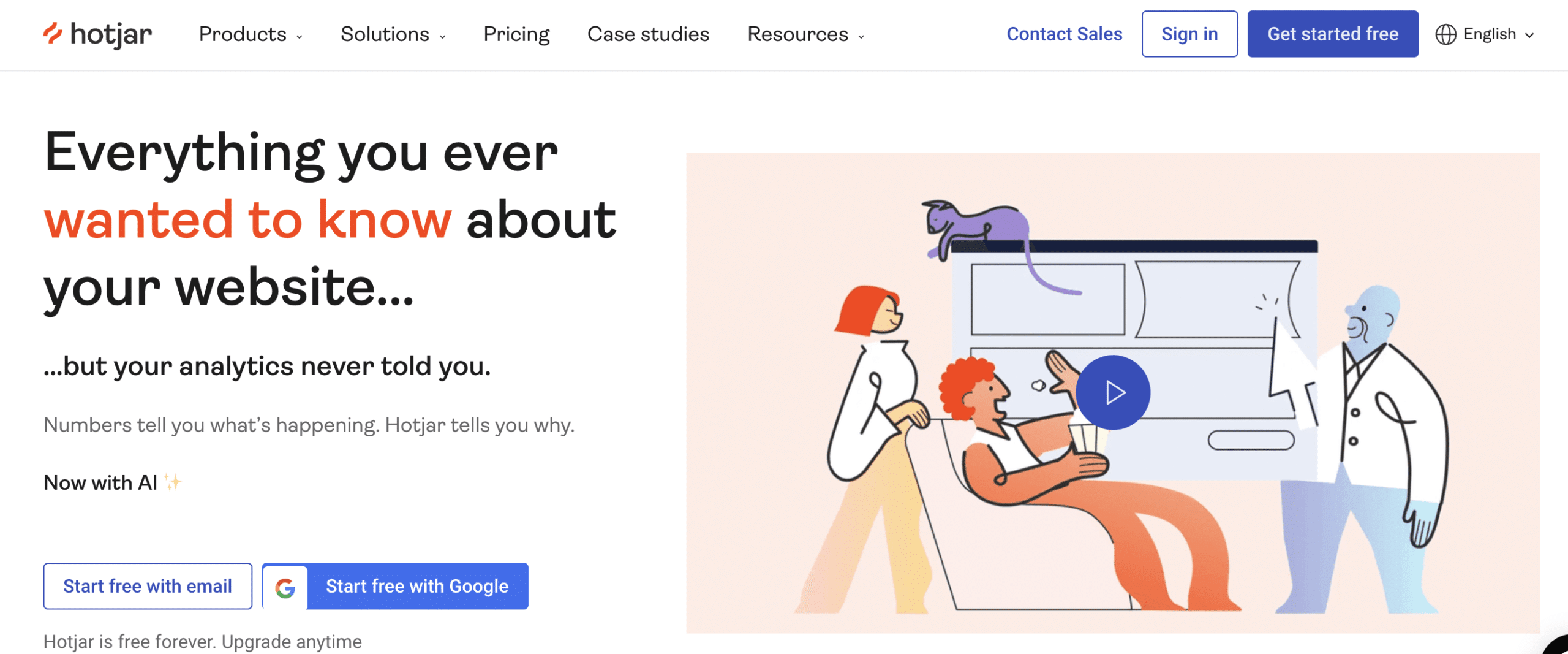 5. Instapage
One of the most popular website conversion tools available is Instapage. It facilitates the creation of effective landing pages that increase lead generation and conversion rates. To assist you in constructing landing pages focused on conversions, Instapage, a cloud-hosted platform, offers a variety of configurable templates and useful page-building tools. And the best part is – you don't need sophisticated coding abilities.
Heatmaps, split-testing, form builders, and analytics are intuitive online conversion tools that aid in optimizing landing pages and boosting sales, and all these features can be found in Instapage. It is also fully compatible with WordPress and many email marketing systems using Zapper.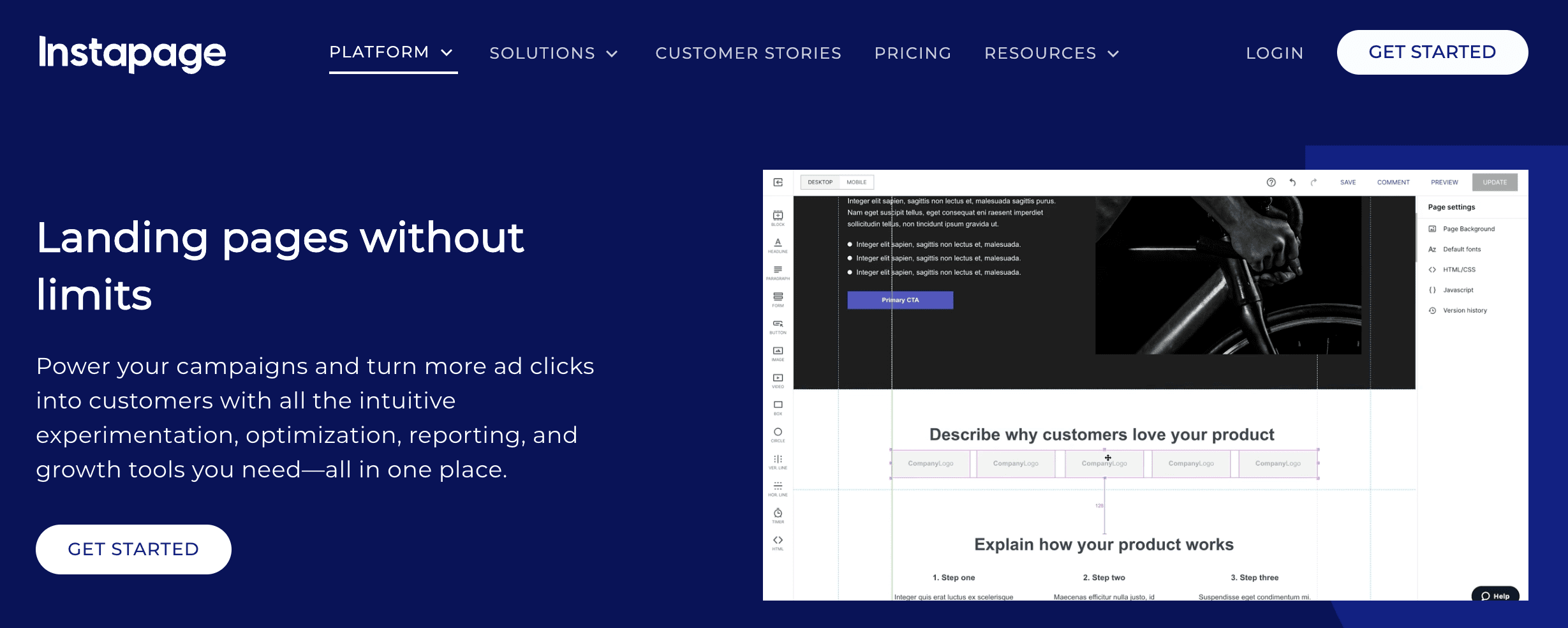 🌟 Web Analytics Tools
The online traffic on various pages, including your checkout pages, may be analyzed using a variety of conversion rate optimization tools. Some of the best-known CRO web analytics tools are listed below.
6. Google Analytics
One of the most commonly used free business intelligence tools is Google Analytics. To thoroughly map website performance, it combines with Google Ads, Studio, Analytics, and other Google marketing services, and produces accurate findings.
Its automated data collection is one of its best features. It automatically generates website reports regarding bounce rates, internal site searches, and other critical elements affecting conversions in Google Docs and Sheets. Additionally, you can produce customized reports using your own measurements and constraints.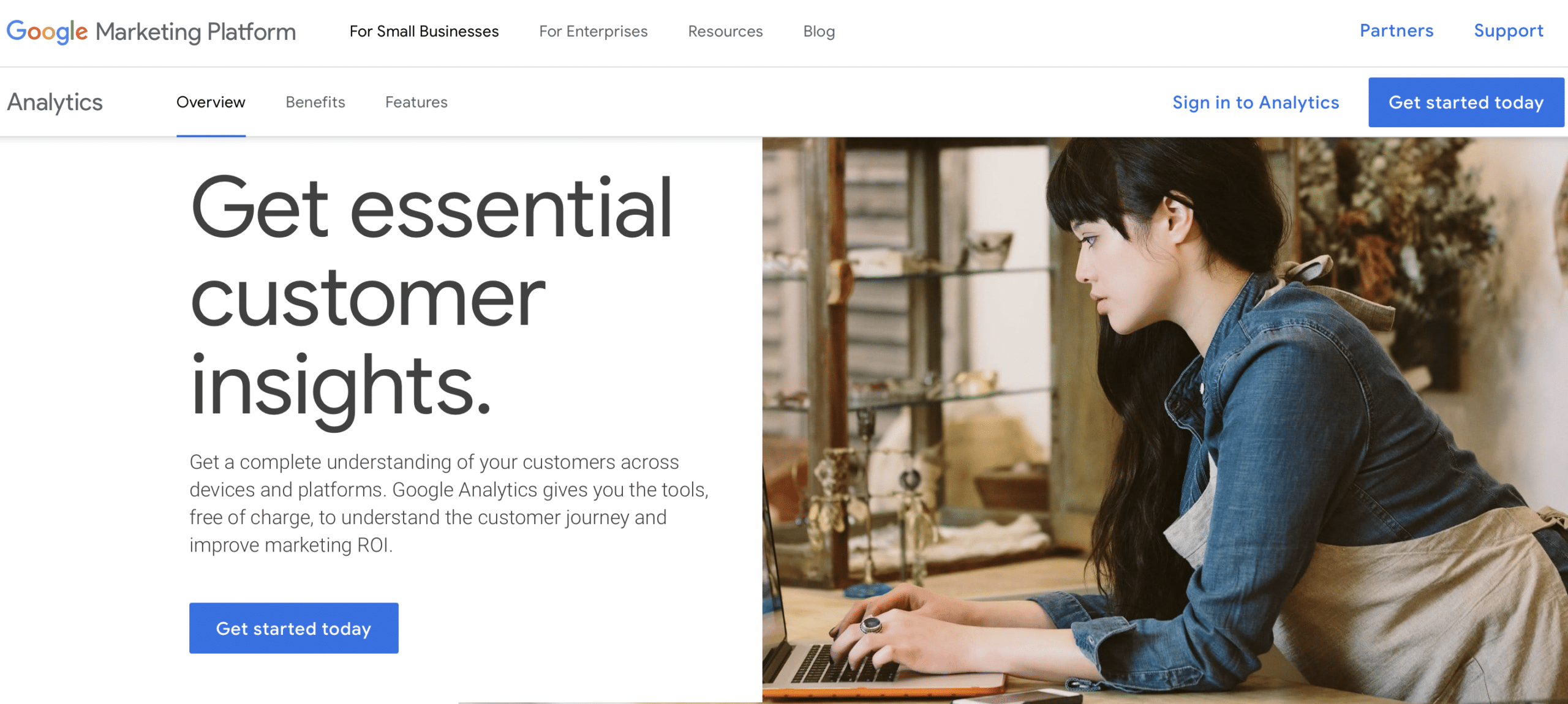 However, using Google Analytics involves a constant learning curve. Fortunately, there are plenty of free resources for advanced mastery, like LinkedIn articles and YouTube courses. Additionally, Google Analytics' free edition includes the majority of the functionality that small and medium-sized organizations require.
7. CrazyEgg
Crazy Egg maps user interactions with your website using mouse-tracking technology. As a result, you can see where your traffic is coming from as well as which portions of your website are most frequently visited and disregarded. It is comparable to receiving a thorough x-ray of your website.
Heat mapping is CrazyEgg's sole area of expertise, and it shines in this area. Through a variety of views, including heatmap, scroll maps, and overlay views, the tool tracks customer workflow. So that you may choose the best style and design for your website, this generates more comprehensive data on website activity.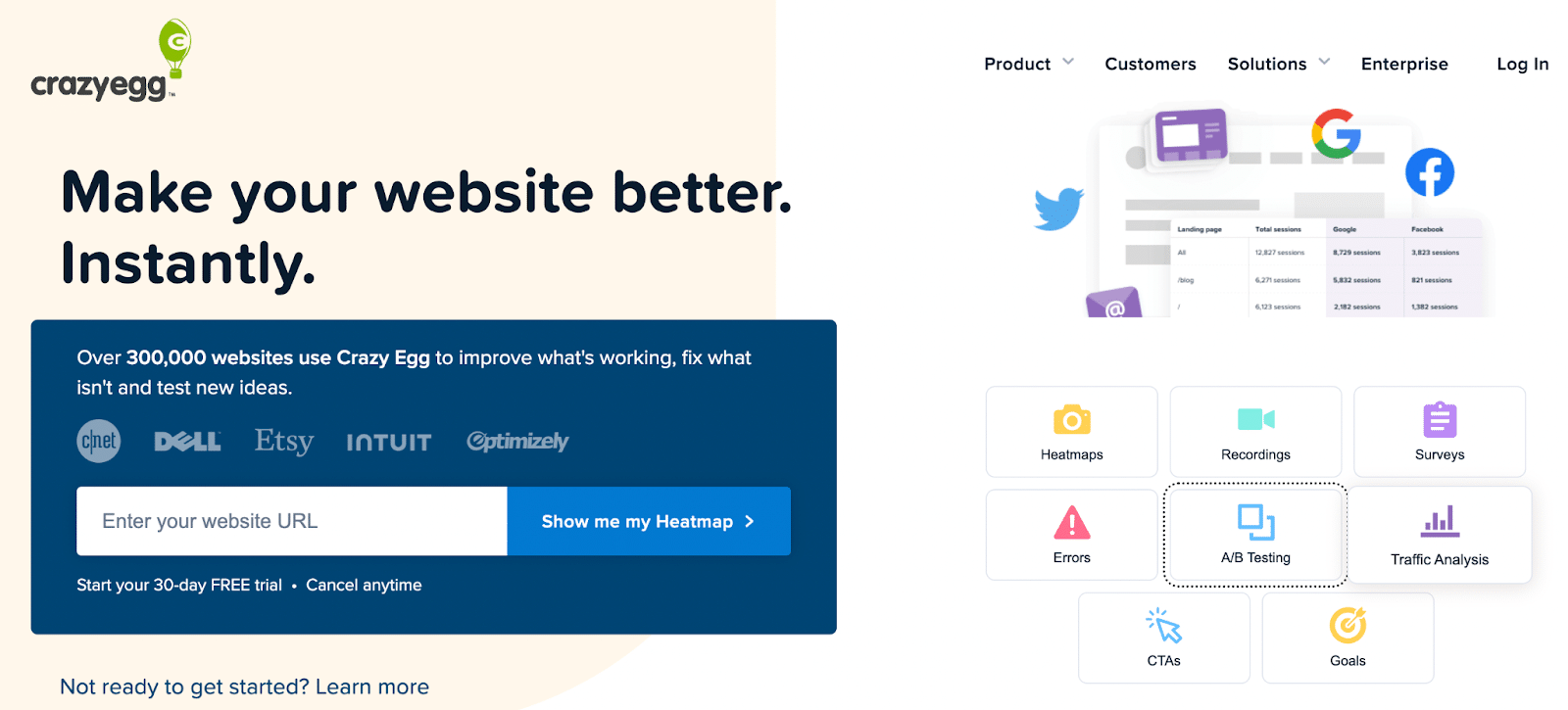 CrazyEgg is lacking in support, which is the only area. There is no option for live chat. The software is simple to use, though, and most questions can be answered by consulting the FAQs.
🌟 Customer Journey Mapping Tools
Customer journey mapping tools are software applications or platforms that help businesses visualize and analyze the various stages and touchpoints that a customer goes through when interacting with their brand, products, or services. These tools enable businesses to gain a deeper understanding of their customers' experiences, identify pain points, and make informed decisions to enhance the overall customer journey. So, the following conversion rate optimization tools listed below can be used to map customer journeys and analyze performance.
8. Optimizely
An enterprise-level platform for testing marketing hypotheses is called Optimizely. For instance, you can test it using Optimizely if you believe that switching your CTA button from black to red will enhance conversions.
Optimizely is made for websites with lots of traffic. However, it also performs admirably on sites with much smaller traffic. You may run many experiments based on location, cookies, and other criteria on the same page at once thanks to its split and multi-page testing capabilities.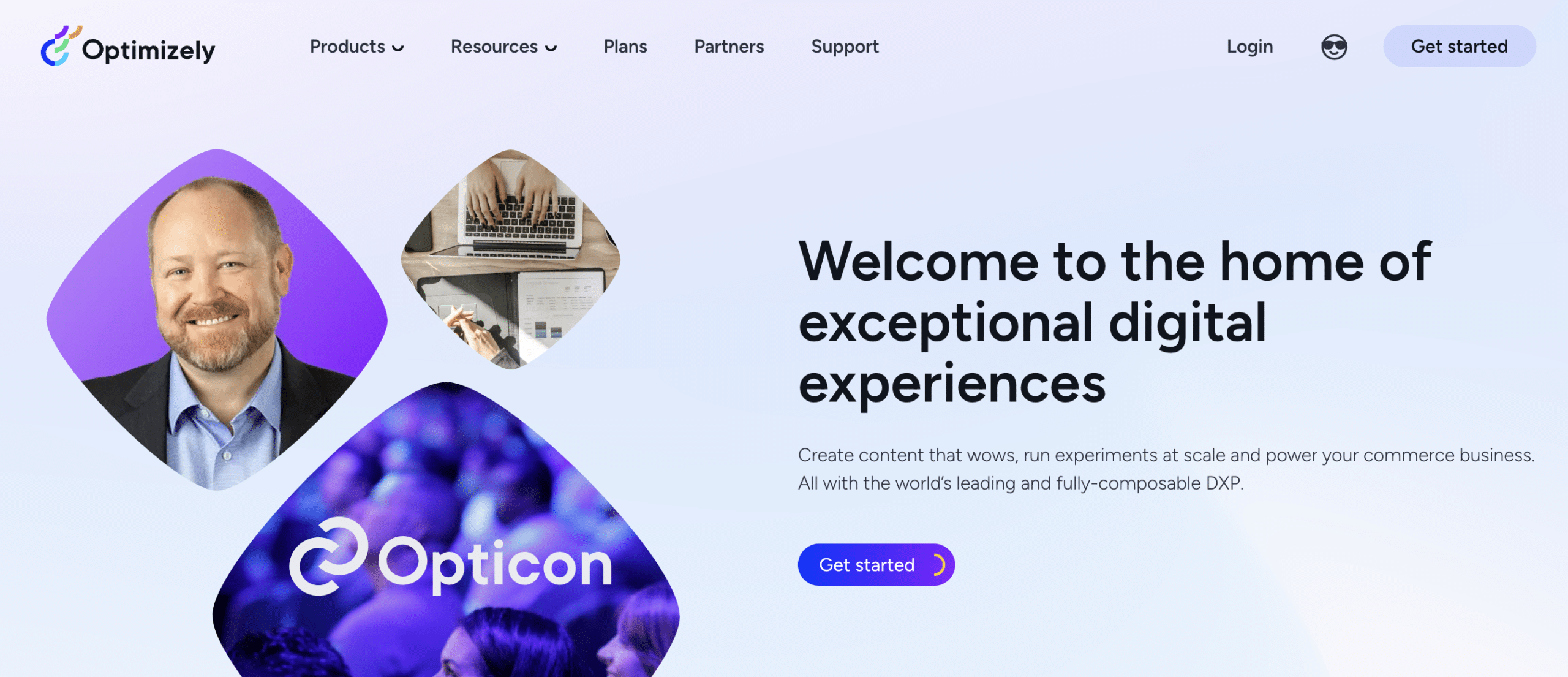 The best aspect is that there is no need for you to write any code. Everything is set up for your convenience. To get results, you only need to tweak the visual editor of the program and watch the tool do the work for you.
9. HubSpot
Hubspot is a full-featured CRM system that provides scaleable capabilities for sales, marketing, content creation, and many other aspects of conversion rate optimization. Additionally, among CRMs, it offers the most flexible free plan. You may manage a million clients for no charge and use a variety of free tools, such as a blog topic generator, an invoice creator, and company templates.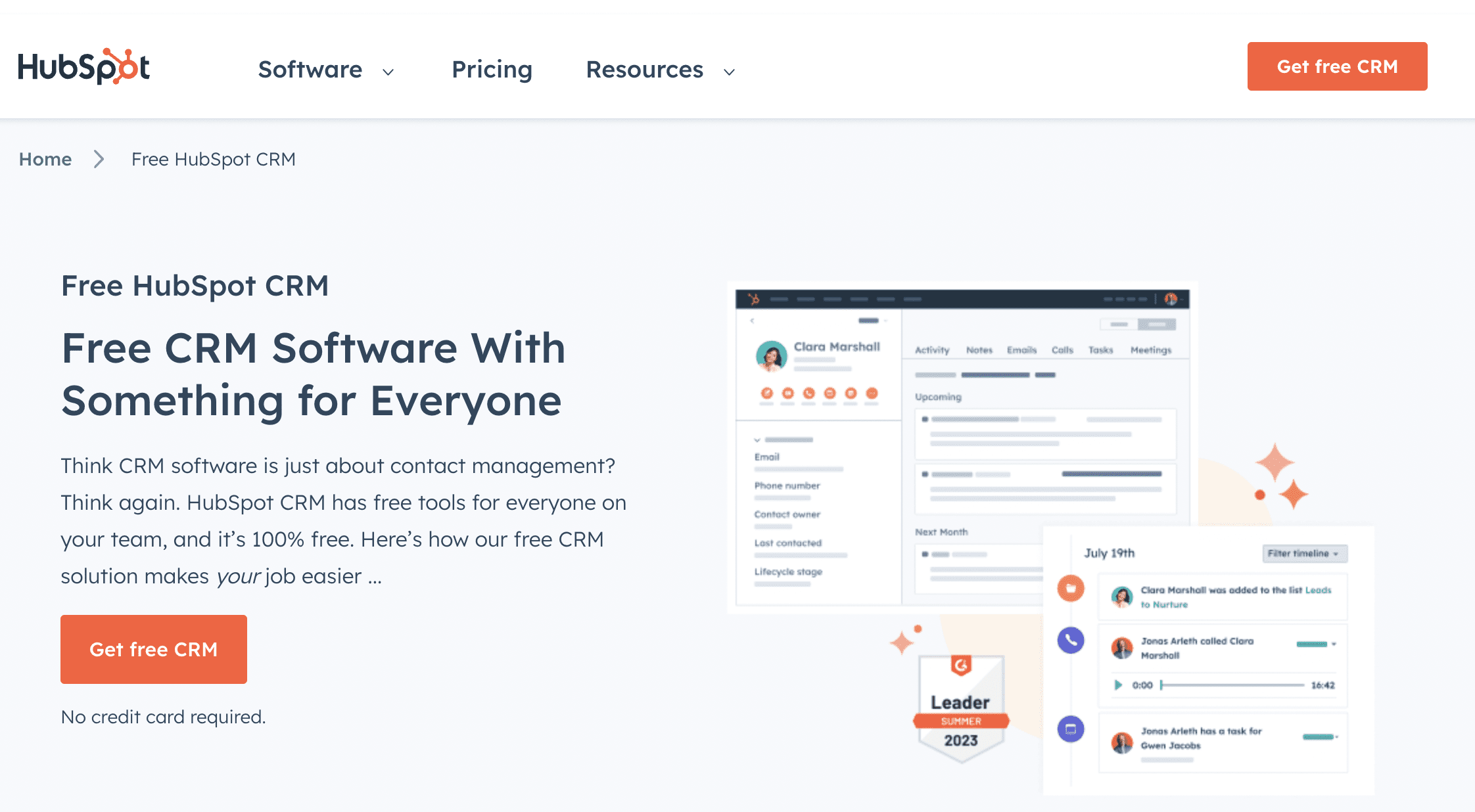 Additionally, Hubspot is very user-friendly. Despite having a large number of functions, everything is simple to use. You can make landing pages, personalized emails, layouts, forms, and even large amounts of social media material with a few simple clicks, drags, and drops. The platform is renowned for its top-notch human customer service. Live help is only available with subscription programs, and the various pricing tiers are confusing.
10. BuzzSumo
And finally, on our list, BuzzSumo is a fantastic resource for content marketers and companies trying to grow. This conversion rate optimization tool, hosted in the cloud, uses short-tail and long-tail keywords to display the most popular articles on a particular subject. It evaluates social shares, likes, retweets, backlinks, and other engagement data to discover the most well-liked topics. Additionally, you can filter topics based on the date, location, language, domain, word count, content category, and size of the publisher. BuzzSumo now includes an influencer marketing option that enables you to locate movers and shakers who can represent your business.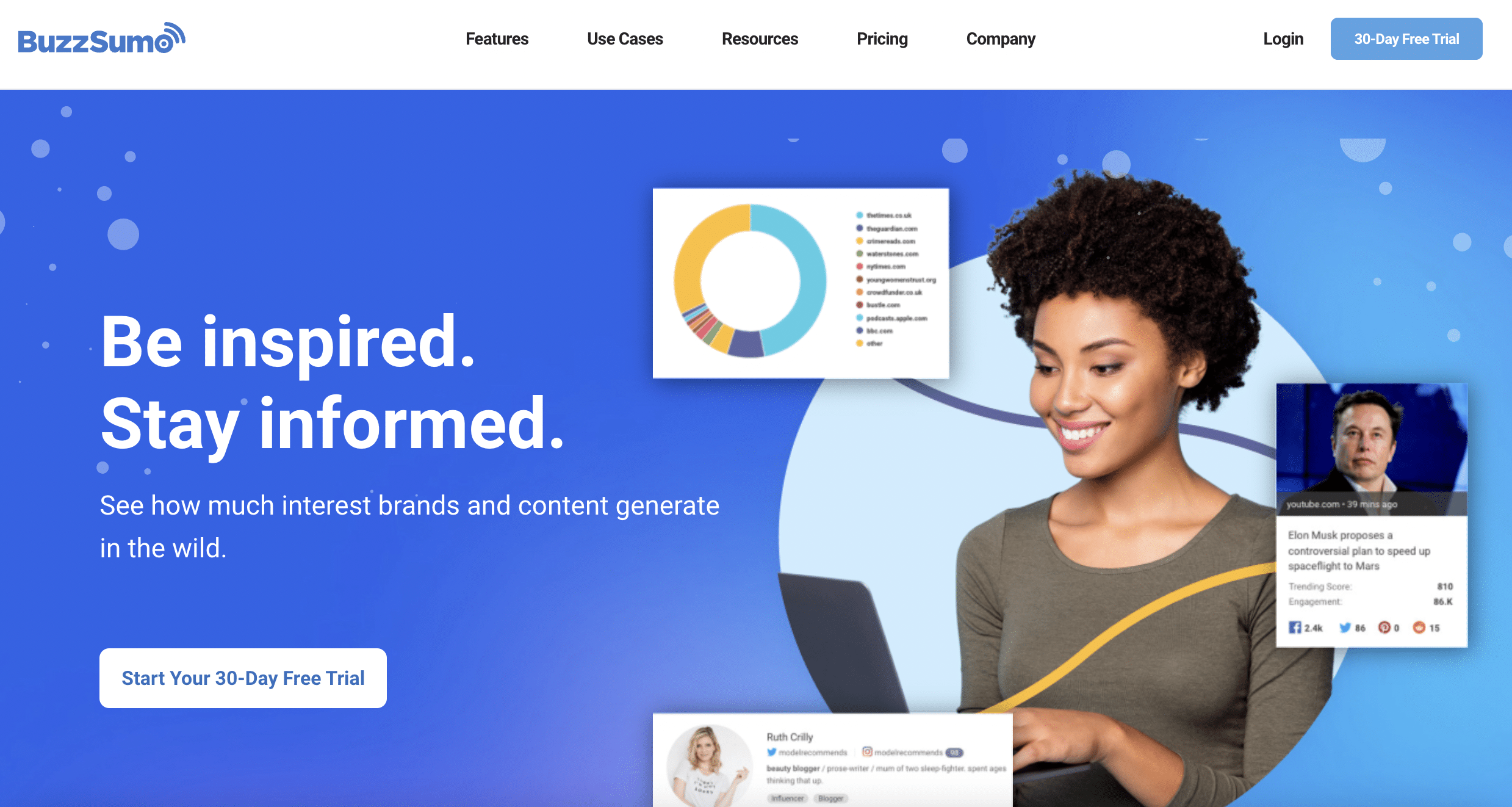 Start Upscaling Your Brand With CRO Strategies & Must-Have Tools
All effective CRO strategies begin with the appropriate tools. You may need to employ a number of conversion rate optimization technologies at once to boost business performance, depending on the requirements and problems of your website. This multi-pronged strategy will also enable you to avoid overpaying for essential features while assuring a full conversion rate optimization tool stack.
Here's the wrap-up of this blog! To know more tips and tricks for conversion rate optimization, subscribe to our blog now.