When it comes to SEO performance audits, you must use rank tracking tools to speed up the process and gather accurate information. Without using a rank tracker you may have to crawl through hundreds of search engine pages for making your SEO report. In this blog, we will introduce you to the most used rank-tracking tools that professional marketers use for performance audits. So, without further ado, let's dive into the blog.
💡 Rank Tracking Tools: Why Do You Need Them
Rank tracking means monitoring your website's organic keyword rankings on the search engine pages. It is one of the core parts of SEO strategy for any digital marketer. While everyone wants to rank at the top of search engine results, knowing the current position can help you make the action plan at ease. Now, let's have a glimpse at the reasons for using a rank tracking tool for your website.
⭐ Streamline Your SEO Strategy
Rank tracking or measuring the performance of your organic keywords on the search engine is vital for part of the SEO strategy. You must know your current ranking position and the ranking positioning after applying a search strategy to measure your result. However, if you want to track your website's ranking manually, it will be plenty of hassle to do so. Having a rank tracker tool will help you provide organized organic raking dates which will help you make your action at ease.
⭐ Get The Most Accurate Results
Search engines try to show results on the SREP pages based on users' personalization. Your one keyword may rank on top for your geolocation, however, it may get changed for another location. Therefore, it is hard to determine a keyword position while you track manually. Using the keyword tracking tools, you will get the most average accurate results that you can trust to make a plan on search engine marketing.
⭐ Gather Valuable Insights At Once
While rank tracking tools provide insights into your organic keyword position, you can find other valuable data from these tools as well. You can learn your keyword position trend, competitors' information, ranking opportunities, and more from there. Using these valuable insights you can easily create your action please for search engine optimization.
🔍 5 Best Rank Tracking Tools You Can Use
While there are a lot of ranking tracking tools you can find on the internet, we have picked the best 5 of them. These rank tracker tools are widely used all around the world and recommended by professional SEO marketers. So, let's go and explore these ranking tools.
1. Ahrefs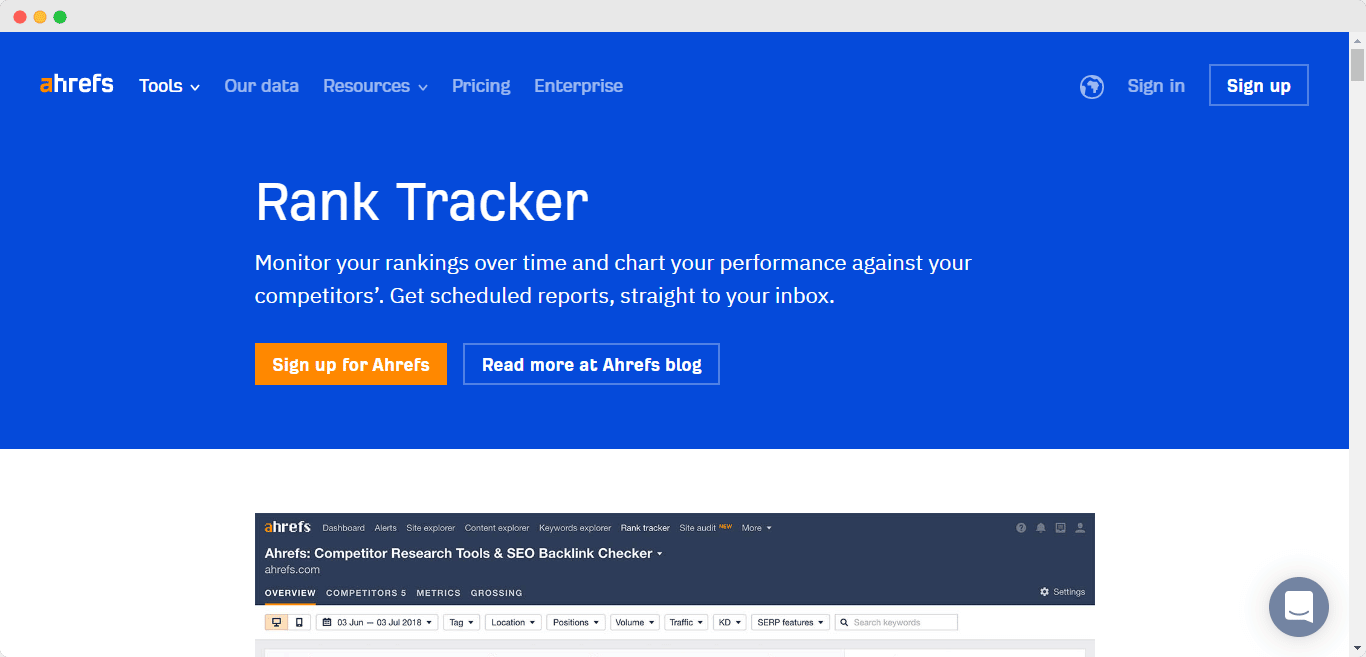 Ahrefs is one of the most popular all-in-one SEO tools you can use for your website. It comes with a lot of SEO features you can use to dominate Google search results. You can monitor your keyword performance from 170 countries around the World. Additionally, you can also compare your keyword performance against your competitors easily. You will also get all the actionable insights against your keywords helping you to improve your performance instantly. Overall, Ahrefs is an excellent SEO tool and starts from only $99. You can keep it on top of your bucket list.
2. Semrush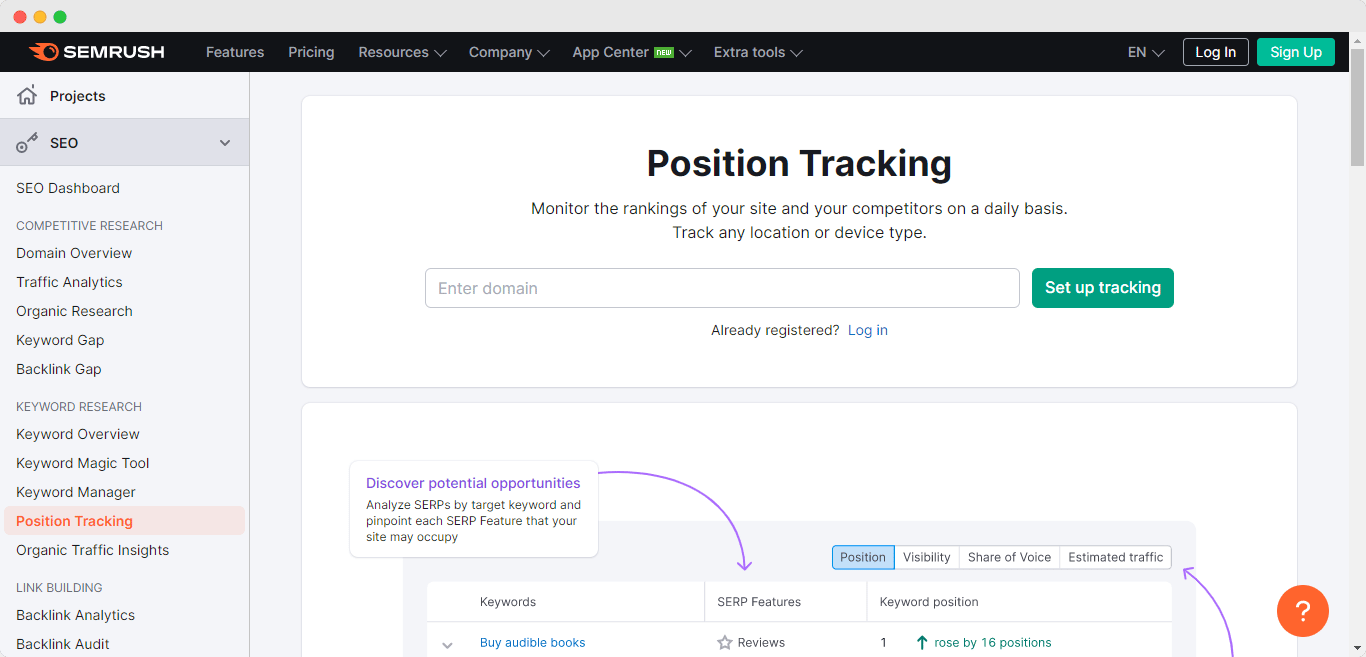 Semrush is another excellent keyword research tool you can use to track your organic keyword performance. It comes with a simple layout and easy-to-use features to provide all kinds of SEO audits and suggestions. You can easily find out your competitors and get instant notifications about the performance of your keywords.
In addition, you will find a detailed report about your keyword positions and take immediate action to improve your search rankings. This rank tracking tool starts from $119.95 only. It could be a good option if you are looking for easy-to-use SEO tools.
3. Moz Rank Tracker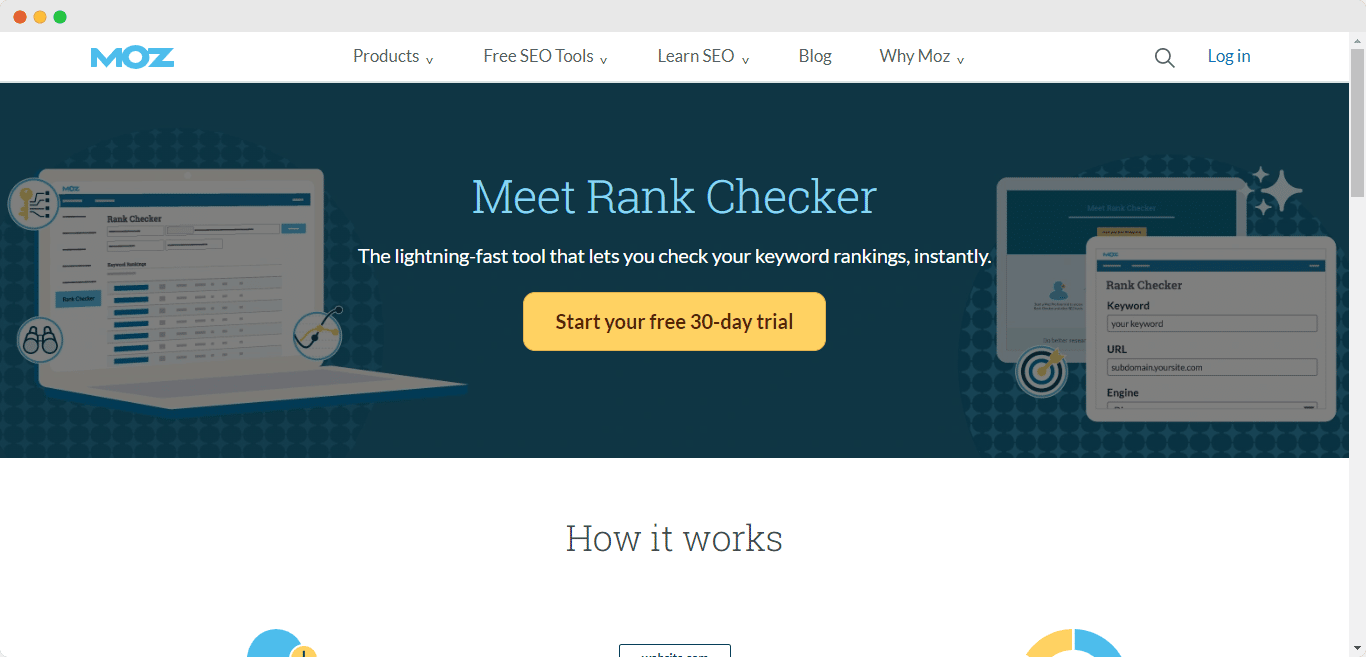 Moz has one of the best ranking tools you can also use for finding your keywords positions. It comes with a complete package for creating your SEO action plan. It will provide the performance report of your target keywords instantly and the complete analysis for you. In addition, you can find the raking opportunities for your website and create an action plan for your website instantly with this SERP tracker. Moreover, this complete SEO marketing tool starts from only $99. So, it could be a great option for sure.
4. SE Ranking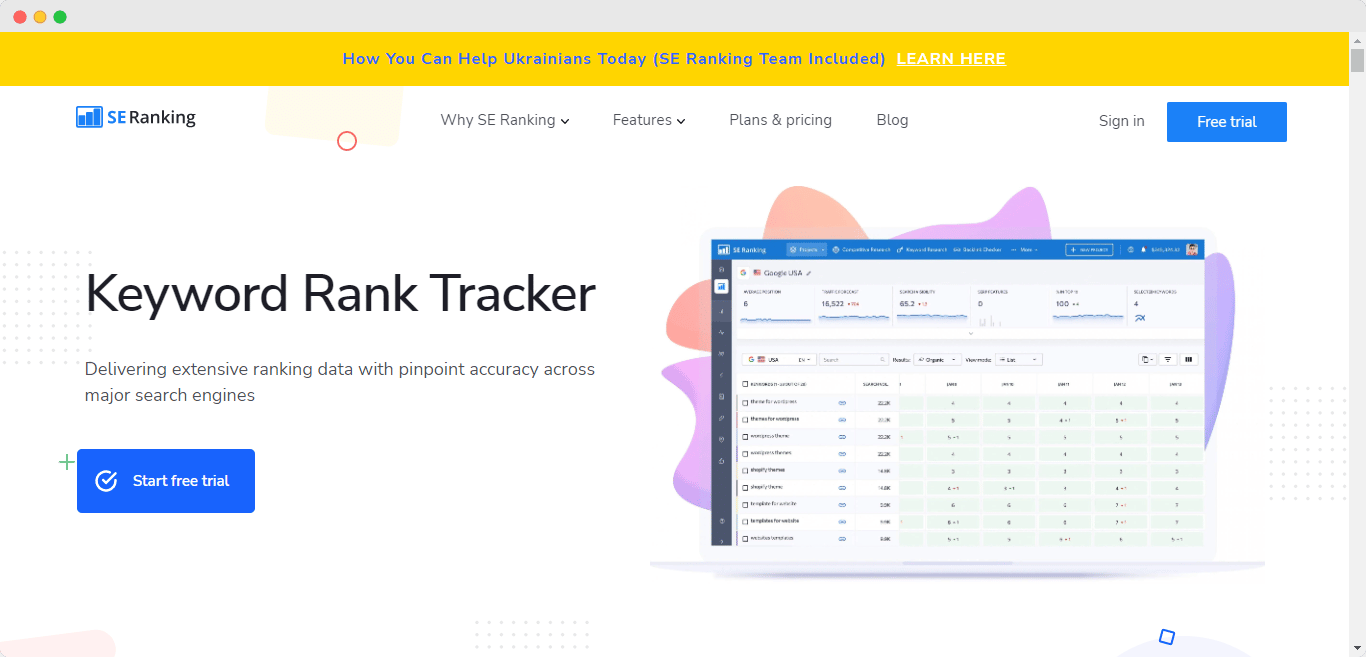 SE Ranking is a simple SEO tool for tracking keyword positions. Using this keyword rank tracker tool, you can measure the performance of your targeted keywords and do competitors' research as well. In addition, you can easily avoid keyword cannibalization by identifying your web pages that are competing for the same keywords.
Also, you can learn how the Google algorithm updates are affecting your keyword's position. In addition, you don't have to break your bank to buy a subscription for this affordable rank tracking tool as it comes for only $31.20 per month. So, you can also keep this on your wish list.
4. Google Search Console
Google Search Console is the ultimate and most accurate rank tracking tool you can use for your website. You can collect in-depth data for your individual pages and learn how your web pages are performing on search engine results. In addition, you can measure your website's performance and export the result to make an SEO action plan. In addition, Google won't charge you a dime to use this feature for your website. So, if you are a beginner Google rank tracker could be a great option for you.
⚡ Create An Effective SEO Strategy & Improve Your Search Engine Rankings
Having a Rank tracking tool can help you create your SEO audit report in no time. So, you don't have to wait much to kick-start a strategic SEO action plan for your website. So, have you chosen any rank tracking tool for your website yet? If you do, then let us know in our Facebook Community.
Did you find our blog helpful? If you do, then please subscribe to our blog for more useful tips, tricks, guides, updates, and more. Also, don't forget to share this blog with your networks.